It's been a busy couple of months!
As a regular reader of our blog will have noticed, we (Rona and Robert) have been out and about in the hills a lot; probably the most sustained weekend after weekend attack on the mountains that we've managed so far. Our aim to walk from sea level to the summit of Everest (0 to 8848) is still two years away, but since our first article, we've developed our fitness a lot, and even managed to see a clear summit since we last wrote for Adventure Travel.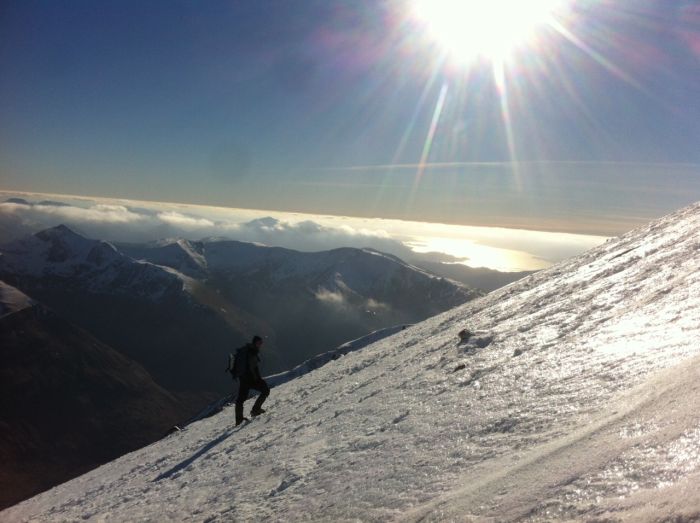 Winter conditions in the mountains have come as an eye-opener to us on many levels.  The added challenges of good gear selection, avalanche assessment and navigation in often foul weather conditions can transform the most gentle Munro into a trip involving good planning and gritty endurance. Our need to train has been driving us onto the hills in all weathers, and we've certainly experienced the hills at their wildest.
The snowy conditions through January really drilled home to us the importance of having the right equipment for the job. An attempt to climb Ben More in early January had to be abandoned due to an inability to walk up the ice, and it was then that we started to recognise the gaps in our winter kit. First on the wish list for both of us was a good pair of four season boots.
It came as a surprise to both of us quite how difficult it was to source good spec four season boots. Following a week of research, we spent a day driving around outdoor shops in the central belt, and were getting pretty frustrated at the poor range on offer. In women's boots particularly we were lucky to find one B3 boot in a shop, and getting it in the right size was another matter. We finally went to Tiso in Glasgow, where they had a selection that enabled us to actually compare the fit and feel of a range of boots and we eventually left carrying some new four season boots and crampons, and were genuinely impressed with the knowledgeable customer service.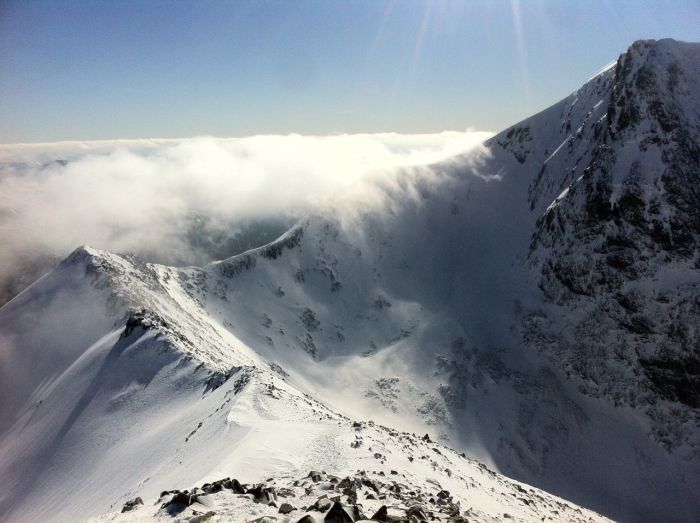 We opted for B3 boots after much debate about how technical a boot we needed for our planned climbs. Options were B2 (some flex, so easier to walk in) or B3 (absolutely no sole flex, good for ice-climbing) boots. In the end, an email exchange with Alpine Ascents established that for our new plan of climbing Mont Blanc B3 boots would be necessary, and so we chose to endure the more difficult walking to be sure we could use boots we were comfortable with on as many of our climbs as possible.
The boots were put to immediate use on our weekend winter skills course at Glenmore Lodge, which was exceptionally good, giving practical skills in crampon use, avalanche awareness, navigation and self-arrest. The course also included informative evening lectures on avalanche awareness and winter navigation. The food deserves a special mention for being amazing, and there is cake when you get in off the hill.  If you're thinking about getting started with winter walking, we can't recommend it highly enough.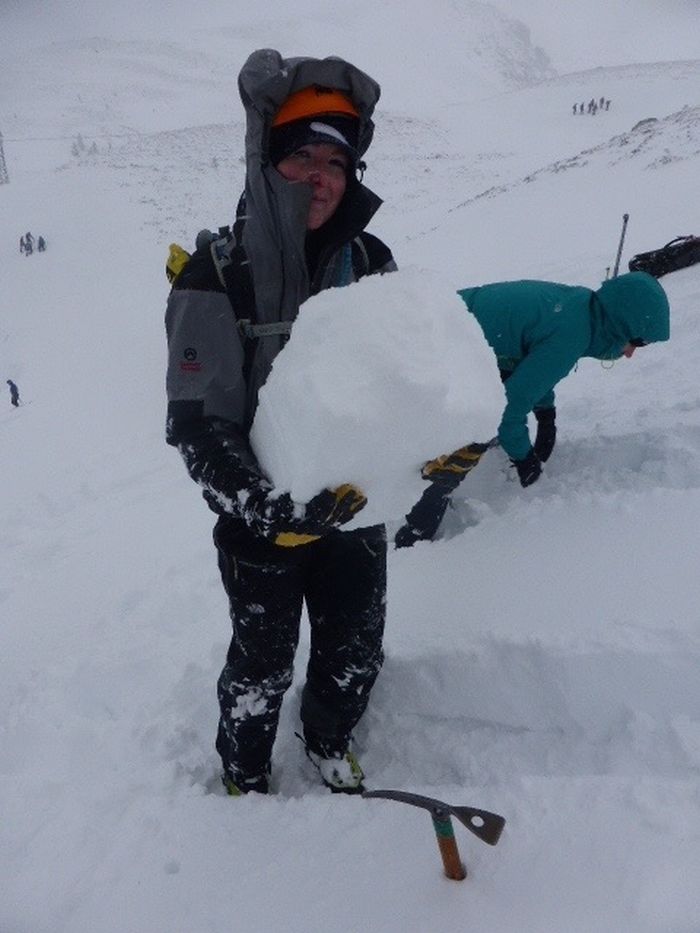 It hasn't all been straight forward on the organisational front. In June last year we planned to climb Mt. Rainier, Aconcagua, Denali, Cho-Oyu/Ecuadorian Volcanoes, & Mount Everest in that order. Regrettably, it seems unlikely that Rona will be able to take more than 2 weeks holiday in one go. This will not be enough time to travel out to, climb, and return from, one or two of these mountains. Thus, we have to start thinking about alternatives. Aconcagua in particular is a very long trip, and has a lot of travel time associated with it.  Thankfully, an email to Alpine Ascents produced a more reasonable option (in terms of time) for a second climb: Mont Blanc!
This is both exciting (we are both thrilled to think about climbing one of the most iconic mountains in in the world), but also brings its own problems, namely that it is a summer (northern hemisphere) climb. That would leave us with a 12 month gap between the 'status' climbs of Mount Rainier (June/July 2015) and Mont Blanc (July 2016), and would make it impossible to get the climbs of Denali and Cho-Oyu in before we plan to start walking in February 2017. So, we now have some additional work to do in order to clarify our itinerary, and perhaps find some alternative climbs.
Planning progress was made in January however as we booked our climb of Mount Rainier for May this year. We were fortunate to get the last two spots on any of the trips that we would have been able to make, and it was with some relief that these were confirmed by Alpine Ascents. In fact, we will be attending a 10 day training/ascent camp in the cascades and on Mount Rainier.  This expedition should give us good mountaineering skills prior to the ascent, and build upon the skills and knowledge that we have already developed.
Our training has progressed too. Not only in getting out and about up mountains as often as possible, but in the gym. In addition to running or cycling on machines, we have been trying to incorporate some strength training. This initially took the form of using weight machines, and we still use these, particularly for building upper body strength where we are both lacking. However, we are now trying to move into using free weights, as these replicate real-world muscle usage more accurately, and as a result develop the stabilizing muscles which are crucial to activities such as walking with a heavy backpack.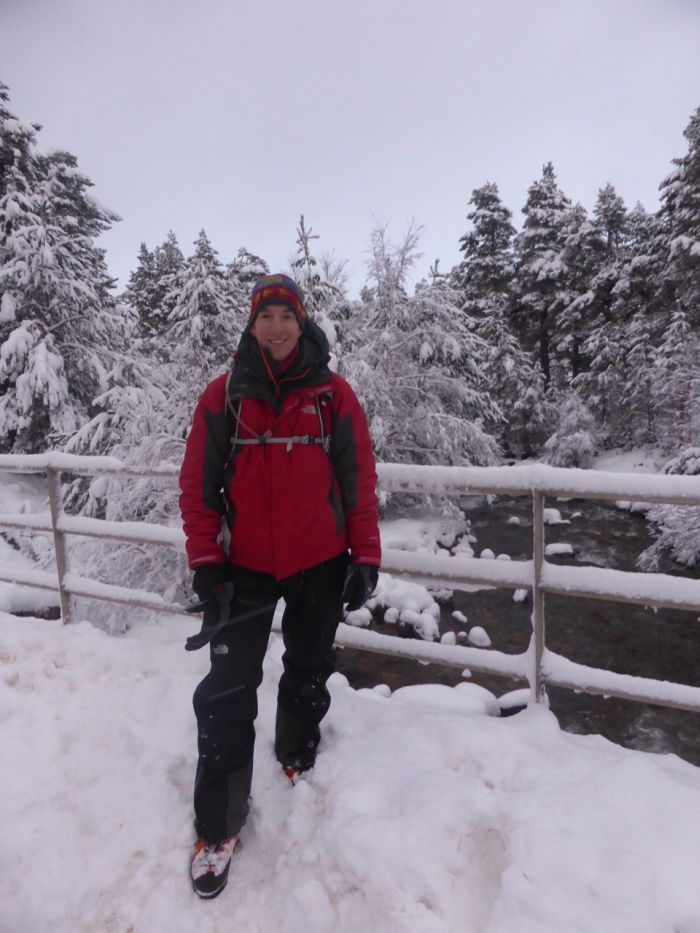 Speaking of backpacks, these have also been getting heavier! As we look to develop our training, we have been adding extra weight to our backpacks in the form of water bottles. We aim to be carrying around 24kg by the time we depart for Mt Rainier, so we have some way to go, but we have rough schedules in place to increase our weight weekend by weekend to reach this target. We also hope to get some more professional advice on our training soon, as we look to push our bodies further than they have been before, we want to make sure we both avoid injury, and work as efficiently as we can towards our targets.
One of the more important things to have happened in the last couple of months was in early January, and this was our first face-to-face meeting with Mark Beaumont. This was a fantastic meeting for us. Mark was very helpful and now that he had a chance to establish that we were not crazy people, extremely helpful in terms of advice relating to Denali and Aconcagua, and also in giving us pointers for our promotion and sharing some of his extensive contacts with us.  Mark has also moved from 'backing' us, to now officially being a patron of the 0 to 8848 expedition.
Anecdotal evidence seems to indicate that this is already reaping the benefits that we hoped it would, in that having Mark on board is boosting our credibility. After all, if a man who has cycled around the world, rowed to the magnetic north pole, and ridden from the tip of North America to the tip of South America thinks we can do it, who is anyone else to argue? Mark has generously given us permission to pick his brains and expertise on any issues that come up at any time, and we anticipate that we might be doing that on quite a regular basis in the future!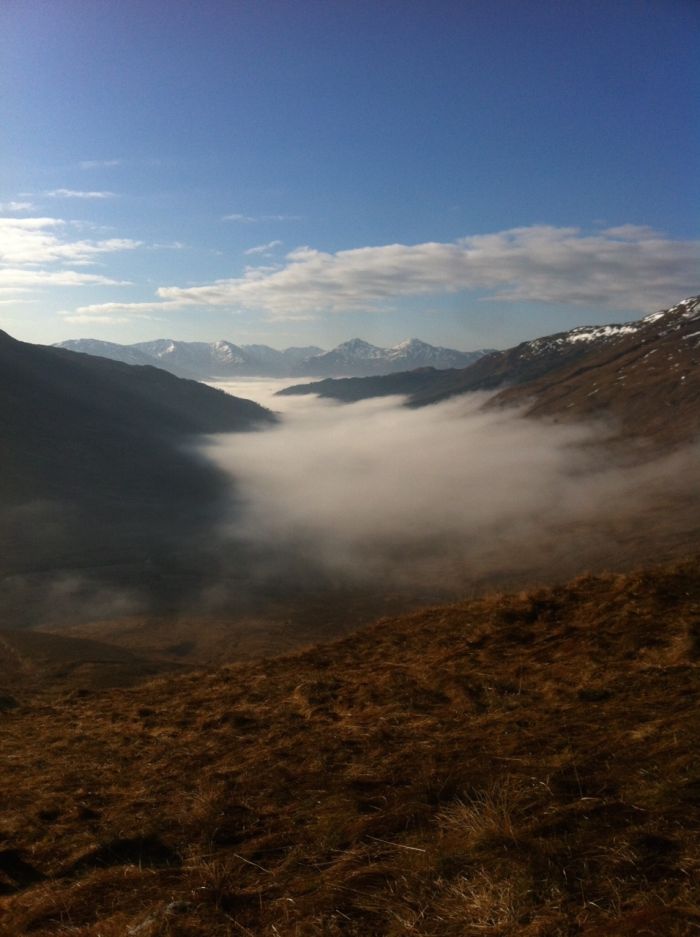 Using our new-found credibility (and Mark Beaumont's contact list), we managed to get in contact with Chris Tiso, of the previously mentioned Tiso outdoor store. He responded both quickly and positively, indicating that he would like to meet us to find out more about the expedition. This kind of reaction is extremely gratifying. Simply the fact that somebody who is in the industry is curious about our expedition, regardless of what does or does not come from the meeting, gives us confidence that we are at least have a chance of making this work. Indeed our first meeting with Chris was in late February, and appeared to be the beginning of a potentially useful collaboration. Hopefully we will be able to tell you more about that in our next article.
February 1st was a milestone for us as it marked exactly two years until we plan to start walking from the Bay of Bengal! This is a little intimidating, as it does not seem very far away at all, and there is so much we have to complete before then, but is also encouraging, as we think that in two years, we will be departing on a once in a lifetime expedition that will push us to the limits of what we are able to do, but hopefully also enable the Bantuan Coffee Foundation to make an enormous difference to victims of Child Prostitution in Indonesia.
Keep up to date on our Facebook and Twitter feeds, and we'll be back here in another couple of months.
Rona & Robert