Papua New Guinea is still relatively untravelled by Westerners, but the country offers a tonne of exciting things to keep even the most adventurous traveller busy including diving, surfing, trekking, culture and kayaking.
Here at Adventure Travel, we've rounded up five reasons why you need to visit Papua New Guinea.
Culture in Papua New Guinea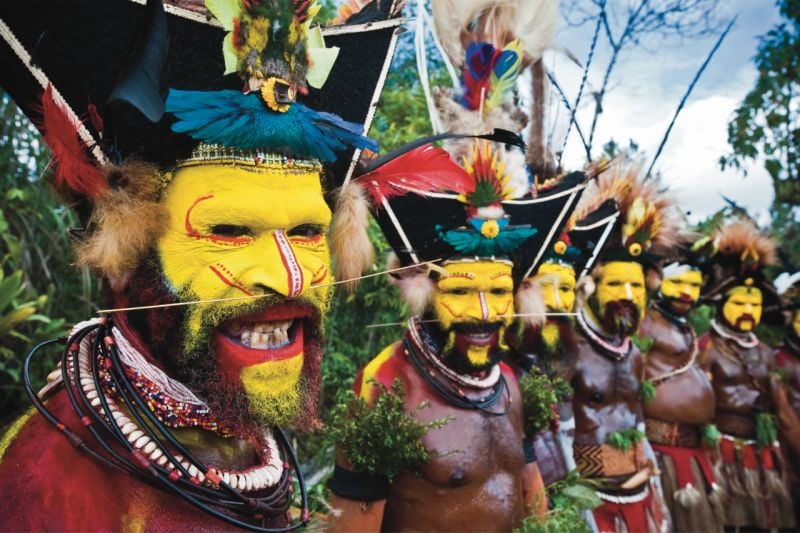 The indigenous population is extremely diverse with more than 800 languages spoken and 1,000 different tribal groups. Age-old traditions remain at the heart of everyday life and people share their heritage with genuine openness. There are several festivals throughout the year which show off the tribal rituals and celebrations. Not trip would be complete without attending at least one event.
Trekking in Papua New Guinea

The Kokoda Track is the most famous trek in Papua New Guinea and is not for the faint hearted. The trek can be done in it's entirety (roughly 60 miles) which can take from five to nine days, or you can do separate sections of it, but expect it to be challenging and conditions can get wet and slippery. Despite the challenging conditions, the track gives you the chance to journey through lush rainforest, past glistening rivers and some truly remarkable views. You will need to take a guided trek and purchase permits.
Diving in Papua New Guinea

Papua New Guinea is located in the coral triangle and is said to have the highest diversity of coral and tropical fish in the world. The country has to be on the top of the list for any serious diver, frequently voted as best dive destination in the world. It has one of the world's richest and most varied marine life, with 45,000 square kilometres of reef systems.
Divers will enjoy a huge diversity of dive sites, including barrier reefs, coral walls (drop off), coral gardens, patch reefs, fringing reefs, sea grass beds, coral atolls, muck and wrecks. There are a staggering amount of wreck sites to discover including many well-preserved remnants from WWII.
Birding in Papua New Guinea

Papua New Guinea has to be on the top of the list for any serious birdwatcher and you can use our birding guide for locations and species and highlight these. Many are endemic to PNG, such as the Raggiana bird of paradise, blue bird of paradise, the fire-maned bowerbird and the spectacular Victoria crowned pigeon. A recent discovery is the golden masked owl which was thought to be extinct but was sighted recently in New Britain close to Walindi Plantation Resort.
The best time of year is during the dry season (May – October) although, of course, the birds are present all year round. Do take binoculars, scope, camera, bird guide, some sort of waterproof clothing, a hat and footwear appropriate for the terrain and walking boots. You get a range of temperatures from relatively cool in the mountains to much warmer weather on the coast.
Kayaking in Papua New Guinea

With close to 600 different islands and a beautiful mainland coastline, Papua New Guinea has to be one of the world's premier kayaking spots. As you paddle along secluded coastlines you'll be witness to beautiful sea turtles, schools of playful dolphins and unfathomably blue waters.
Those who head to Tufi will enjoy tranquil fjords with dramatic cliff faces seemingly stretching endlessly toward the sky and pristine rainforest canopies covering the surrounding mountains. Tours are on offer all year but the best kayaking can be had between April and November as the seas are generally calmer at this time of year.
If you'd like to find out more about all of the incredible adventure activities on offer in Papua New Guinea, then head over to www.papuanewguinea.travel.