Being organised while travelling is bliss. Well, it is for me anyway. Gone are the days of not being able to find a darn single thing in my luggage, tampons spilling out everywhere on a busy train (don't ask), and not being able to distinguish my clean undies from the dirty. Several packing hacks and nifty solutions down the line, I find travelling to be a smoother and even more enjoyable experience now that my organisation woes have well and truly gone.
I have our friends at Eagle Creek, experts in travel solutions, to thank when it comes to solving some of my travel packing and organisation troubles. So, with all the above in mind, here are seven adventure travel essentials for women – and I think you're going to like them.
1. Silk Undercover Bra Stash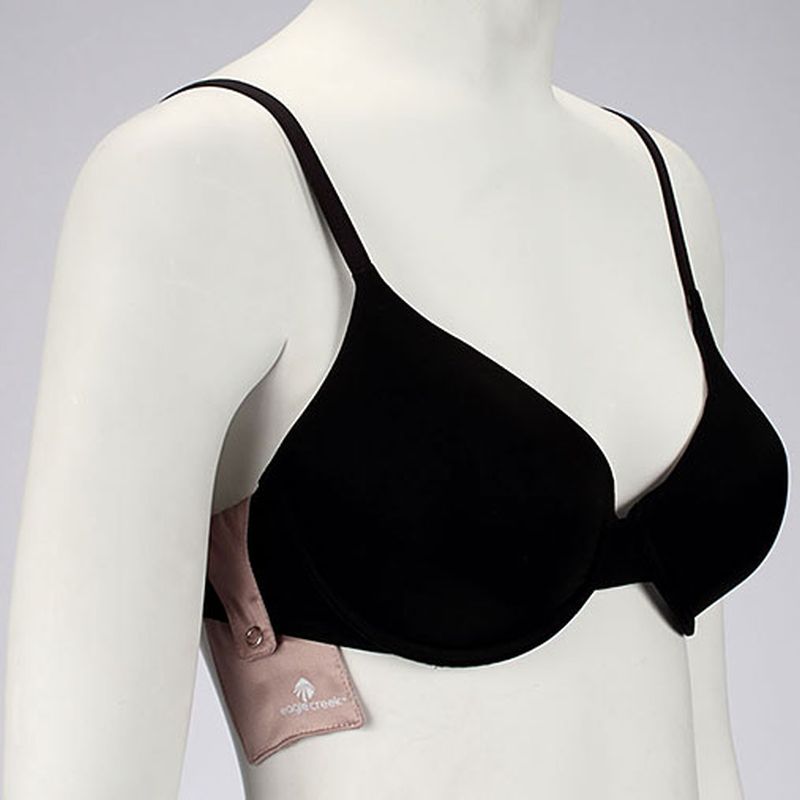 It's small, it's discreet and it's silky smooth. This undercover bra stash is so handy when you're travelling around in busy, foreign cities, and well, anywhere really. It's the perfect size to stash any money and cards, and it keeps them out of sight (and out of reach) of any pesky pick pocketing. Having these items undercover and out of sight also helps to minimise your risk of being mugged, or in the unfortunate event that this does happen, minimises the chance of these valuables being found and taken.
The bra stash features a popper fastening, and it can be secured to either one of the shoulder straps, the side of chest strap (so it sits underneath the armpit), or to the centre bridge (the bit of material in between your two lady cups). It's also made using a breathable silk material which is ideal when travelling in hotter climates, if ya know what I mean… *cough* boob sweat *cough*. It's also washable, so happy days.
You can find out more about the Silk Undercover Bra Stash on the Eagle Creek website.
2. Cinch Organizer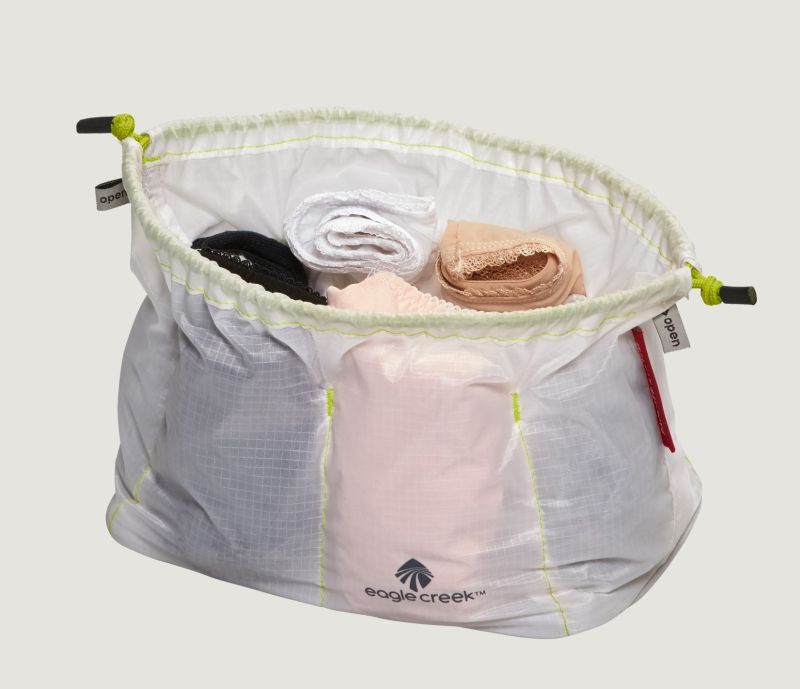 I like this one because it's a great 'all-in-one' kind of organiser, and it's perfect for stashing all my girly necessities such as sanitary products (no more train mishaps), underwear, bras, soaps, perfumes and flannels. It also features a padded bottom, which helps to protect the contents from any damage or breakages (there's nothing like discovering your new bottle of expensive perfume has cracked and leaked over the entirety of your stuff and you're walking around smelling like an explosion in Boots for the rest of the trip, trust me). It has six side wall pockets, which are elasticated, and the bag has a draw-string cinch with easy open tabs on each side – this makes for super quick access.
You can find out more about the Cinch Organizer on the Eagle Creek website.
3. RFID Blocker Sleeves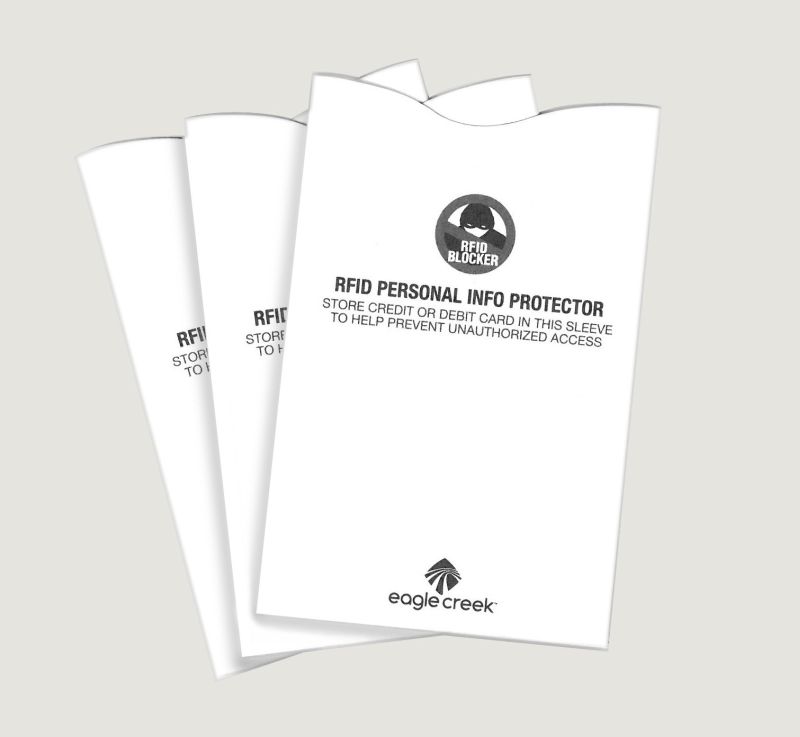 With contactless credit cards being the norm these days, it's easier than ever to make a quick payment at the shops, but unfortunately, it's also easier to become a victim of identify theft. The cards you use which have a contactless payment feature have what's called an RFID chip inside of them, which is what makes contactless payments possible. It's said that some thieves have scanners that use radio waves to scan the RFID chip on a card which then gives them access to your sensitive card details. Not good.
These RFID blocker sleeves are great, they enclose your credit cards in a material that interferes with radio waves, and prevents the communication between your cards and any thieves out there with an RFID scanner. The great thing about having these individual sleeves, instead of a purse or wallet, is the fact that you can use them in any of your own bags, wallets or purses. Great for me, because I never travel without my lucky sequin cat purse that I've had since I was young, it has become somewhat of a lucky charm.
You can find out more about the RFID Blocker Sleeves on the Eagle Creek website.
4. Pack-It Specter Mini Cube Set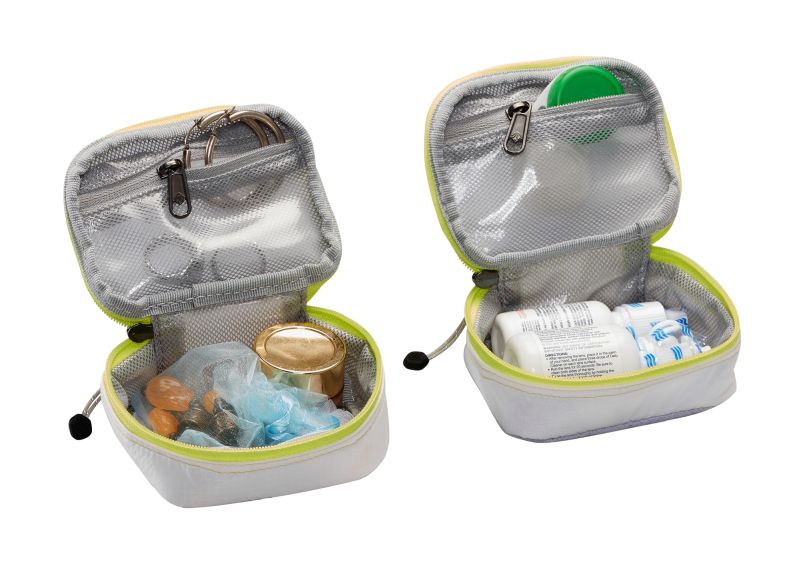 Personally, I think whoever first came up with the whole packing cube idea deserves a medal, because they have completely revolutionised my life. Before the days of packing cubes, my luggage was a complete shambles, with an array of old plastic bags that I used to pack things in which, by the end of the trip, would usually have all broken. Fast forward to today, and packing cubes come in a delightful range of sizes, colours and uses. From the ones that keep your shirts crease free, to the ones that keep your smelly socks from contaminating the rest of your stuff.
I particularly like this mini cube set because I wear a lot of rings, watches and earrings, and these are the perfect size for stashing these things away together so they don't get lost or damaged. I can't tell you the amount of times that I've come home with one earring out of a pair missing, for it to never return again. These nifty mini cubes could be used to stash anything small; medication, contact lenses, you name it.
You can find out more about the Pack-It Specter Mini Cube Set by heading over to the Eagle Creek website.
5. Easy Blink Eyeshade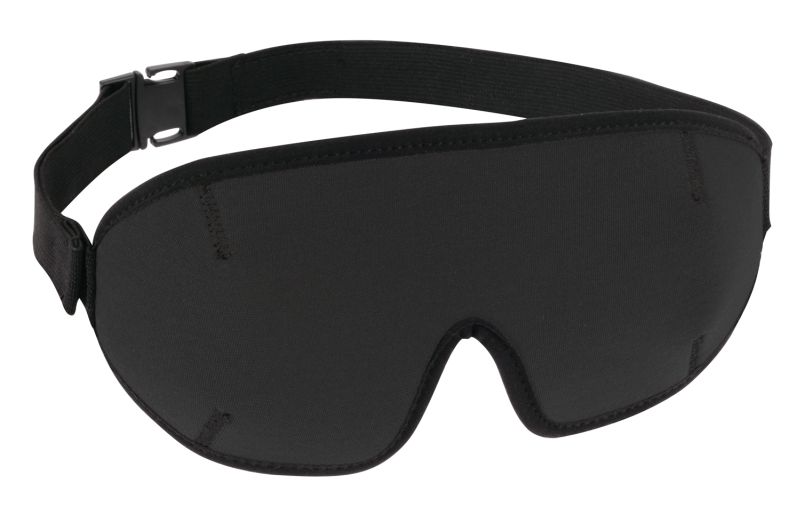 It usually ends up with a face palm and a quick dash to the shops if I realise I've forgotten to bring my eye mask on a trip. I find they really are a blessing when travelling because they make sleeping in airports, on planes, trains, buses, in light hotel rooms and even camping under the midnight sun on a mountain in Norway easy work. And let's face it, when you're travelling the globe, you often find yourself having to nap or sleep on the go or in weird places, and if you're anything like me, you're a real treat to be around if you haven't had enough sleep (detect the sarcasm here).
You can find the Easy Blink Eyeshade on the Eagle Creek website.
6. Packable Daysack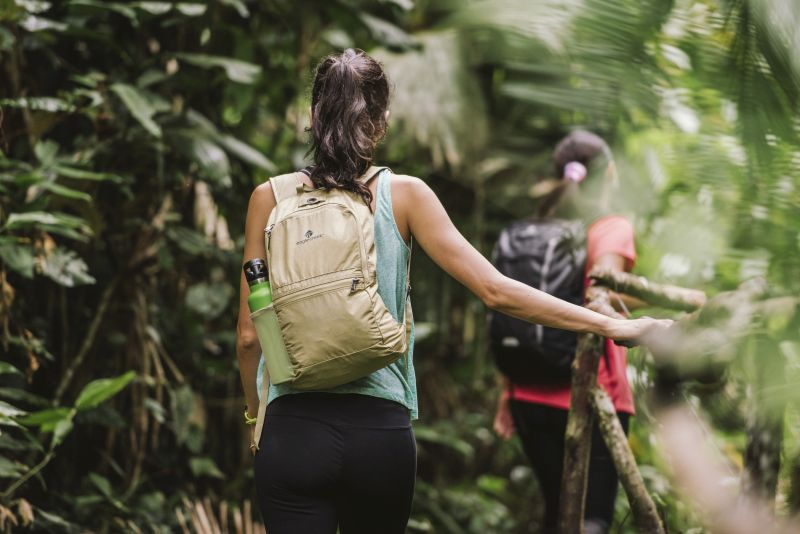 Since I discovered the ever faithful packable daysack, I have not (and will not) turn back. I don't go on any trip without one. They pack down so small that you can literally shove them anywhere in your luggage or even in your pocket. They are fantastic for day trips, hiking and exploring where you don't want to lug your main bag around with you.
And just because it packs away really small doesn't mean it lacks in features. This one from Eagle Creek is great because it has mesh shoulder straps that are super breathable, which is perfect when you're hiking the trails or in hotter climates. It also benefits from secure zip toggles that help to deter pick pocket thieves. To find out more about this packable daysack, head over to the Eagle Creek website.
7. Global Companion Travel Pack 40L W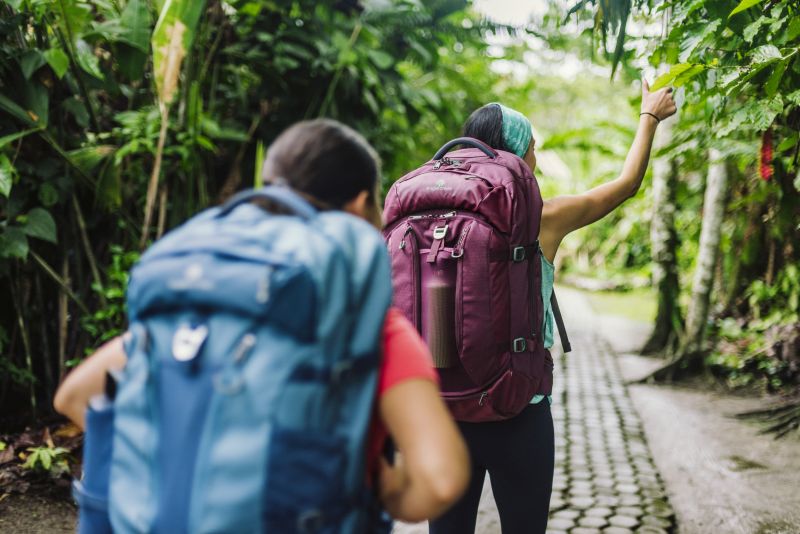 Last, but certainly not least, when travelling you need a travel bag that is going to be your loyal companion (and friend) for not only your entire trip, but for many trips to come. It's all well and good having nifty travel essentials like the above, but if you don't keep them in luggage that is going to keep them safe, protected and organised, then what's the bloody point, eh? The Global Companion Travel Pack from Eagle Creek does just that, it comes in a 40L volume (pictured above) or a 65L option, and it's available in both men's and women's. This means, ladies, that the women's version (pictured above) is contoured to fit the feminine form, and is more comfortable to wear.
It offers plenty of padding, breathable mesh, a back panel and hip belt, lockable pockets, a safety whistle, a bottom shoe compartment, a padded laptop sleeve, a key fob, side pockets, a rain cover, carry-on handles, and much more. It also features a large butterfly opening which reveals two separate packing compartments for maximum organisation.
The folks at Eagle Creek are experts when it comes to packing, and you can really see the thought that goes into all of the brand's luggage and packing solutions. In fact, the company prides itself on providing peace of mind, creating more space in your bag, and making your travelling experience a positive one by helping you to keep track of all your stuff. You can find more information about the company on the Eagle Creek website. 
What handy travel items do you take with you when you're travelling? I'd love to hear about your essentials. Post them in the comments section below.