It doesn't take an expert to work out that layering is king when it comes to gearing up in the best way possible when heading outdoors, especially with base layers. It's preached by pretty much every outdoor and adventure institution across the nation, and yet people still seem to get it wrong, or at the very least are confused about how best to make use of this titbit of information.
Using multiple layers ensures we can regulate our temperature more effectively than you would be able to if you were wearing, say, a giant puffer jacket. All good layering systems must start with a solid foundation – a decent base layer. Worn next to the skin, base layers are most effective when they fit snugly and they should wick moisture away, dry quickly, keep you warm when it's cold but cool when it's hot, offer odour resistance and be comfortable (flat-locked seams help here). But with so many materials and ever-changing fabric technology, which should you go for? We've compiled seven reviews of the best women's base layers on the market right now to help you out…
Alpkit Koulin Tech Tee review
www.alpkit.com | £14
I haven't worn anything by Alpkit before, so I wasn't really sure what to expect from the Koulin Tech Tee, but I must say, I was pretty impressed. Being the cheapest of all the garments in this test at only £14, this is not a bad little base layer at all. The material is soft against the skin and features mesh panelling, which is super breathable and kept me cool whilst out hiking. I was also impressed with its wicking capabilities, the t-shirt kept the sweat at bay and kept me dry throughout the day.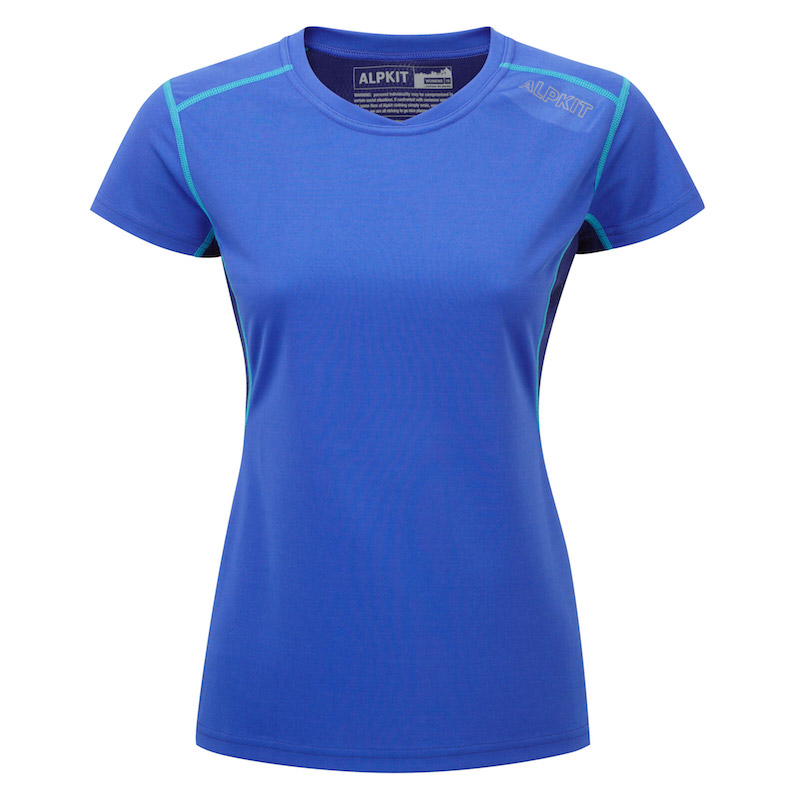 I really like the handy pocket on the back of the t-shirt; it's small, discrete and ideally sized for a credit card or a key, which would be perfect if you're out on fast-paced pursuits. Another great feature of the Koulin Tech Tee is the reflective logo, which will help to keep you safe if you're still out when the sun goes down. We found the base layer performed very well in a drying test, being one of the first few base layers to be completely bone dry and leaving some of the bigger brands behind. This is a simple t-shirt with three funky colours to choose from, all with contrasting stitching, which keeps the style looking fresh.
In a line: The Alpkit Koulin Tech Tee is an affordable base layer that more than keeps up with the rest of the competition. Best budget buy.
Comfort: 8/10
Drying time: 9/10
Wicking: 8/10
Value: 9/10
Overall: 9/10
Berghaus V Neck Tech Tee review
www.berghaus.com | £23
Berghaus has been developing base layers for over 30 years now, so you'd expect everything to be in order. So, I'm pleased to report that everything is A-okay with the V Neck Tech Tee. This is a nice, simple base layer, which does everything you need it to, exactly when you need it. The odour resistant fabric keeps the pong away (even after wearing it more times than you'd like to admit), and the garment's wicking properties keep the sweat at bay on a hard day's trekking. This t-shirt is perfect for the summer months as it offers UPF 50+, however this doesn't include the mesh parts of the fabric, so be sure to protect those parts with a good dollop of sun cream to be safe.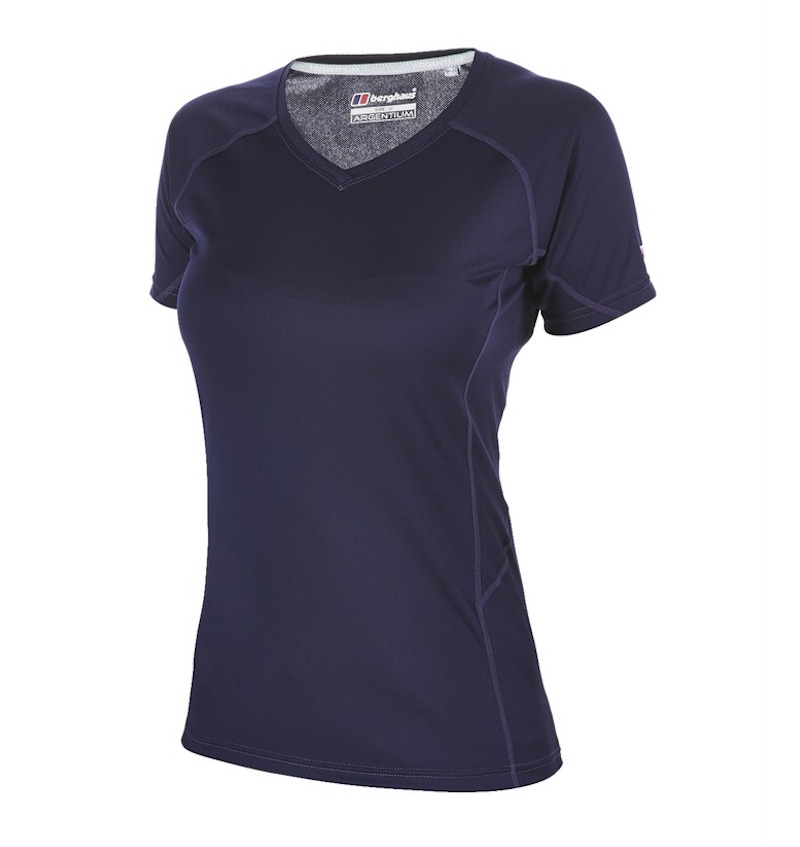 The garment is lightweight, so it'll pack down with absolutely no fuss in your luggage and it also performed quite well in the drying test. Being one of the cheapest base layers in this test, I must say, I'm pretty darn impressed with the value for money you get here – this t-shirt is a great all-round performer. It also comes in two colours, well, shades: blue and dark blue.
In a line: The Berghaus V Neck Tech Tee is a fantastic all-round performer at an affordable price. Highly recommended.
Comfort: 8/10
Drying time: 8/10
Wicking: 7/10
Value: 9/10
Overall: 8/10
Salomon Comet Plus SS Tee W review
www.salomon.com | £30
Out of all the base layers I tried for this test, I'd say this was definitely one of my favourites. Even when I'm in the mountains I still like my kit to look good, and I found that Salomon have done a superb job of finding the perfect balance between fashion and function with this one.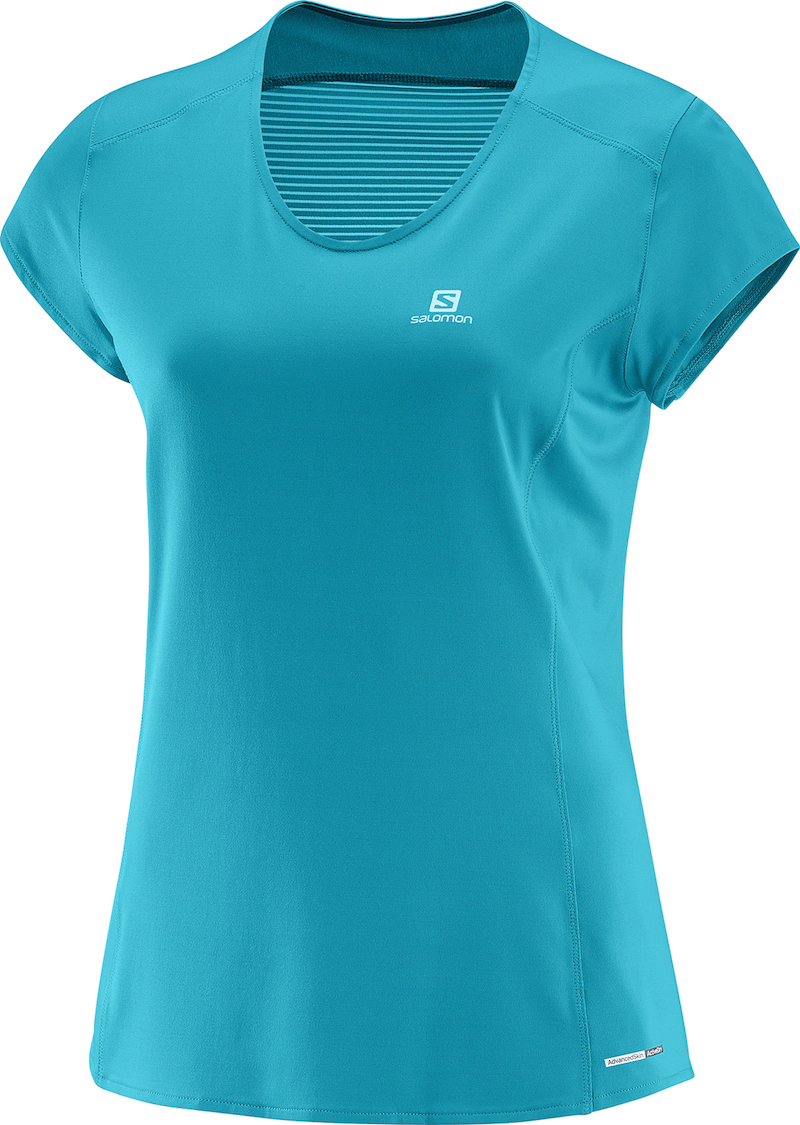 My favourite bit about this base layer is the mesh back. Not only is this a good-looking feature, but it helped to keep me cool and comfortable while on trail. I'll be the first to admit that I can get a good back-sweat on when scrambling tricky trails, and as gross as that is, a gal needs a t-shirt that will help her out in those sticky situations. So, as you can imagine old Sweaty Betty here was very pleased with the breathability that this t-shirt has to offer.
>>> Check out our full range of outdoor gear reviews here for more expert tips
When it came to drying off, the Comet Plus Tee performed exceptionally well, being the quickest in the test. With all those pros and no cons that spring to mind, I'd say that £30 is a pretty good deal for this product. Salomon also has a whole variety (six to be precise) of different bright and jazzy colours to pick from too.
In a line: The Salomon Comet Plus Tee is fashionable yet functional, with impressive breathability. Best in test.
Comfort: 9/10
Drying time: 9/10
Wicking: 9/10
Value: 9/10
Overall: 9/10
Paramo Cambia Short Sleeved T-Shirt review
www.paramo-clothing.com | £40
You've gotta' love a good old reversible t-shirt, well, I like this one anyway. But, this t-shirt isn't just reversible for the fun of it, it offers variable properties depending on which way round you wear it.
On the smooth side, the fabric holds moisture close to your skin helping to cool you down, whereas on the other, textured side, it directs water away from your skin and uses thermal properties to keep you warm. Pretty clever, eh? So not only is this t-shirt perfect for summer, it'll be your best pal in the winter months too! It felt nice and soft against my skin, and the purple colour I tested was really striking which I loved.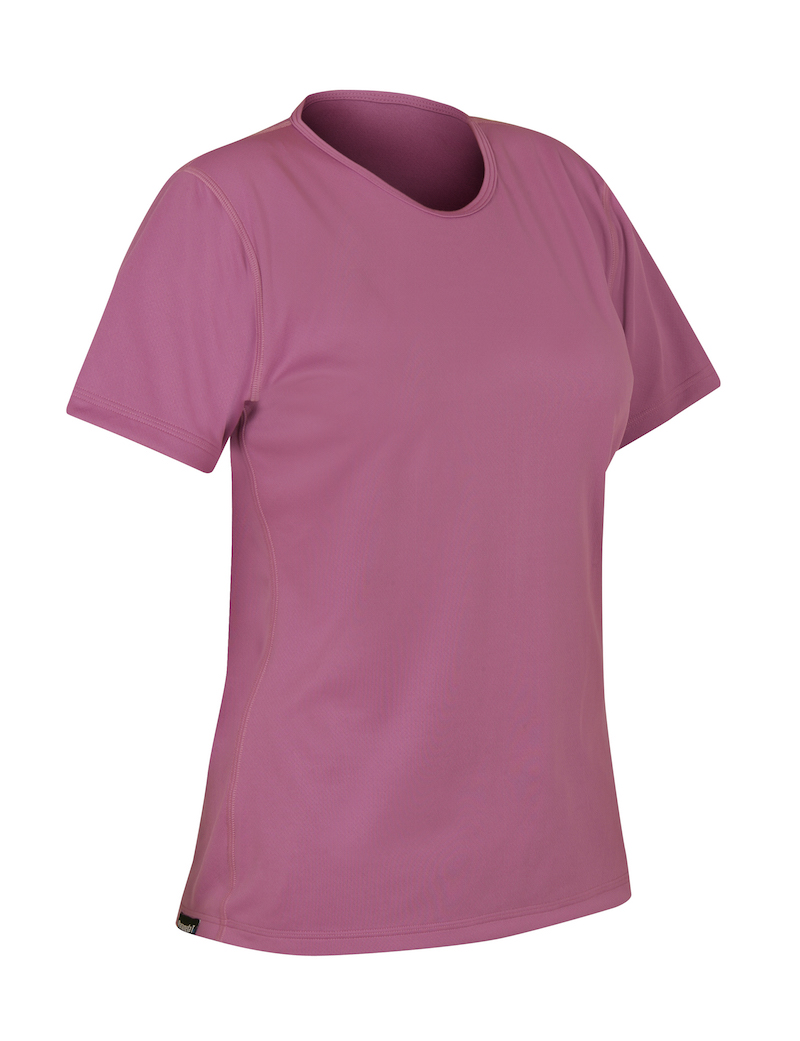 When it came to drying out, this t-shirt was one of the faster of the bunch too. Yes, out of all the base layers I've tested, at £40 this one is at the pricier end, however, with the nifty reversible technology, you could say that you're getting two t-shirts for the price of one – so with that in mind, there are no complaints from me here.
In a line: The Paramo Cambia Short Sleeved T-Shirt is a comfortable base layer with a clever little twist.
Comfort: 9/10
Drying time: 8/10
Wicking: 8/10
Value: 8/10
Overall: 8/10
Sprayway Rana Tee review
www.sprayway.com | £45
"You should have ditched the cotton dear!" I reminded my friend (much to her annoyance) as she was melting away in her cotton t-shirt while we were hiking the hills in the hot bank holiday sun. Well, wasn't I a smug little bugger, feeling nothing but fresh and cool in this Sprayway top. As you probably know (and my friend originally refused to believe), when it comes to hiking you need a technical base layer that won't let you down.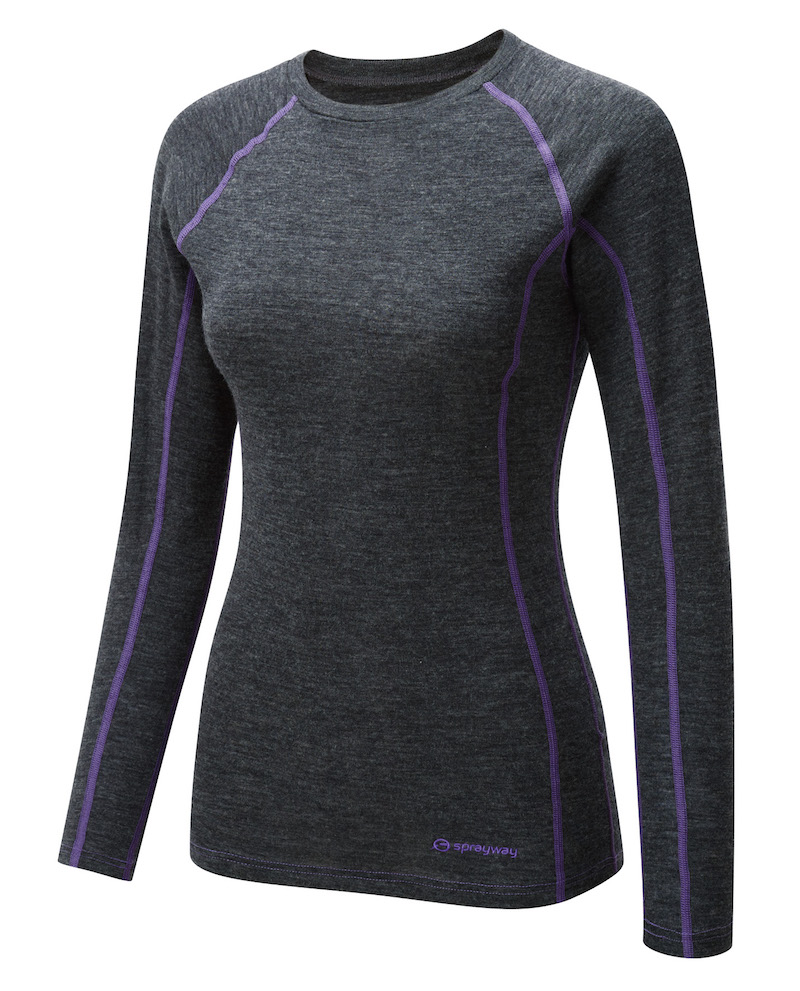 In this case I had merino wool, which is fantastic because it dried quickly and wicked the sweat away from my skin well. These factors combined within the Rana Tee to make for a very comfortable garment which kept me cool and comfortable all day on my hike. Obviously, merino wool products can be a little more pricey than other materials, but you get what you pay for.
>>> Need some inspiration for where to head next? Check out these eight simple hikes in Europe that deliver unforgettable views
This base layer also offers a nice flattering shape, which is cut to fit the feminine figure – there's nothing worse than a t-shirt that makes you look like a square. I hope you like grey, because this t-shirt only comes in the one colour, however, a nice touch is the purple stitching which jazzes the style up while still keepin' it classy.
In a line: The Sprayway Rana Tee is a very comfortable base layer which will keep you cool all day.
Comfort: 8/10
Drying time: 8/10
Wicking: 8/10
Value: 8/10
Overall: 8/10
Montane Primino 140 T-Shirt review
www.montane.co.uk | £45
You have to dig a little deeper into your pockets when buying Montane, but I always find the price matches the quality and I'm pleased to say that this was the case here. Constructed with 50% merino wool, 25% PrimaLoft and 25% polyester, the Primino 140 T-shirt cleverly blends the properties of the three materials to offer a decent wicking performance as well as being warm when needed, keeping you cool and comfortable throughout the year.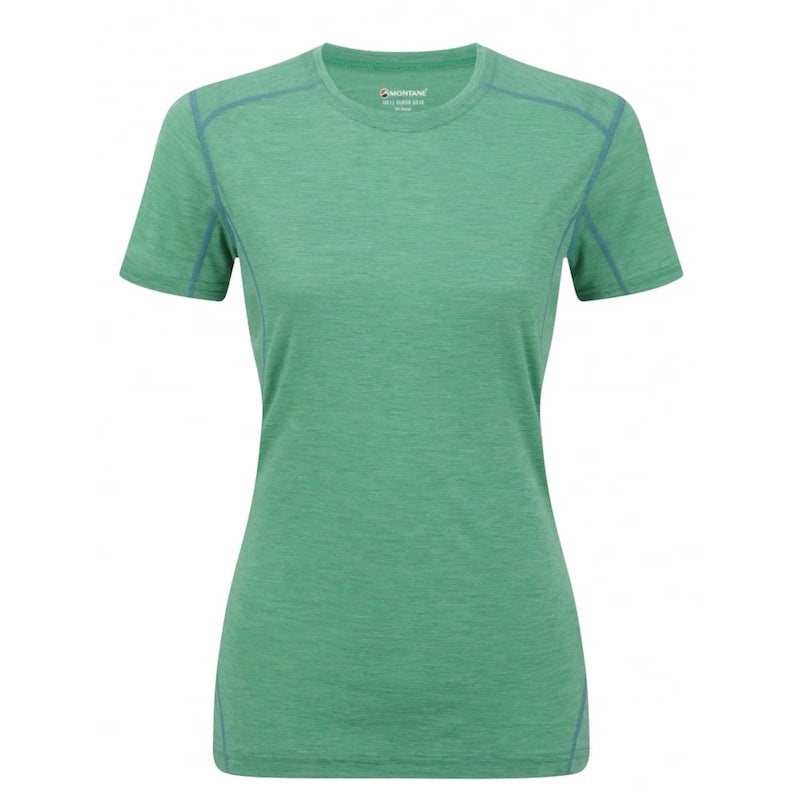 Not only is this t-shirt soft, but it's incredibly fast-drying too. The fabric also benefits from anti-odour properties thanks to the inclusion of Polygiene technology, so even after wearing it a good few times you won't offend your pals when they're stood downwind from you. This is perfect for travelling or wild camping where you don't always have the time or the facilities to do your laundry. Flatlock seams give this t-shirt extra comfort and durability, while just the right amount of stretch makes for easy reach and free movement. I also found the style very flattering – the cut follows the curves of your body without being too tight. This t-shirt comes in three tasteful colours: shadow (a grey), dahlia (a purple) and juniper green.
In a line: The Montane Primino 140 T-shirt is comfortable to wear and offers excellent durability.
Comfort: 9/10
Drying time: 8/10
Wicking: 8/10
Value: 8/10
Overall: 8/10
Icebreaker Oasis Short Sleeve Crewe review
www.icebreaker.com | £55
I'm a big fan of Icebreaker. They're pricey but oh-so-worth it. Knowing how well the other base layers performed, I decided to put this one through its paces whilst hiking the Alpe Adria Trail in Italy and wow, it did not let me down! It's the merino wool properties within the material which makes these Icebreaker base layers so fantastic. The feel of the fabric is thicker than most of the other base layers in this test, but because it's so breathable, it's just as cool as the thinner ones – it's also divinely soft against the skin.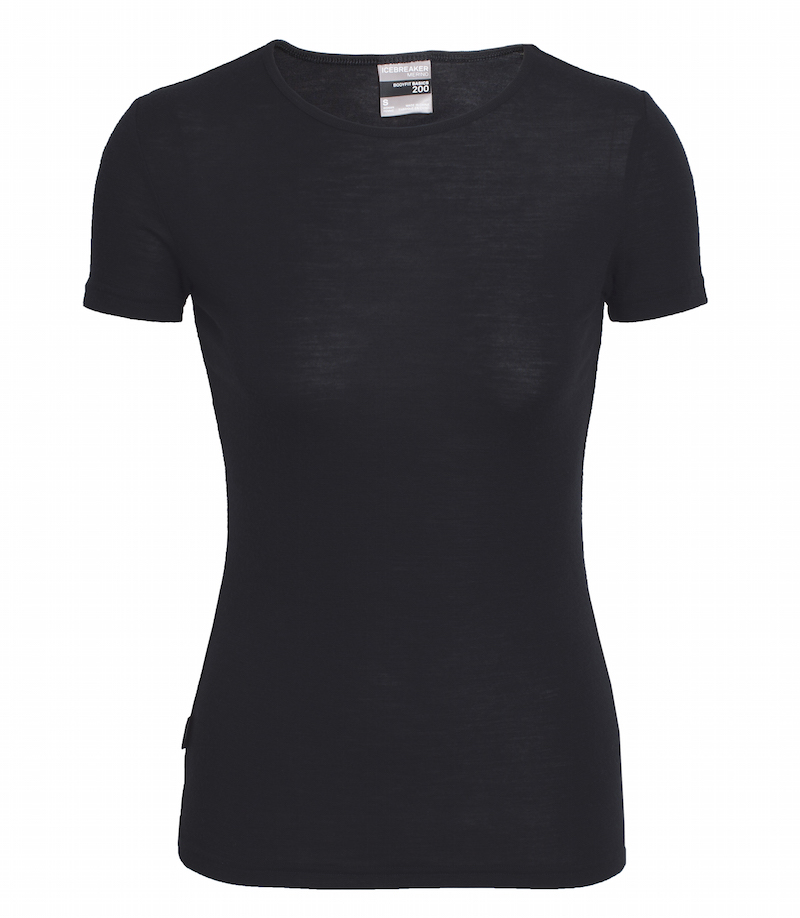 When it comes to drying out, it won't let you down either, it kept up with pretty much most of the thinner base layers in this test which is impressive because some of them are literally paper thin. It's not the fanciest looking of the bunch, but it's simple and does exactly what you need it to without any fuss and when you're working up a sweat in the mountains it'll help to keep you dry. It also folds down super small so there's no trouble in the packing department here either.
In a line: The Icebreaker Oasis Short Sleeve Crewe is super lightweight with fantastic wicking performance.
Comfort: 9/10
Drying time: 8/10
Wicking: 8/10
Value: 8/10
Overall: 8/10
These reviews first appeared in issue 130 (July/August 2017) of Adventure Travel magazine alongside 19 other base layers (both men's and women's). To stay up to date with the latest kit advice, reviews, travel inspiration and ideas for your next adventure, check out the latest edition of Adventure Travel here.