Joe Humphrey, 29, is a dedicated personal trainer and a survival instructor with the Bear Grylls Survival Academy. As a former Royal Marines Commando, Joe served two tours of Afghanistan, and trained in jungle, Arctic, mountain, coastal and desert environments in the Middle East, North America, South America and Africa. Near the end of his second tour in Afghanistan, Joe was shot by a sniper, which unfortunately resulted in his left leg being amputated which changed his life forever.
Joe spent almost three years of rehabilitation to try to regain the quality of life he once had and is still very much active and now spends the majority of his time in the mountains, in the sea SCUBA diving or racing sprint kayaks. He has spent the last three years training with GB Paracanoe with the end goal of competing and medalling at Rio 2016.
"Being outdoors in different environments is the best kind of rehab for me, and being in the mountains especially always gives me new goals to reach and obstacles to overcome," explained Joe.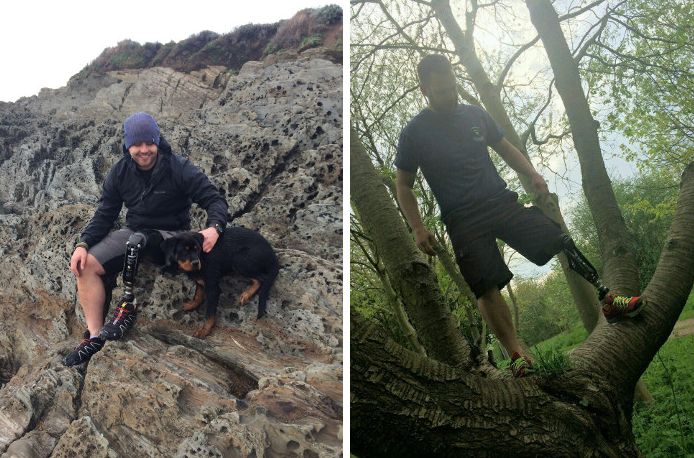 With all his experience, passion and knowledge, Joe has shared his top tips for getting mountain ready exclusively for Adventure Travel magazine.
1. Be robust enough to physically cope
You don't need to spend hours in the gym. Instead be confident that you can lift and control your own bodyweight, and not give up and turn back when you start feeling tired and sore.
2. Strong heart and lungs
The higher up you go, the more important to have a healthy cardiovascular system, as the air gets thinner and your heart and lungs have to work harder to get oxygen to your muscles and brain.
3. Mentally prepare
Everyone has that moment when they want to give up and turn around, or not pull their weight in a team. Take time to develop the mental fortitude in yourself to overcome these thoughts, there will be tough times.
4. Spatial awareness
The outdoors is a three dimensional environment. We are so used to staring at a screen these days that we find it difficult to get out of the habit of just looking at the ground in front of you. Always be looking around you, below, above and behind not just for safety of yourself but for others as well. You'll miss so much that is going on around you if you just put your head down and trudge along.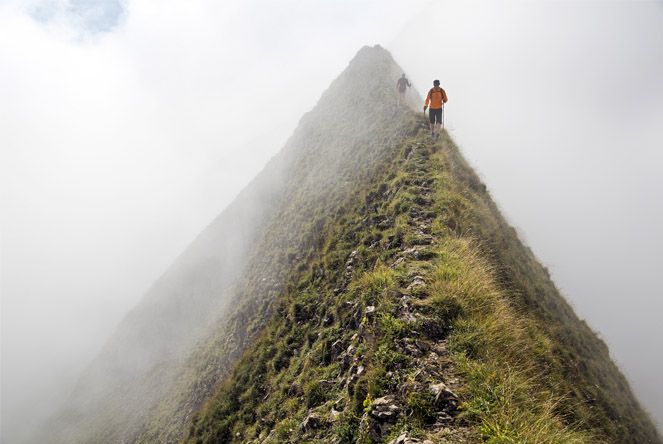 5. Navigation
Essential for anyone going outdoors. Learn how to read a map, orientate it to the ground and identify features on the ground from the map. Learn how to use a compass in conjunction with it, and if all that fails, knowing how to use the sun and stars to find direction is very useful. Know your route and make sure someone at the bottom does as well in case you get into trouble.
6. Carry the right equipment for the task. (Which isn't always the most expensive in the shop).
Break in your boots; carry emergency rations, signalling devices and medical equipment. Carry only what you need. When I was in Bolivia, we were climbing a well-worn track in the height of summer with jungle either side of us. When we stopped for a water break and nav-check, one member of the group pulled out a pair of crampons to get to something out of his rucksack!
7. Seek local knowledge
We were always taught this in the military. If the locals take a particular route up the mountain, why? Why don't they take certain routes? Why do they go at certain times or in certain conditions? They probably know something you don't. Employ a local guide or spend time getting to know someone who knows the area.
8. Prepare, prepare, prepare
One of my favourite quotes from Abraham Lincoln, "Give me 6 hours to chop down a tree and I will spend the first 4 sharpening the axe". Preparation is the most important and actually encompasses and reinforces everything else I've already said. Learn your navigation, be physically capable, know your routes, and practice with smaller challenges or expeditions.
Joe Humphrey is one of Bear Grylls hand picked, highly trained experts, currently delivering Bear Grylls Survival Academy's Ultimate Team Building Courses with Chillisauce events. For more information click here.
Intro photo: Waldemar Merger