www.adidas.co.uk | £139.95
At a few pennies shy of £140, the Terrex Fast GTX Surround shoes from Adidas are quite an investment, though if you're looking for a lightweight hiking shoe that'll also be suitable for a spot of trail running (or even boot camp exercise, as I've been discovering) they're a tempting proposal.
They're aggressively styled, they've got a grippy, rugged Continental sole, an abrasion-resistant upper, a nifty quick lacing system and, to top things off, they're completely waterproof, making use of Gore-Tex Surround, a technology that's designed to provide weather protection and effective temperature regulation.
Our pair came in a trendy navy blue colour scheme, though they're also available in black, grey, and red – each one providing the same aggressive and sporty styling. If you're so inclined, for an extra tenner (£5 per shoe) you can get your own custom lettering near the ankle for a personalised touch. Nice.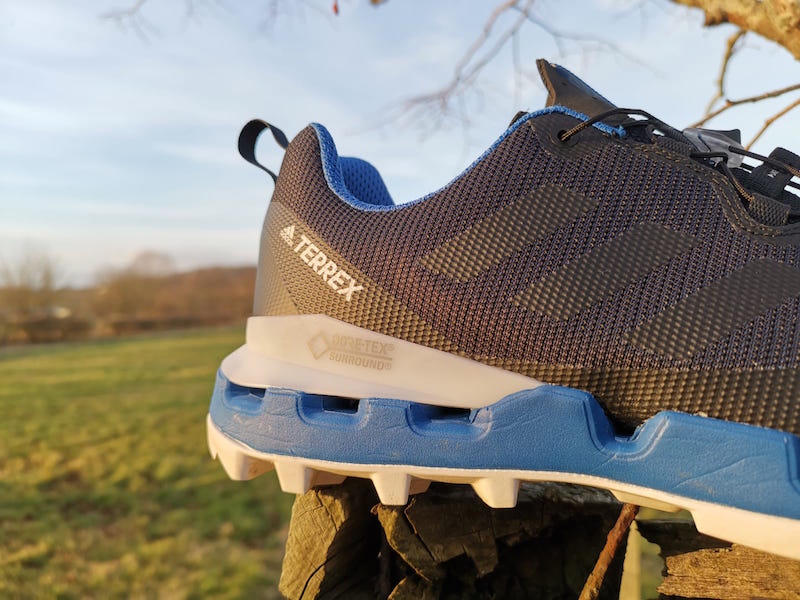 From the off, it's clear to see that these shoes are aimed at those who prefer to pack light and move fast, those who belong in the 'lightweight brigade', you might say. The styling embodies this, and while the shoes certainly have on-trail appeal, they also wouldn't look out of place in the gym. This isn't the type of footwear that you're going to slip into if you're setting off to walk the West Highland Way in winter but, for easy-going day hikes where you're not carrying a heavy pack, they'll be well suited. Adidas has also made a point of saying the shoes are suitable for trail runners.
In terms of comfort, the Terrex Fast GTX Surround shoes perform well. While there's little in the way of padding around the cuff and tongue, the lightweight nature of the shoes makes them a pleasure to wear. I did have a few issues with the tongue digging in to the top of my foot, but once I'd fiddled with the lacing and fine-tuned the fit I rarely noticed the discomfort again.
When it comes to support, the shoes err more of the side of comfort than rigidity and stability, with the midsole providing little stiffness and a fair amount of flex. The abrasion resistant upper follows the same lines, and the Terrex Fast GTX Surround shoes feel more like a pair of trainers in use than hiking shoes, which isn't a bad thing if the conditions are right.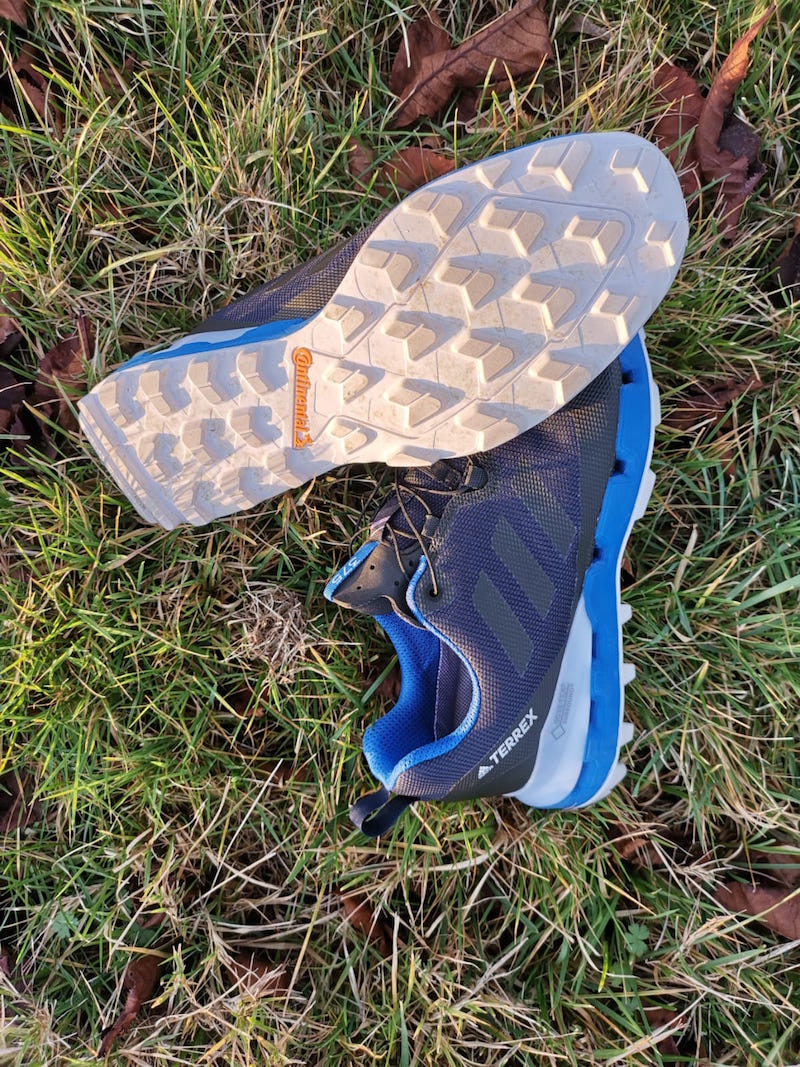 The Terrex Fast GTX makes use of Gore-Tex Surround technology, which is touted as providing a combination of waterproofing and temperature regulation. Essentially, Gore-Tex Surround comprises of the waterproof Gore-Tex membrane being present around the whole foot, and between this and the sole unit there are channels through which air can circulate. This provides a certain level of cooling, though, in my opinion, the benefit of the Gore-Tex Surround isn't quite as game changing as it would at first seem.
Waterproof membranes are windproof by nature, so any air that does circulate on the outside of the membrane is going to have minimal impact and, if you're hiking/running along muddy trails, the channels are likely to be obstructed by dirt anyway.
Given this, the Terrex Fast GTX Surround shoes do tend to run quite warm, so if you're looking for hiking shoes that'll be suitable for mid-summer forays along the trails, you're likely to end up with hot, sweaty feet (as you would in any other hiking shoe with a waterproof lining). That said, if the weather does take a turn for the worst, it's nice to have the peace of mind that a Gore-Tex membrane brings, and this one does a good job of keeping the water out.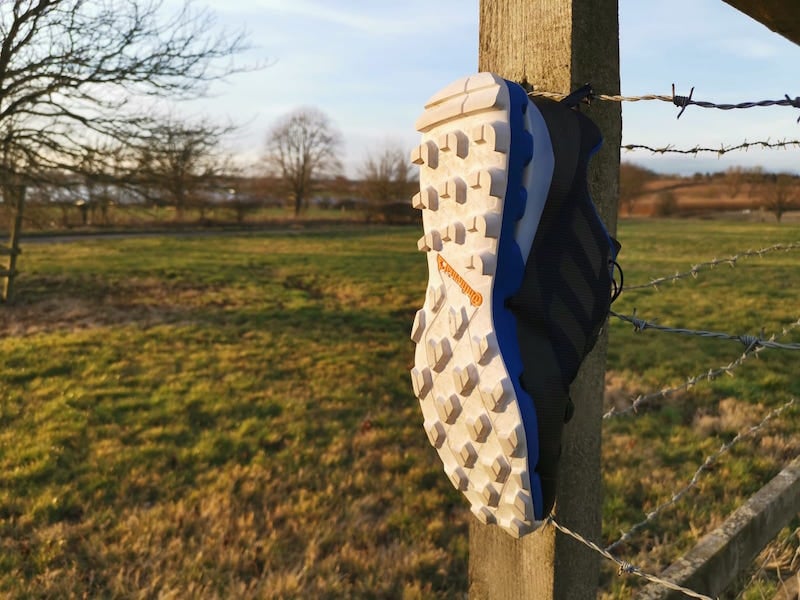 The quick lacing system on the Terrex Fast GTX Surround is a feature that's going to divide opinion. It certainly allows you to tighten the shoes at break-neck speed, but it's tricky to get a snug, supportive fit throughout the length of the shoe. Spend some time pulling the laces through each eyelet and you'll achieve lacing nirvana, but at that point you might as well have a standard lacing system.
The Continental sole on the Terrex Fast GTX Surround shoes features an aggressive tread pattern that's been designed to perform on muddy trails. I've not experienced any unsure moments while wearing them, and they've coped surprisingly well on wet rock, grass, and muddy trails. I can't comment on the longevity of the sole unit, though given Continental's reputation, I've got no reservations here.
Adidas Terrex Fast GTX Surround Shoes Verdict
All in all, the Terrex Fast GTX Surround shoes are a good buy if you're after a pair of waterproof, lightweight hiking shoes. They make an excellent cross over if you're looking for active footwear that'll suit you in the gym and on the trails, and I would have no hesitation in reaching for these if I were heading off on an easy day hike. The Gore-Tex membrane does pose limitations for the shoes' intended use, though it also opens up other avenues when the weather isn't playing ball.