One whisper of the Alps and it's near impossible to stop your mind from drifting to beautiful steep-sided valleys and craggy peaks coated in snow and ice. Stretching across eight countries, this spectacular mountain range offers the adventurous traveller so much, and the great news is that it's so easily accessible. An incredible 72 hours in Interlaken is simply a short flight away. 
Served by Geneva and Zurich airports, the Swiss Alps can be reached with a short and very affordable flight, making them the perfect spot for a short break. That's exactly what a friend and I did this summer. We spent an incredible 72 hours in Interlaken, basing ourselves in the popular lakeside town, and here's how you can do the same.
Hike the Hardergrat Trail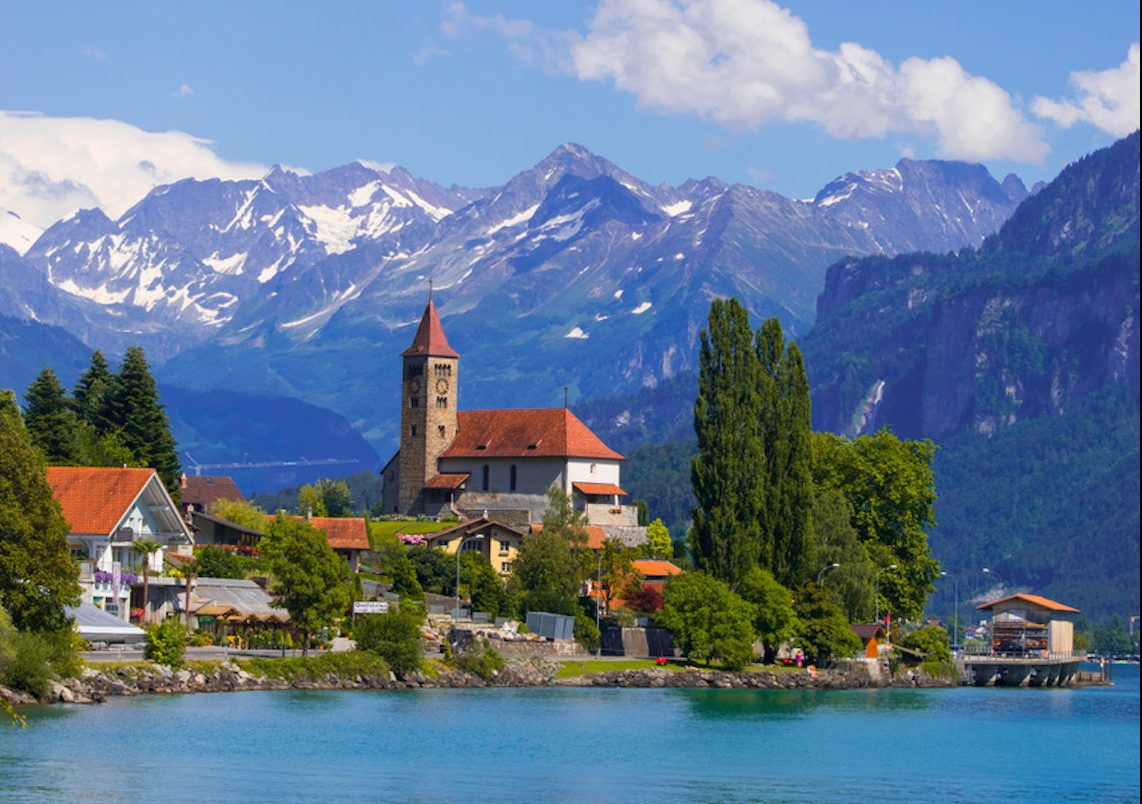 Stretching from the Brienzer Rothorn (2,350m) and running for 15 miles until it reaches Harder Kulm, the Hardergrat Trail follows one of the most spectacular ridge lines that I have ever laid eyes on. Much of the route sees you clinging to the top of the ridge on a track that, in places, is just a foot or so wide, with steep grassy slopes falling away beside you.
It's exposed and should only be attempted in good, dry conditions, but it has to be one of the best one-day hikes in Europe, if not the world. Beyond the excitement of the exposure, the route delivers constant 360-degree views across the emerald-blue Lake Brienz and Lake Thun, while the snowy peaks of Switzerland's most well-known 4,000m mountains dominate the horizon. With easy access at each end thanks to cable cars, this is one hike that demands to be on your bucket list.
Paddle board on Lake Brienz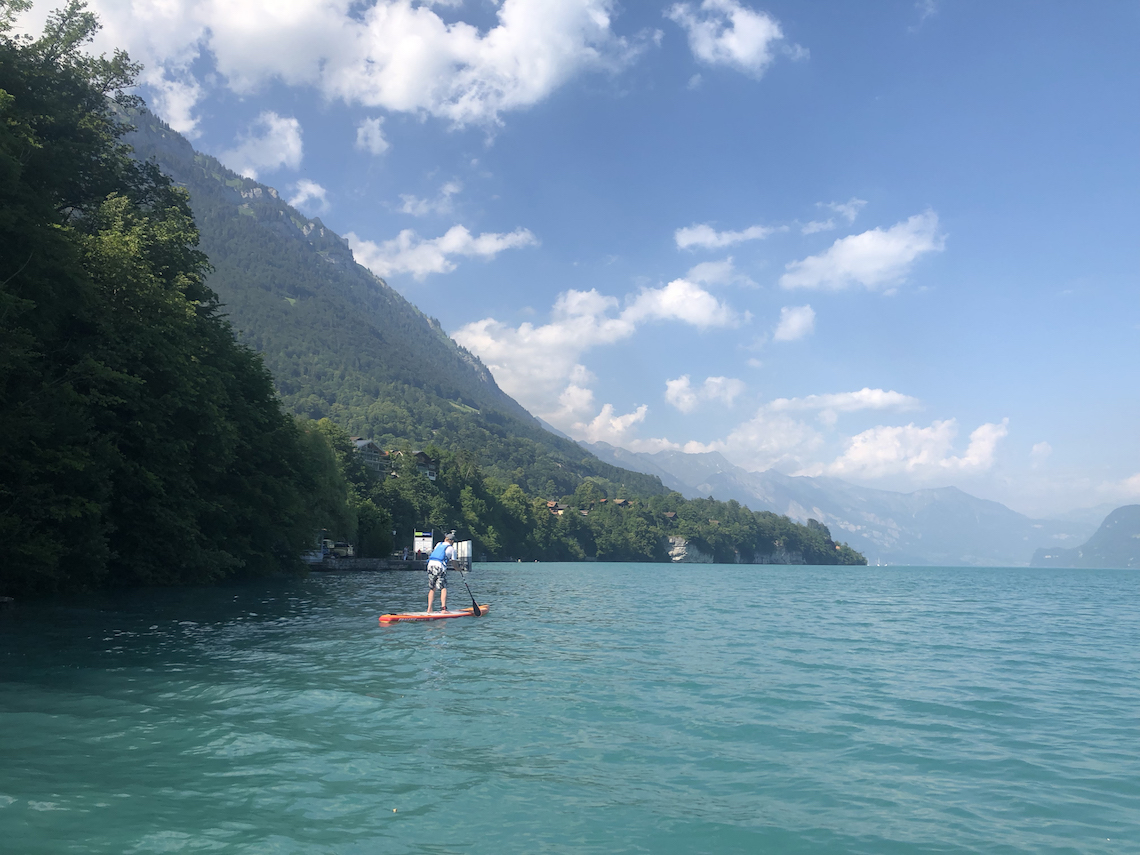 Stand-up paddle boarding has been rising in popularity for a few years now, and as I bobbed on top of my board on Lake Brienz it was easy to understand why. I've always enjoyed being on the water, viewing the world from a different perspective than normal, and doing so in the shadow of lofty ridges and Alpine giants sent an unrivalled feeling of contentedness coursing through me.
Kayaking is fun, but paddle boarding is different in its versatility, allowing you to stand, kneel, sit or lie down and chill to your heart's content. That's exactly what we did, soaking up the rays, listening to the water lap against the board dreaming up future adventures on the surrounding mountains. Hightide Kayak School offers rentals of both kayaks and paddle boards, as well as guided trips.
Go hang gliding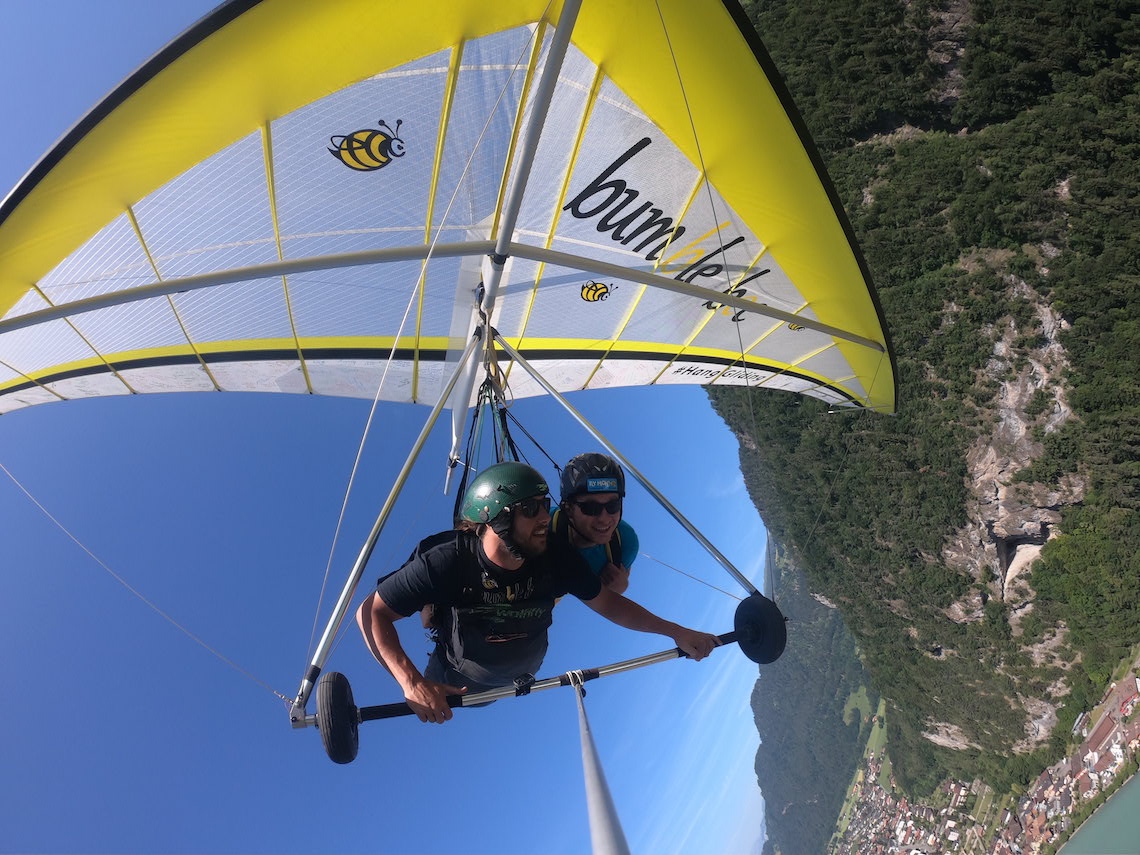 Interlaken has been known as a hotspot for paragliding for years and, walking around the streets of the town, you'll certainly understand why. Look to the sky at any point during your stay in Interlaken and chances are you'll see a brightly coloured canopy slowly descending from one of the towering ridges above. As fun as paragliding is, hang gliding takes things to a whole other level. Simply put, it's the closest to flying that you'll probably ever get (unless you're mad enough to be into wingsuits).
We caught a flight with the fine folks at Bumblebee Hang Gliding. Taking off from the hills above Interlaken, we started with a strong run downhill before physics did the rest. Unlike paragliding, hang gliding is faster and gives a more intense feeling of flying. It's truly exhilarating, and we had a grin plastered across our faces for the whole flight.
Take on the Murren via ferrata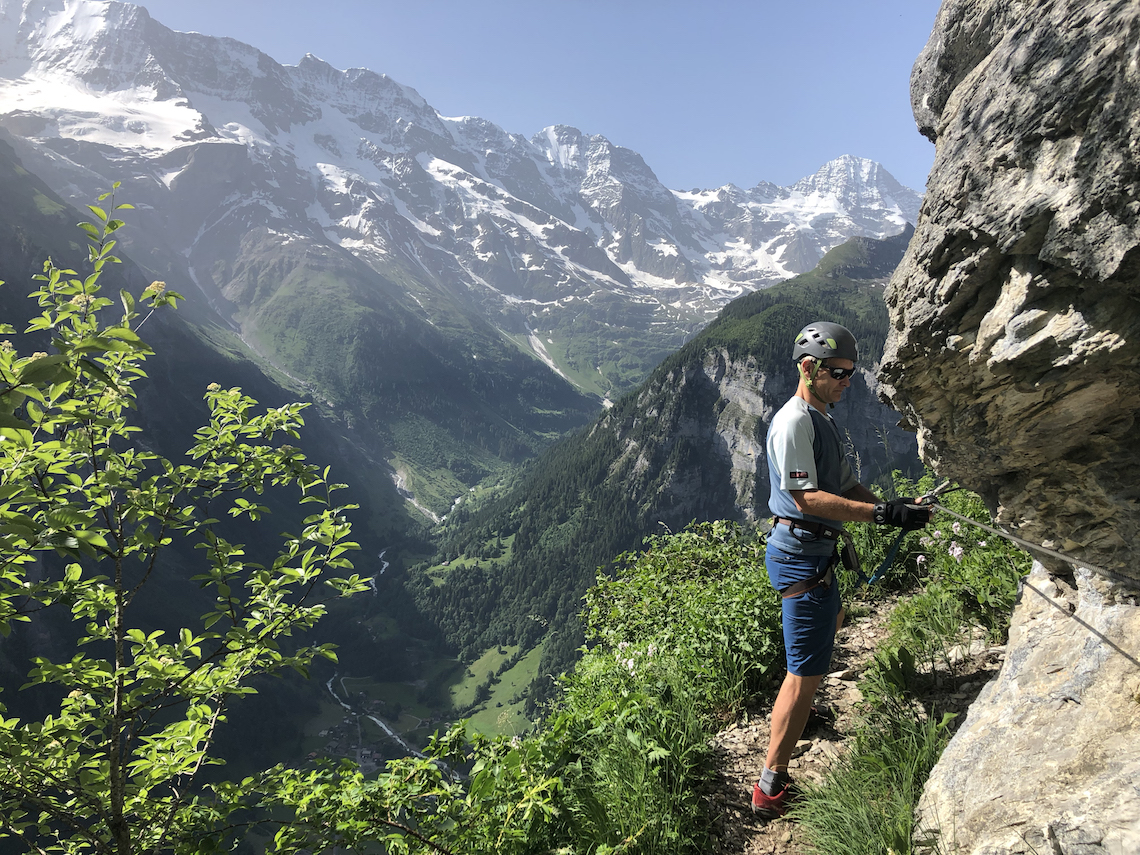 Just going from Lauterbrunnen to the village of Murren on the cable car is enough to leave your jaw firmly planted on the ground, but for a little more excitement, the Murren via ferrata is the place to be. If you enjoy scrambling and don't mind exposure, a via ferrata is very much for you. Essentially, you slip on a harness and clip into a metal cable that runs along precipitous terrain, giving you access to areas previously only accessible by well-drilled climbers.
In our instance, we were traversing the vertical walls that stood imposingly over the spectacular valley of Lauterbrunnen, with the iconic, snow-capped peaks of the Eiger, Monch and Jungfrau watching on. If it weren't for wanting to get my foot placements spot on, my eyes would be indefinitely drawn to these Alpine peaks, such is their raw and rugged allure. Below the steel rungs that made up our walkway, however, lay an imposing drop. Adrenaline-filled yet beginner friendly, the via ferrata at Murren is a fantastic way to spend a morning.
Canyoning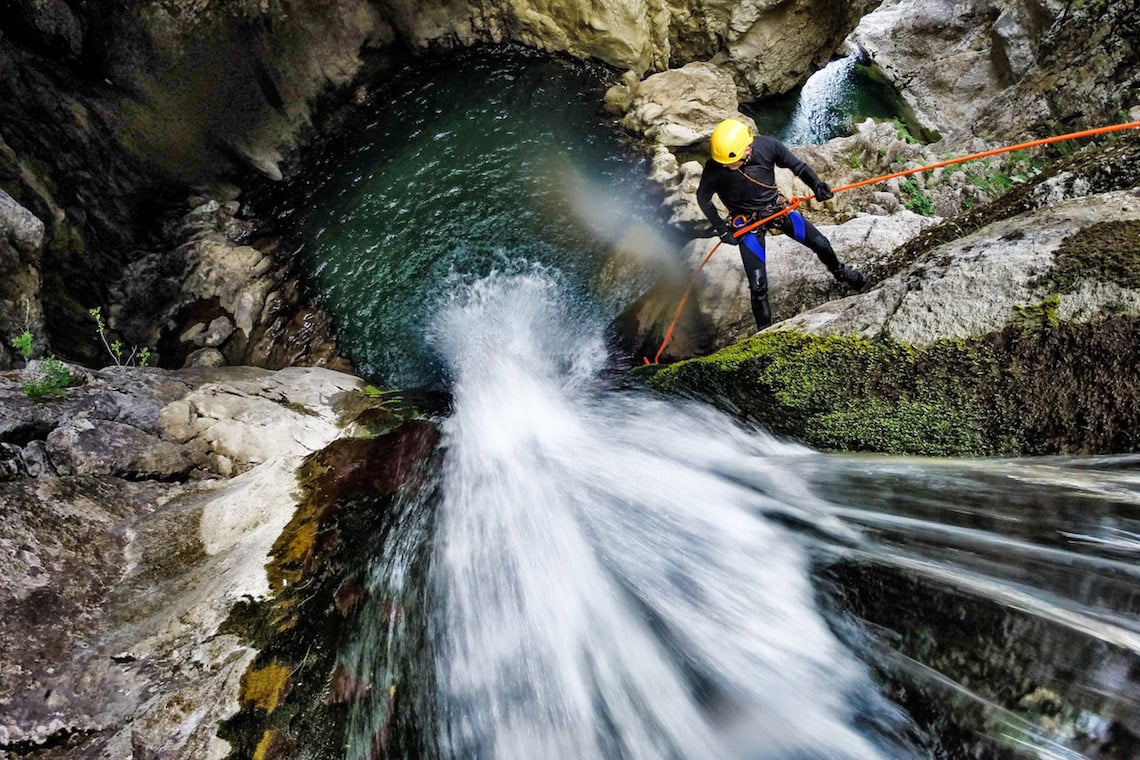 There are many ways to get a kick of adrenaline in the Swiss Alps, but canyoning has to be up there with one of the most exhilarating. Don a wetsuit, helmet and buoyancy aid before dropping into a scar in the planet's surface for an experience that will scare, excite and enthral you. We spent a morning exploring a canyon called Chli Schliere, which included abseils, natural waterslides and cliff jumps.
Scrambling, jumping and sliding your way down a canyon is so immersive that you really don't think about anything else for the entire time. Not only that, it allows you to see terrain that not many others will see themselves. Of course, when you're told to leap toward a solid wall of rock and slide down it into a frothy pool below, it's understandable to feel slightly anxious. For the days and weeks following, however, you'll be living on an unparalleled natural high. Click here for more info.
72 hours in Interlaken: How to get there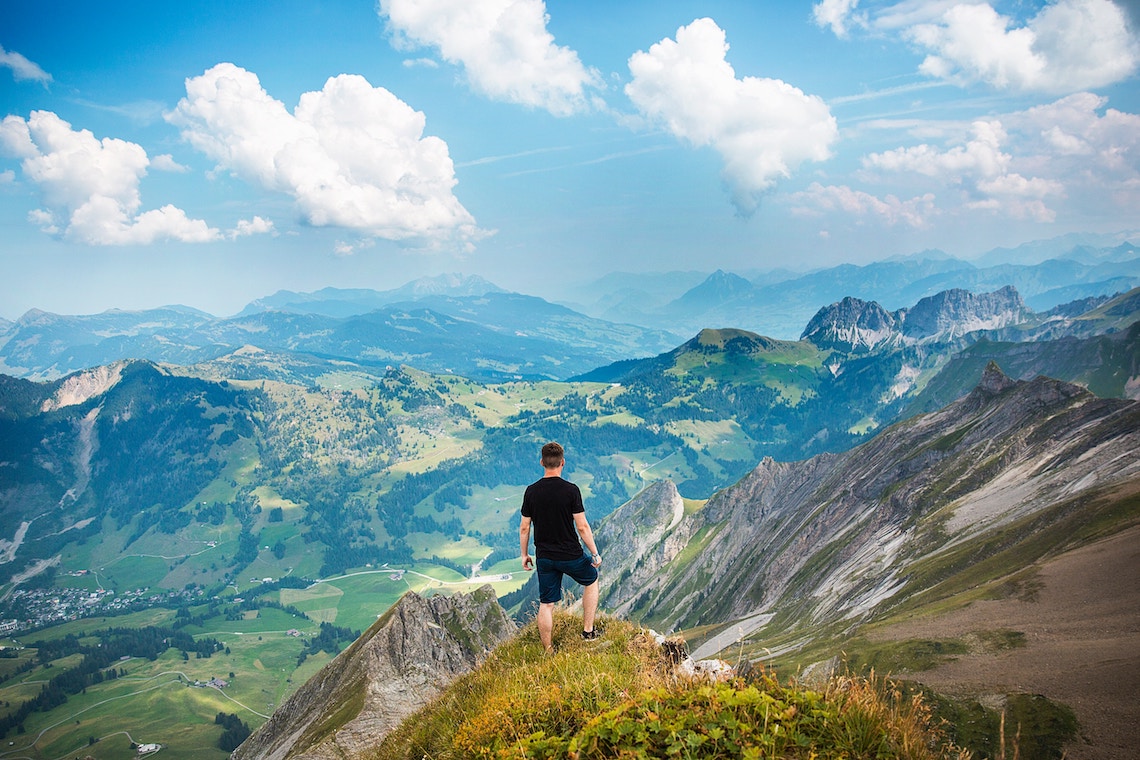 Flights into Geneva and Zurich run regularly from London and other regional airports, with return fares often available for under £100. Once in country, you can either rent a car or make use of the fantastic public transport.
An example flight itinerary for 72 hours in Interlaken, departing from and returning to London Gatwick, would look a little something like this: Take the easyJet flight from London Gatwick to Geneva at 6:30am on a Friday morning, which will get you there at 9:10am. Rent a car and spend the rest of Friday paddle boarding or taking on the Murren via ferrata, then Saturday hiking the Hardergrat. On Sunday, take your pick of adventures, before returning to Geneva and flying back to Gatwick at 9:40pm, to land at 10:20pm. These flights, at the time of writing, will cost you around £60. Bargain.
72 hours in Interlaken: Where to stay
We stayed in City Hotel Oberland in Interlaken and the Pop-up Lodge in Murren. Both were well located for the activities listed here and provided an extremely comfortable base. Plus, they had excellent views.