Head north east in Sweden and you'll eventually stumble upon Sarek National Park, an area of rugged peaks and imposing glaciers. Alec Forss finds out just how wild the area can be as he bags some of the region's imposing summits…
Tied at the waist to the end of a 30m length of rope, I stared down at my boots. Small streams of melt water carved out channels as they flowed off the tongue of the glacier, revealing tantalisingly blue ice underneath, perhaps hundreds if not thousands of years old. I felt the tug of the rope and took a step forward, pressing the points of my crampons into the ice.
A shout suddenly interrupted the sound of trickling water. In front, Björn, my Swedish trip partner tied at the other end, stepped through a snow bridge. "There's a crevasse here!" he yelled ominously.
Nervously hopping over its unknown depths, we continued to plod up the glacier to the pass without incident. But the mountain ridge we wanted to ascend disappeared into thick mist. We debated whether to go further, conscious too that we were starting to shiver as the glacier acted like a giant refrigerator on our by-now clammy bodies.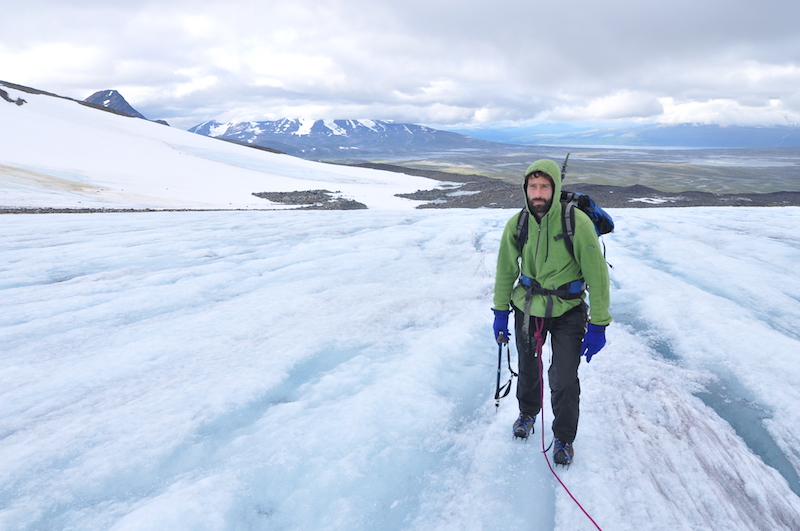 It was time to beat a retreat back to our base camp, a bright red tent pitched in a green glade at the foot of the glacial moraine – a large mass of dark rubble. It was a welcome sight after the monochrome world of ice and rock above. Defeated this time round, we then had to play a waiting game for a window in the weather that we knew might never come.
Our objective was the peak of Sarektjåkkå lying some 60 miles north of the Arctic Circle. At 2,089m, it's the second-highest mountain in Sweden after the better-known Kebnekaise. It receives only a fraction of the latter's visitors and entails an arduous two-day walk-in over pathless ground just to get to the foot of the mountain.
Situated in Sarek, one of Europe's first national parks established over a century ago, the area's reputation has long attracted wilderness enthusiasts – from relative trekking newbies wanting to cut their teeth in more challenging terrain, to grizzled, knee-hardened veterans who make annual pilgrimages here. It's paradise too for mountaineers and off-piste skiers enticed by its Alpine-like character.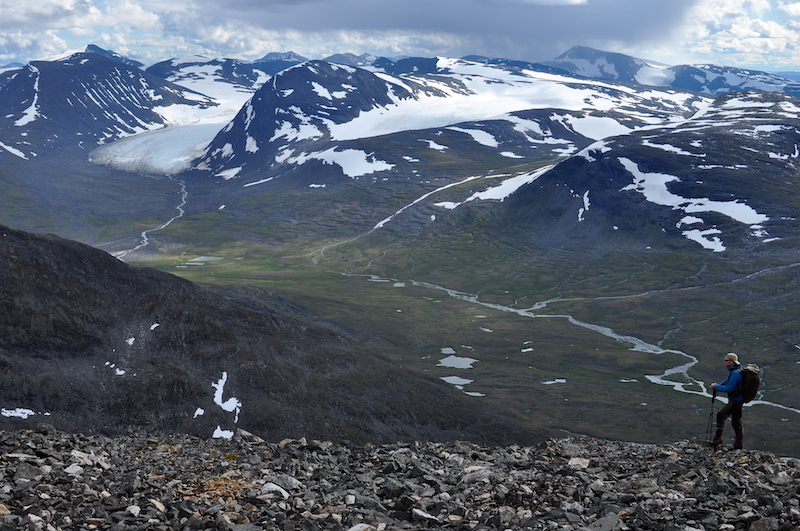 There's good reason for it. With over 100 peaks topping 1,800m, dozens of glaciers, and spectacular deep-cut valleys, most of Sarek also has no marked trails or open cabins (apart from the famous Kungsleden Trail which cuts through the southern corner of the park). Sometimes coined 'Europe's Alaska', anyone venturing here needs to be completely self-sufficient, carrying at least one week's worth of provisions. That's a rare requirement in today's overcrowded continent. It's so good in fact that even Norwegians – justifiably proud of their own mountains – are occasionally tempted to venture across the border to experience Sarek.
The downside, I realised, is the weather, as I gazed out at the sky from our tent porch. Sarek is notorious for bad weather. It reputedly receives the most rainfall of anywhere in Sweden, while in winter blizzards can howl mercilessly through its valleys (I know it well, I got stuck in one a few years back). Thick cloud and mist can frustratingly park itself over the land for days, with trekkers passing along the valley bottoms oblivious to the summits soaring steeply above. Each valley also generates its own micro-climate. It can be raining on one side of the watershed, only for glorious sunshine to be bathing an adjacent valley.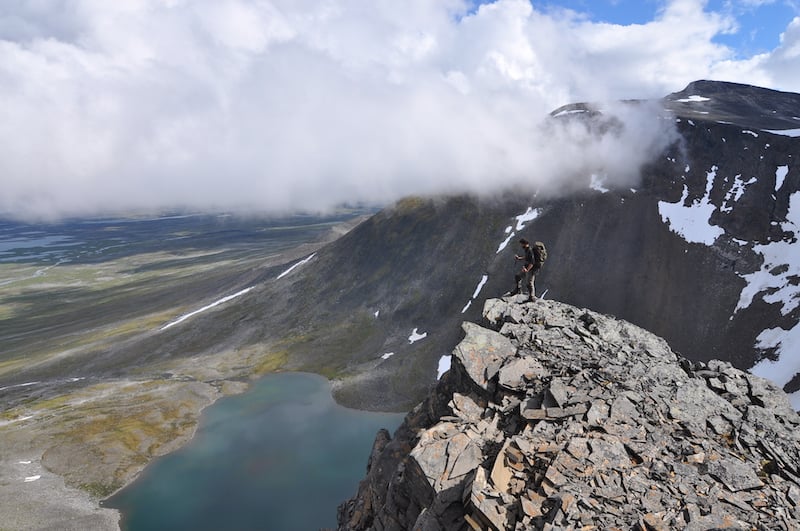 Patience is key here. We snoozed away in the tent, occasionally reading as our bored fingers reached for the chocolate rations. We hardly knew if it was night or day with practically 24-hour daylight reigning up in these latitudes in the summer months.
But eventually we could take it no more and decided to go for it. The route through the moraine to the glacier was easier having already picked a way through. We retraced our footsteps over the glacier and then started to clamber up the base of the ridge, a steep but easy scramble where rope was unnecessary. The crest of the ridge narrowed in places to just over an arm span the higher we went, until we finally reached the summit cairn some two hours after having left the glacier.
On top, the visibility was practically zero, but we were conscious of a gaping void, as a precipice plunges down the western side of the mountain to another glacier hundreds of metres below. Immediately to the south lies an exposed ridge traverse – an alternative glacier-free route to the top, but one that requires rappelling to descend.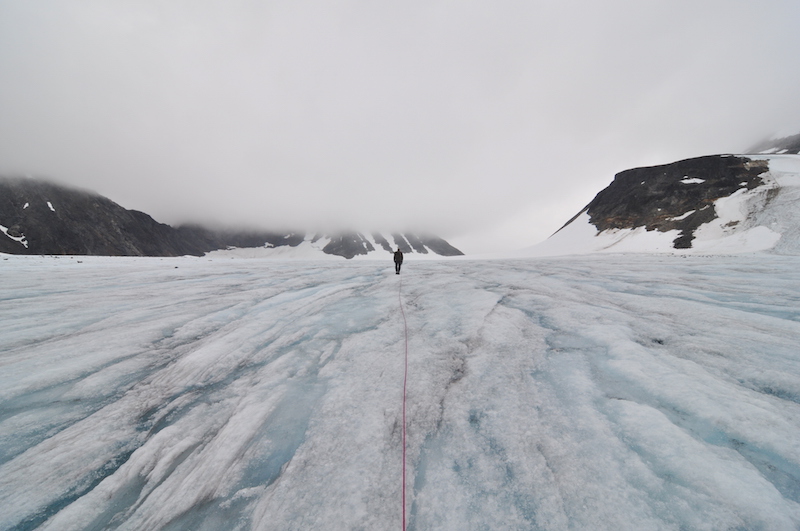 Returning the same way down, the mist momentarily loosened its grip as the evening sun punched through. We stopped as if stunned in our tracks. A world of charcoal-black mountain peaks cradling dozens of glaciers opened up. Wisps of cloud hanging around the summits seemed to exaggerate their height. While dwarfed by the giants of the Alps, we whooped at the world-class spectacle laid out before us.
We crossed back over the glacier for the fourth time and collapsed in our tents, exhausted but happy. A herd of reindeer crossed a nearby creek gushing past our tent, reminding me that other beings also inhabit these vast spaces. Giant elk browsed undisturbed in the thick birch and willow lower down in the valleys, while wolverine, lynx and bear also thrive here. While you're unlikely to see any of them, Sarek's famed park ranger Edvin Nilsson once told me that he'd stopped counting after 200 bear encounters.
Our main objective achieved, we cast our eyes over the map looking for the next mountain to scale. We traced a route north through the valley, crossing numerous streams which emerge from glaciers sitting in large armchair-like corries. Most were easy, entailing just a hop across, but some needed to be waded. One of the crossings was especially painful as I felt the water's icy fangs inch their way up my thighs the deeper I stepped in. It's the cold equivalent of walking across hot coals.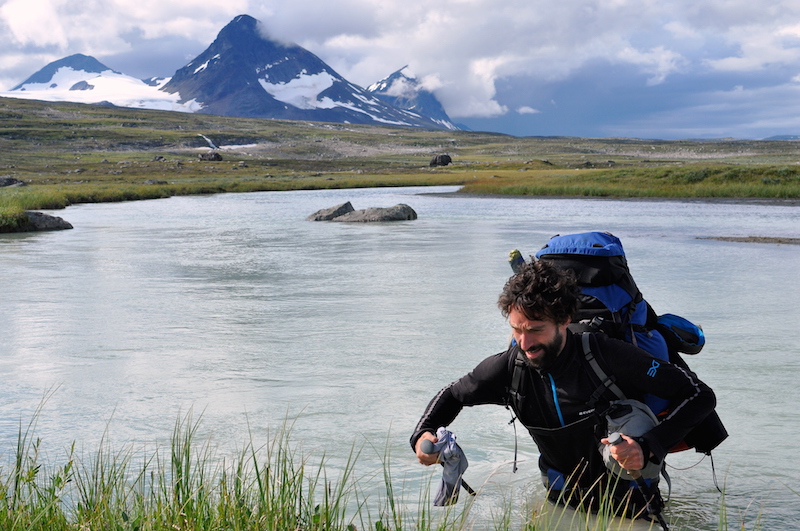 I could hear the sound of rock grating on rock in the swift-flowing, opaque grey water. Every step required care; you can't just dash across. You also need to pick your spot well – preferably where the stream braids into multiple channels. Stories abound of people and their gear being swept away. Reaching the opposite bank after what seems an age, we tried to rub life back into our numb feet.
After a few miles our mountain came into view. Its south face, half of it fully vertical, rose 1,000m out of a beautifully nestled tarn, its banks still partially clogged with snow. Looking behind me, I spotted a localised weather front laden with rain blowing cold on our heels. We made a run for the lake, despite lugging 25kg rucksacks, hoping to pitch the tent before the next deluge. But you can never escape the weather here and just a few short strides away from the lake we got pummelled from above.
Thinking our luck was out, we stepped out of the tent the next morning blinking disbelievingly at the bright sunshine and clear skies. Just a single cloud stubbornly clung onto the summit of Niják. We rushed into action, determined to make the most of it. One of the most recognisable peaks in Sarek, topping out at 1,922m, it's a heaving bulk of a mountain that sits squat over the head of the valley on the edge of the park like a gatekeeper to the mountain riches beyond.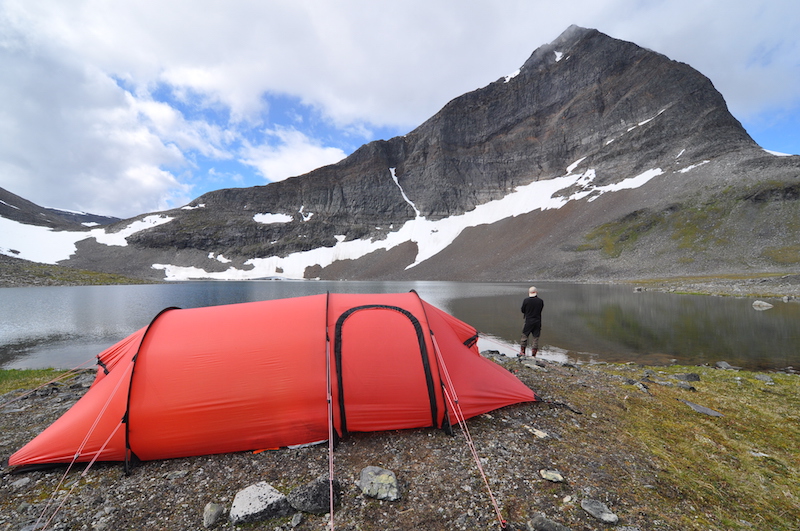 Trailless like the other peaks here, we followed our own route, hiking up its glacier-free but scree-laden slopes. The reward: 360-degree views from its table-like top, taking in a vast sweep of land all the way to the fjords of the Norwegian Atlantic Coast. Deluded perhaps by the Arctic sun, back at the tent we took a bracing dip in the frigid waters of the tarn.
Still greedy for more peaks the next day, we turned our attention north. This time we moved our way through slippery scree and boulders. Both of us cursed at the rock lubricated by moss and lichen. A short distance from the top, the dark clouds we'd seen amassing in the west were suddenly upon us. The ominous rumble of thunder sounded as we made a dash for the summit cairn. Minutes later, a crash of lightning struck close by as we stood exposed on the ridge.
There was no need to exchange words, we just needed to get off as fast as humanly possible. Our ankles and knees twisted awkwardly in the clefts between the rocks as we clambered down. Spotting a large snow patch, I glissaded down it on my backside using my feet for brakes, descending a couple of hundred metres in less than a minute. Later, we met a couple that had watched the storm engulf the peak, little realising we were in the thick of it. But we had grabbed our third mountain top of the trip and were in the middle of summit fever, feeling like we could go on forever ticking off the hundreds of largely untrodden peaks around us.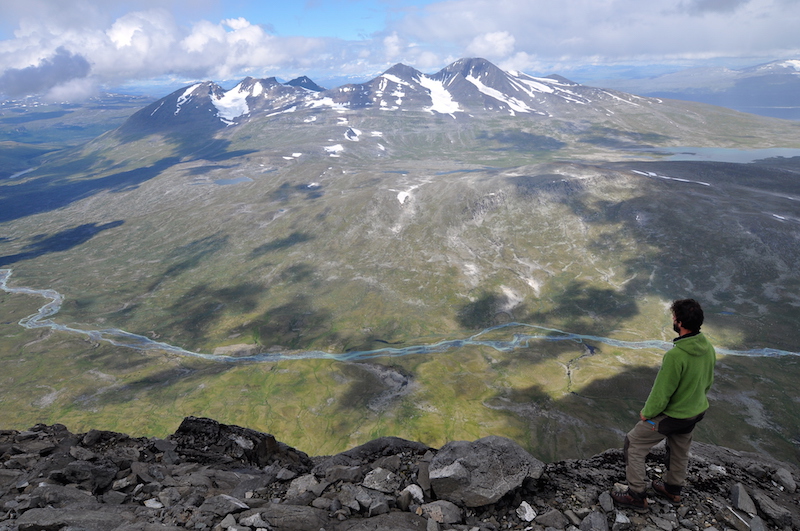 After a week, however, our supplies and time were running out. With only stale bits of rye bread and a crushed Snickers bar between us, we dashed over the border of the park, striking upon a trail that took us to the boat across the lake to the small settlement of Ritsem and the road out.
A hut served as a waiting station for the boat, the smell of freshly brewed coffee and smoked fish wafting divinely through the wooden doors. A handful of trekkers – the first we've seen in a week – started to emerge, their faces weather-beaten and damp clothes steaming in the warmth. Inside, tales of bad weather and river crossings were traded as badges of honour. Others were quiet, switching on their mobile phones for the first time since they left civilisation. Like us, they're tired but grinning – converts both old and new, many of us will likely be back next year, captured by Sarek's wild spell.
When to go to Sweden
July and August are the best times to visit. Any earlier and there will still be a lot of snow. Count on daytime temperatures of around 8-15C, though it can be significantly cooler. September is an especially beautiful month with the vivid autumn colours, although snow can fall at any time. Winter trips here border on expeditions with very low temperatures and potential blizzard conditions.
How to get to Sweden
Fly to Stockholm. From there take either an overnight train (www.sj.se) to Gällvare or fly to Luleå (Norwegian or SAS). Bus 93 runs from Gällivare to the mountains with two buses going every day in the summer high season. We got off at Suorva from where you can cross over the dam.
Alternatively, you can start or finish in Ritsem, a small mountain village from where boats regularly cross the Akkajaure reservoir, and from where you can hike part of the Padjelanta Trail before veering south east into Sarek. Count on about two days of walking to get to the foot of the peak in the Guhkesvagge Valley, from where we ascended. It's also possible to go up from the Rouhtesvagge Valley though I have never taken this route.
What to take
You need to be fully self-sufficient and used to trekking off-trail in sometimes difficult terrain. Good waterproof gear and a sturdy three/four season tent are musts – the latter preferably with plenty of storage space for hanging wet clothes and for eating when it's raining outside. Remember, there are no open cabins in the park. A spare pair of trainers, as well as trekking poles, are also useful for river crossings.
It's sensible to take a SPOT tracker or satellite phone as mobile phone coverage is practically non-existent, except perhaps for on a few of the peaks. Bring crampons, rope, and ice axe if planning to venture onto glaciers. Water is abundant except on mountain ridges, though silty glacial meltwater can give you an upset stomach. Mosquitoes can be a problem on windless days, so bring repellent and smoke spirals to put in the porch of your tent.
Maps
Lantmäteriet's 100:000 BD10 Sareks map used to be the only one, but Calazo now produce a more detailed 1:50,000 scale map of the park. Either order online or buy from bookshops and outdoor retailers in Sweden. There is little detailed information in English on the park, though you can check out the Swedish national park agency's website for a more general overview of the area.
After the hike
Having had an incredible adventure in the mountains, some people may want to extend their trip. If that's you, why not enjoy a unforgettable Ice Hotel experience with Best Served Scandinavia. Located 120 miles north of the Arctic Circle, you'll have an awesome array of activities available and a perfect place to rest your head. Find out more on the Best Served Scandinavia website.
Who's writing?
Alec Forss hikes, paddles, and writes on the North. He has been addicted to Sarek and Swedish Lapland for nearly two decades now. He is currently based in Stockholm, far from his native home of Birmingham. His next trip will take him packrafting in Greenland. You can follow his adventures on Instagram.
All photos by Alec Forss and Bjorn Nordkvist