LEGWORK
You can't beat a solid pair of action pants when it comes to feeling prepared. From zip-off legs and concealed vents to reinforced knees and seats with extra stretch, these adventure-ready trousers are up for whatever you are
I can clearly remember when, as a kid, jeans were the answer to everything when it came to adventures. Off out on your bike? Jeans. Heading to the woods to climb trees? Jeans. Joining your dad on a 10-mile hike in gale-force wind and rain? Jeans. That is unless it was summer, of course, in which case it was fluorescent cycle shorts (it was the 80s, after all).
There are still arguments in favour of both types of legwear for active outdoor pursuits. Jeans are robust, protective, everyone has a pair, and they're available in every size and shape you can think of. Cycle shorts are stretchy, comfortable, and quick-drying. But they both have numerous pitfalls, too, some of which are very hard to overlook.
Ever been caught in a torrential downpour while wearing denim? The chafing alone would be enough to make Bear Grylls cry. And taking a spill on rock or loose stone while wearing cycle shorts is basically akin to sliding down a very steep cheese grater.
Thankfully, things have moved on from the days of cardboard jeans and cheap neon Lycra. The outdoor industry has cottoned on to the fact that intrepid explorers want trousers that are able to meet the varied demands of the wild, and it now provides in spades. Whatever kind of adventure you're seeking, you can bet there's a pair of pants to suit.
Whether you're after a lightweight, two-season hiking trouser for summer days in the hills; a thermal, windproof, waterproof mountaineering pair for your alpine projects; or stretchy climbing pants with reinforcement in all the right areas for days spent clambering up rocks. A quick Google search will turn up a multitude of options – as well as many multi-purpose hybrid ones, too. In fact, the choice is so mindboggling that reaching for your trusty pair of Levis may seem like the easiest solution.
So, to give you an idea of the kinds of legwear available on the market today — and a good overview of features to look out for — we've compiled a selection of the best-performing pants out there that tick a variety of boxes for various pursuits. You could even say we've done the legwork for you. Enjoy.
---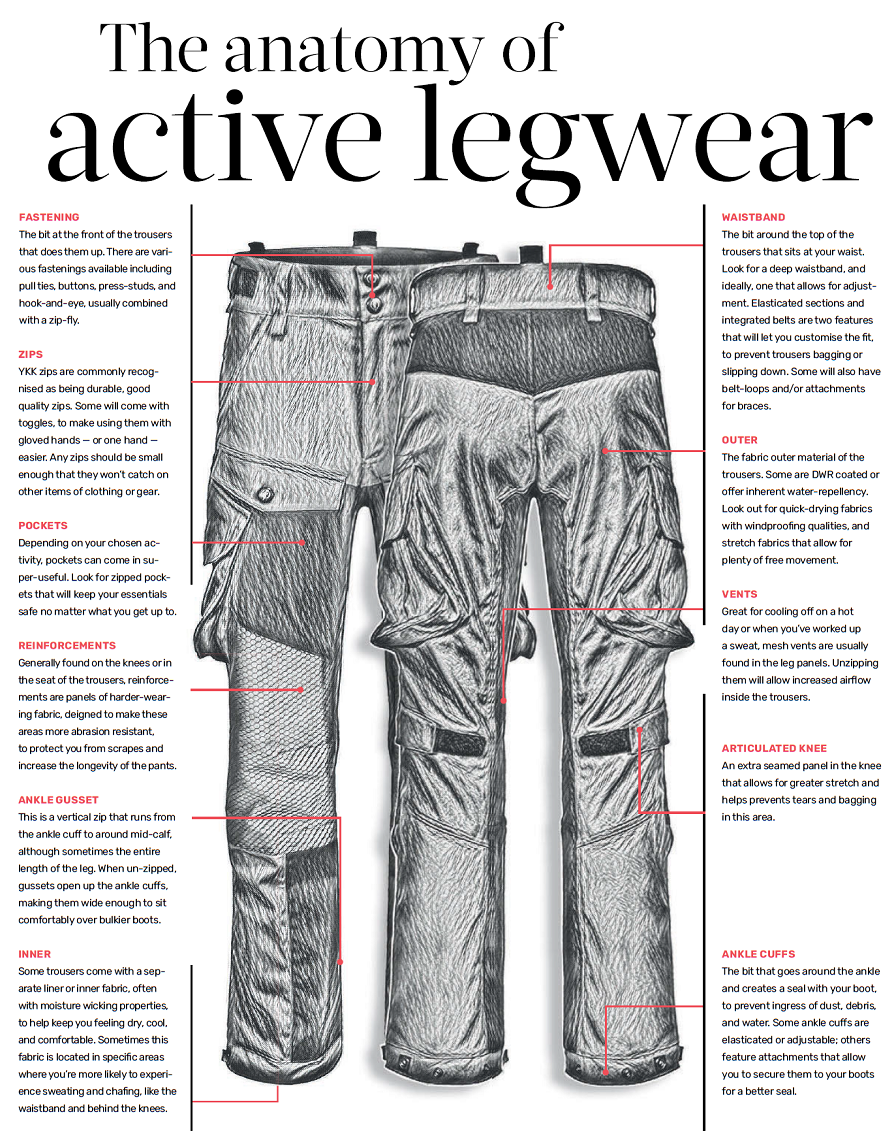 ---
MEN'S ACTION PANTS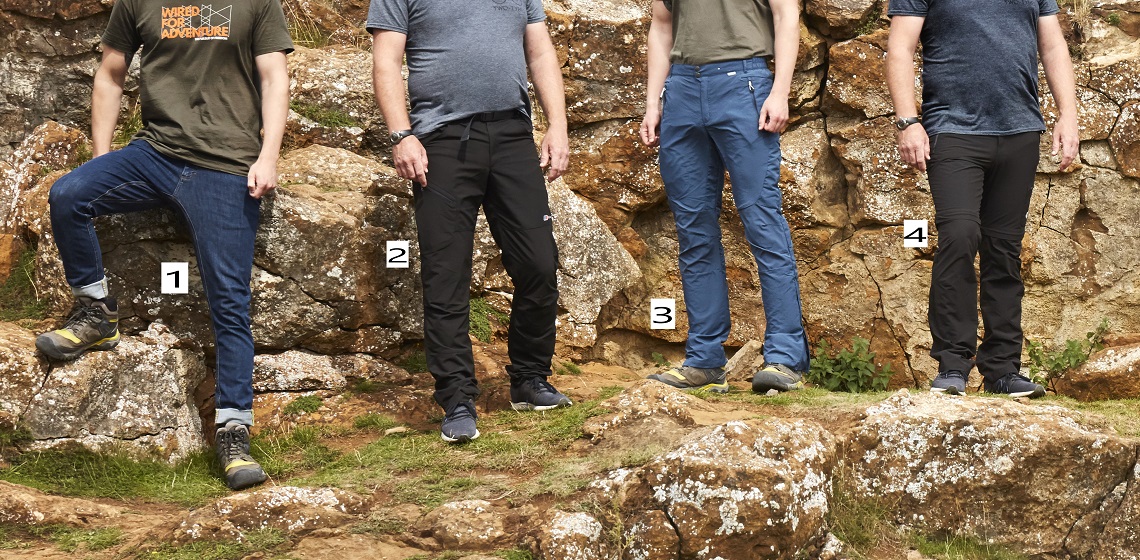 1 – BEST FOR CASUAL ADVENTURES
3RD Rock Fitz Jeans
RRP £85.99 – 3rdrockclothing.com
Not all jeans are made equal, and there's still room for an adventure-ready pair in your wardrobe for casual trips away. Enter the Fitz Jeans, from Peak District-based climbing clothing manufacturer 3RD Rock.
They're made with 3RD Rock's four-way stretch, durable EcoMORPH denim – a long-winded way of saying they look like a smart pair of jeans but feel like a pair of joggers when on.
The carrot-cut fit, narrow at the calves and more spacious around the thighs and seat, give you plenty of flexibility on a climbing wall or at the crag, but I've also loved going straight from the office to the hills (and then on to the pub) on balmy summer evenings without the need to change my clothes.
Sure, you wouldn't want to be wearing the Fitz jeans when the rain rolls in on Snowdon's Crib Goch, but then that's not what they're for. Instead, these are the perfect partner for casual adventures around town, walks in the countryside, and, of course, climbing in style.
It's also nice to see that 3RD Rock champions its eco-credentials too, using a rich, blue organic denim that's coloured in a way that guarantees no chemicals enter the water supply.
2 – BEST FOR MOVING QUICKLY IN THE MOUNTAINS
Berghaus Extrem Fast Hike Pant
RRP £95 – www.berghaus.com
Berghaus markets the Extrem Fast Hike Pant as the go-to option for hikers looking to move fast in the mountains, and it's not go-faster stripes or hidden rockets that prompt the British brand to make this claim.
The trousers are made from lightweight nylon, with double-weave stretch fabric at the knees and seat, to keep them as flexible as possible when your knees start pumping and the pace picks up in the hills.
While setting personal best times on your favourite summits while wearing full-length trousers sounds like a recipe for working up a sweat, I was pleased to note that two large side thigh vents can be unzipped for direct ventilation, allowing cooling air to flow through the pants.
There's also an integrated belt, to guarantee a snug fit around the waist, and a zipped thigh and back pocket to keep your bits and bobs from falling out. Handwarmer pockets and Velcro ankle adjustment complete the range of trail-friendly features.
When snow or rain is falling, the lightweight design of the Extrem Fast Hike pants means things will get a bit chilly when you come to a stop, but if you're in a hurry these are the adventure pants to grab for your speedy hiking plans.
3 – BEST FOR SUMMER WALKS
Regatta Sungari II Walking Trousers
RRP £50 – www.regatta.com
Stand in Heathrow airport when a flight arrives from Thailand and you'll see plenty of travellers disembarking in loose-fitting harem pants. While I've previously been quick to roll my eyes at mates who have returned wearing them, a day in the Sungari II walking trousers made me realise that I should have parked my judgement.
You see, while the Sungari Il trousers from Regatta are a far cry from baggy pants with elephants emblazed on the side, I've been won over during my summer hikes by the incredibly lightweight polyamide fabric that they're made of.
It's so soft and comfortable when on that they feel more like a pair of silk pants than a DWR-treated pair of hiking trousers, which also provide 40+ UPF sun protection. Despite the lack of vents, they've become my go-to choice for hikes, and even just lounging around, when the temperatures rise.
Alongside this, there are two zipped handwarmer pockets and a zipped thigh pocket, as well as an elasticated waistband, to guarantee a snug fit and zip-up ankle gussets, to take a hiking boot.
All these features combine to create a very comfortable pair of hot-weather hiking trousers.
4 – BEST FOR CHANGEABLE WEATHER
Regatta Highton Zip-Off Trousers
RRP £70 – www.regatta.com
As the name suggests, the Regatta Highton Zip-Off Trousers are the most versatile on test thanks to the presence of a zip running around either knee, allowing you to start each adventure with a simple choice: trousers or shorts?
And, when the clouds roll in and the weather changes, as it did when I summitted Scafell Pike while wearing the Highton's, you can quickly zip on the legs to keep the rain and wind at bay.
The Durable Water Repellent (DWR) finish did an excellent job of keeping me dry as a light shower soaked the short-wearing hikers around me (the day had started in resplendent sunshine, as it so often does here in the UK).
The Highton Zip-Off Trousers aren't a one-trick-pony though. They also offer plenty of secure storage. The two hand-warmer pockets and the single left-hand thigh pocket are all zipped, to keep your keys and wallet from slipping out during scrambles, while the waistband is elasticated to ensure a snug fit.
If you're looking to pack light and want a handy two-for-one trouser in your rucksack, or you're planning adventures during ever-changing conditions, these are a pretty handy pair of pants to have with you.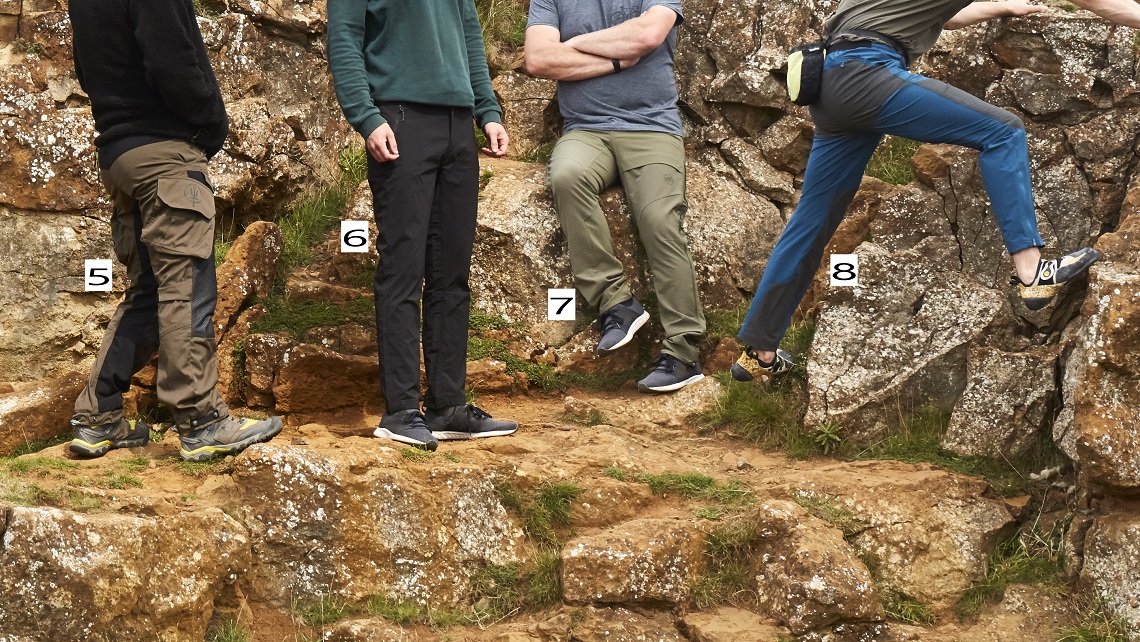 5 – BEST FOR SUMMITING MOUNTAINS
ThruDark SF Charge Trousers
RRP £295 – Thrudark.com
There's a reason the SF Charge Trousers are illustrated on the 'Anatomy of." (Above). This pricey pair of pants is packed with just about every feature you could want, need, or ask for when you're out adventuring.
Designed to handle everything from scrambling your way up mountains to bashing your way through jungles, they boast more storage than any other trouser in this round-up. The two front thigh pockets and two huge side bellow pockets are designed to remain accessible when wearing a harness, making the SF Charge trousers ideal for summiting towering peaks, while there are also two handwarmer pockets.
Other features include hook-and-loop adjustment straps at the waist and knee for fine-tuning the fit; buttoned ankle tighteners; boot-hooks, to keep the trouser legs from riding up when you're belaying or abseiling; four-way stretch fabric in the crotch, waistband, and inner thighs for flexibility: and robust Cordura and Dyneema reinforcement at the knees for abrasion resistance.
A lack of direct ventilation means you'll want a lighter pant in hot conditions, but they'll handle just about everything else with ease. You'll pay for the privilege, but UK-based ThruDark's 'go-anywhere, go-everywhere, go-hard or go-home trousers' are precisely that.
6 – BEST FOR HIKING ENDURANCE
Craghoppers Dynamic Pro Trousers
£65 – Craghoppers.com
Long days trekking up and down hills can be an energy-sapping affair, but UK-based outdoor brand Craghoppers reckons it's found a solution for those burning calves with its new Dynamic 12000 stretch fabric, which features in the Dynamic Pro Trousers So, how does it work?
Craghoppers claims minerals woven into the fabric help to reflect the natural infrared rays that our bodies give out, which increase during exercise. In theory, the UK-based outdoor brand says that reflecting these rays back towards the body improves cell regeneration and can increase blood flow, keeping your muscles working harder, for longer.
Putting this claim to the test did prove a little tricky; I'm no athlete and there are plenty of other factors that can affect your performance in the hills. However, they were certainly a nice trouser to wear, as the Dynamic 12000 fabric is lightweight and supple when on, and it's always exciting to see innovation and new technologies in the world of outdoor clothing.
Alongside this hi-tech approach to fabric, the Dynamic Pro Trousers also feature a zipped rear pocket alongside two zipped handwarmer pockets, and a tie around the waist to ensure a snug fit.
7 – BEST FOR HEATWAVES
Mammut Zinal Guide Pants
RRP £150 – www.mammut.com
When the sun decides to come out, a pair of full-length hiking pants can quickly become a sweaty choice for a day on the trails, although the protection they offer from harmful UV rays, as well as scrapes and stings, isn't something to be sniffed at.
That's why Mammut has equipped its Zinal Guide Pants with two 30cm-long vents running down either thigh. Unzip them when the temperatures heat up and you'll quickly feel a cooling breeze start to circulate.
The vents are backed by mesh, ensuring that the coverage provided by the polyamide outer isn't compromised when you have them open. That outer layer is also interwoven with Spandex, to keep the trousers flexible on the trail, while the seat and knees are backed with robust panels, to add abrasion resistance in key impact areas.
Mammut has also packed an impressive amount of storage into the Zinal Guide Pants, with two side hand-warmer pockets as well as zip-up coin, seat, and right leg pockets to secure valuables like your phone and wallet during treks.
With the lightweight summer-ready design in mind, you'll want to choose another pair if snow is on the way, but these are ideal for warmer days adventuring during spring and summer in the UK or in hotter climes.
8 – BEST FOR YOUR NEXT CLIMBING PROJECT
Montane Alpine Edge Pants
£100 – www.montane.com
Life for a pair of climbing trousers is a tough one. They have to be rugged enough to deal with scraping against rock, yet light and flexible enough to allow for acrobatic movements when the going gets tough.
That's where the Montane Alpine Edge Pants come in The double-weave Chameleon LT fabric is supple and stretchy, perfect for pulling tricky moves and high legs on a climbing wall, while it's nice to see that Montane has reinforced the knees, inner calves, and bum with tough Granite Extreme fabric, to protect the spots that are most likely to get scuffed at the crag.
The entire trouser is also treated with DWR, to provide water resistance in light rain showers too.
The two hand pockets and rear pocket are protected with zippers, to ensure you don't drop your wallet, phone, or other valuables on your belayer's head, while the easily adjustable elasticated waistband is a particularly nice touch that guarantees the perfect fit.
While the lightweight fabric keeps you from working up too much of a sweat during a climb indoors or during warmer days, it does mean you may look for a warmer pair of pants for winter projects or summiting big mountains.
---
WOMEN'S ACTION PANTS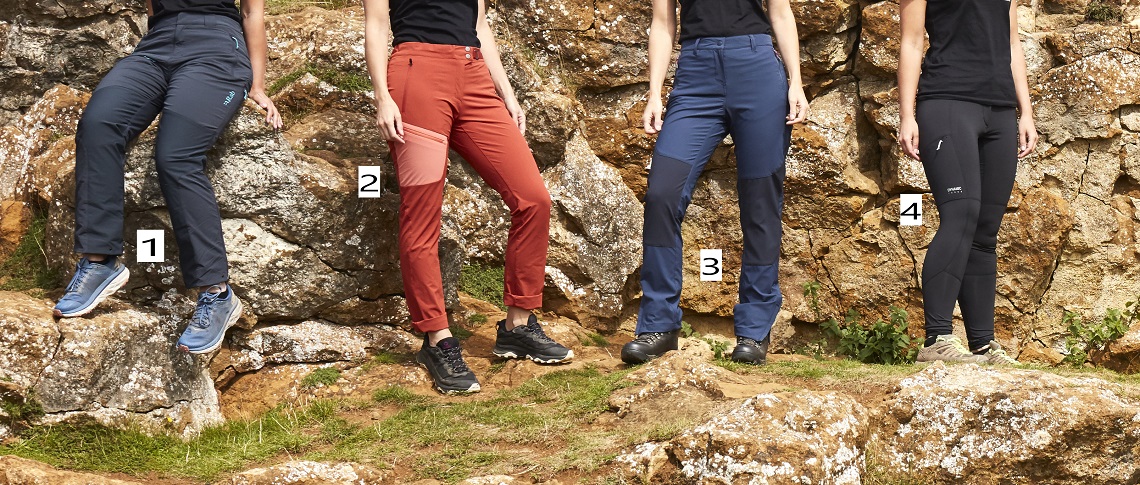 1 – BEST FOR WINTER MOUNTAINEERING
Rab Torque Vapour-Rise Pants
RRP £150 – rab.equipment/uk
These pants are designed to perform with a capital 'P'. Warm, stretchy, and tough, if you're venturing off for a long, cold day in the mountains, the Torque V-R are packed with features that'll pay off when the going gets tough and temperatures drop.
First up is the eponymous Vapour-Rise polyester lining, which is made up of two different weaves. It's designed to give you extra warmth where you need it most while also wicking away moisture in areas where you're likely to sweat, helping you to regulate your temperature so you can stay comfortable while giving the task ahead your full attention.
On the outside, the wind-proof Matrix shell is super stretchy, to allow you to climb freely while keeping out those icy blasts, and its DWR coating helps keep you dry. There are reinforced areas, too, in the knees and ankle cuffs, which have zipped gussets so you can fit them comfortably over boots.
The zipped thigh vents and attachment points for braces are useful additions, and there are also four large zip pockets, to keep essentials safe. Rab refers to these pants as 'the ultimate all-in-one mountain system', which is a pretty accurate description.
2 – BEST FOR EVERYDAY ADVENTURES
Scott Sports Explorair Light Pants
RRP £63.99 – scott-sports.com
I have to confess that I've basically lived in these trousers the past few months and weeks. From day hikes to a week-long camping trip, these have seen me right. Super lightweight and stretchy, these pants have all the benefits of a pair of leggings, but with the added bonus that they don't look like a pair of leggings.
They're water-resistant to a point, and also fast drying; I was able to wash and dry them overnight, ready for the next day. (This attribute also came in handy when my children initiated a water-fight.) I should also mention that they're so comfy, I've taken to throwing them on when I get in from the office, just to chill out in.
The Explorair have fewer features than some of the other pants here, but they're excellent at what they do and are ideal for casual day hikes and general exploring. They pack down to the size of a small pencil case and weigh in at just 240g, which makes them perfect to stuff in a daysack for if the weather turns.
The integral waist adjuster is a nice touch and means you can get a good fit without the need for a belt. The rust-red shown here makes for a refreshing colour option, too.
3 – BEST FOR SCRAMBLY HIKES
Keela Nevis Trousers
RRP £69.95 – www.keelaoutdoors.com
Lightweight and stretchy, the Nevis pants from Keela are a classic-style hiking trouser that's ideal for exploring mountain trails to the fullest. The water-resistant outer has loads of give and is reinforced at the knees and seat, which does give you added confidence while making scrambly ascents and descents when the going gets steep and rocky.
The extra panel in the crotch also allows you loads of room to move, too –  in fact, I could probably do the splits in these pants were I still bendy enough.
Which brings me on to the fit. I'm happy to admit that I struggle with buying trousers. A classic 'pear' shape, clothes that comfortably fit my bottom half are usually three sizes too big on the waist.
Having spoken (moaned) at length with other similarly shaped females, I know I'm not alone in my quest for the perfect-fitting adventure pant.
The Nevis addresses this problem – and does away with the need for a belt – with integral elastic straps inside the waistband that have a series of button-holes. These can be pulled tight and secured with a button, to allow you to customise the fit around the waist. A big plus. Two zipped pockets and ankle gussets complete the package.
4 – BEST FOR ENDURANCE ADVENTURES
Craghoppers Dynamic 12000 Trousers
RRP £55 – www.craghoppers.com
The Craghoppers' ethos is all about energy conservation: recycle, reuse, repair – and now the brand has developed a way to help adventurers conserve their energy, too.
The new range of Dynamic 12000 clothing uses natural minerals within the fabric's make-up that reflect the body's infrared rays. These rays, which are a form of electromagnetic radiation, are given off by our bodies all the time, but increase when we heat up, especially during exercise.
The theory goes that reflecting these rays back onto the body has a variety of health and wellbeing benefits, like Improving cell regeneration and increasing the flow of oxygen-rich blood around the body, which in turn powers those muscles driving your adventure.
Whether you subscribe to this thinking or not, the Dynamic trousers are a great bit of kit. Like leggings but with a front-fastening button and zip, they're super comfortable and excellent quality, with the added bonus that you can basically wash and wear them straight away.
Made using recycled bottles, the fabric is moisture-wicking and offers UV protection. I'm not one for fell running, but if you are, the Dynamic should be a serious contender for your next pair of adventure pants.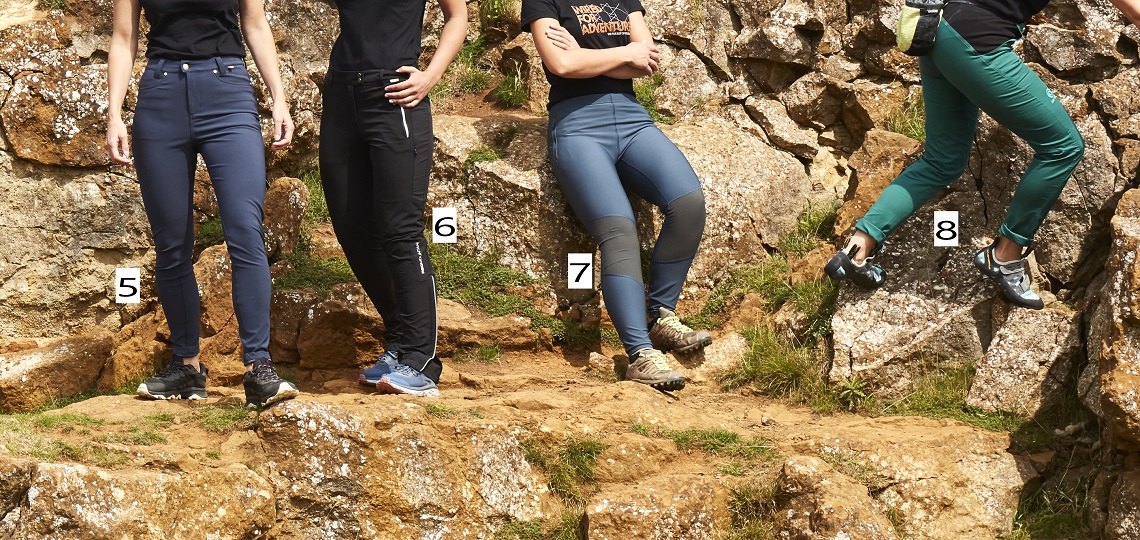 5 – BEST FOR MULTI-ACTIVITY ADVENTURES
Acai Adventurite Stretch Skinny Outdoor Trousers
RRP £89 – Acaioutdoorwear.com
These may look like a pair of smart, skinny-fit trews – and you'd be right. But don't let appearances fool you. Beneath that casual-chic facade is an all-round adventure-ready pant designed to take you from the valleys to the hills and back again in time for afternoon tea. If you like to get up to all sorts – including horse riding – and look good doing it these are the trousers for you.
The main fabric of the Adventurite is a robust, recycled nylon that allows for four-way stretch (yes, they passed the splits test). It's also water-resistant, abrasion-resistant, and moisture-wicking, so you don't feel like a boil-in-the-bag turkey as you work up a sweat.
These pants are quick-drying, so ideal for activities where getting a bit wet is par for the course. The classic "jeans' styling does mean there's only one zip pocket on the back, but it's fine for small items like keys, tickets, passes, or bank cards.
The best part, though, has to be the fit. I'm not generally a skinny-fit advocate, and if the thought of tight trousers makes you cringe too, I'd strongly urge you to try these. They'll change your perception of 'freedom'.
6 – BEST FOR COLD WET ADVENTURES
Regatta Mountain Winter Trousers
RRP £100 – Regatta.com
First off, these are a robust pant made for tackling extreme weather, and they've been built to last. The outer is made from a polyester stretch fabric, which Regatta calls ISOFLEX+ advanced.
It's treated with a DWR, which is extremely effective, even under a running tap, and the high-wear areas, like the ankles, are reinforced with tough a Cordura panel, so they'll stand up to scrapes.
Inside the elasticated ankle cuffs is a line of non-slip gripper tape, to ensure a good seal with your footwear, and although the zipped gussets aren't as wide as some others, there's plenty of room to get them over a hiking boot. The same tape is in the back of the elasticated waist panel, to stop the trousers from Slipping down. (As an aside, I found these to be an excellent fit, without the need for a belt.)
Although these pants aren't the stretchiest, they do allow a good range of movement and the articulated knees help with this. Little touches, like two good-sized zip pockets and reflective strips down the ankle gussets, are also well-considered.
The performance element outweighs the comfort a bit with these pants, but team them with a snug base layer and you'll be ready for anything.
7 – BEST FOR MOVING FAST AND LIGHT IN THE MOUNTAINS
Montane Ineo Tough Pants
RRP £90 – montane.com
One for die-hard leggings fans, these Tough Pants from Montane are modelled on the brand's popular Ineo Pro Pants, with the added benefit of reinforcements on the knees and seat. Should you fancy a bit of a climb or scramble off the beaten track, these trousers are more than up to the task.
They come with two zip pockets which will hold a smartphone or similar-sized device. They also have a high waist and internal drawcord, which gives an excellent fit and really pays off comfort-wise when getting your leg up mid-climb.
Referring to them as simply leggings doesn't do these pants justice, though. Yes, they're stretchy enough to do yoga in and are figure-huggingly tight, but they're also exceptionally well made with flatlock seams throughout. They're sculpted, with articulated knees that help you move freely and prevent the misshaped bagging that often comes with leggings over time.
Other thoughtful features include the wicking elastic waistband, which keeps you cool and stops chafing, while the outer fabric has all the wind- and water-resistant properties you expect in a performance outdoor pant.
These are the leggings Marvel superheroes would seek out (if Marvel superheroes had to buy their own leggings).
8 – BEST FOR YOUR NEXT CLIMBING PROJECT
3rd Rock Aster High Rise Tapered Leg Eco Movement Trousers
RRP 84.99 – 3rdrockclothing.com
If you believe in shopping local, supporting small businesses, and living sustainably, 3rd Rock is a brand after your own heart. Founded in 2010 by fashion designer, pattern cutter and climber, Jessica Mor, 3rd Rock is a family-run business based in the Peak District. Mor's vision was to create a line of activewear that's respectful of the planet and 'worn to death…
So, how do its pants perform? Well, the Aster are a slim fit. Much slimmer than I'd usually go for when climbing. The website specifies to size up in these, which allows for a little more flex on the wall. They are, however, made for rock monkeys.
From the diamond-cut crotch to the tapered legs, these pants are the perfect shape for pulling off ambitious moves with confidence. The high waist and elasticated panels around the hips are a revelation when it comes to getting your leg up.
They're made from soft organic cotton, which means it's farmed entirely free of chemical pesticides. It doesn't have as much give as some of the other fabrics here, but it'll probably outlast you.
These are the kinds of pants that will become like a second skin once worn in, and your goto climbing buddy.