In 2017, ELISE DOWNING became the YOUNGEST person and first woman ever to run around the COAST of Britain — all 5,000 miles of it. Here, she shares her INSIGHTS into setting an adventure GOAL and going for it
When Elise Downing set off to run 5,000 miles around the coast of Britain, her running kudos was limited to sobbing her way through a marathon. Despite her lack of ultra-running experience, she made it all the way round, becoming the youngest person and first woman ever to do so. It was 10 long months of mud, debt, and tears, fuelled by fish and chips, Google Maps, and the endless generosity of the people she met along the way.
"When I was six, I climbed Snowden in my Spice Girl platform trainers. I hated it! My dad's a gardener and he dragged me on a lot of walks. On weekends, we used to drive two hours to Derbyshire, walk up a mountain and come home again. That was normal for us, although I didn't want to do it.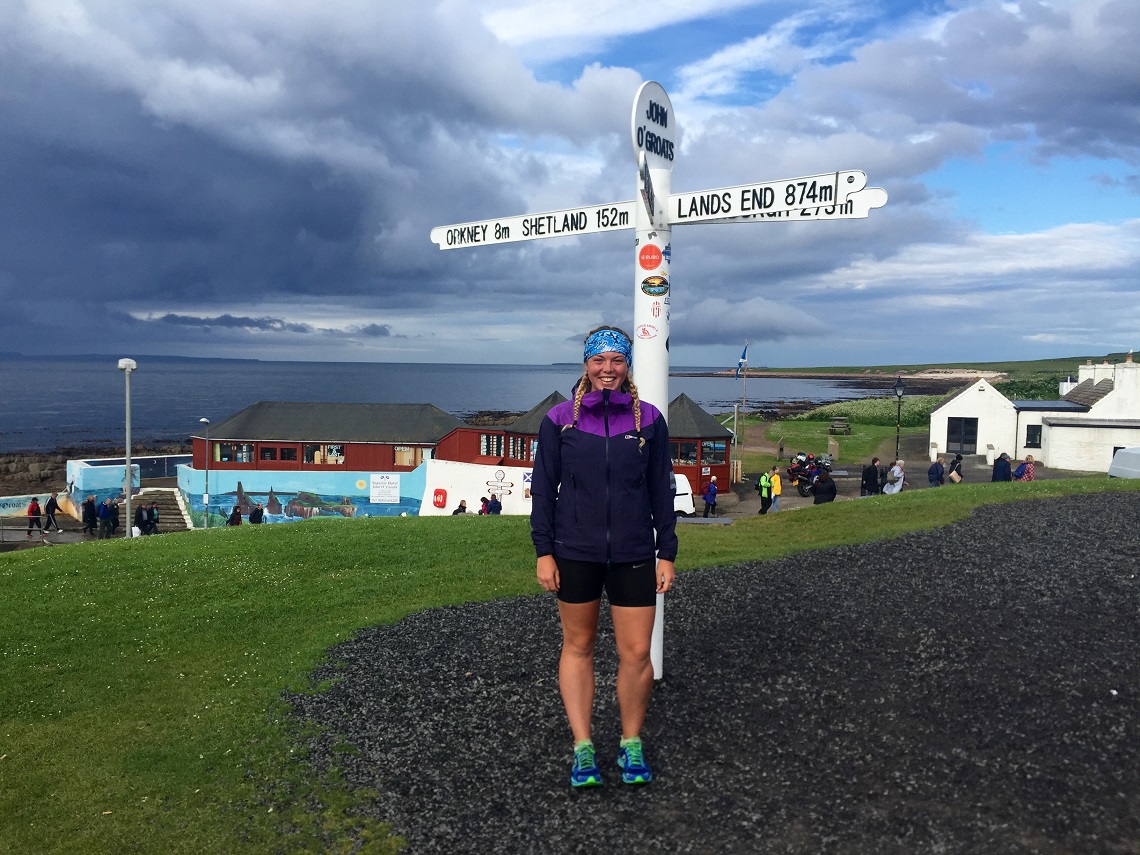 "I wasn't the most active child. My brother was the sporty one. He used to go to athletics training, and I'd sit in the car with my mum and beg to be taken to McDonald's. I was the one who wanted to be at home, read books, bake cakes, and draw pictures. It wasn't until I was 10 and my mum started going for runs around the block that I even considered running could be fun and not this very serious, competitive thing where you race around a track in your running vest.
"So when I announced to them that I was going to run all the way around the coast of Britain, it came as a bit of a surprise. Not the madcap scheme bit – I was always phoning my dad with some hare-brained idea or other and most of them never happened – but the running bit. My brother still thinks it's a bit weird and he can't quite believe I did it. My friends just thought it was hilarious."
BEFORE THE RUN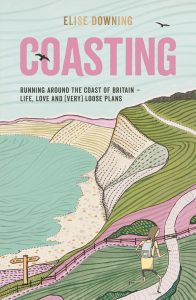 "I wasn't that happy at the start-up, I worked long hours, I had no money, and I was starting to realise that Greg wasn't the great person I'd put on a pedestal. Everyone else seemed excited about getting promoted and moving up in their careers; I spent a lot of time crying on buses."At the time, I'd just graduated, I was six months into a job at a tech start-up, I was living with friends, and I'd just started seeing a man, *Greg. Everything should have been really exciting, but I had a feeling that this wasn't what I should be doing.
"I'd started running a bit and liked the idea of running more but I didn't have the time or headspace. I spent my whole time on the bus to work, at work, on the bus home, messaging Greg, crying about Greg…"
THE CRYING CRAYON
"At work one day, I was looking at a map of Britain to see if we could deliver to a certain area and I wondered if anyone had run all the way around the island. The seed of an idea was planted, although I can't say I had much experience of running.
"I'd made a New Year's resolution to do a half marathon when I was studying abroad in Sweden and the idea of running for two hours non-stop (or two hours 18 minutes as it was in the end) felt preposterous. I was too embarrassed to tell anyone for months and trained in secret. The next year, I attempted a full marathon dressed as a Crayola crayon for charity with dad. I cried for 8 miles and a child heckled me as the "crying crayon". It was awful and horrible and painful.
"I'd met Greg at an adventure festival, and we became Twitter pen pals. Back then, my uni friends weren't into adventurous stuff. It was through Greg, that I started to realise just how many people were doing things like cycling around the world and rowing across oceans for adventure. It was eye-opening."
MAKING IT HAPPEN
"I started telling people my idea and it became this thing I was doing. In November 2016, I planned to start my run in London, follow the Thames to the sea, loop around south England, Wales, northwest England, Scotland, and eastern England, hugging the coast as much as I possibly could as I made my way back to the capital.
"Looking back, I really struggle to know why I thought I could do it. It was almost a very elaborate but very easy way out of it all. I felt a bit stuck, thinking about a career, a way to be less broke, or how to deal with the fact that I was dating this guy who I was completely besotted with but who clearly wasn't very nice to me, all felt too hard to figure out. Running around the country seemed like the easy option.
"That's kind of where the initial motivation came from. Also, running 5,000 miles around the coast of Britain would seem more impressive than me just being six months into my first real job and already unable to hack it. And (I really, really don't like to admit this), I did sort of think that this would show Greg that I'm not just this loser crying on buses about him.
"I started following people like Anna McNuff, who was running the length of New Zealand at the time. I'd already joined Dave Cornthwaite* in his Yes Tribe community. Then it evolved and I started to meet all these amazing people in the adventure world who were so generous with their time.
They didn't turn around and accuse me of being a fraud and tell me I couldn't do this. In fairness, probably because they didn't know as much about my crying crayon incident as my family and friends.
"Those friends are still my best friends now, but they take no prisoners! It would've been the biggest joke if I'd decided to do this and not managed it. And that was another form of motivation: saving face. I'd made such a big deal about the run, that if I quit — as I very nearly did on day two, when I threw a tantrum about my over-stuffed backpack in a Dartford car park with just 6 miles to run to Gravesend — it would've been ridiculous. So that kept me going for the first bit. After that, I actually started to enjoy it.
"By far my favourite section was the Southwest Coast Path, which runs from Dorset around to Somerset, especially the Jurassic Coast and the north coast around the Devon/Cornwall border, which is super rugged. The trail is beautiful but it's tough, too. A constant rollercoaster of ups and downs; you climb the equivalent of Everest four times. I was also doing it at the most challenging time of year: December and January. It was a really stormy winter and the whole thing was so muddy a constant slip and slide, plus it was dark by 4 pm.
"Despite that, the SWCP was gem! The trail is right on the cliff edge for the most part, so you're seeing it all, whereas in other places I knew stunning coastline was there but there wasn't always the infrastructure of coastal paths to run right alongside it. In parts of northeast Scotland for instance, the most coastal route is the A9, which is clearly not made for travelling on foot! I had to veer inland around there to avoid getting run over by a lorry.
THE REAL ELISE?
"To begin with, it felt like there was a massive gap between the person that people thought they knew from my video diaries and the person I was in my 'real' life. I ran out of money. I was still crying about my ex-boyfriend. I even worried that I was invalidating the adventure when it felt too easy. My friends used to laugh that they were going to set up an alternative Facebook page called 'Elise Downing tells the truth'.
"That's probably why it took me a little while to write my book. I didn't want to write it if I couldn't tell the whole story, which I didn't feel ready to do straight away. I didn't want to write a twee, wholesome adventure book. I like hearing stories from someone who talks about their adventure like a real person –— someone like me, with all the bits that weren't perfect. So that's what I set out to do when I finally felt ready to get the words out.
"A lot of adventure people tend to talk about how the things they do are hard and gruelling, but that side of adventuring often happens almost in isolation. Sometimes adventure isn't very inclusive and I wanted to strike a balance. I know that I was lucky and privileged to be able to go and do this thing, but I came at it from a normal place. I'm not from a particularly well-off family.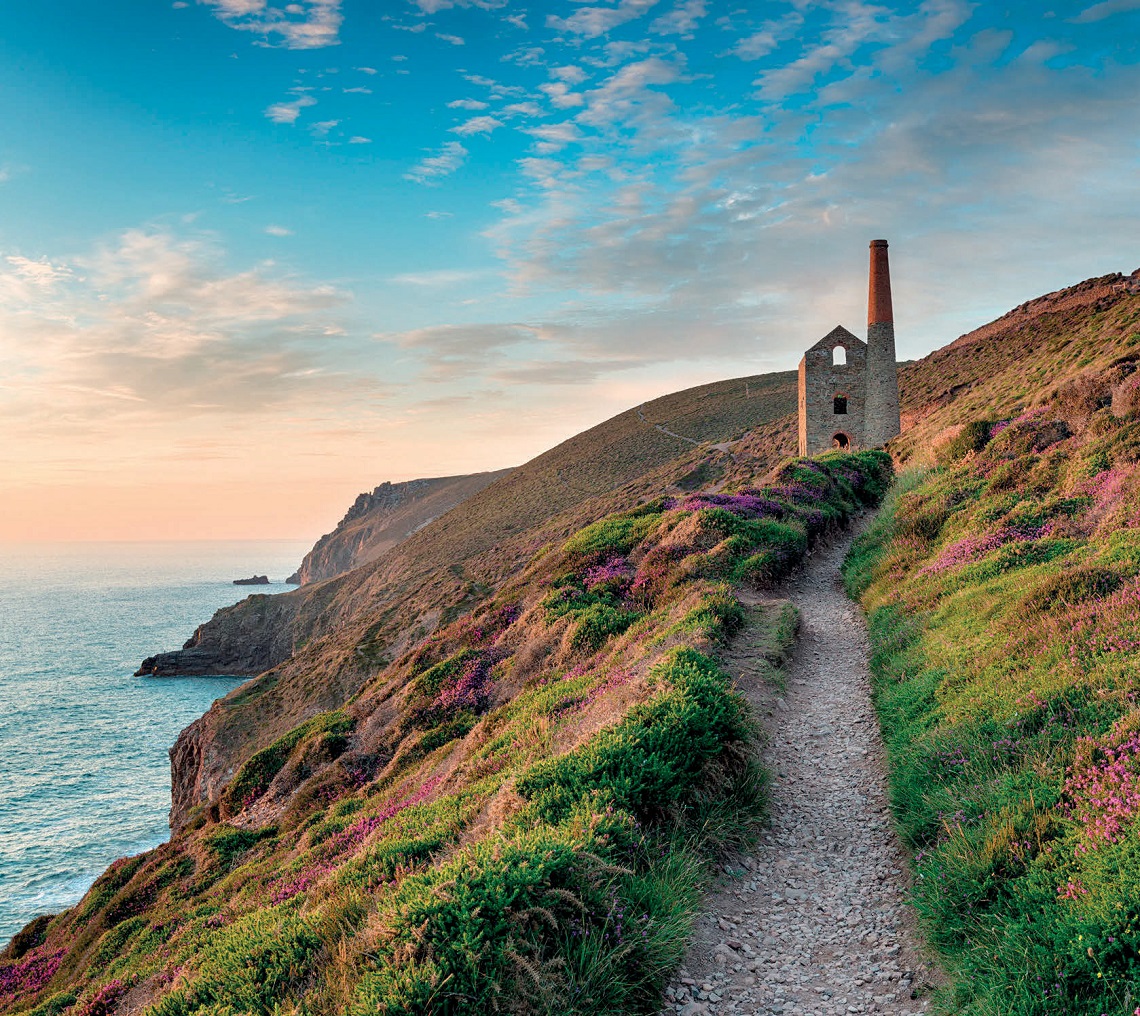 ADVENTURES AREN'T 'PURE'
"I'm not an adventure purist. To me, adventure is about going outside and trying something new. Just having a go. It doesn't have to be about slaying a bear for breakfast. I ate a lot of fish and chips during rest stops on benches by the sea. I know some people get satisfaction out of really pushing themselves, but I don't want to do something that feels super-hard every minute of the day. I hate the narrative around adventure sometimes: 'you have to quit your job and do a huge challenge'.
I realise this makes me a bit of a hypocrite because it's exactly what I did, but I believe you can fit all these things around a normal life and, during my adventure, I was joined by a lot of people doing exactly that.
LET'S HEAR IT FOR THE PEOPLE
"Other adventurers kept telling me how I'd be blown away by how lovely people are. I was like, 'Maybe on the other side of the world but not in England!' They were right though. People were amazing! They'd pop up somewhere with a bit of cake for me, run with me and let me stay with them, even when I was covered in mud and storms with human names were raging along the Southwest Coast Path. Early on, I worried I was imposing on people, but I realised that people don't offer to help unless they want to and I learned to accept their generosity.
"I also learned that I can have a go at something ridiculous, and it doesn't matter what my friends and family might say. I'm a lot less precious about worrying whether something will work now. Before, I was much more scared of what other people think, but it's not their life; it doesn't matter.
"When you're planning an adventure, my advice would be, just arrange enough to keep you alive and safe. The rest you can muddle through. I learned that you don't need to be able to do the whole thing on day one; you just need to be able to do day one. Make sure you've got a coming-home budget, though. Going from moving every day to living in my parent's spare bedroom was confusing — oh, and learn to read a map!"
---
WHO'S WRITING?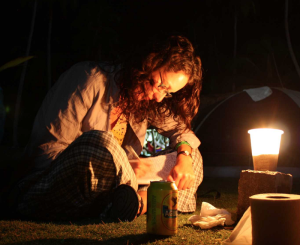 Emma Fast-Field is a travel writer specialising in UK travel and tourism. In the past, she's travelled overland from Holland to Singapore via Mongolia solo, then around the edges of India and from Rio to Winnipeg. Nowadays, epic overland journeys are harder to plan with two tiny routine-lovers in tow, so she mostly gets her kicks outdoor swimming, exploring the UK, and interviewing remarkable people who have made adventuring their way of life.