WHEELS AROUND ASTURIAS
VUELTA CICLISTA ESPAÑA is one of Europe's biggest international multi-stage CYCLING events, welcoming athletes from all over the world to take up the 1,800-mile CHALLENGE each year. The real crux of the competition, though, is Asturias and its GRUELLING ascents through SPECTACULAR mountain scenery that really test the limits — and it's there for the taking. So, are you up for the challenge?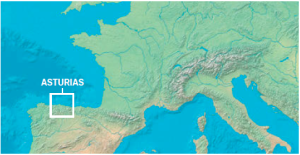 There's nothing like experiencing a county by bike to fully immerse yourself in its scenery and culture. The sights, sounds, and smells of a place are intensified a thousand times in the saddle, and the thrill of tackling a variety of new challenges and terrains only adds to the satisfaction.
Falling into bed at night, exhausted and elated in equal measure with a kaleidoscope of vistas swirling in your head — is there anything better?
The pursuit of steeper inclines, hairier descents, more intense switchbacks, and unparalleled views spurs keen cyclists the world over to chase down their next two-wheeled fix. Switzerland, Italy, and France are all well known for their mountain-biking potential, but few are aware of how Asturias fulfils all the desires above.
ICONIC CLIMBS
Located on the northwest coast of Spain, Asturias is a tapestry of sweeping green valleys, crystal lakes, and rugged snow-capped mountains, which cover 80 percent of the region. The area boasts brutal gradients of up to 23.5 percent on routes such as the notoriously challenging Alto del Angliru, a 7.8-mile stretch which ascends to 1,570m, and if the climb doesn't steal your breath away, the vistas most certainly will. It's little wonder, then, that Asturias is home to the most gruelling stage of the Vuelta Ciclista España (literally 'Cycle Tour of Spain'), one of Europe's most prestigious international cycling events.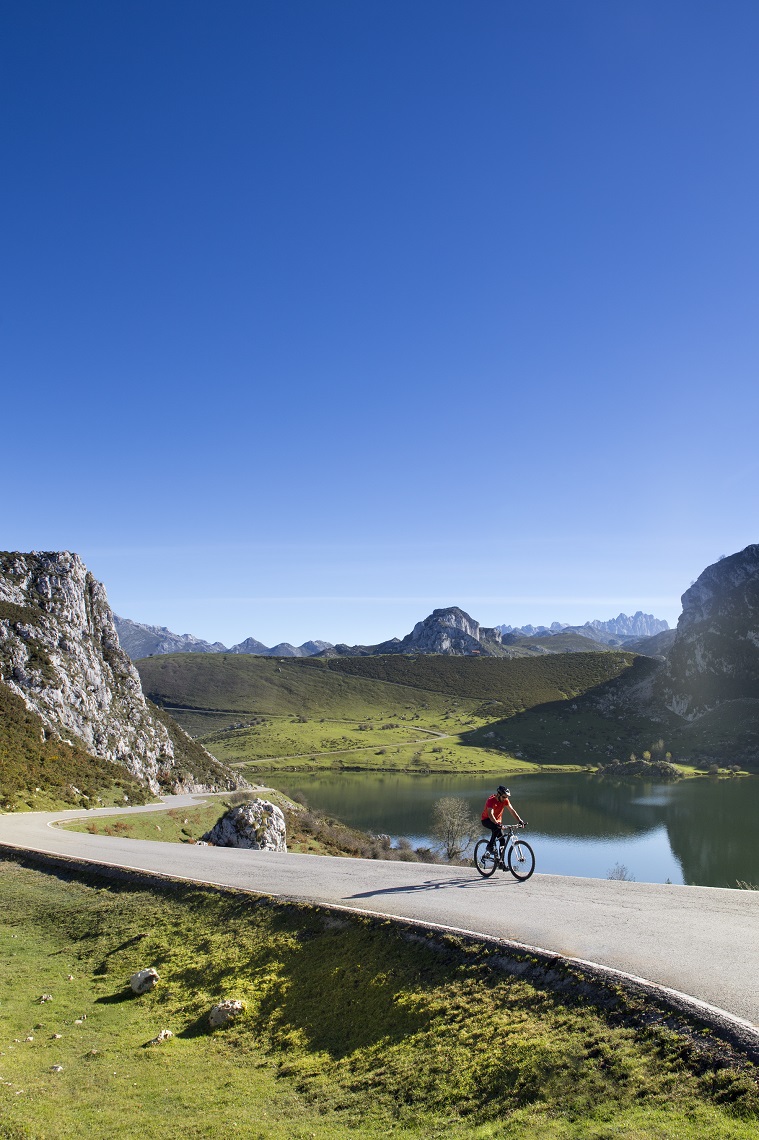 The competition takes place every year and sees athletes rack up a total of around 1,800 miles through some of Spain's most enviable mountain-biking country. The real jewel in the crown, however, is Asturias' extreme peaks and high mountain passes including the aforementioned Alto del Angliru, the Lagos de Covadonga (1,094m) located in the Picos de Europa National Park, and the Alto de la Farrapona (1,708m), located in Somiedo Natural Park amid the Cantabrian Mountains.
These iconic routes offer keen cyclists much more than a test of endurance and bragging rights, however. The views are simply stunning. Hulking, jagged rocks collide with rolling hills and an endless skyline, to create a mountain biking paradise that both pushes the body and soothes the mind. The Lagos de Covadonga culminates in a spectacular array of lakes that spans five valleys and nearly 500 square miles of untouched landscape.
RELAXING ROUTES
Of course, cycling isn't all about thigh-burning ascents and tricky trails. If you're new to biking, want a family break, or just something a little more low-key, Asturias has plenty of gentler routes to explore on two wheels that offer equally stunning scenery. The Vias Verde' (literally 'Green Ways') are a network of disused converted railway lines that weave their way through miles of beautiful, natural parkland. Ranging from around a mile to just over 20 miles in length, these routes are connected by small townships and are ideal to explore by bike or on foot.
A popular route for families and newcomers to cycling is the easily accessible Senda del Oso (Bear's Path). Built on the tracks of an old mining railroad, the trail starts in the village of Tuñón and runs for around 18 miles terminating in either Cueva Huerta or Ricabo depending on which fork you take. The ride offers plenty of historical and cultural points of interest, as well as opportunities to hire bikes, sample local fare, and see its eponymous bears in Buyrea Park.
The Senda Costera offers riders a cycle route taking in nearly 250 miles of the best-preserved coastline in Spain. Dramatic cliffs, capes, and ancient forests all feature along various sections of the path as well as those panoramic ocean views; there's even some off-roading to be had for those adrenaline junkies who like a bit of the rough stuff. This route is ideal for a longer, laidback touring break that can be done over several days, giving you plenty of opportunity to soak up the local culture and hospitality along the way.
With over 3,000 miles of roads to explore in Asturias, it's easy to find adventure on those less travelled.
For more, see www.asturiastourism.co.uk.