OUT TO DRY
Don't let the Great British WEATHER DAMPEN your sense of ADVENTURE
Some people walk in the rain; others just get wet," or so the saying goes. But not if you've got the right gear. Staying dry is the holy grail of all-weather adventuring in the UK. Get it right and you're laughing all the way back to civilisation, get it wrong and your extremities pay the price. (Just ask Matt Lynch, the guy stuck up in the Welsh mountains with the soggy socks, p34).
A TRICKY BALANCE
Waterproofing has come a long way from the sweaty, wearable bin-bags of the 1950s, that kept you dry but also cooked you from the inside out. Breathability, we know, is key to keeping dry and comfortable, and not just in trousers and jackets. You can now get your mitts on waterproof hats, gloves, and even socks that offer all the warmth and dryness you'd hope for along with the kind of breathability that ensures all day comfort. These waterproof, breathable accessories from DexShell are top of our list of UK adventure essentials when the weather turns.
DEXSHELL RUNNING LITE SOCKS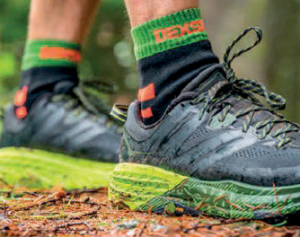 Don't let the running tag fool you! These socks are also ideal for walking, hiking, cycling, or any other rigorous outdoor activity. Lightweight with ankle elastic support and arch elastic band, they're paired with the drirelease ® new generation DriFil yarns, which deliver improved foot protection and a snug fit when pushing yourself in wet, muddy, and cold conditions.
DEXSHELL THERMFIT NEO GLOVE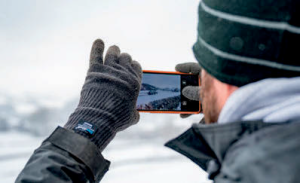 The new generation of the popular DexShell Thermfit Neo gloves features a terry loop merino wool inner layer and a touchscreen design on the thumb and forefinger, so you can take pics on your phone without getting cold fingers. These gloves have a thermal rating of 3/5 making them ideal for autumn and early winter.
DEXSHELL WIND-AND-WATERPROOF WOOL BLEND WATCH BEANIE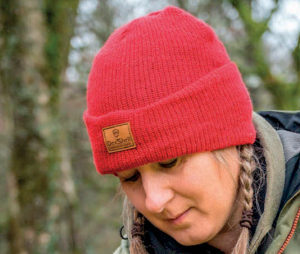 These beanies are made up by laminating the Porelle membrane inside the fleece lining, which makes them windproof, waterproof, and breathable. They carry a thermal rating of 4/5, so are ideal when the colder weather hits, and are available in red, grey, black and blue.
more information can be found at www.dexshell.co.uk