NIGHT-TIME is the right time for dark EXPLOITS in the Lake District, according to this bunch of HOWLERS
Staycation holidays in the UK are booming for the second year in a row. Visitor numbers to our wonderful National Parks are expected to double this year. It's great that so many people are enjoying Britain's beautiful countryside, getting outdoors, and making the most of it. It's also fantastic news for small local businesses, of course, especially following on from recent times.
The increase in people choosing to staycation will inevitably bring increased traffic and congestion, and many of the UK's popular Park locations will be much more crowded than usual. But what better reason to avoid the hotspots and go exploring up the hidden valleys and off the beaten track? That's where the real adventure lies, after all.
Another way to avoid the masses is to time your visit just right. When the sun goes down and the Parks begin to empty, that's when you'll find the kind of peace and solitude many of us crave in the outdoors. By the light of the full moon, you'll unlock a secret world as yet undiscovered by most. Get ready to meet the Lake District's local lunatics…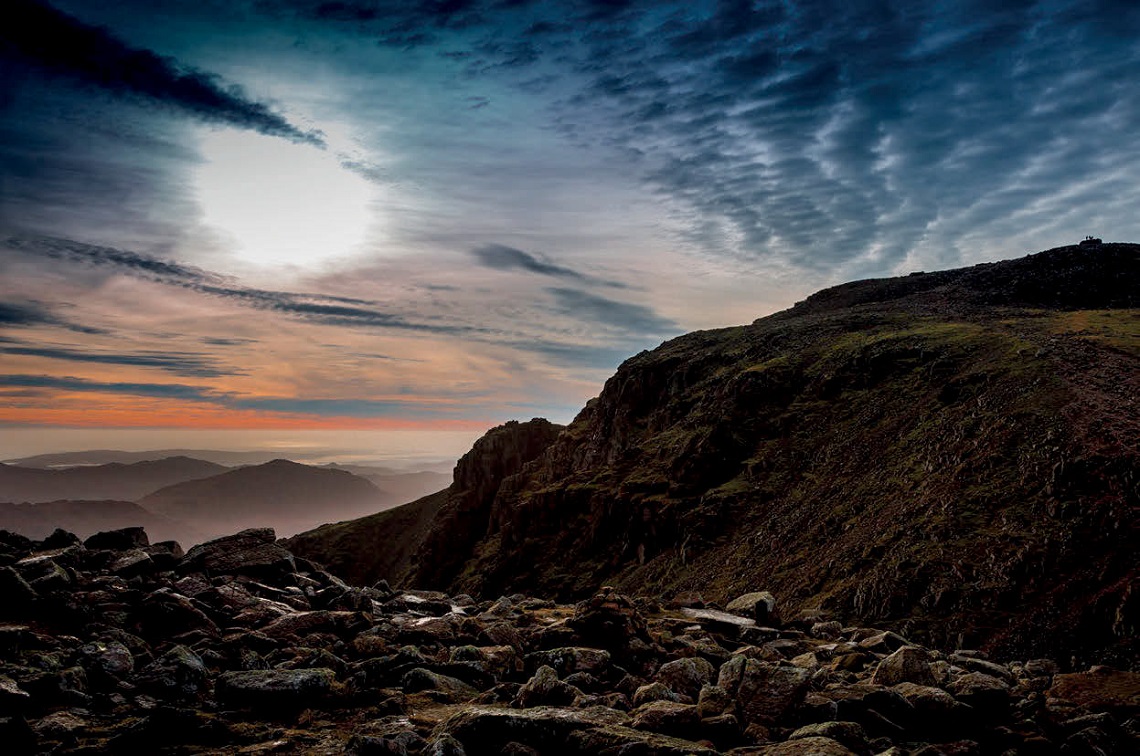 MOONING ABOUT
For the last eight years, I've been meeting up with a bunch of like-minded adventurers every month under the light of the full moon for a magical, moonlit micro-adventure. During this time, we've walked, climbed, scrambled, swum, cycled, canoed, kayaked, caved and eaten a lot of cheese, all bathed in wonderful moonlight. And because we go out on the night of the full moon regardless of the weather, we've also been hailed on, snowed on, rained on, and frequently blown around. But let's not let the truth get in the way of a good story.
During these nocturnal meanderings, I've discovered that even places I know well, like Blencathra, Causey Pike and the Ullswater Valley, take on a different atmosphere at night. Aside from the odd fell runner training for the Bob Graham Round or a couple of crazy mountain bikers speeding along the skyline, we usually have the mountains, lakes, and rivers all to ourselves. If you crave isolation and an opportunity to see your local environment in a completely different light, the nighttime is definitely the right time to go exploring.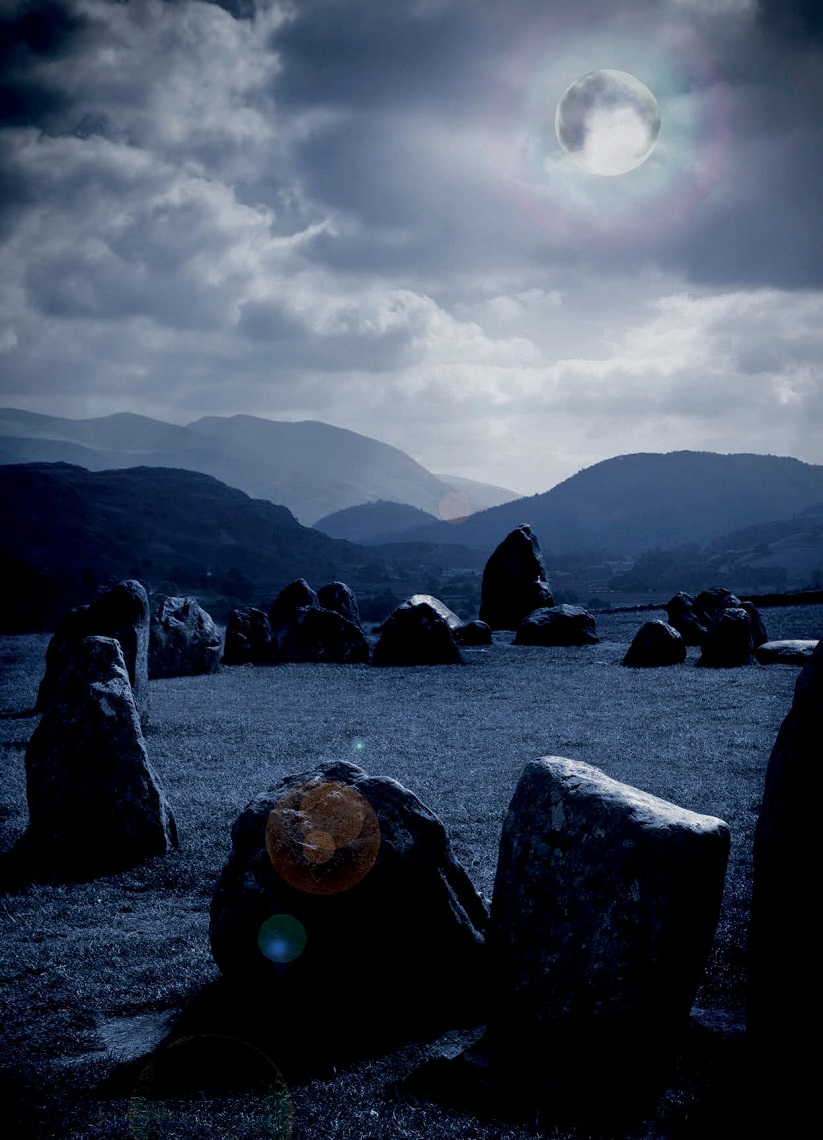 IT'S A HOWL
These monthly meet-ups or 'Howlings' as we like to call them came about from the frustration of trying to align daytime diaries and overcome work/life clashes. The idea of an evening walk, paddle, or swim seemed a great solution. What started off as a conversation between four old friends around a dinner table has become a vastly extended sociable group of over 20 adventurers who regularly come together under the full moon.
This is far beyond anything we could have imagined when the small group of original Howlers set sail across the Solway in September 2012, to invade Scotland. It gave us a great story to tell, though, and soon other like-minded folk were attracted to the idea. Meeting once a month is enough to build a fellow-ship — a community of kindred spirits — who now hatch ever-stranger plans for activities and locations that would make for a great moonlit night out together.
Over the last eight years, the original group of outdoor professionals has been much enhanced by welcoming interesting folk from all walks of life who've bought their own brand of creativity to our night-time excursions. From sledging in the Pennines and exploring Seathwaite's Plumbago Mine to scrambling up Sourmilk Ghyll, Borrowdale, and winter ascents of Helvellyn, there's never a dull moment with this lot under the light of the moon.
I'm a firm believer in the old adage 'there's no such thing as a bad idea, just a poorly implemented awesome one'. Subsequently, all suggestions for Fullmoon nights out are given due consideration and refined until the group is happy we will succeed. The few minor mishaps we've had over the years have been a result of poor communication rather than poor planning.
We are still uncertain how we lost Andy while canoeing on Derwentwater in November 2018, but lose him we did, and I recall the joyous laughter when he turned up eventually. How Tim couldn't find us in a lovely welcoming bothy on the side of Fleetwith Pike in January 2020 has become a much-recounted story.
He claims the wild, stormy night disorientated him. (He apparently forgot he had a phone, compass, map, GPS, homing pigeon, etc in his rucksack.)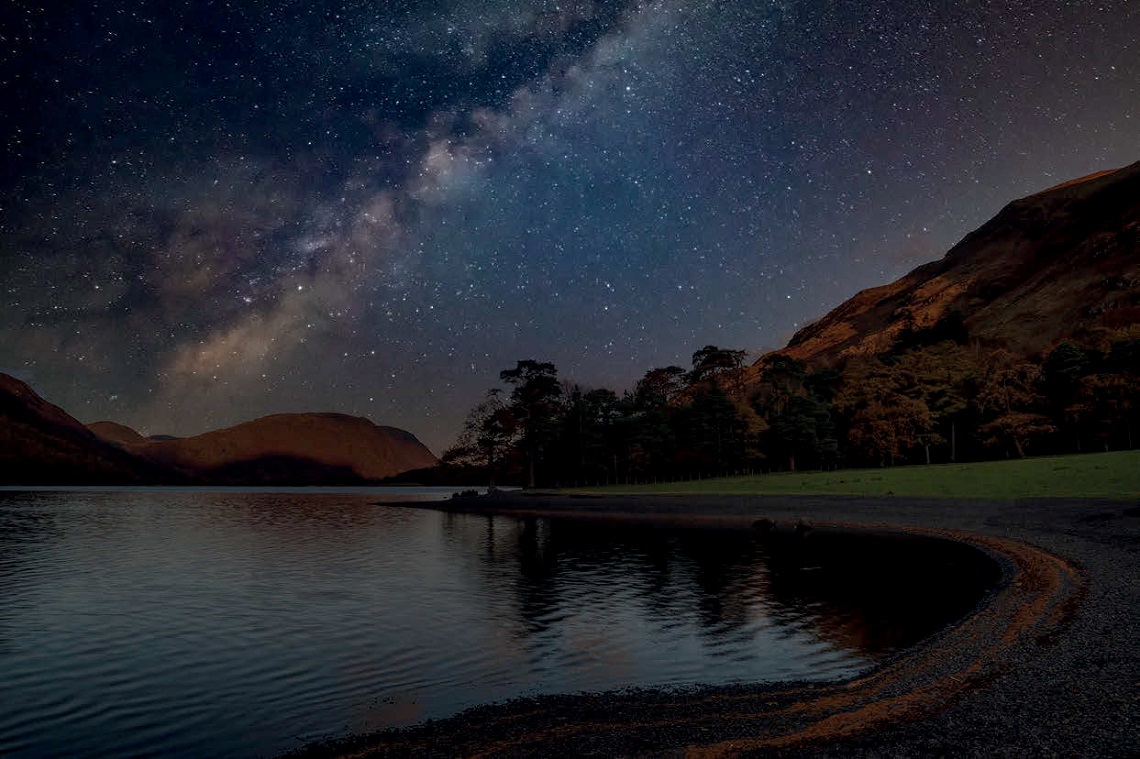 MADE OF CHEESE
We always head out on the night of the full moon as that is well secured in our diaries. So, if the weather happens to be particularly foul on that night, we have developed two main strategies; we either duck underground to explore one of the many mines of the Lake District and Pennines or we pack our anemometers and head out storm chasing.
One memorable night underground took us 1,000m into the heart of the Coniston Fells as we explored Horse Crag Deep Level; on another misty night, we had a great cheese supper in the Ballroom at Nenthead. We've recorded body-shifting wind speeds of 62mph in Keppel Cove in February 2014 as the lights in the valley were extinguished by power cuts, and 65mph on the summit of Bowscale Fell during Storm Ciara in February 2020.
Food is a major part of our nights out and we often discuss whether we are actually a community of adventurers or an outdoor gourmet society. Our festive feasts are the culinary highlight of the year. The group's outdoor cooking skills have developed over the years, too, peaking in December 2019 with a 10-course evening meal including four starters, a full roast turkey dinner with all the trimmings, and three puddings followed by cheese and port. Being gear freaks we seem to get as excited about a battery-powered rotisserie, a reflector oven, or a homemade camembert baker with its own built-in temperature gauge as we do about a new pair of ice axes, an amazing midge repellent, or a lovely beavertail paddle.
Having mentioned cheese a few times, I must recommend the pure pleasure of enjoying a cheese festival with a close group of friends on the top of a mountain, or resting on a remote beach around a fire, or huddled in a windswept bothy. The long-established link between the moon and cheese convinces us that a strong stilton, a creamy brie, or a chilli cheddar is the perfect accompaniment to our moonlit escapades.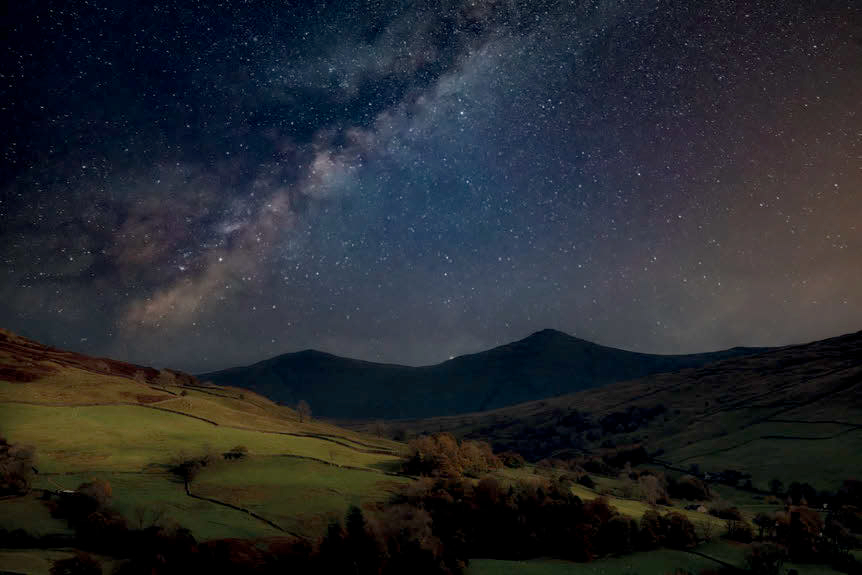 HOW TO HOWL
Studying guidebooks, maps, and looking for inspiration is all part of the fun. Do your research on the local area and environment; ideally, you want to locate high ground facing east. I've attended over 90 of these monthly gatherings now, and as a local outdoor instructor, the need for safe practice and an increased awareness of risk is of course paramount when adventuring in the dark. It's important to stay well within your normal daytime abilities and develop a familiarity with any environment you choose to head out to at night. Be sure to take your camera, binoculars, and the finest halogen headtorch you can afford. Some nights, the moon is so bright that you won't need your headtorch; on others, it'll be worth its weight in gold.
As tempting as it is to change the dates to avoid 'bad' weather, don't. Some of the worst weather we've encountered has given way to some of the best nights out. Of course, sometimes you just end up getting wet. Once you've gathered a few folk who want to Howl with you, share your ideas, decide on one thing that suits you all, and then commit to it. You'll need to agree on a suitable level of challenge, accept that there's an inherent degree of uncertainty, and be ready to learn and laugh in equal measure as well as howl with vigour whenever the moon joins you.
After your night out, share some photos and anecdotes on social media along with the dates of the next few full moons. In my experience, the right sort of people will be attracted to join you if your exploits are worthy. After all, people like themselves. If you can't attract the right sort of people straight away, you might want to advertise for folk called 'Steve' or 'Tim' as they always seem to be up for an adventure.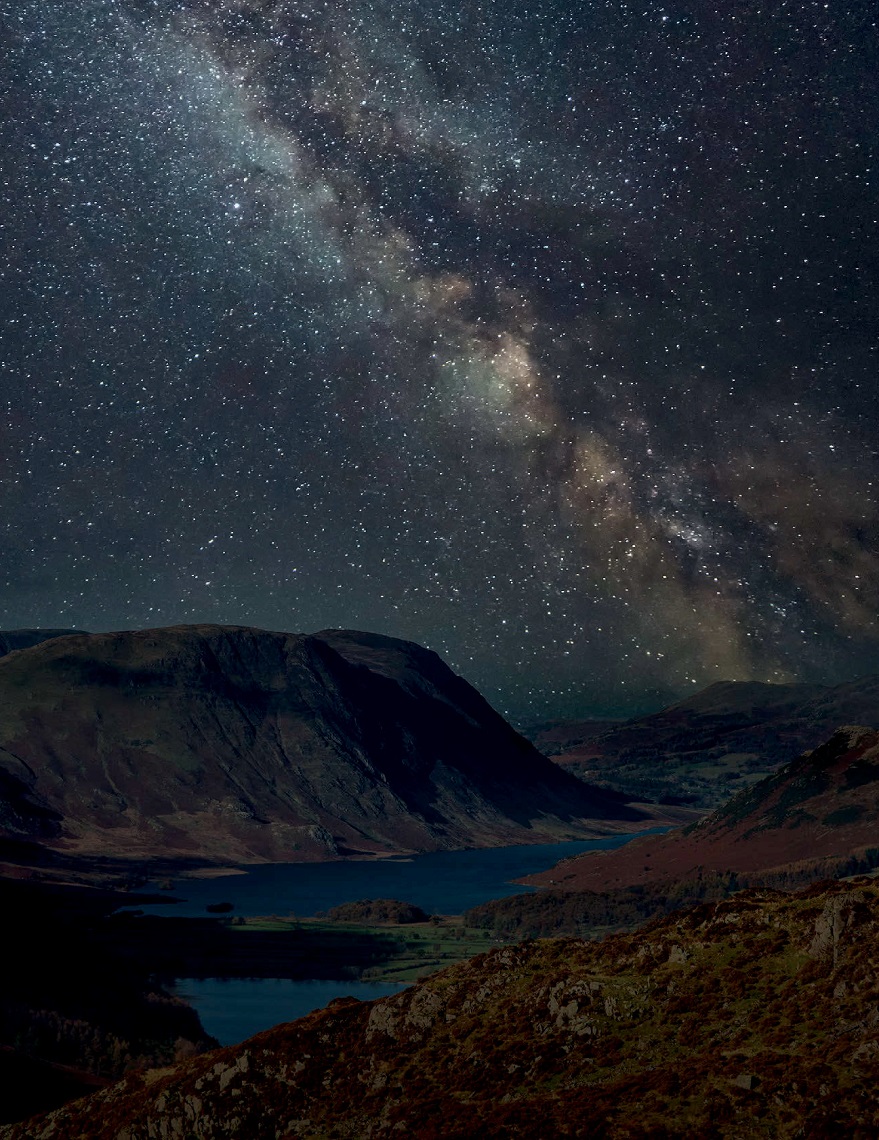 MOONLIGHT REFLECTIONS
The last year has presented its own challenges and Howling folk met locally for full moon exercise in family groups, pairs, or groups of six as appropriate. We also realised that we missed the sense of community we had developed over the years and so we decided to collate our stories, gather notes and photographs, and write a book that might inspire others to consider their own nocturnal gatherings and have the same physical, mental, and social benefits as us.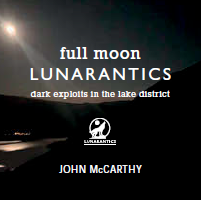 Compiling these quirky stories and funny tales has led me to reflect on the last eight years of Howling and what it's given me and other members of the group. A lot of laughter and learning has come about from these night-time adventures, which have steadily picked up pace as the moonlight inspires us to greater challenges. Like the time we went wild swimming down Grasmere and Rydal Water, to enjoy a spot of surfing in the weir and a pint in the Badger Bar pub. Or the time we went skiing on Raise Fell.
I asked some of the other regular Howlers their thoughts. In the spirit of the excellent What3Words location app, the responses included "Nocturnal Adventurous Friendship", "Full Moon Madness", "Luminescent Unpredictable Escapades" and "Peculiar Alternative Enjoyable". Hearing personal highlights from the children who've grown up in this adventurous community, joining us for camping trips, expeditions, and Wensleydale, it's reassuring to hear that they enjoy it as much as their slightly odd parents do.
In recent months, I've heard from Howlers as far apart as Edinburgh, Reading, Exeter and Stroud who claim the book is inspiring them to look at life differently by moonlight. So, if you feel that your adventures might be enhanced by motivating your friends, plotting your route, packing your rucksack with cheese, and heading out to some east-facing summit, parkland, or beach, you too could join in with the dark world of Lunarantics.
---
WHO'S WRITING?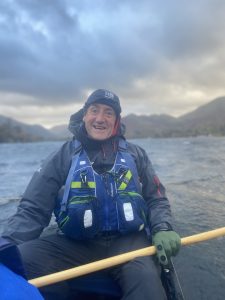 One glorious day while sitting in The Chair near the summit of Red Pike overlooking Wasdale and the Scafell Range, John McCarthy had an epiphany: he didn't want to go back to London and his record store job. Instead, he wanted to escape to the Lakes and to a life of adventure and fun. So that's exactly what he did. Now a qualified outdoor instructor with over 27 years of experience, John gets his kicks from cavorting about in wild places under the light of the full moon and encouraging others to do the same.