PHILIPPINES: HIGH-FIVE
Whether it's COLOURFUL cities, a jungle adventure, or an oceanside PARADISE you're seeking, these five MUST-SEE destinations will ensure you experience the PHILIPPINES to the fullest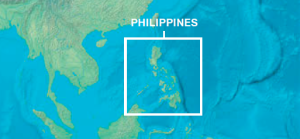 The Philippines is an archipelagic republic set amid the turquoise waters of the Pacific Ocean, close to the equator.
There are around 7,640 islands that make up the country and about, 2,000 of them are uninhabited.
The islands that comprise the Philippines can be divided into three main areas: Luzon (the largest and most northern island, where you'll find the country's capital, Manila); Mindanao, the second largest and most southern island; and thirdly, a group of central islands called 'the Visayas', which include the main islands of Panay, Negros, Cebu, Bohol, Leyte, and Samar, among others.
Any visit to the Philippines invites adventure, from the country's fabulous food, culture, and uniquely hospitable welcome, to its enticing scenery, landscape, seas, and tropical climes. The following destinations will give you a taste of everything the Philippines has to offer, to help you plan the ultimate Pacific escape.
BAGUIO CITY
Known as both the 'Summer Capital' of the Philippines owing to its cooler climate and 'City of Pines' thanks to its lush green trees, Baguio City is located 1,470m above sea level among the tropical forests of Luzon. It's part of the Cordilleras, a mountainous region in the north of the island that's famed for its exceptional landscapes and rich heritage dating back over 2,000 years.
Here, you'll find the perfect balance of cultural discovery and outdoor adventure. The Cordilleras boasts the breath-taking UNESCO rice terraces, described as the 'Eighth Wonder of the World' as well as acres of ancient forests, waterfalls, and mountains which allow plenty of opportunity for hiking, biking, caving, and swimming.
the rural communities that live here, like the Ifugao, still preserve a traditional way of life. Visitors can look forward to uncovering arts, music, festivals, local produce, and learning about the unique burial sites hidden high up in the mountains. The homestays provide no-frills, authentic accommodation, which is both affordable and a great way to meet local people.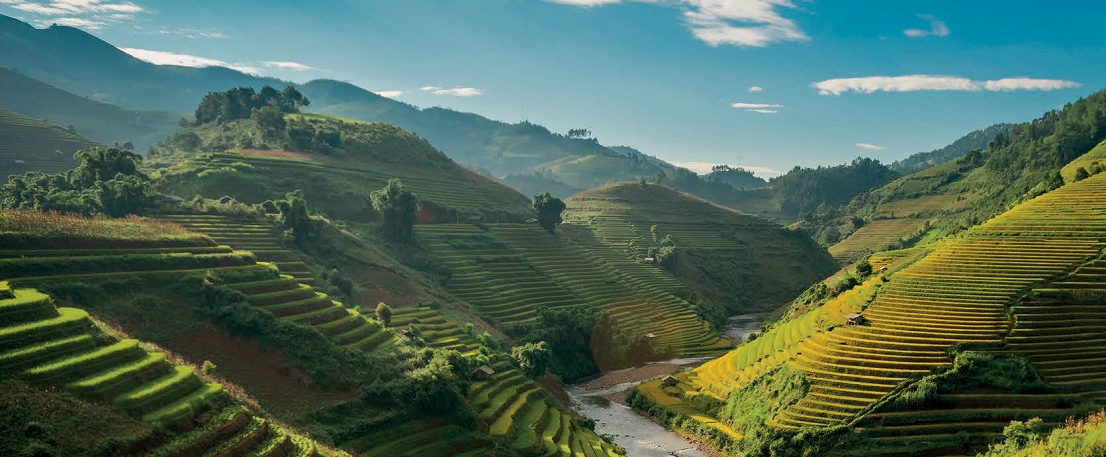 In Baguio City itself, you'll get to experience the atmosphere of a real Filipino city, bursting with life and begging to be explored. It's a foodie paradise with everything from hole-in-the-wall street food and pop-up markets to high-class restaurants to choose from. Why not sample the Etag, a type of traditional cured pork? The striking purple Ube jam, made from yams? Or one of the many kinds of home-grown strawberry dishes, such as Taho, for which the region is famous?
Other cultural highlights include exhibitions at the Saint Louis University Museum of Arts & Cultures and Museo Kordilyera at the University of the Philippines, Baguio, where you'll find a variety of archaeological sculptures and artifacts including ancient tools, weapons and costumes. The Tam-awan Village in Baguio is an arts gallery dedicated to traditional crafts. It's a great place to see local craftspeople at work and enjoy indigenous aesthetics.
The historic Burnham Park is at the centre of this energetic metropolis, and here you can soak up the peaceful tranquillity of its gardens, lagoon, and stunning orchidarium. Hire a bike to cycle the pathways or a boat to chill out on the water. The accommodation in Baguio is more contemporary and there's something to suit every budget, from practical to luxurious with some leaning towards a timber lodge type feel in keeping with the area's forest backdrop.
BORACAY
This tiny island off the coast of Panay is just 4 square miles and includes preserved forest and farmland as well as two of the country's most iconic beaches – White Beach and Bulabog. Once known for being a party island, Boracay has undergone a renaissance since its reopening in 2018, after a six-month closure to allow for rehabilitation and restoration work.
The island is now one of the Philippine's flagship destinations for sustainable tourism and travellers to Boracay can expect to enjoy a much more relaxed pace of life, with a cap on visitor numbers and a focus on conservation and preservation of its beautiful beaches and surrounding waters. If you're looking for the ideal 'white sand and cerulean seas' destination, then Boracay is it.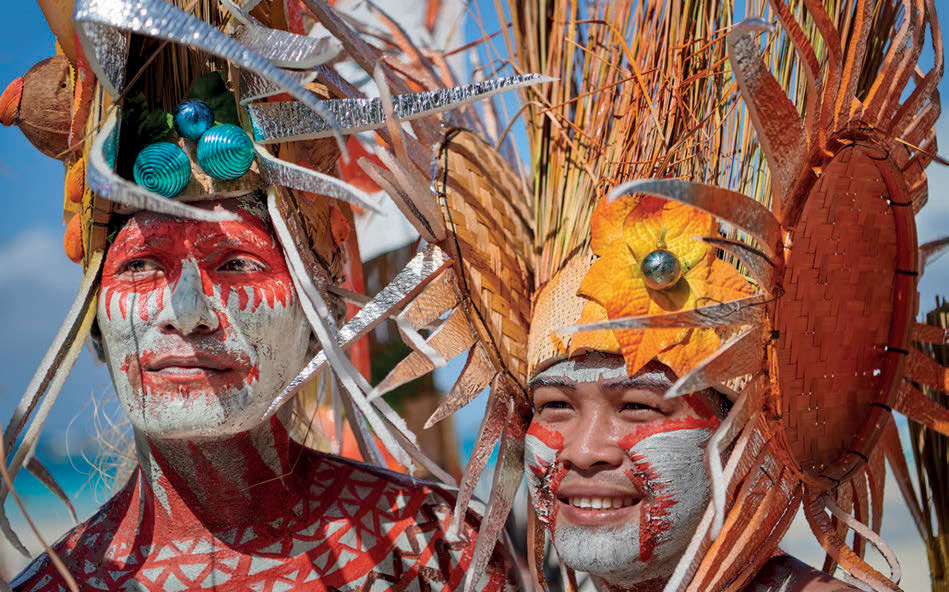 Here, you can enjoy every kind of watersport imaginable, from kiteboarding, paddle-boarding, and windsurfing to swimming, diving, and snorkelling. And once you're done making a splash, the beach yoga, meditation, and cookery lessons are a great way to get in touch with the island's soul. Expect lots of freshly caught grilled seafood, like lobsters, tuna, and clams. If adventures on dry land are more your thing, there's some excellent hiking in the Boracay hills or you could take in its spectacular beauty from the skies with a helicopter tour or zip-lining experience.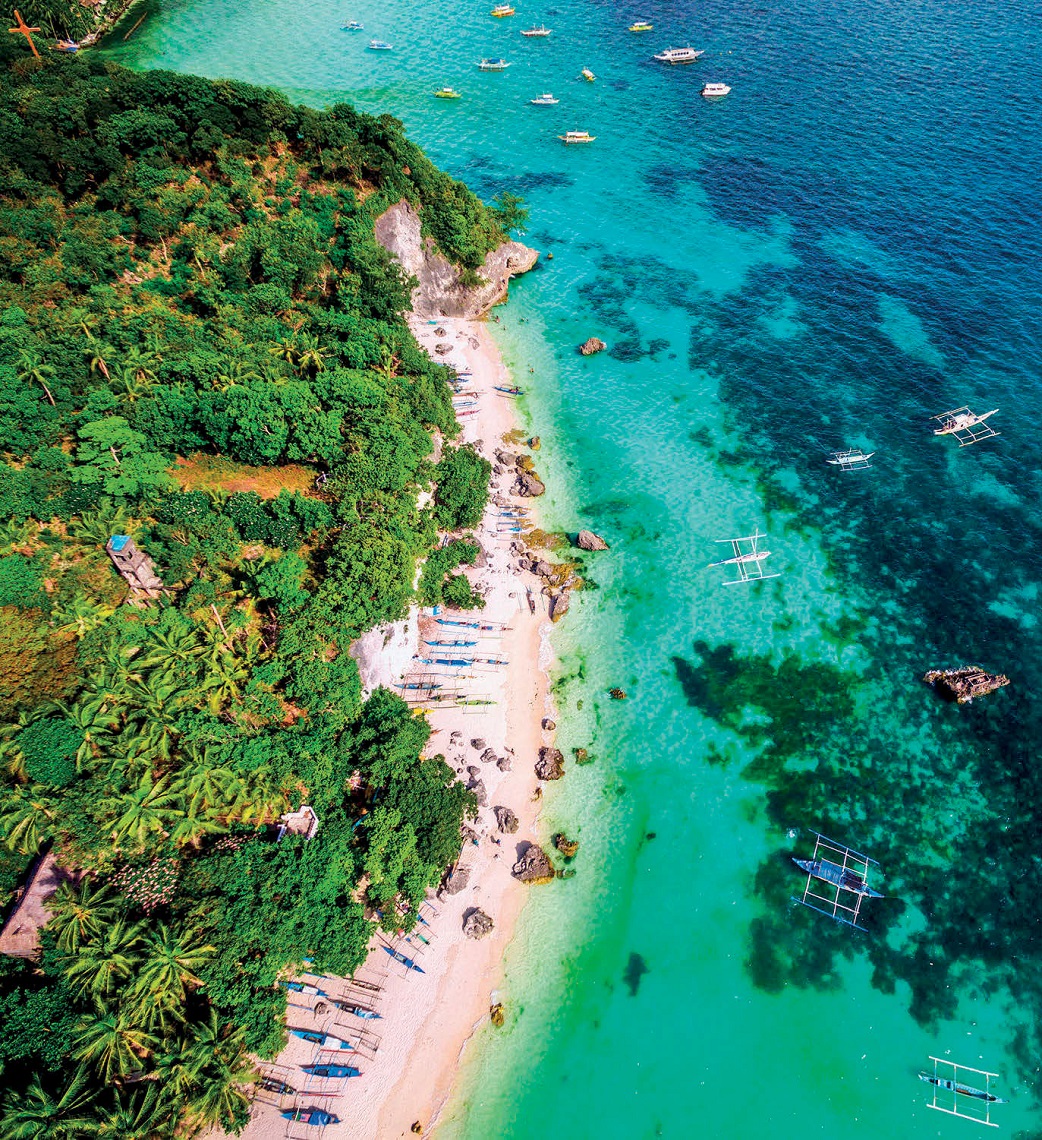 There are several areas on the island for tourists to stay, each suited to a particular budget and experience. The main gateway to Boracay is Kalibo, where one of the biggest street festivals — Atiatihan — takes place every year in January. This colourful celebration is held in honour of Santo Niño (Baby Jesus) and sees an amazing parade of locals in elaborate costumes and face paints fill the streets with music and dancing.
Nearby Diniwid Beach is quieter with calm shallow waters that appeal to families, while Puka Shell Beach (Yapak Beach) at the island's northern tip boasts deeper waters ideal for swimming, snorkelling, and paddle-boarding. The underdeveloped, Tambisaan Beach with its coral reefs is the best place to get a feel for the authentic Boracay, with homely accommodation and lots of great street food.
BOHOL
Adventure-lovers and thrill-seekers will love Bohol with its host of adrenaline-packed activities including diving, canyoneering, skydiving, and zip-lining. Located in the central Visayas region, just a two-hour ferry ride from Cebu City, Bohol offers spectacular beaches, clear waters, and some of the best opportunities to enjoy wildlife in the Philippines. It's also a great base from which to explore some of the other, smaller islands in the Visayas.
Among its many attractions, Bohol is home to the iconic 'Chocolate Hills', so-called because they genuinely look like huge, cone-shaped mounds of milk chocolate. These geographic oddities get their strange appearance from the browned grasses that grow on the slopes during the country's dry season. They're best admired on foot – all 1,260-odd of them – or from the skies on a zipline at the Chocolate Hills Adventure Park.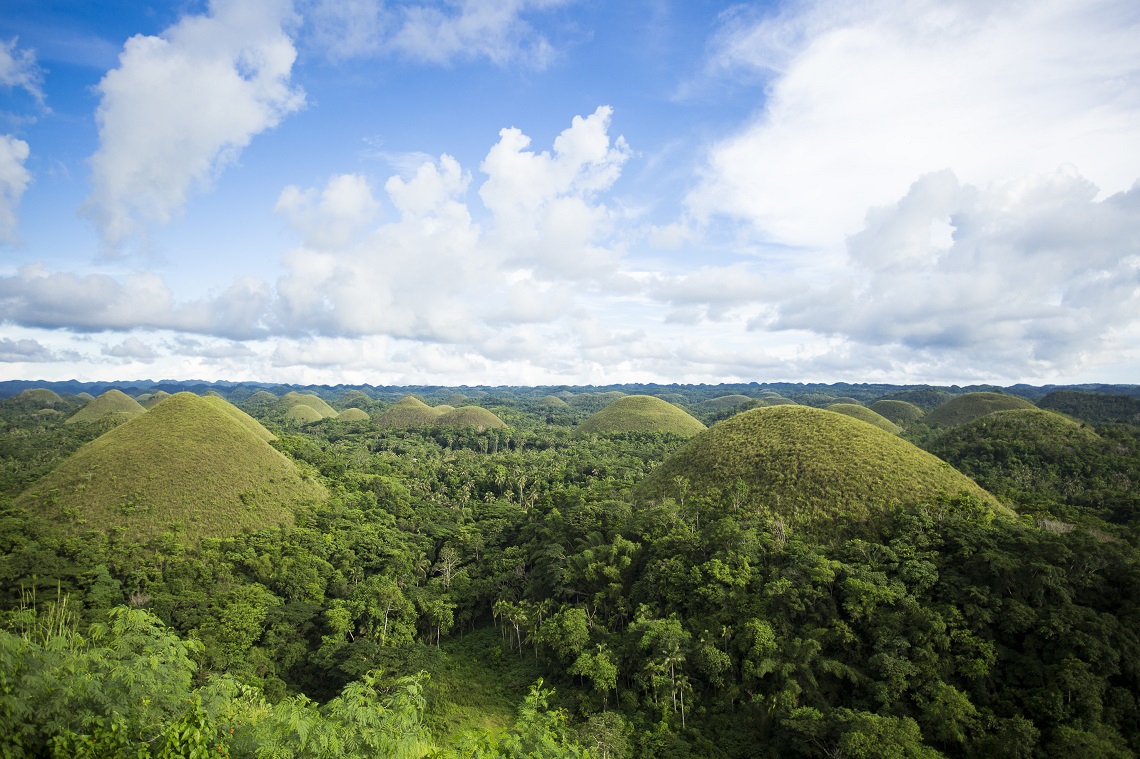 The park offers other outdoor activities, too, including aerial rope courses, climbing, camping, mountain biking, and horseback riding. There's also an eco-hiking trail and the chance to get up close with some of the island's wildlife, including snakes, treefrogs, and butterflies. If discovering the local flora and fauna is your idea of the perfect adventure, Bohol won't disappoint.
Scuba divers and seafarers can look forward to encounters with dolphins, turtles, and whale and thresher sharks, while on dry land there's the Philippine Tarsier Sanctuary where visitors can admire these tiny saucer-eyed, tree-dwelling primates in their natural habitat. Anda, Balicasag, and Panglao are the most popular places to stay in Bohol, the latter of which is linked to the island via a causeway.
Nearby Cebu offers a quieter more laidback city alternative to Manila. As the Philippines oldest city, Cebu is packed with 16th Century Spanish colonial architecture and museums, which are well worth a look. Bohol also boasts several ancestral homes and churches from the same era.
ILOCOS REGIONS
The Ilocos Regions of the Philippines can be found on the Northwest coast of Luzon and are divided into two distinct areas: Ilocos Norte (north) and Ilocos Sur (south). This part of the island is steeped in history with streets and buildings dating back to the 16th Century, showcasing the country's colonial past.
Laoag and Vigan are both iconic cities in their own right. The capital of the province of Ilocos Norte, Laoag offers an eclectic mix of both Spanish and Filipino heritage, while the UNESCO World Heritage site of Vigan City has perfectly preserved colonial and Asian architecture. Here you'll find cobbled streets, rustic mansions, and the cathedral, as well as other cultural highlights including the Juan Luna Shrine in Badoc (now renamed by the Philippine Historical Commission the Museo ni Juan at Antonio Luna) and the Malacañang of the North, a former Marcos residence and presidential museum in Paoay.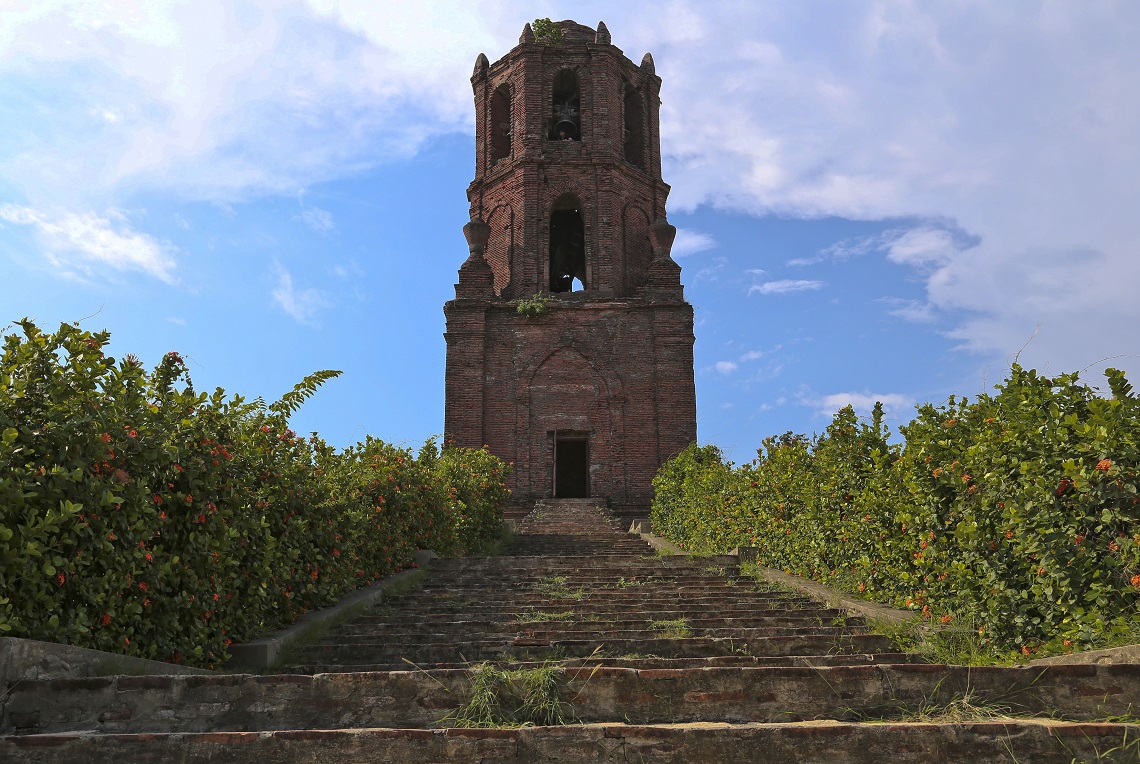 Besides its buildings, the area's rich cultural heritage can also be enjoyed through its unique cuisine. The Ilocos region and Northern Luzon as a whole have strong culinary traditions that have become national favourites including dishes such as pinakbet (a vegetable stew cooked in a clay pot with fish sauce), Bagnet, locally known as Chicharon (deep-fried chunks of pork to be dipped in spicy or aromatic Sukang Iloko – sugarcane vinegar) and empanada (crispy rice flour turnover filled with eggs, Vigan Longganisa (sausage), and vegetables). Vigan's Plaza Burgos is the best place to sample some of the region's wonderful street food, accompanied by fountain-light shows.
As well as enjoying its food, traditional crafts are a great way to get hands-on with history and learn more about this remarkable province. At Laoag Cathedral, visitors are invited to try their hand at pottery (Damili) making, Abel loom weaving, Basi (sugar cane) wine-making and Sukang Iloko vinegar-making.
Despite its rich history, Northern Luzon has plenty of scope for outdoor action, whether it's riding a 4×4 all-terrain vehicle (ATV) through the sand dunes of La Paz, heading to one of the glorious white-sand beaches to indulge in some watersports, or venturing off on foot for a hike or horseback ride.
EL NIDO
The inspiration behind Alex Garland's trippy backpacking dystopian novel The Beach, Palawan is largely regarded as the last ecological frontier of the Philippines owing to its rich plant and wildlife diversity – over 20% of its plant species are endemic.
Located on Palawan in the west of the Philippines, El Nido is perhaps one of the island's better-known tourist spots, but don't let this put you off; there's plenty to discover here off the beaten track as well as offering a gateway to the Bacuit archipelago and some seriously paradisical island hopping.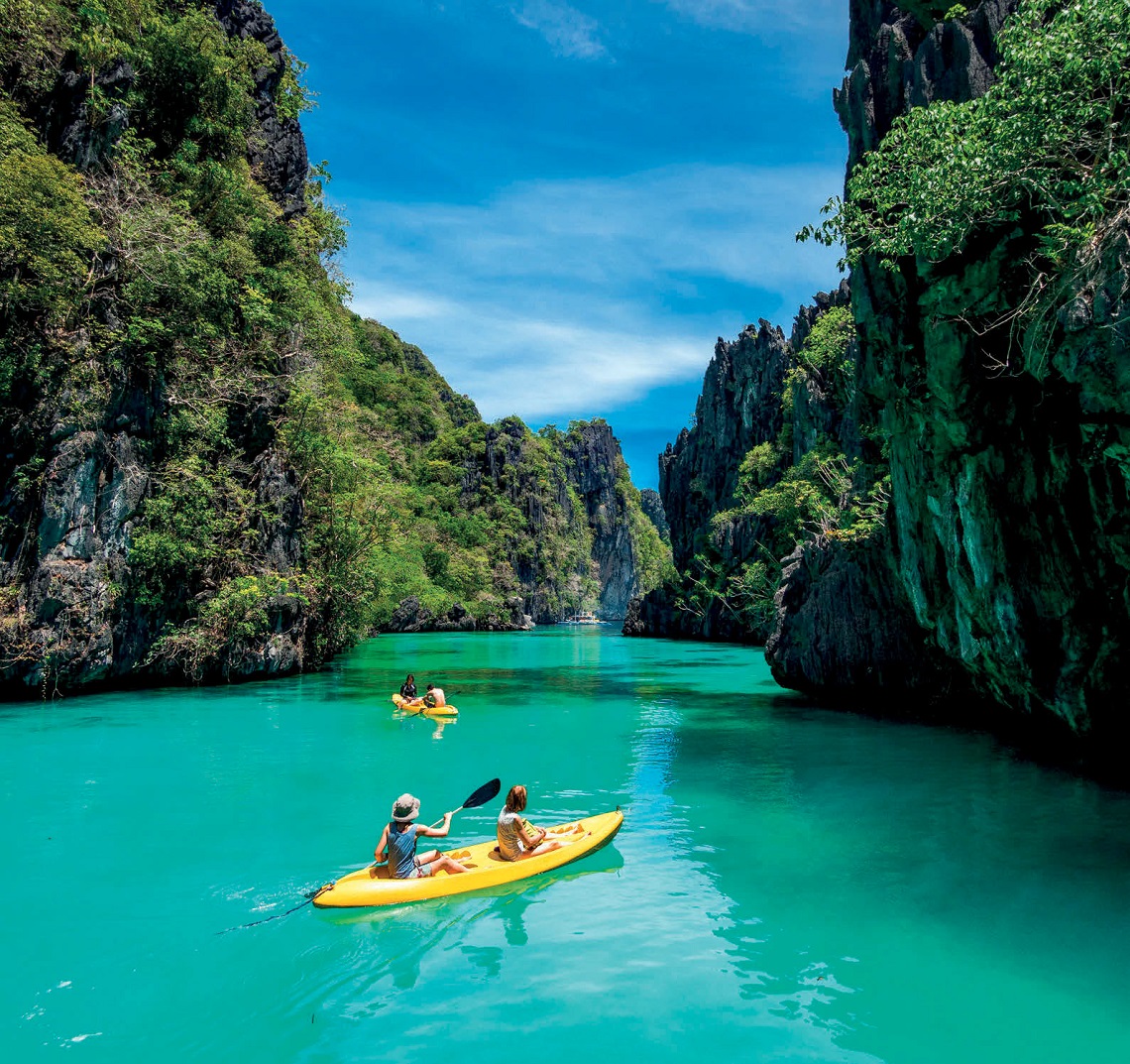 Diving is the main attraction in El Nido owing to its crystal-clear waters, coral reefs, submerged wrecks, and an abundance of spectacular sea life. Those venturing into the deep can expect to encounter spotted manta rays, green sea turtles, and nocturnal marine creatures including seahorses, shrimp, and catshark. There's also plenty of fun to be had above the waves with kayaking and paddle-boarding on offer. Inland, there's lots more to explore. Waterfall swimming, hiking, jungle trekking and cave boat trips are among some of the highlights, and when you're done, choose one of the area's outstanding five-star hotels for a little luxury and a taste of El Nido's excellent seafood cuisine.
Palawan is a cultural melting pot with its roots going back to prehistoric times (some of the world's oldest human remains were discovered here) so it's no surprise that its food is both diverse and delicious. Be sure to try the Tamilok (a shell-less saltwater clam, served ceviche-style or fried), crocodile sisig (a sizzling minced-meat dish), Lato seaweed salad, Hopia bread (a sweet flaky pastry best eaten at Baker's Hill in Puerto Princesa), Danggit Lamayo (dried rabbitfish) and Chao long (Vietnamese-inspired noodles).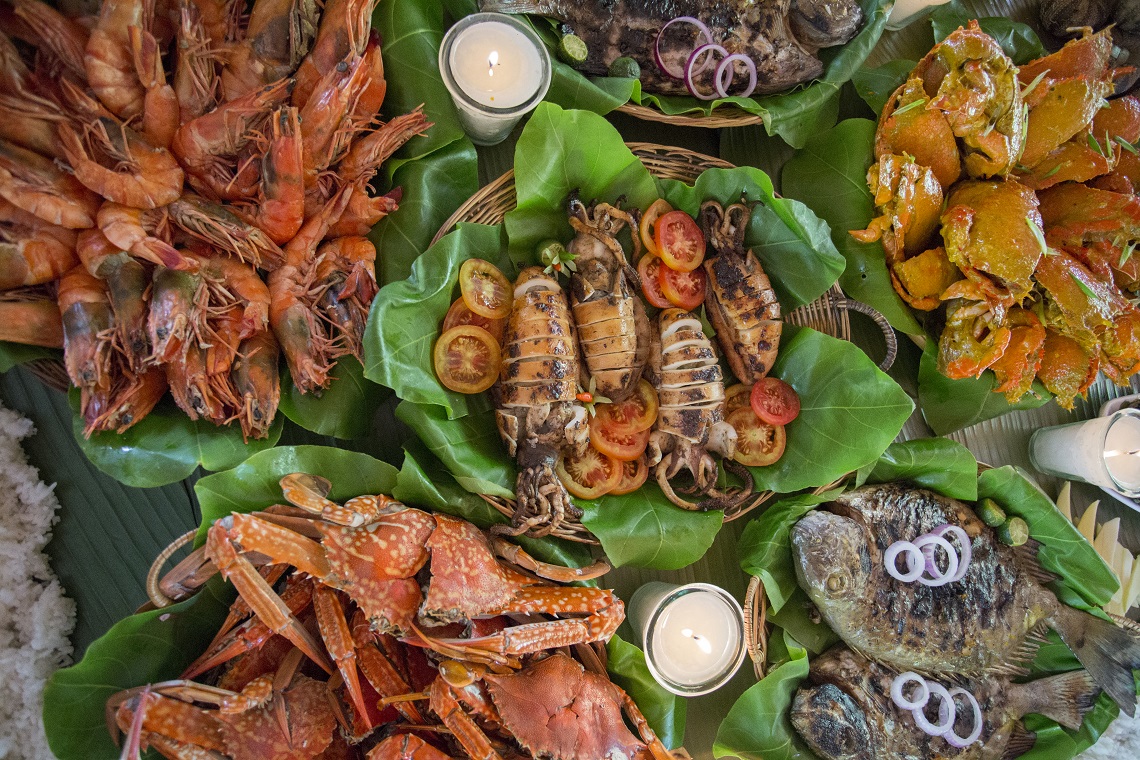 With its exciting blend of cultures, history, adventure, and intrigue, there's no doubt that the Philippines is the perfect place to practise existing passions and discover new ones. For more information on the islands and to find out how to plan your trip, see www.itsmorefuninthephilippines.co.uk