NOMADS' LAND
Between the TIAN SHAN mountain peaks in Central Asia lies arguably the most beautiful stretch of the ANCIENT Silk Road. The best way to explore this remote area of KOK KIYA, Kyrgyzstan? On HORSEBACK of course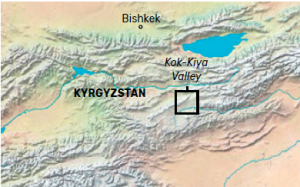 Did I imagine it, frost forming by 11 pm on the inside of our tent? The temperature had undoubtedly dropped, steam emanating from my mouth. Last week I heard stories of trekkers feeling too warm to sleep. What a difference a few days in September can make. I decided to reach over to my backpack and decant all remaining garments.
Wearing more layers than a Russian doll, I jumped back into my sleeping bag and eventually thawed out. By now, snowflakes were landing heavily around the campsite — a sight not expected to be witnessed for another six weeks, but this is Kok Kiya, a place that doesn't believe in the predictable.
BACK TO BASICS
After meeting up with members from the hiking group Go London in Kyrgyzstan's capital city of Bishkek, we boarded our minibus for the long 340-mile ride to our base in the mountains. Located by the front passenger seat stood our cheerful interpreter Berdibai, the man who would act as our direct link of communication to our nomadic hosts.
Bishkek is a reminder of Kyrgyzstan's Soviet past. Unblemished statues of Lenin and Marx stand tall outside government buildings. And yet, hidden among the grey apartment blocks lie colourful, bustling food markets and thriving commerce. As we drove away from the capital, architectural styles quickly changed to simple cottage-like dwellings and then to traditional yurts dotted among livestock along the countryside's rolling hills. If Bishkek has the hallmarks of stepping back into another decade, the interior feels like a different century.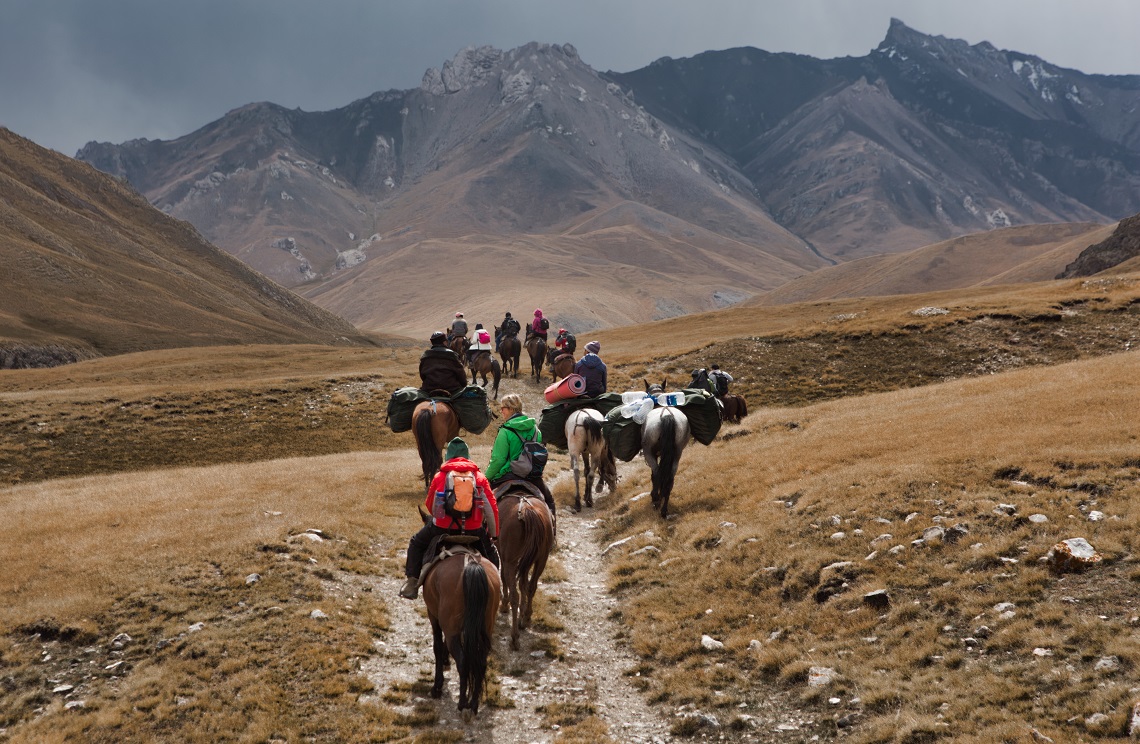 As we approach Kok Kiya, I glanced towards the valley, now beautifully lit by the sun's late afternoon amber light and surrounded by Tien Shan's imposing jagged mountains. I couldn't dwell too long on such romantic imagery though. The road had begun to deteriorate and rocked the minibus from side to side with the occasional rogue rucksack hurtling from the vehicle's rear towards the passengers. It's paradoxical moments like this that reinforce my desire to travel adventurously.
We finally arrived at Meder's Yurt Camp and met our hosts, husband and wife, Meder and Jazgul, their children, and several horsemen. Lots of smiles, handshakes and high fives all round before being shown to our yurts. On first impressions, these portable homes look relatively small from the outside. Once inside, however, I could see our yurt managed a generous eight single beds. The interior was carpeted from floor to walls with bright Islamic-inspired patterns, lending a cosy atmosphere.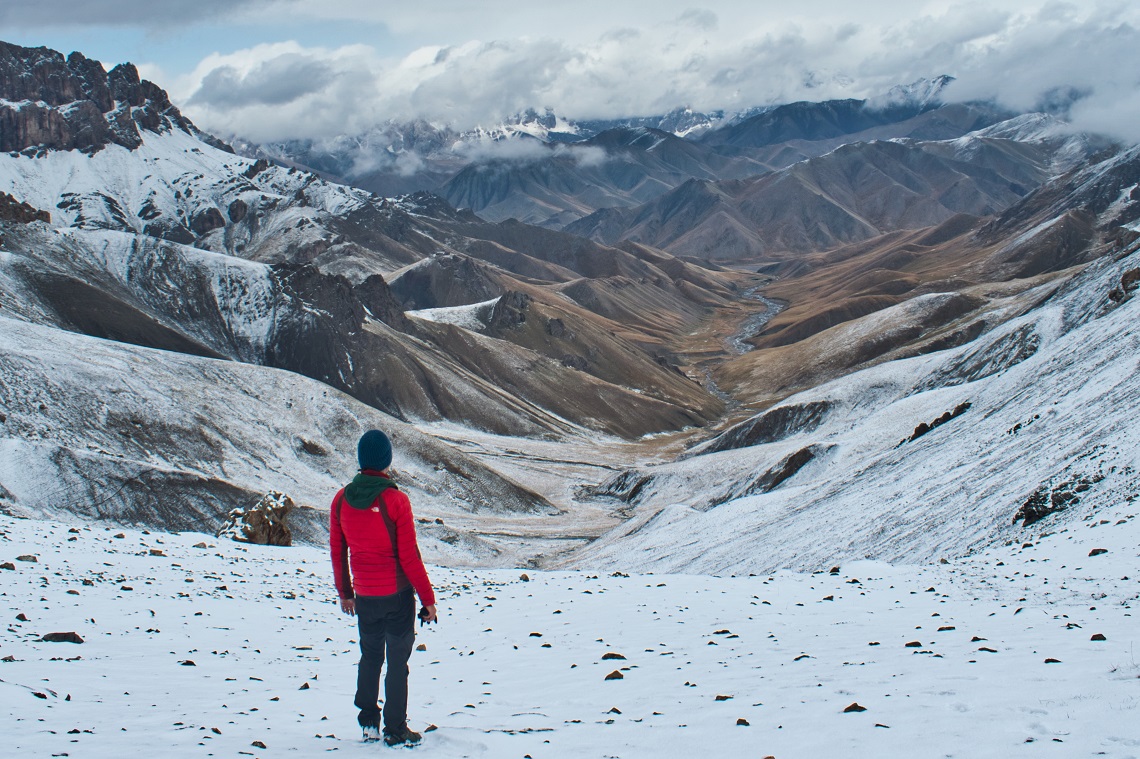 Meder's horsemen called us in for dinner inside a supersized dining yurt. The delicious food contained both Chinese and Middle-Eastern flavours, a kind of noodles with Kebab, served with a small glass of Russian Vodka, although Berdibai did stipulate the chilli sauce was 100 percent Kyrgyz. The dishes illustrated a melting pot of Kyrgyzstan's influences from its trading heyday along the Silk Road.
The dinner was a great chance to get to know our new friends and ask questions about the days ahead, mostly horse-related. However, the horseriding would have to wait. Tomorrow we would rise early and hike a circular route of the Ak-Say Urur Valley.
LOST LANDSCAPES
After a comfortable night's sleep, I woke up to a disjointed symphony of farmyard sounds. Dogs barking, horses rustlings, and roosters bellowing out their alarm calls. Meder and co were preparing for the day's hike, and after a large helping of porridge, we left camp with a couple of supply horses.
The further we walked into the valley the more its vastness became apparent. The land appeared timeless, with no signs of roads or houses. Not even a single electrical pylon was in sight. Without signs of modern life, my mind focused unhindered on the beauty of the terrain. Walking through the friendly mustard-coloured foothills seemed like a glorious juxtaposition to the Tian Shan's daunting snowcapped peaks.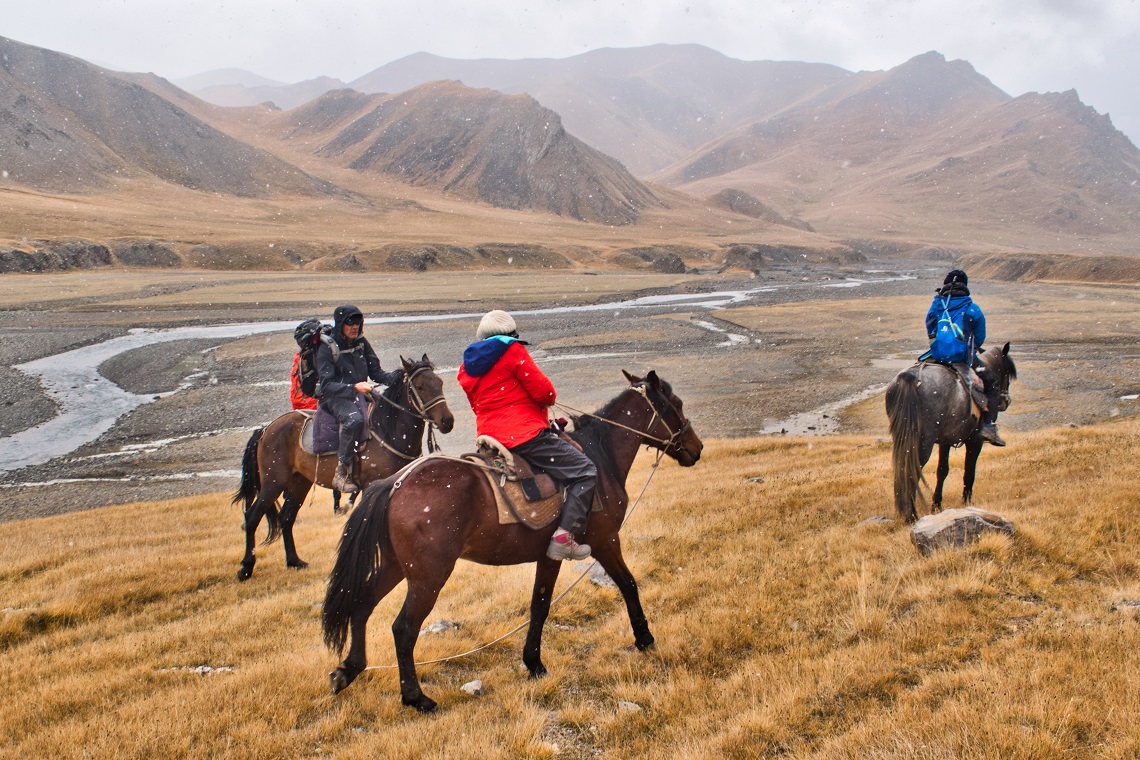 All of these captivating scenes came as a complete surprise. Before setting out on this trip, I remember typing 'Kok Kiya' into Google images and seeing a solitary photo in saturated colours. With little to go on, I hoped to discover a unique part of the world, where the ability to compare experiences with different countries would be almost impossible. So far, Southern Kyrgyzstan fit the bill perfectly.
I asked Berdibai if Kyrgyz people, nomadic or otherwise, ever lived here. He explained with Meder's help that some of the horse trails in the area were offshoots of the Silk Road. Merchants would often camp overnight in the area. Berdibai added, "Since the beginning of the Soviet period, we became an isolated country, passing trade stopped, and these lands only became known to Meder's ancestors." Luckily for us, Kyrgyzstan has slowly begun to open its doors to tourism, which sparked my interest in the region. We felt privileged to be one of the first international groups to travel here in over a century.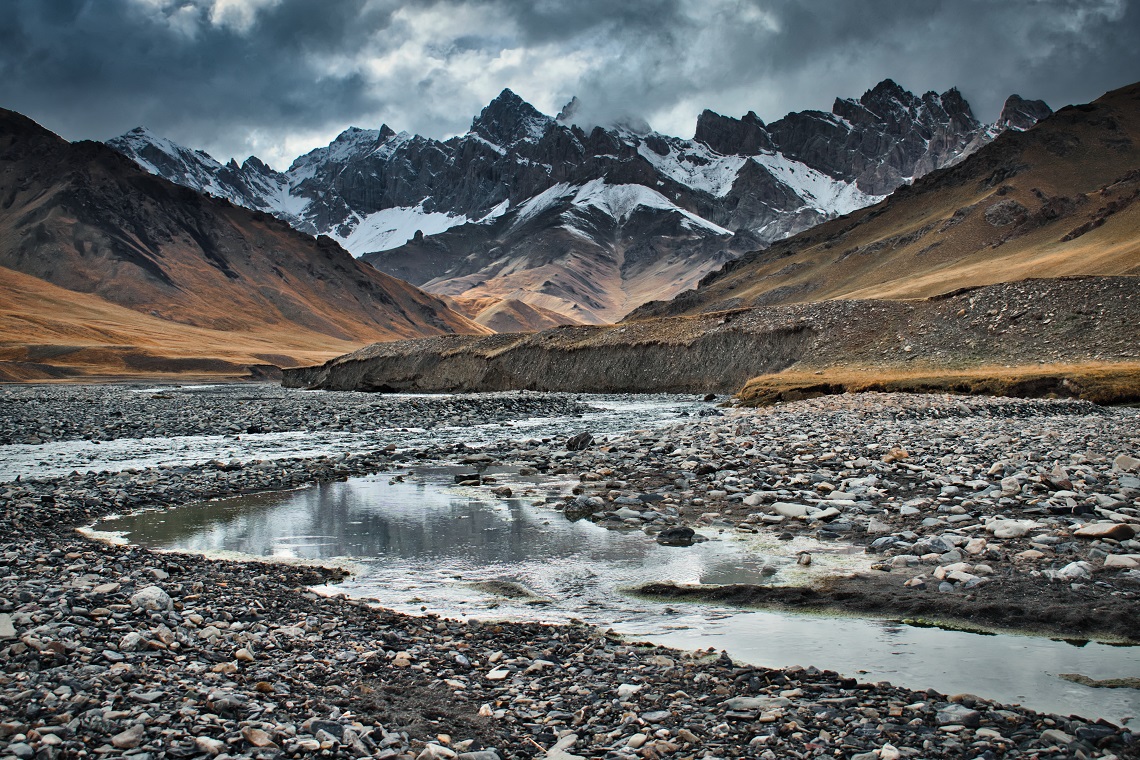 The following day we made our way to the tallest peak of our trip, Mama Mountain. At just over 4,000m, the summit lay a steep 700m climb above Meder's Camp. The altitude change was undoubtedly noticeable, but our measured walk was a chance to get to know the Go London hiking group. The diverse mix of ages, ethnicities and occupations made for an exciting team. One minute I was in conversation with a financier and the next a yoga teacher. At this rate, I would be wealthy and healthy in no time.
Short of breath, we reached the summit and all stood proudly at the top of Mama Mountain. We congratulated each other, selfies all round, and captured a few group shots. The bird's eye view unveiled mother nature's hard work. The river's tributaries resembled arteries and veins pumping life into the land below, and yet we stood 3,000m beneath the highest summit ranges of the all-encompassing Tien Shan. Such surreal vistas brought out emotions within me of wonderment and gratitude. Perhaps I began to appreciate these delicate feelings beyond a sense of achievement for the first time in my travels.
RIDING INTO NOMADS' LAND
Our three amigos, Berdibai, Meder, and his assistant Azermat, were rustling up the horses on a chilly but cloudless morning. I stood eagerly in the middle of the Yurt Camp drinking tea with the group, and reminiscing past equine adventures, which didn't take long. Just the three occasions so far, of which two were on a donkey.
I watched as the horses were led out with pensive anticipation, hoping in secret for a gentle creature. "You go with this one," asserted Berdibai. Being one of the taller members of the group, I was paired up with one of the larger horses, and we began to mount with Azemat's help. We all looked tentative as most of the horses took control of their riders.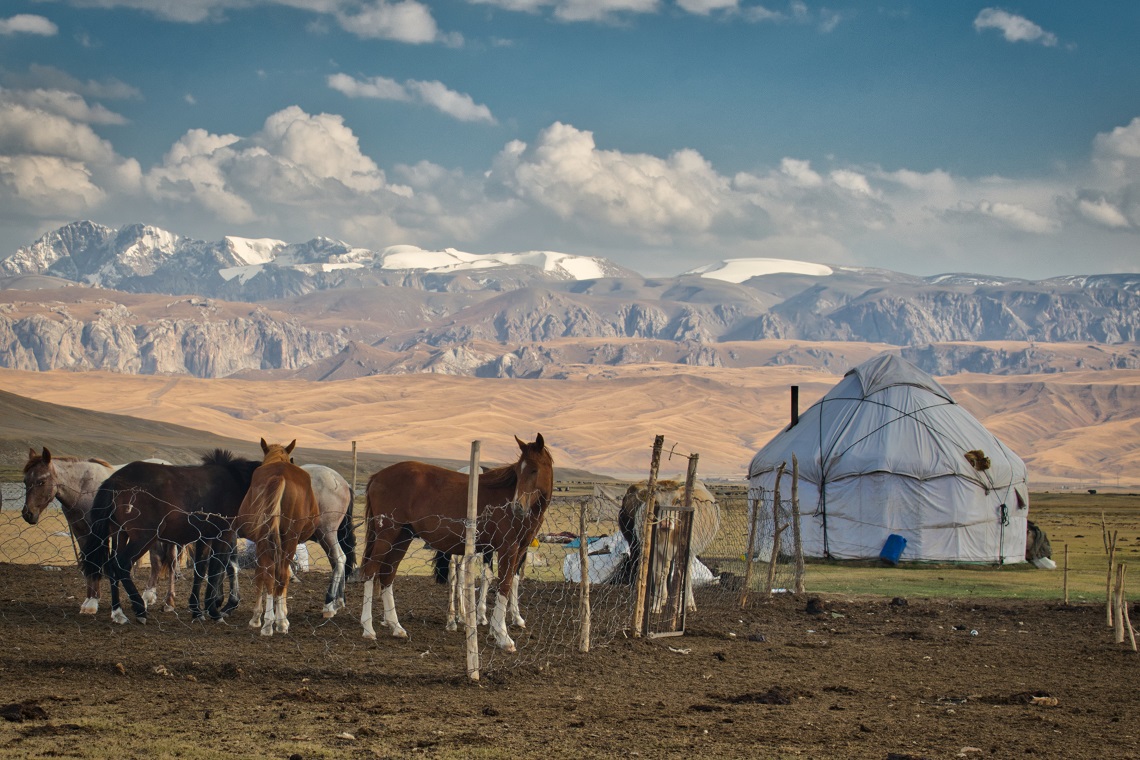 Some refused to move, while others jettison in different directions. Meder bought order to proceedings by individually calming each straying beast, and Berdibai told the group to show more authority in the saddle. Gradually our confidence increased. Once my horse started walking in the right direction, my posture improved, the reins relaxed in my hands, and my feet found a comfortable position in the stirrups. My nameless horse (which I called Jim Bob) and I were not best buddies yet, but once I picked up his trotting rhythm, we both began to enjoy ourselves.
By now, the spirit in the group was high. Plenty of smiles and laugher as riders broke into a canter or the occasional gallop. We entered the Tyok Boto Valley, an area so vast that I felt immediately insignificant in the world. I had a contradictory sense of isolation while being part of a group. However, Tyok Boto was once a thriving trading route and our first direct encounter with the Silk Road, adding plenty of icing to what was already an impressive cake.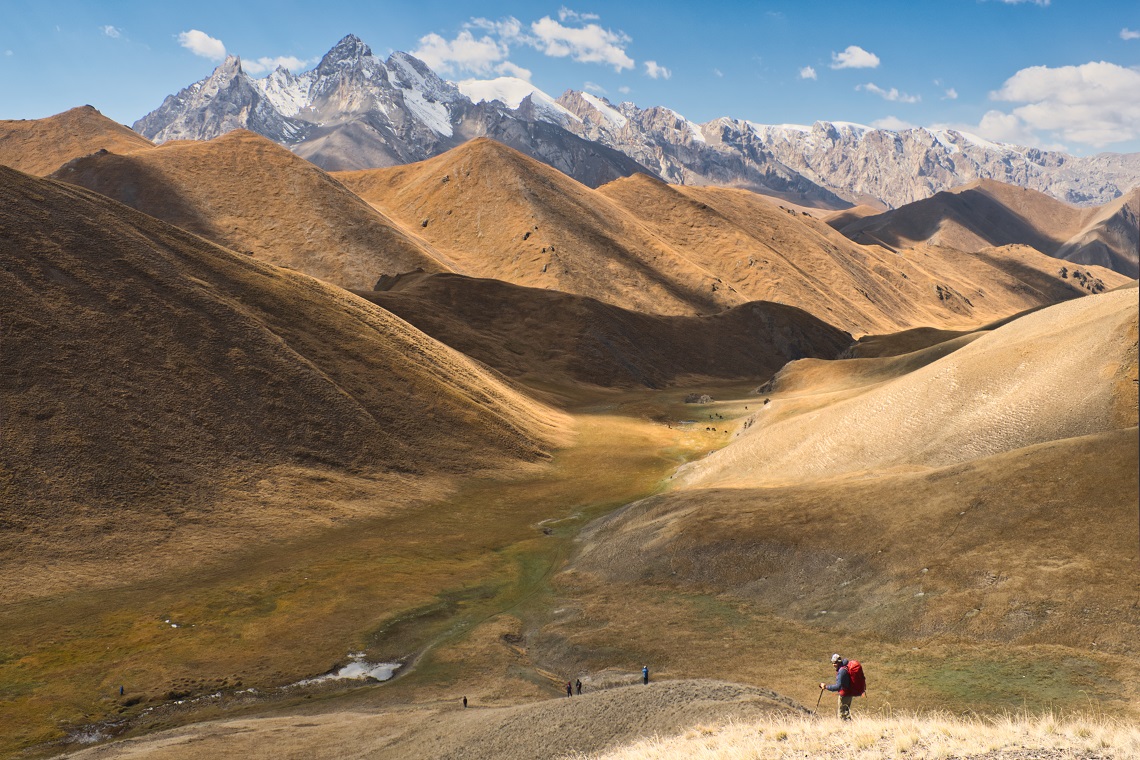 We dismounted at this point and spent the remainder of the day hiking while Meder and Azermat broke ranks to set up dinner and camp. The riding was so much fun, and I couldn't wait to do it again. We covered a fair amount of ground in a short space of time, including a couple of awkward river crossings made easier on horseback than on foot. I could understand the horses' vital importance to the nomadic way of life, especially when Meder and his team go hunting. However, the bitter winds and cold temperatures came as a reality check to the harsh outdoor existence that nomadic families endure. From high up snowy mountain passes to fields of gold along the lowland pastures, the afternoon landscapes seemed based in fiction rather than reality.
As we approached the Kol Suu Lake known for its emerald waters and stunning mountain reflections, it became apparent that, in predictably, unpredictable fashion, the lake was almost dry. Deep clay-like cracks dominated the its surface, enabling us to walk across. Soon we could see Meder and Azermat putting up tents as the light began to fade.
CAMPING UNDER THE STARS
After a piping hot stew, we all huddled around the campfire. The sharp drop in temperature encouraged the group to drink any available liquids for extra warmth. Tea, vodka, and even vodka-tea were all gratefully received. Meder spontaneously broke into a traditional song and received a cheerful round of applause. Berdibai then asked me to sing an English song. I hesitantly obliged with my alcohol-induced version of The Beatles' When I'm Sixty Four, and the entertainment had begun.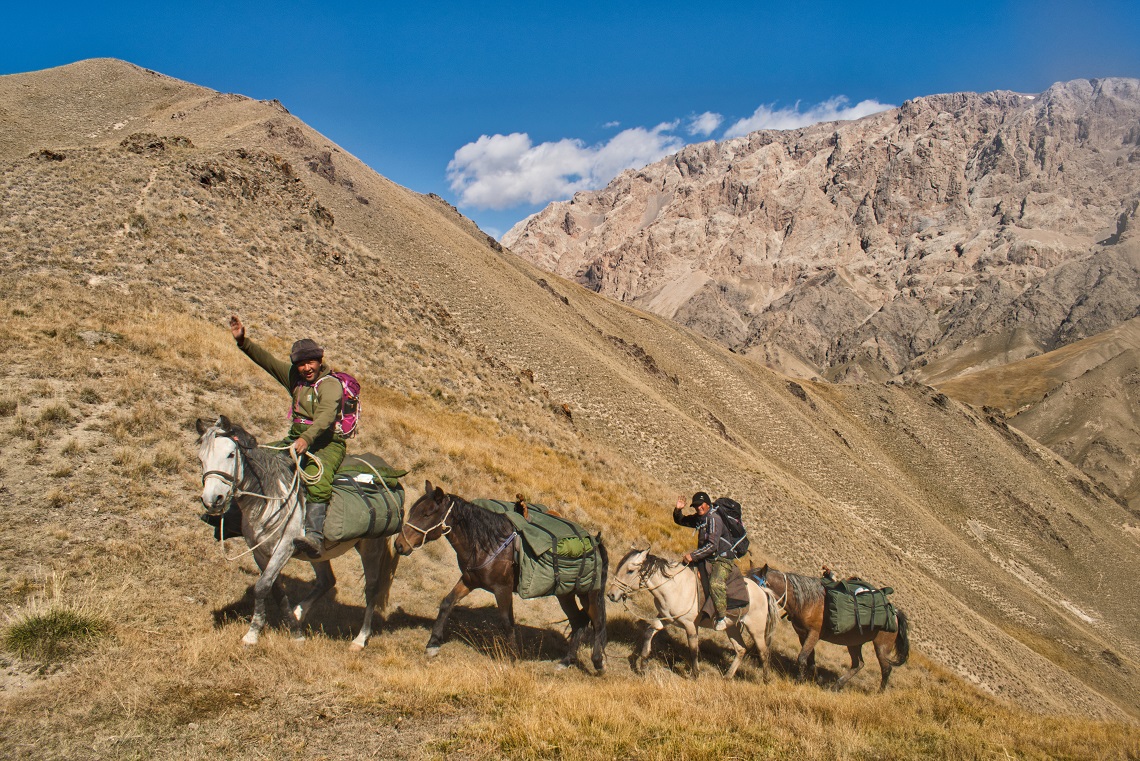 Despite the cold, the atmosphere and camaraderie had an abundance of warmth. All inconveniences from no electricity to zero communication with the outside world are temporary. I took comfort in knowing this and felt a reassuring calm by the lack of technological distractions. My happiness and fulfilment had come from being more present in the here and now. This experience was not about turning my back on modern living but rather a reminder to disconnect more often.
The sight of the fire's dying embers signalled bedtime. Before returning to my tent, I gazed upwards and noted the brilliant stars sparkling against the dark heavens. My eyes now wide open, not looking at one star, and yet I could see them all at once. And when night turned into day, the landscapes in this region showed another one of its numerous faces — perhaps the most striking one of all. This time a mountain range with no name but a coat of many colours.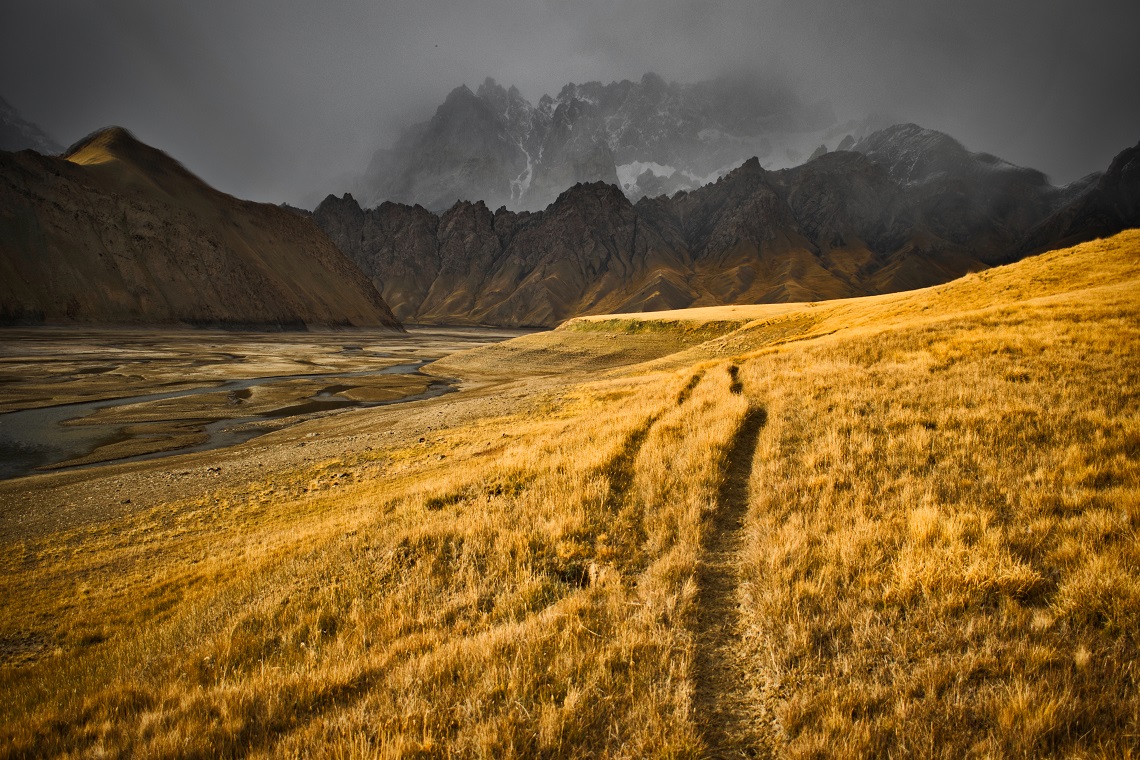 Scorched orange and red moss set against the black moraine and dusted with snow. Just when I thought I'd seen it all… but then, this is Kyrgyzstan.
We made the long trip back to Meder's yurt camp along the winding Kol Suu River, breaking up the journey by staying the night in a disused shepherds' hut for a warmer sleep and more hot tea. I woke up refreshed and met up with my old pal Jim Bob for one last gallop as we rode back to the camp. It was lovely to see the young children practising their riding skills with the help of their elders. Jazgul had prepared a farewell banquet lunch before we all hugged and said our sad goodbyes. With so many beautiful memories, I knew I'd fallen for this tiny corner of the world, truly, nomadly, deeply.
For more information on adventures in Kyrgyzstan, see www.nomadsland.ch/en. For hiking trips to the paths less travelled: www.meetup.com/GO-London/
---
WHO'S WRITING?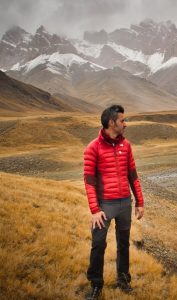 Peter Elia is a freelance journalist and photographer who travels the globe searching for stories from the paths less travelled. From the Arctic Circle to the southern tip of South America, he combines his adventures on foot with dramatic landscape images which have featured in The Guardian, Cultural Trip, BBC Countryfile Magazine and elsewhere.
For more fantastic images from Peter visit www.themanwhohikedtheworld.com or follow him on Instagram (@themanwhohikedtheworld).