DAYSACKS
When you're travelling LIGHT or sticking close to your base, a daysack's the best way to carry your KIT. In this issue of Wired For Adventure, we take a look at 10 of the BEST…
If you're thinking about taking on a multi-day wilderness trek, these aren't the pages for you — you'll be looking for an enormous, back-breaking 1,000-litre, pain-inducing expedition pack.
But, if your plans include day walks from a single base; lightweight hut-to-hut trekking; hiring porters or pack animals; organised walks; ultra-light travel, city breaks, or just a picnic, you'll be wanting a daysack. And, if you're the sort of person who packs only the bare essentials and cuts your toothbrush in half, there's a chance you might take a daysack on a multi-day wilderness trek, too.
When you're out doing your thing, the one feature of a daysack that matters above all else is comfort. If your pack isn't comfortable, then you're going to have a pretty nasty time with backaches and shoulder pains. Comfort while carrying a pack, even one as small as a daysack, is provided largely by how it fits.
When buying your pack, make sure the back system isn't too long or short for your body. If the pack's got a hip belt, make sure it sits comfortably on your hips — if the hip belt's too high or low then you may as well not have one. The weight should be on the hips, rather than the shoulders and back, as these parts of the body weren't designed to carry weight. A well-padded hip belt and shoulder straps also help provide comfort, and we reckon extra padding on the lower back and on the shoulder blades works wonders, too.
For us, the ideal daysack would be big enough to carry on-trail essentials, but small enough to qualify as hand luggage on a plane. It should be stable on scrambles and functional on a summit day, but equally handy around town.
A WORD ON THE FIT OF A DAYSACK
Like shoes, a rucksack's fit will determine how comfortable it's going to be. While not as important on daysacks (you're unlikely to be carrying back-breaking loads), if you're going to be wearing it all day, it's a good idea if the pack's the right size for your back.
Some bags will have adjustable back systems which will help you get the right fit for the length of your back. Otherwise, the shoulder straps should join the bag in line with your shoulders, and the hip belt should rest comfortably on your hips, so it bears the weight.
---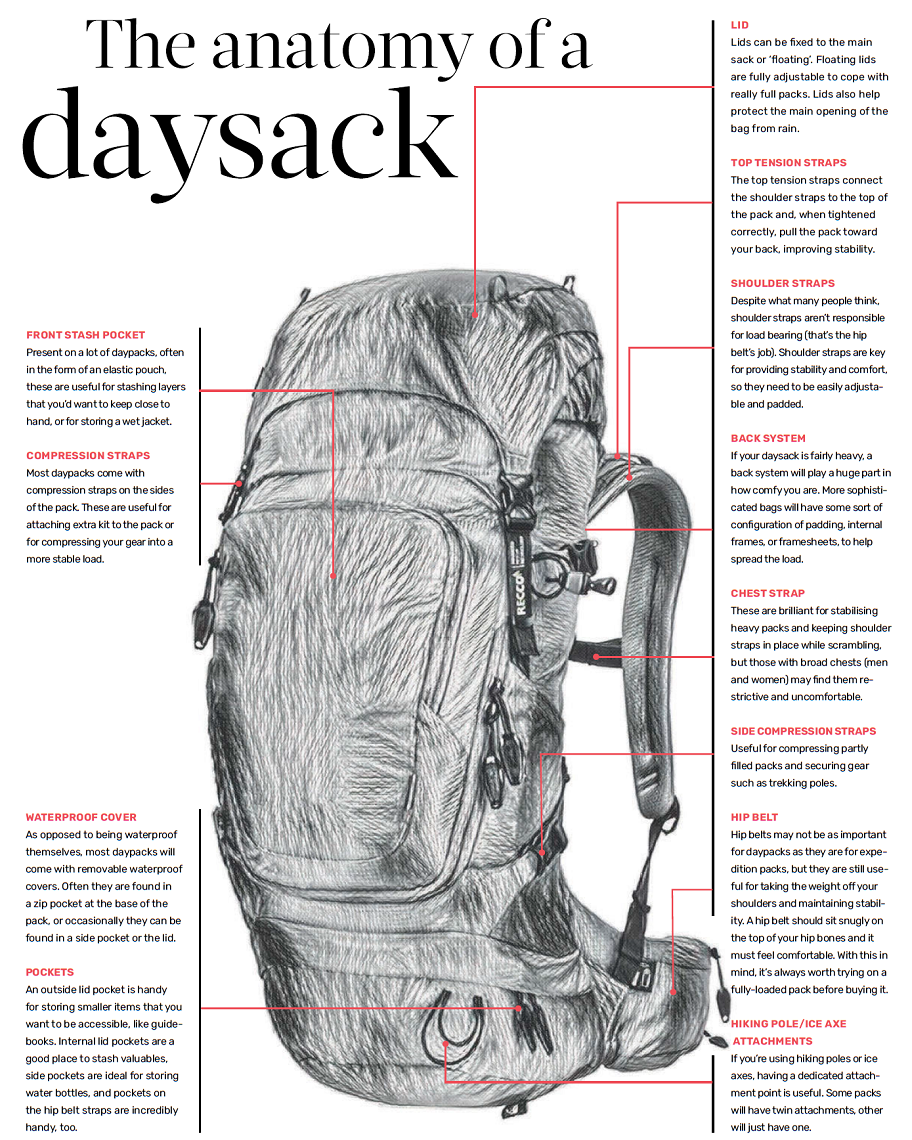 ---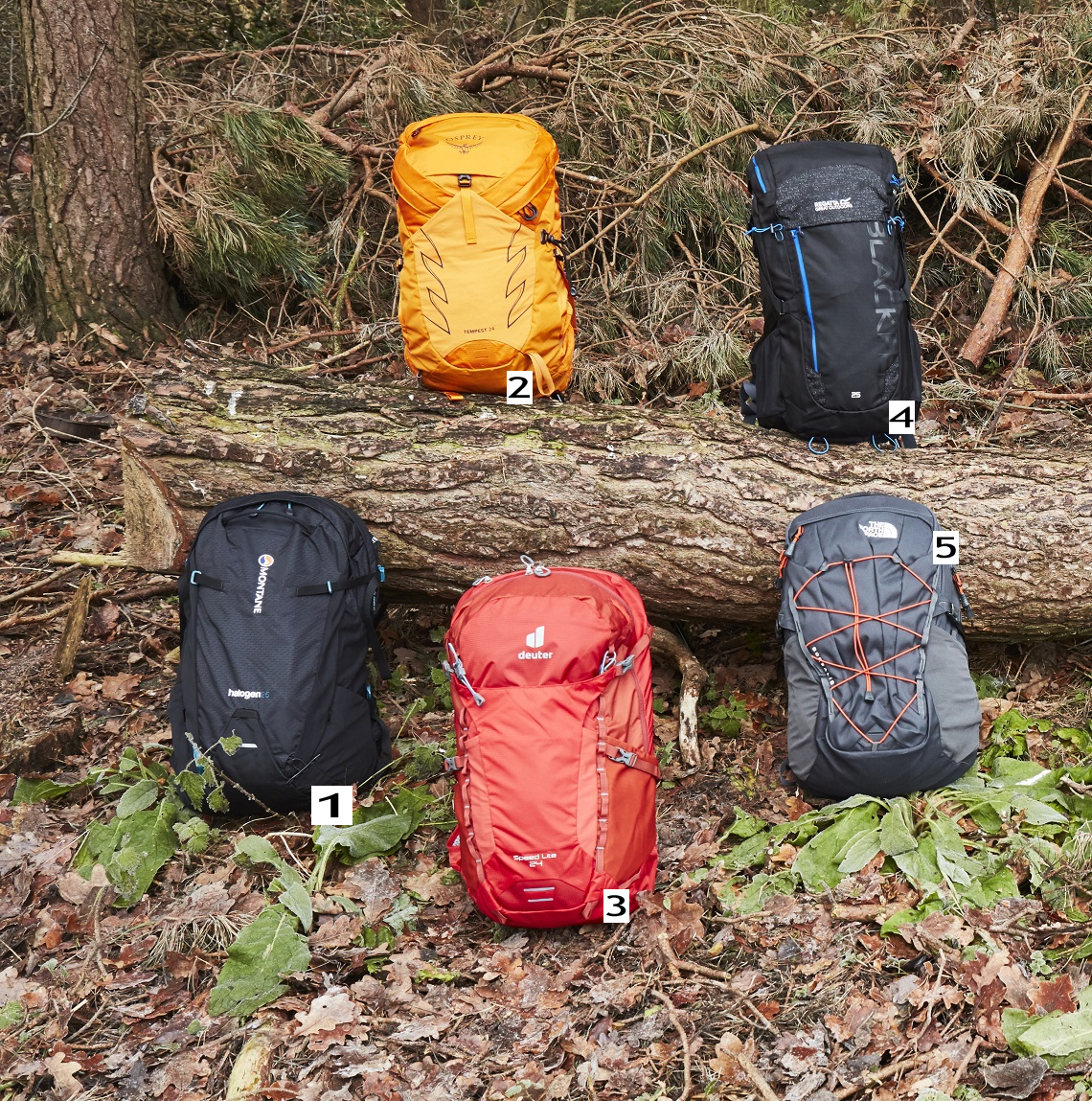 1 – BEST FOR ALL-SEASON MOUNTAIN TREKS
Montane Halogen 25L
RRP £85 www.montane.com
Fully featured and built to last, the Halogen 25 is a great option for those looking for a daypack to use in the mountains come rain or shine. A hardwearing RAPTOR Geo outer allows the pack to stand up to harsh conditions, while a raft of storage options and carrying loops make it practical and useful on the go.
2 – BEST FOR TOP-TIER PERFORMANCE
Osprey Tempest 24L
RRP £240 www.ospreyeurope.com
Osprey's packs never fail to impress and the women's specific  Tempest 24, which is freshly updated for Spring '21, follows suit. With tons of useful features, the Tempest looks and feels premium. The jewels in the crown are the AirScape back panel and BioStretch harness, which make the Tempest a pleasure to wear.
3 – BEST FOR LIGHTWEIGHT ADVENTURES
Deuter Speed Lite 24L
RRP £90 www.deutergb.co.uk
At just 770g, this 24-litre rucksack is ideal for those who want to move fast and light in the mountains. Amazingly, features haet bee sarfie t achieve this low weight either, so with the Speed Lite 24 you'll still get a comfortable, useful pack with all the bells and whistles.
4 – BEST FOR ENTRY-LEVEL HILL WALKING
Regatta Blackfell III 25L
RRP £65 www.regatta.com
If you're shopping to a lower budget, the Blackfell III is bound to be an attractive option, and for good reason. The back system provides ample ventilation and support, while there's plenty of pockets and pouches in which to keep your gear safe. This is ideal for entry-level outdoor adventures.
5 – BEST FOR WORKING HARD AND PLAYING HARDER

The North Face Borealis
£90 www.thenorthface.com
With its separated, protected laptop compartment, the Borealis 28L is perfectly set up to be just as useful on your morning commute as it is on the trails. The 28 litres of storage space swallows up a day's worth of kit with ease, while the FlexVent back system allows you to carry it in comfort.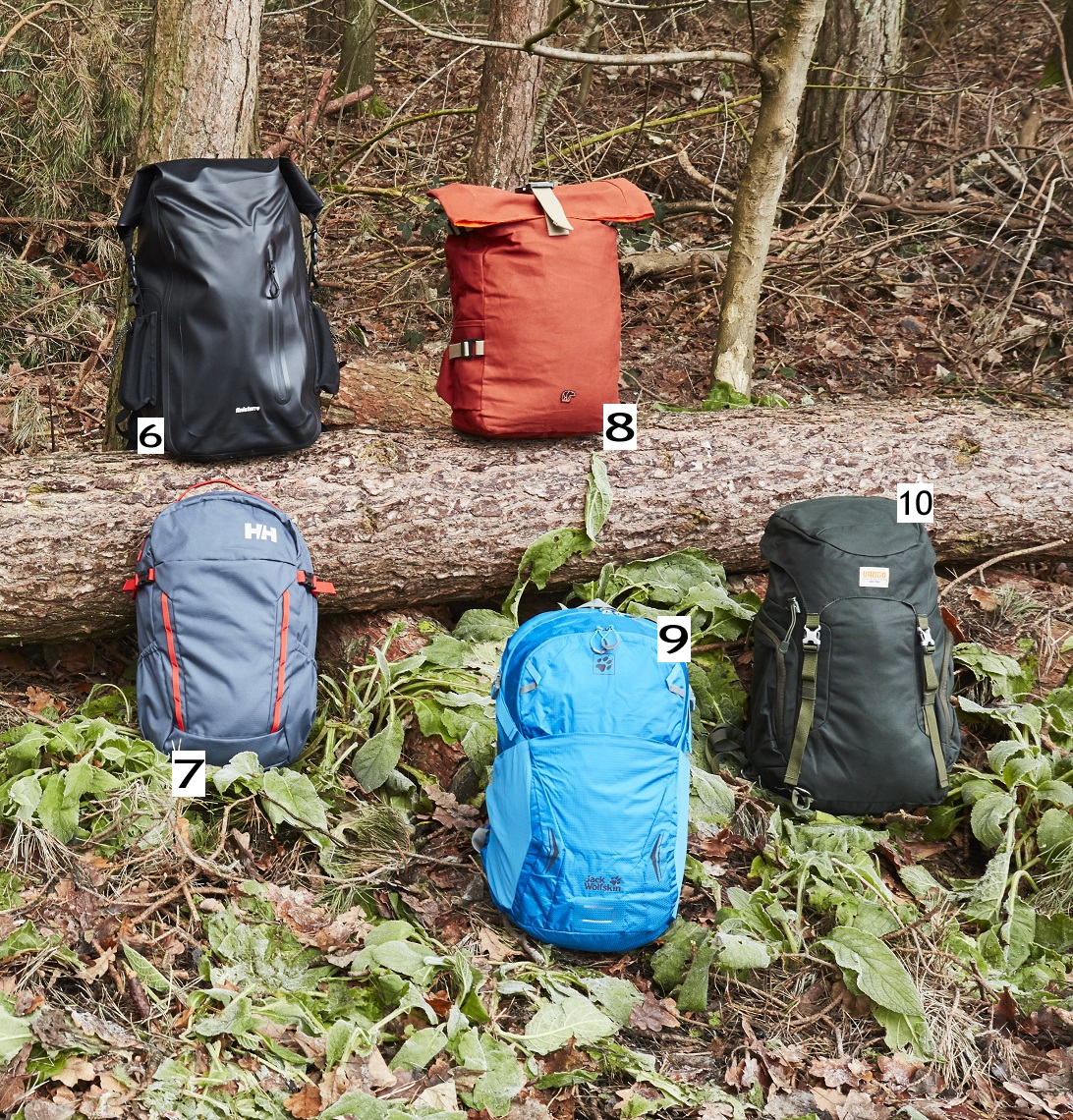 6 – BEST FOR KEEPING YOUR KIT DRY
Finisterre Drift Roll Top
RRP £135 www.finisterre.com
Finisterre's Drift Roll Top might be expensive, but it'll keep your gear dry thanks to its watertight closure, making it ideal for adventures close to the water. Unlike many other roll bags, the Drift is more than just a heavy-duty sack thanks to its good back system, 30L capacity, and other useful features.
7 – BEST FOR EXPLORING CITIES AND URBAN ENVIRONMENTS
Helly Hansen Loke 25L
RRP £65 www.hellyhansen.com
The Loke is a simple, no frills daypack which is very reasonably priced, and that's great! If your adventures are city-based or you don't need a fully-featured technical bag, the Loke is more than up to the job. It's lightweight, comfortable to wear when carrying light loads, and it looks great around town and on the trail.
8 – BEST FOR BUYING BRITISH
Bear Made Gouthwaite Backpack
£165 www.bearmade.co.uk
Designed and manufactured in England, this beautifully made, dry-waxed canvas rucksack is ideal for city breaks and non-technical day hikes. The Gouthwaite isn't as feature-packed as the other bags in this review, but its simplicity is its strong point. The pack also comes with a lifetime guarantee.
9 – BEST FOR TWO-WHEELED ADVENTURES
Jack Wolfskin Moab Jam 24L
RRP £85 www.jack-wolfskin.co.uk
Designed specifically with bicycling in mind, the Moab Jam 24L is ideal if you're hitting the trails on two wheels. Helmet, tyre pump, and LED light attachment points are useful additions, while the pack also offers a bike-specific back system to keep the load close to you while maintaining ventilation.
10 – BEST FOR BUYING ON A BUDGET
Vango Heritage Trail 25L
£40 www.vango.co.uk
Cheap doesn't have to mean nasty and the Heritage Trail 25 is testament to that. At £40 it represents phenomenal value for money and it comes with enough features to make it ideal for entry-level day hikes and casual strolls. If you're shopping on a budget, you should check out the Heritage Trail 25.