FOR ALL IN TENTS
A PASSION for outdoor adventure and a quest for the PERFECT piece of kit led explorer and innovator, CHARLIE EVANS to develop a line of ROOF TENTS with a difference
I've been a big lover of the outdoors from a young age, always wanting to go someplace new, be it mountain biking, hiking, camping – any excuse to explore. A couple of years ago, I set off on a European road trip. I didn't have much budget and I wanted the freedom to explore idyllic places without the restrictions of pre-booked accommodation. A roof tent seemed like the perfect solution.
I wanted something tough, easy to put up and takedown, and super comfortable, but I found it hard to find exactly what I needed, especially within the UK. In the end, I chose the best roof tent I could find at the time, but after putting it to lots of use, I knew that I could come up with something much better.
Being a product designer, I felt sure a top-notch roof tent could be made to counter the kinds of problems I'd experienced on my travels. The chance to combine my two greatest passions: a love of the outdoors and a love of all things car-related passed on from my dad, was an opportunity too good to miss. And so, Latitude Tents was born.
Essentially, a roof tent is a folding tent that mounts on top of your vehicle. They work on everything from a small hatchback or saloon car to a van or pick-up truck. All you need is a set of roof bars and you're good to go! Once on, the tent can be opened like a clamshell in matter of minutes, doubling in size and giving you an instant home from home with a built-in mattress and loads of other features.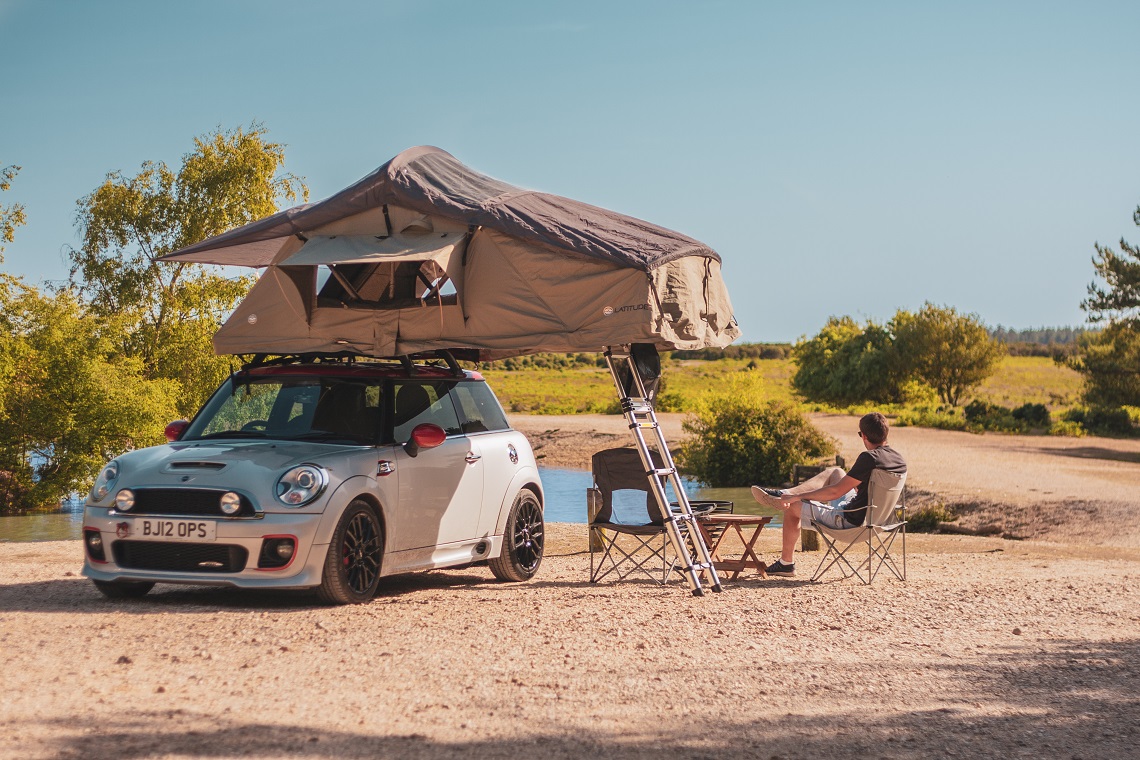 Ground camping has its practical drawbacks and campervans can be pretty expensive to buy and run. My focus when designing Latitude's range was making camping convenient and comfortable for the fairest price, without compromise. I wanted a design that excelled in all its functional needs, but more importantly, would inspire users to get outside. As a brand, Latitude is all about high-quality gear and an adventurous lifestyle. That's who we are – it's what we know and what we do! Our tents are aimed at everyone who loves getting out there, travelling, and having a great time.
As a product designer of six years, I've been lucky enough to work on some awesome projects, but when it's your brainchild in the works you step into this whole other level of creativity and expectation. I didn't want to rush our tents to market, so we spent a lot of time testing and developing prototypes to get the little details right. Material testing in real-life environments, receiving feedback, making changes. I believe there's no such thing as bad conditions, just bad kit, so our tents eco that theory. Only once we knew the Latitude roof tent was everything we set out for it to be did we release it into the wild.
Our main problem, if you can call it that, has been demand. After launching we sold out in three weeks, which was amazing! One of the best things about a roof tent is you can forget poles, pegs, and blow-up beds. There's no tricky assembly or tedious takedown. Being off the ground means there's no need to worry about roots, rocks, or uneven ground; it also helps keep heat inside the sleeping area. Having the tent on the roof rack with your bedding folded up inside means there's a whole load of extra space inside the car, too. And with great elevated views, it feels almost like sleeping in a treehouse.
My favourite roof tent adventure so far has been a trip to the south of France with one of our prototypes. We arrived at the Verdon Gorge one evening in the dark, popped open the tent, and called it a night. The next morning, we woke up to the most incredible view of the gorge, having accidentally picked the most picturesque parking spot possible!
When I'm in the UK, the Brecon Beacons are a great, fun place to take the roof tent. There are some lovely overnight spots, epic views, it's easy to get to, plus there's the added bonus of some fun driving roads. Once international travel opens up, Switzerland is somewhere I'd love to explore, hike, cycle, and find some gem locations to set up camp. Developing Latitude Tents has really fuelled my love of the outdoors, and this summer especially, I hope the range will do the same for other adventurers looking for a new way to travel. See you out there!
For more information on Latitude Tents, see www.latitudetents.com