MISSION: NIMS-POSSIBLE
No one has ever scaled K2 in WINTER. Period. Its unpredictable, hostile conditions have earned it a reputation as a 'KILLER' mountain and while many have tried, all have FAILED. That is, perhaps, until now… Could this military-man-turned-mountaineer be the one to TAME the beast? We caught up with record-breaking climber NIMS PURJA MBE just days before his departure to take on K2 this WINTER
When Nirmal 'Nims' Purja stood on top of Tibet's Shishapangma (8,027m) he'd not only beaten the previous record time for summiting all of the world's 'eight-thousanders', the 14 peaks that sit above 8,000m, he'd smashed it.
Managing the feat in just 189 days, Nims bested the previous record of just under eight years, capping off a remarkable achievement that saw him scale some of the world's tallest and deadliest peaks. This remarkable accomplishment is all the more impressive when you consider Nims is a relative newcomer to mountaineering, having only summited his first 8,000-er in 2014.
BACKGROUND
Born near Dhaulagiri in Nepal, Nims joined the British Army as a Gurkha at the age of 18, before making the switch to the Royal Navy's elite special forces unit, the Special Boat Service (SBS) in 2009. (It's worth noting that he was the first Gurkha ever to make the cut for the SBS). Operating as a cold-weather warfare specialist, his first encounter with mountaineering came during a military trek to Everest base camp in 2012. Discovering that he adapted well to altitude, Nims took the time to visit Sherpa legend Dorje Khatri in the nearby village of Lobuche. Khatri taught him how to use crampons and, despite having no previous mountaineering experience, Nims put his new-found skills to the test straight away, climbing nearby Lobuche East (6,100m).
His first 8,000-er soon followed on Dhaulagiri (8,167m), before he summited Mount Everest, the world's tallest peak, in 2016. He returned in 2017 to lead a Gurkha Expedition on Everest, before climbing the 8,848m peak again later in the year while on a seven-day period of leave from the forces.
During the trip he also summited neighbouring Lhotse (8,516m) and Makalu (8,485m), breaking three records in the process, including the fastest consecutive summits of all three. With a growing collection of records under his belt, and an MBE from the Queen for his outstanding achievements in high altitude mountaineering, Nims set his sights on 'Project Possible', his plan to summit all 14 of the world's 8,000m-plus peaks in just six months.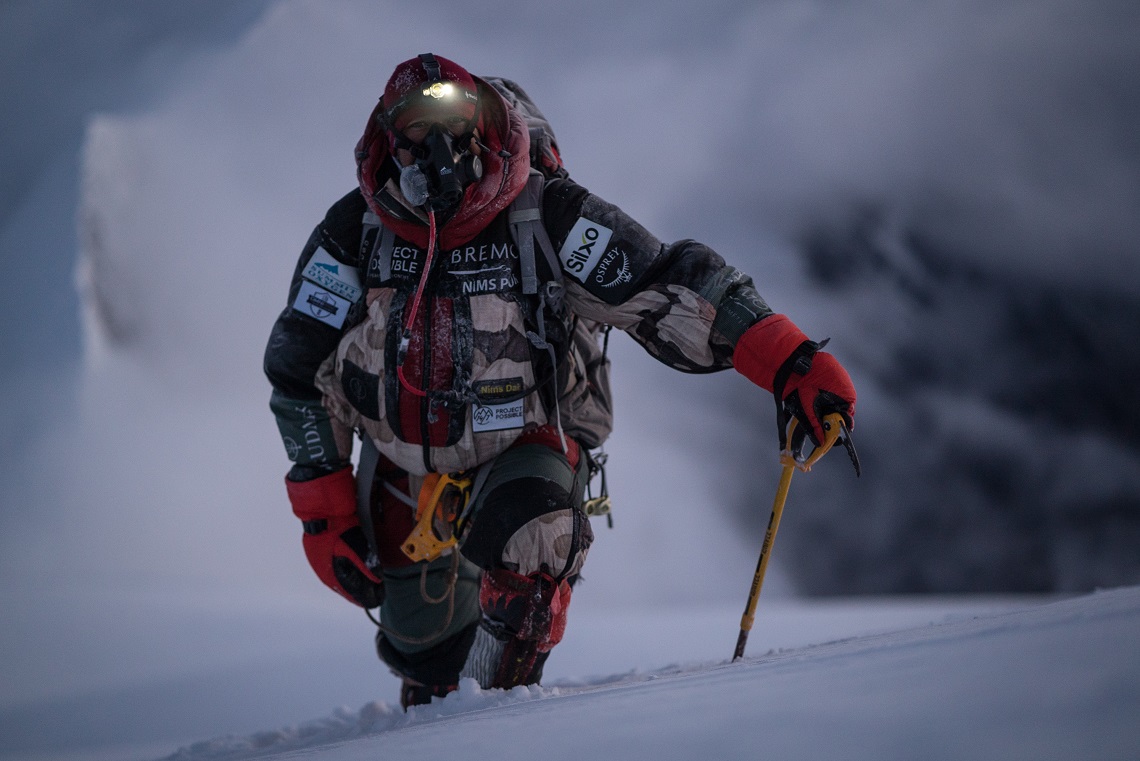 PROJECT POSSIBLE
Few thought it was possible, both physically and logistically. When the Royal Navy said his challenge was too risky for them to support, he decided to leave the forces, turning his attention to corporate sponsors, crowdfunding attempts, and even going as far as re-mortgaging his house in a bid to raise funds. In October 2019, his persistence paid off as he realised his dream. Along the way Nims and various members of his Nepalese team scaled some of the world's most inhospitable peaks and broke numerous records, including summiting Mount Everest, Lhotse, and Makalu within two days and 30 minutes of each other, breaking the previous record of five days that he'd set himself in 2017.
Nims' achievements aren't without their controversy, though. His approach sparked a debate within the mountaineering community, with some big names publicly criticising him for taking helicopter transfers between base camps, climbing using pre-fixed ropes, and using supplementary oxygen during summit days pushes from high camps.
Others took a more measured approach. Reinhold Messner, the first person to climb all 14 8,000m peaks, called it a 'unique mountaineering achievement', and Nims was also celebrated in his home country of Nepal for pushing Nepalese climbers to the forefront of a sport often dominated by western climbers.
K2 IN WINTER
This year, Nims has his sights set on another world first, with an attempt to become the first person to climb the world's second-tallest peak, K2, in winter. A notoriously treacherous and deadly peak to climb, more people have been to outer space than have stood on top of K2, which reaches a height of 8,611m. And, out of these few, none have done so in winter, making it the only 8,000- er that hasn't been climbed during mountaineering's toughest season.
The first winter ascent on K2 is one of the last prizes in high-altitude mountaineering, but it's not without its risks. The mountain's steep sides present a far more technical challenge than many other 8,000-ers, while climbers face the constant risk of rockfall and avalanches. But it's the extreme weather experienced on K2 that poses the biggest obstacle to would-be summiteers.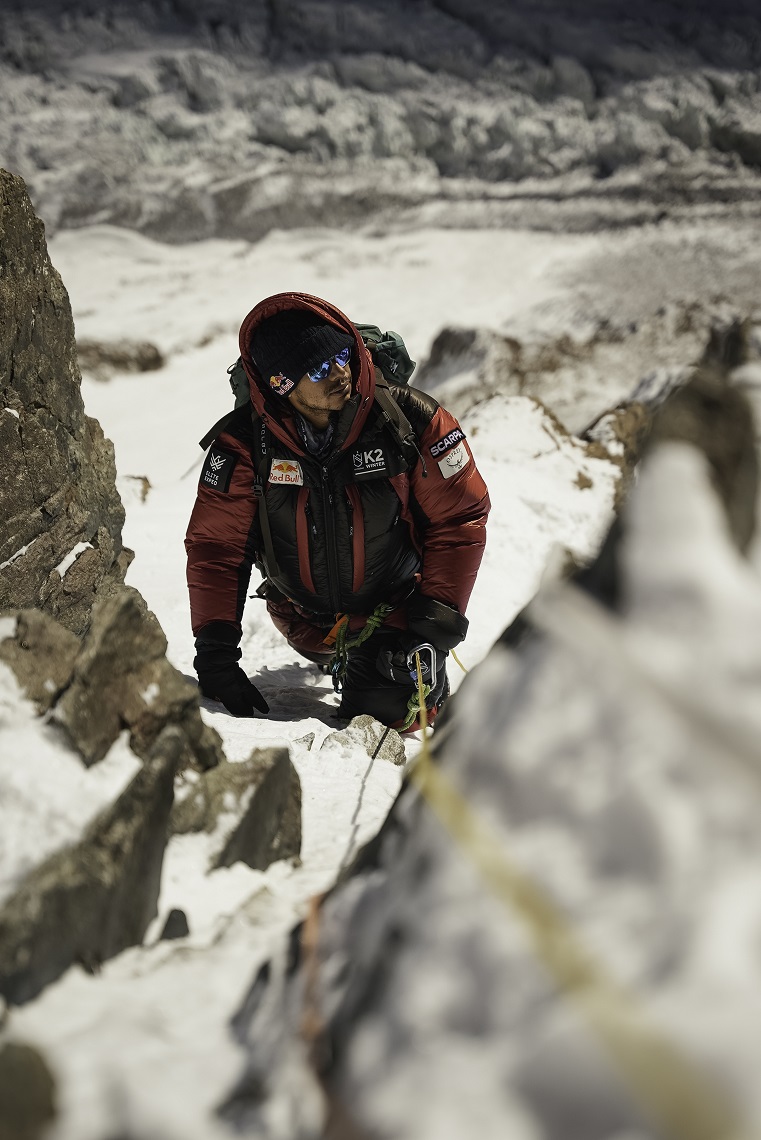 The Karakoram Range, where K2 is located, experiences a strong jet stream in winter and the mountain's sheer prominence above its neighbours means that K2 often bears the brunt of the ever-changing weather. In winter, temperatures can plummet to -62C while hurricane-force winds, capable of reaching speeds of 100mph, have been known to carry tents and even climbers clean off the mountain. This wind also makes the climbing much more difficult, blowing off any snow and leaving behind bare rock and sheer ice, which takes much more time and energy to scale.
Last year, Nims was awarded the prestigious Piolet d'Or by the Union of Asian Alpine Association (UAAA) and the title of Sherpa of the Year 2020. One thing's for sure, if he wants to bag another record-breaking climb, he's going to have to do it the hard way. We spoke to him as he was preparing to leave for K2 base camp to discuss Project Possible, his latest challenge, and what inspires him to tackle the unthinkable.
As this issue goes to print, Nims and his team are recovering at K2 base camp following a successful rotation acclimatising and fixing ropes up to 7,000m on the mountain.
---
WFA: You trained as a Gurkha and then joined the SBS. What drew you to mountaineering?
NP: I must say, I absolutely loved my career within the Special Forces (SBS) but what drew me to mountaineering was when I first climbed a mountain 2012. It was an eye-opener on a different
perspective. Coming from the Gurkhas then from the Special Forces specifically, of course serving over there, you think you're invincible. But the mountain, at that point, put things into perspective for me. Equally, the whole experience — the struggle, the cold, and the view from the summit where I could see Everest, Lhotse — it was amazing. that's what drew me to mountaineering.
WFA: How has your military training helped you on your expeditions?
NP: Being completely honest, extreme high altitude mountaineering is a completely different game. It doesn't really matter who you are. Your body needs to be acclimatised and this is another level; it doesn't matter if you're special forces or not. What it definitely taught me was the decision-making ability under extreme, stressful conditions.
You always have to perform and have to be right when working with the special forces, so taking this from the military into expeditions has been important.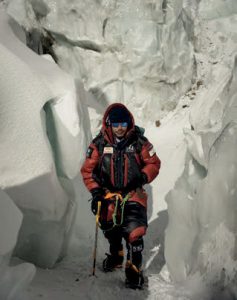 WFA: You have an unshakable, positive mindset: 'making the impossible possible' — where does that come from?
NP: From knowledge and experience. What does a negative mindset and negative energy give you? It's just going to drown you. So, if you want to be successful and move forward, you just need to have a positive mindset because that is the only way out.
WFA: Who's your mountaineering hero; who inspires you?
NP: My inspiration comes from outside of mountaineering; Muhammed Ali, Usain Bolt, Bruce Lee.
WFA: What's the drive behind wanting to climb K2 in winter?
NP: The [reason for the] K2 Winter project is personal, but I'm also representing the Gurkhas and the Nepalese climbing community. I also want to raise awareness in terms of how we need to act now to make a change when it comes to our climate and sustainability.
WFA: Do you want to climb K2 in winter for the record or the achievement?
NP: It's neither for the record nor for the achievement, it's about making history and representing the Gurkhas, Sherpas, and also the whole human race as [it's something] no one has ever done. I suppose I want to tell people, through my platform, how important this decade is in order to run a sustainable environment and protect the planet. Of course, to raise awareness about climate change and global warming and talk about how important it is and to continue community conservation.
WFA: How do you feel knowing there are other teams on the mountain already attempting the same thing; does that add pressure?
NP: You know, on bigger mountains you always have to work together. Feel pressure? No, man, I don't. The real competition is against myself. In that moment, it'll just be me and the mountain. I don't have to prove anything to anyone.
WFA: Some people may think you're crazy to take on K2 in winter – what do you say to them?
NP: This is who I am, I love extreme sport and -65C with the wind speed and extreme cold, and the climb — this is what excites me! This is what gives me goosebumps. It's when I'm alive.
WFA: What special kit are you taking to deal with K2 in winter?
NP: I'm taking my Scarpa boots, the summit suit from Thrudark and PHD. I have got some equipment from Therm-ic and I've also got my amazing backpack, my lightweight backpack from Osprey Europe.
WFA: Are you climbing in a team?
NP: Yes, I'm climbing with my team of six, made up of my climbing partners and camera crew — the latter to document our experience.
WFA: How do you feel about the risks involved?
NP: When there is a challenge, uncertainty, and when there is risk — this is what excites me. I live my life in the moment. The extreme cold and weather conditions, and the extreme high altitude keeps me alive. For me, this is like meditation.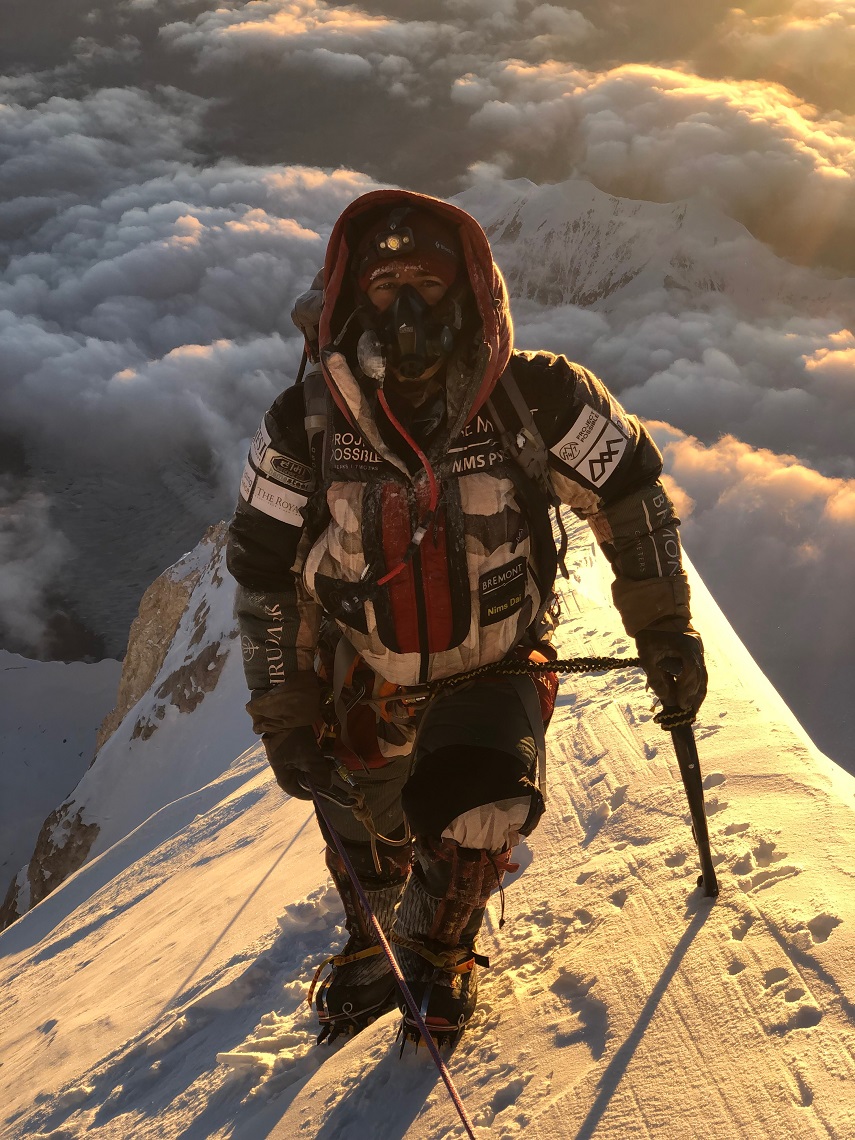 WFA: You've said that of the 8,000-ers you've climbed, K2 was the only one where you felt fear; how do feel approaching it this time?
NP: I have to work hard, and I'm grateful for my mindset that allows me to achieve this incredible stuff. As humans, we all have fear, but it's all about how we manage it, and for me, it's important to have the fear. A little bit of nervousness can also be equally important because that tells me 'Hey Nims, switch on, brother!'. This is where you think, if you make a mistake then you die. It's about controlling the fear, rather than the fear controlling you. That's the mindset I have.
WFA: How does it feel to stand on top of K2?
NP: You're literally standing on the highest point on the Karakoram mountain range. You can see a beautiful view of Broad Peak, G1, G2 and all of the mountains that surround K2. It's feels awesomely amazing.
WFA: Project Possible saw you tackle all 8,000m-plus peaks in just 189 days. Which climb did you find the toughest? Which was your favourite and why?
NP: The toughest was Kanchengjunga, because we had to summit from the basecamp directly, and on the way down we had to give our oxygen to people who needed it. Being honest, Annapurna was very scary, with the intense weather conditions and it seemed impossible but being able to summit that was one of my favourites.
WFA: You made the ascents with supplemental oxygen, which is something not all climbers choose to do. Will you use oxygen this time on K2?
NP: I only take oxygen from high camp, camp 4, and have done that for a reason. It's purely from my experience. In 2016, when I first climbed Everest, I had to rescue a climber from 8,400m and the lesson learned from that expedition was that if I hadn't had that oxygen, then I wouldn't have been able to save her life. Because of that, she is now here with her family — and that is more important to me.
WFA: Chris Bonington said of your Project Possible that it was 'extraordinary but it isn't mountaineering' and Stephen Venables said using oxygen 'detracted from the feat'. How do you feel about comments like that?
NP: Well, of course, everyone in entitled to their own opinion but to be able to have climbed all these 8,000m peaks in such a small season, I know myself the immense challenge we faced. Something unimaginable. It's often easy to criticise other people, but I trust that we earn our own respect.
WFA: What do you do on your days off? Who is Nims when he's not smashing records or climbing mountains?
NP: I always say, I rest when I die! I'm always working, I'm always doing something and my brain is always going 100mph! That's who I am, I think.
WFA: K2 in winter is a seemingly impossible goal; where do you go from there?
NP: Well, it's impossible until it's done. So let's wait out and see.
For up-to-date info on Nims, his K2 team, and their current K2 winter attempt, sign up to the WFA newsletter, www.wiredforadventure.com