CLIMBING TO RECOVERY
Last year, British ARMY Veteran NEIL HERITAGE became the first above-the-knee AMPUTEE to climb the MATTERHORN (4,478m). Here, he tells WFA how he OVERCAME the loss of both legs, to SUMMIT one of Europe's tallest mountains
Waking from a seven-day coma in a Birmingham hospital bed, Neil Heritage knew that his life would never be the same again. For one, his wife was waving a photo of a baby scan in his face; and for two, he was missing both his legs. "It's kind of a weird experience, being in a coma." He recalls. "You don't know if it's that same day — you don't know anything. All my family were there, which was strange. I hadn't had chance to speak to home while I'd been away, so I didn't know about [the baby]. I remembered roughly what had happened to me, though, and I was pretty surprised to wake up at all, if I'm honest."
Neil's astonishment at coming to wasn't unfounded. A week earlier, he'd been serving in Iraq with the Army as an electronic specialist on a bomb disposal team when a suicide bomber broke through the cordon where he was working. The bomber was successful in detonating the device and Neil lost both his legs in the blast. At the time (2004) he was the most severely injured soldier to come out of Iraq alive.
"I was awake for about half an hour after [the explosion]. I could see what the injuries were, and in that situation, you assume you're going to be dead pretty soon. There were people doing first aid and it was all very manic. The best way to describe it is like watching it happen to someone else. There's quite a realistic risk of this kind of thing happening doing what I do — you hear about the odd event here and there — but it wasn't a daily occurrence; you just don't think that it's going to happen to you. We were unlucky."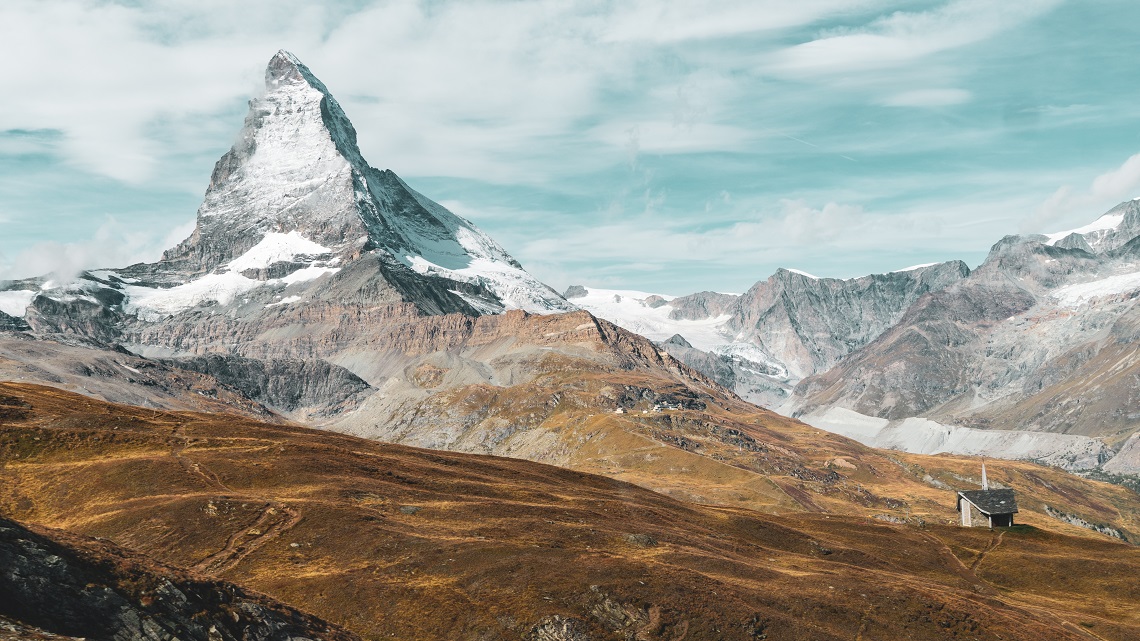 Neil was in a coma for around a week following the incident, during which time he was flown back to the UK. He woke up in hospital to the news that he was soon to be a father, and that he may never walk again. "I've lost both my legs above the knee, about midthigh," Neil explains. "It's actually become a really routine thing to survive now, particularly in Afghanistan. It wasn't at that time, though, so I was pretty pleased to be alive at that stage.
"I wasn't in hospital long; it was about seven weeks. Once they've sewn up the ends of your legs, there's not much they can do for you, medically. I went home and then into the military residential rehab centre. I was there on and off for several months, and then I went back to work. It was a funny time because I was on lots of medication. It's all a bit of a blur." Despite the doctor's initial prognosis, the rehab team gave Neil the encouragement he needed to begin learning to walk again.
"At that time, there wasn't any real investment in military rehab, so they were very basic prosthetic limbs," he says. "The guy that made the prosthetic legs spoke to me, he said, 'you know, this is possible, let's give this a go'. I was in a lot of pain and ended up having to have some more operations. It was a stop-start process, and it was slow, hard work. It took probably five years to get to where I was able to walk around every day and have a reasonable amount of function. By that time, quite high-tech prosthetics had come into play and that made a big difference."
Before the incident, Neil enjoyed a physically active lifestyle. Aside from his Army training, he played various sports, including football, and took part in regular fitness sessions. Far from having a kick around, though, Neil had set his sights on a much bigger goal, to test the limits of his new limbs.
"After getting to that point of being able to walk, I tried different activities. I was lucky enough to get involved in the team that rowed across the Atlantic, and I really enjoyed that experience of making it; of having that big project — that big goal — and being the first person to do something for my disability. "I wanted to do another challenge around one of the new activities, and that's why we ended up picking something climbing-based. It wasn't something that was on my radar early on by any means. We picked the Matterhorn because I enjoy doing more technical climbing rather than snowy summits, like Mont Blanc, which is largely slogging uphill. The Matterhorn was a good match."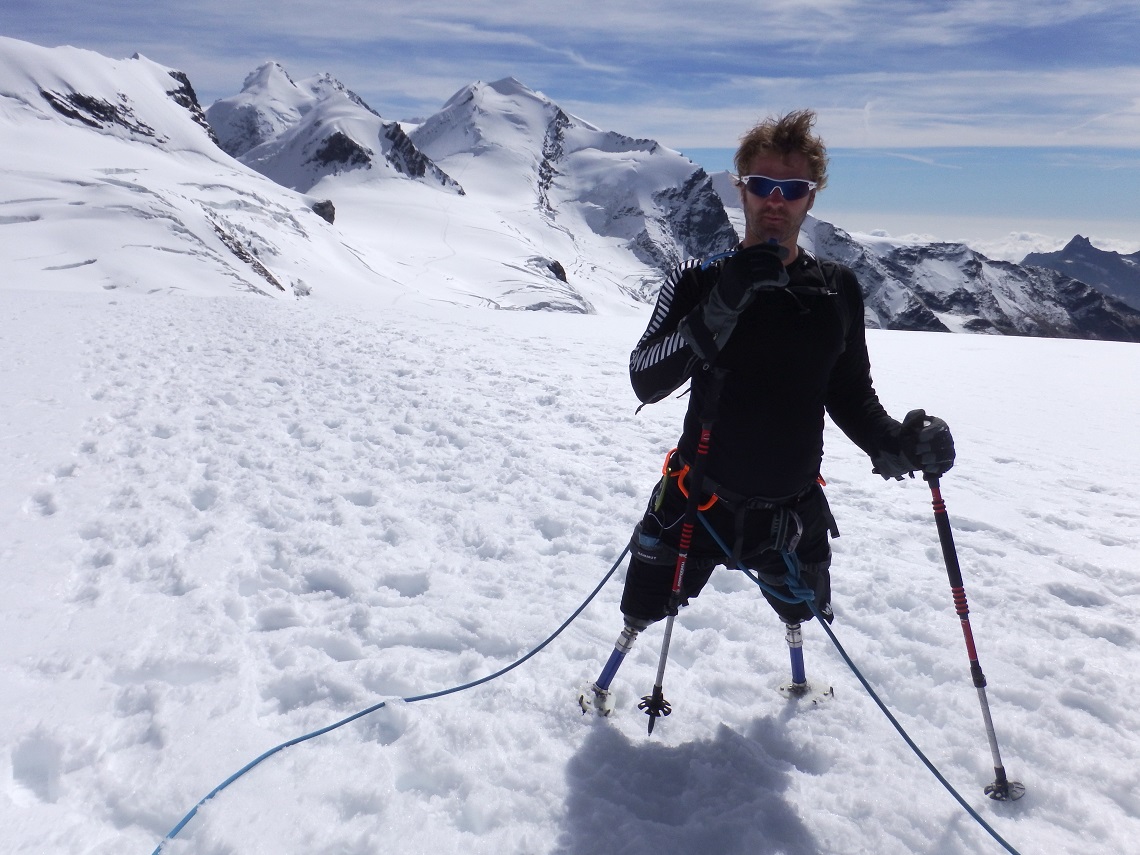 At 4,478m, the Matterhorn's iconic near-symmetrical peak towers over the Alps, straddling the border between Switzerland and Italy. It's entranced many a mountaineer since its first ascent by Edward Whymper and his team in 1865. Having visited Switzerland as a child, Neil had only vague memories of what he was up against. His friends and family, now well used to his extreme antics, were unsurprised he should set himself such a mammoth task as summiting one of Europe's tallest mountains. "They've got a bit bored now, I think!" he laughs.
"We initially went out to Switzerland in 2015, to do some training and chat to some local experts, to see how it was going to be possible," he says. "Some of the key things we had to do in preparation were to design new prosthetics and come up with new techniques for climbing, to be a bit more efficient. In the early days, I was just pulling myself up on my arms, which is fine on a short wall, but climbing for a few days in a row, it's just not possible; you run out of steam pretty quickly and we were going to be doing 12-hour days on the Matterhorn. Coaches helped me to develop a better technique."
Engineering a prosthesis that would allow Neil to climb safely and efficiently was a process of trial and error, too. "I still can't say I'm comfortable in my legs. There's always something that's a bit painful or sore," he reveals. "I'm probably on about mark six or seven of the climbing foot now. The big difference is that the prosthetics I wear every day have got a bending knee joint. But I can't straighten it back up when I'm climbing, so it's not that functional for anything else besides walking.
We decided to go without a knee joint and use a fixed foot with no joints and a solid surface for my climbing prosthetics. The main downside is I can't climb like normal people climb; they've got quite a lot of options of where they can move their foot to and I don't have that pendulum swing from my hip, so that's one of the more challenging aspects, I think. I've evolved over time to be more efficient."
Besides his specially adapted climbing feet, Neil uses a chest harness and a traditional harness, to counter being 'top heavy' when climbing and abseiling; something he's also had to work on. "It's actually really hard [to abseil] because you'd usually push off with your knees and counterbalance yourself, and I don't have that option. When I lower myself off anything, I'm so top-heavy, I could end up upside down, which wouldn't be good! Coming down is quite energy-sapping for me, whereas most people find it easier."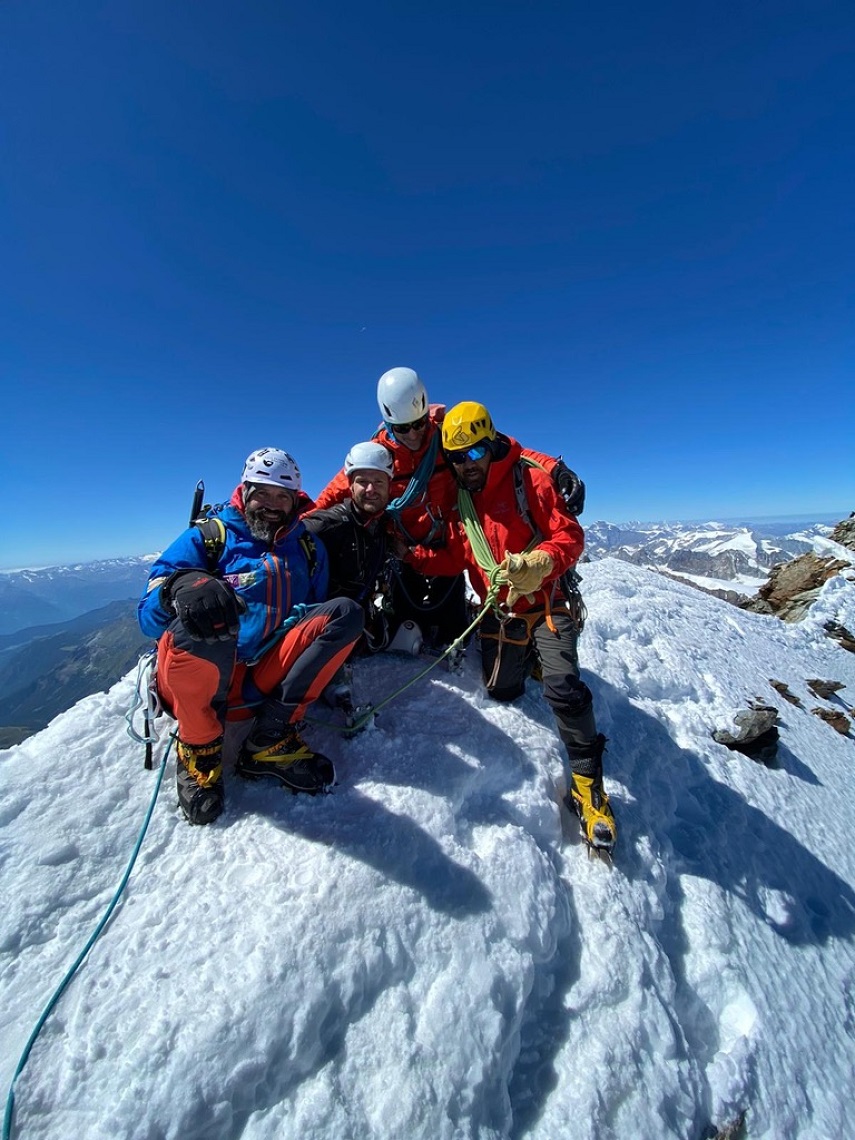 Neil uses around seven times more energy walking down the street on his prosthesis than the average person does walking on their legs, and when climbing, it's significantly more. During training and his ascent on the Matterhorn, he had to refuel every 30 minutes with high-energy snacks and drinks to keep up his reserves, something that's important as an amputee for more reasons than one. "The issue with training as an amputee is that if you lose weight then your legs don't fit. So you've always got to try to balance it and ideally maintain exactly the same weight all the time," he says.
It took Neil around six months of focussed training to prepare for his most recent ascent on the Matterhorn. Prior to his successful 2020 climb, Neil had tackled the mountain twice before. His first attempt, in 2018, was scuppered due to "a combination of things, but essentially me not be in up to it." Neil returned in 2019, but the weather was not on his side and the attempt was called off. Third time lucky, the weather played ball, and Neil was in great shape, thanks to some time spent climbing in the Peaks and on the South coast before travelling to Switzerland.
"I think physically, the Matterhorn is the hardest thing I've ever done," he reveals. "[Rowing] the Atlantic is different; it's extremely mentally challenging, just the amount of time you're doing it for, but everything feels really difficult at the time. Learning to walk was really challenging when I was doing that. But [climbing] the Matterhorn definitely stands out as the hardest thing for me."
"What I tend to do is I break everything down into little chunks. I decide what that end goal is, and then I break it down into manageable steps to get there. In my mind, I set myself a 'just get to there, just do that, then you can have a snack bar' kind of thing. I'll just keep to those little chunks and do a little bit, then the next little bit."
The team broke their challenge up in a similar way, taking a day to journey from Zermatt up to the foot of the Matterhorn, then another day to get from the Hörnli Hut (3,260m) up to the Solvay Hut (4,003m), which they managed in around 12 hours. "The plan was to actually take two days to go up to there," explains Neil, "but when we got to the halfway point, it was a pretty rough, exposed area and there wasn't a good place to build a bivvy. We just had to keep going to try and find somewhere better… and we just didn't! So it was a long day up to the [Solvay] hut, which is just basically an unmanned shed on the side of the mountain."
The following day was the final push to the summit. "Before you get to the top, the last part [of the climb] is probably the steepest section of the mountain," says Neil. "By the time you get to there, you're fairly fatigued — I certainly was, and you've got the altitude to think about, and it's still a fair way to go. That's quite a hard section of the climb, but you're close enough that you know you just have to keep going — and also remember to stop and have a look around. It's an amazing, spectacular scene."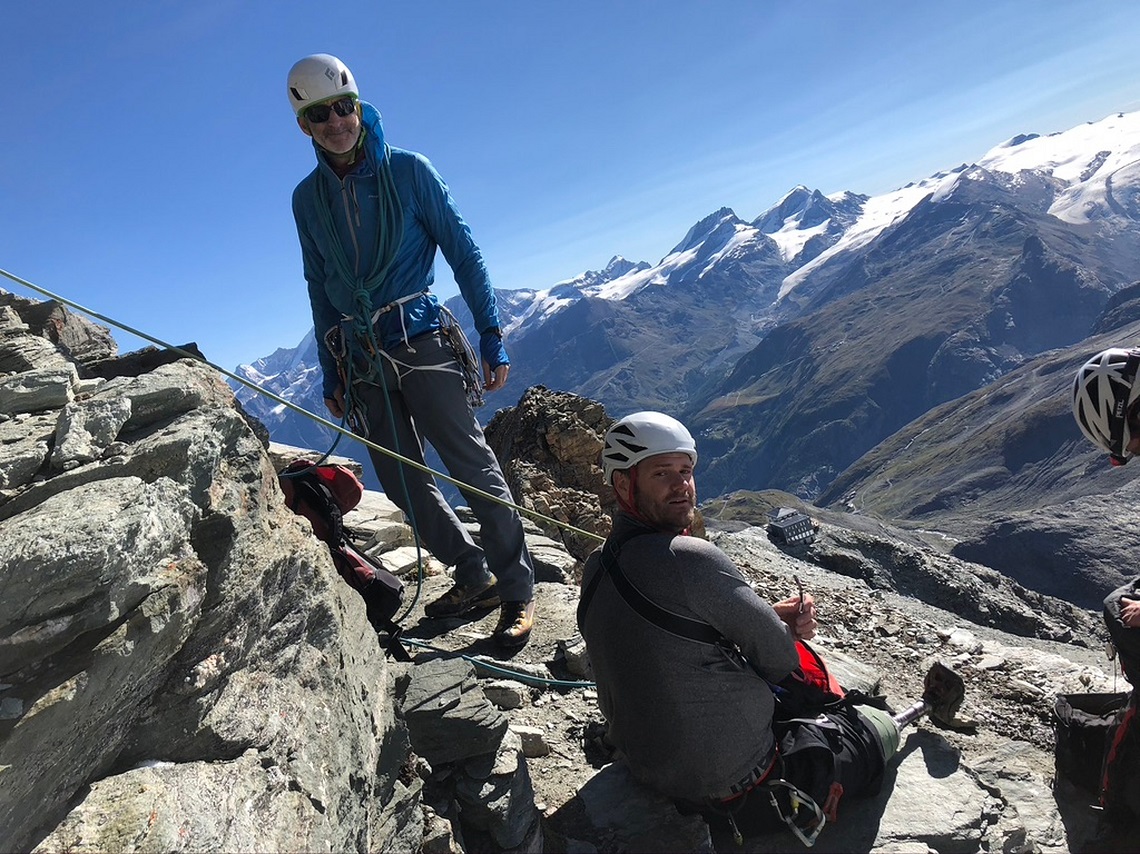 And topping out on the Matterhorn? "It's pretty incredible!" he laughs. "It was really emotional, especially as the guys that were there with me had been on the team for years. It was great — and we had a great day for it as well. It can be really quite windy up there, and you almost have to touch the summit and then have to get back down as quickly as you can. But we didn't have that; it was just a beautiful, clear day, so we got to spend some time up there and take it all in."
Despite his incredible achievements, Neil is modest about his route to recovery. "I'm not doing this for any reason. I just wanted to do it," he insists. "I'm not trying to impress people or get something out of it in some way. I'm just doing the things that I enjoy doing, things I like to think I would have been doing in my life if I hadn't been injured; I like to think things haven't changed that much because of it. And I can still go out and do stuff, but in a different way."
Neil's experiences have inspired him to help others in a similar situation, working with charity Climb2Recovery. "One of the plus sides of my injury is I've got more time on my hands," he smiles. "[The charity] is quite a big part of my life now. It's for veterans who've been wounded either physically or mentally to come and firstly learn to climb and then work up to gaining their instructor qualifications. We've got 28 courses on this year all over the country, and a few trips out to the Alps and climbing in Spain."
What would be his advice for other adventurers who've set their sights on the Matterhorn? "The really key thing is getting the guides and the expert advice. Having professional guides who are familiar with a mountain is what turned it around for me. And you need to be in really good shape, too, to give yourself the best chance."
And where does Neil have his sights set now? "In addition to all the Climb2Recovery stuff, I'm part of a team that's going to go kayaking down the Amazon next year. So that's going to be quite cool," he enthuses. "There are some other things I'd like to climb, too. I'd like to see the Eiger, definitely. I'm told it's very similar to the Matterhorn in difficulty and the type of climbing there, which is what I really enjoy. I have a few other little bits I wouldn't mind doing as well, but we'll see…"
Marloe Watch Company has teamed up with Neil and 11 other inspirational individuals, to share their training diaries online and help other people achieve their own incredible feats.
For more, see www.marloewatchcompany.com/pages/planning-for-greatness