RING OF FIRE
Located on the PACIFIC 'Ring of Fire' where continental plates COLLIDE, the KAMCHATKA Peninsula in Siberia boasts hundreds of VOLCANOES — 29 of them are active, and some of them VERY active indeed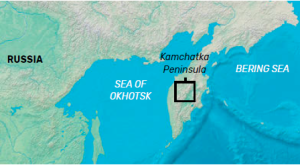 Avachinsky, Bezymianny, Kizimen, Udina, Shiveluch — I was enchanted just by the names. These are not mythical dragons from some fantasy land, but real, live volcanoes. For me, the most magical was 'Tolbachik', our next destination on a month-long trip to Russia's far east.
This was to be our third tour with Red Rivers and we were already feeling much more relaxed than when we first arrived.
Grabbing the best seats on the bus — a 6WD Kamaz truck — we settled into the familiar routine. Unlike on our first trip, one of the guides spoke a little English, though we still learned more about what was happening from our fellow travellers. Tolbachik is located in Klyuchevskoy Nature Park (just one part of the Volcanoes of Kamchatka UNESCO World Heritage Site), a day's drive north from the city of Petropavlovsk.
LIFE AND DEATH
The main highway started off as tarmac, cutting up through the central valley amid dense birch forest before turning into the more familiar dirt road. Eventually, we turned off onto a rougher track and started to climb. Branches whipped the windows of the bus and there was nothing to see except trees until suddenly we were faced with a wall of rock lava; a shocking transition from healthy forest to complete devastation. The new road skirts around the tongue of lava that once wiped out the old one and we carried on up into the clouds.
Off-road now, in a strange desert landscape of reds and blacks, we wound around between cinder cones, finally pitching camp beneath one at the edge of the dead forest. This was the best campsite of the whole trip with stunning views out over a valley of clouds to distant mountain ranges. As there are few bears here we were allowed to spread the tents further apart.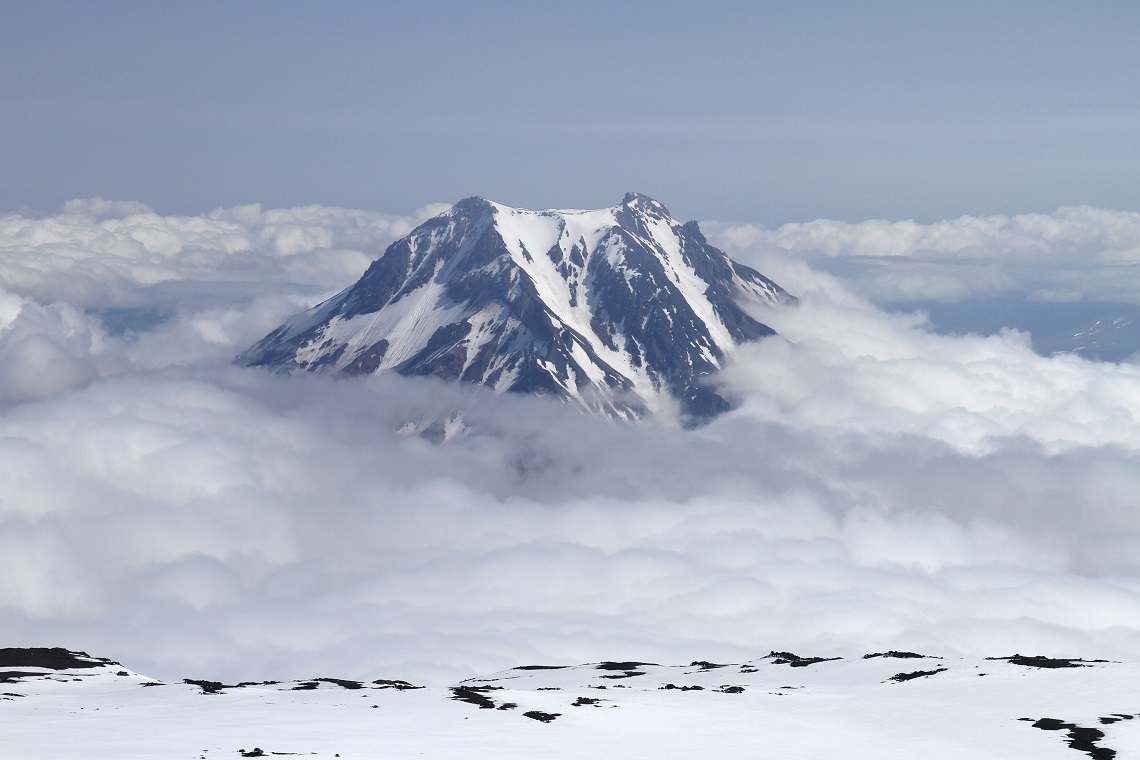 The next day we walked down to the Northern Break, where the earth cracked open in the Great Tolbachik Fissure eruption of 1975 — the largest basaltic eruption in Kamchatka in recent times.
When I read the tour programme, I couldn't understand the appeal of walking in the dead forest. No doubt it would be a dramatic sight, but surely after a while one dead tree looks much like another? How wrong I was. The so-called dead forest is in fact vibrantly, defiantly alive.
The larches killed and half-buried in ash stand gaunt and burnt, but all around, life is returning. First come the mosses and lichens, then the flowers and trees. One of the most abundant plants is the familiar Rosebay willowherb, its magenta flowers vivid against the black ash. This early coloniser of new volcanic landscapes truly deserves its alternative name of 'fireweed' — no wonder it thrived on London's bomb sites in the Blitz. The plants bring insects like bees and hoverflies and I saw woodpeckers and nutcrackers around camp. The only larger animals we saw were a couple of hares, but there were lots of snow sheep droppings, fox scat, and even a set of bear tracks. This forest was anything but dead.
FIRE POWER
My partner, Aleko, has a theory that volcanoes give you energy. This may be wishful thinking, though how else to explain the distances we walked, far beyond our normal abilities? At any rate, volcanoes definitely fuel the ecology. Their immense destructive power is so immediately apparent that it's easy to overlook the creative forces they possess, too. Kamchatka is a land of superlatives, evident in its glut of diverse fish, its enormous bears, and monstrous plants — even familiar varieties like nettles and meadowsweet come in at around 3m tall. And it all starts with the rich, volcanic soil.
At first, the day was misty, and my interest was held by the small details. Summer is short here; the leaves were already turning colour in late August. The weather brightened as we climbed a small cinder cone and crossed a lava field. When we stopped for lunch, I happened to look up from photographing flowers just as the clouds in the distance parted to reveal a snow-capped peak. The first sight of Tolbachik itself was one of those jaw-dropping moments that etch into memory, 'oh my – we're going to climb that?' At the same time came the realisation that we were a long way from camp.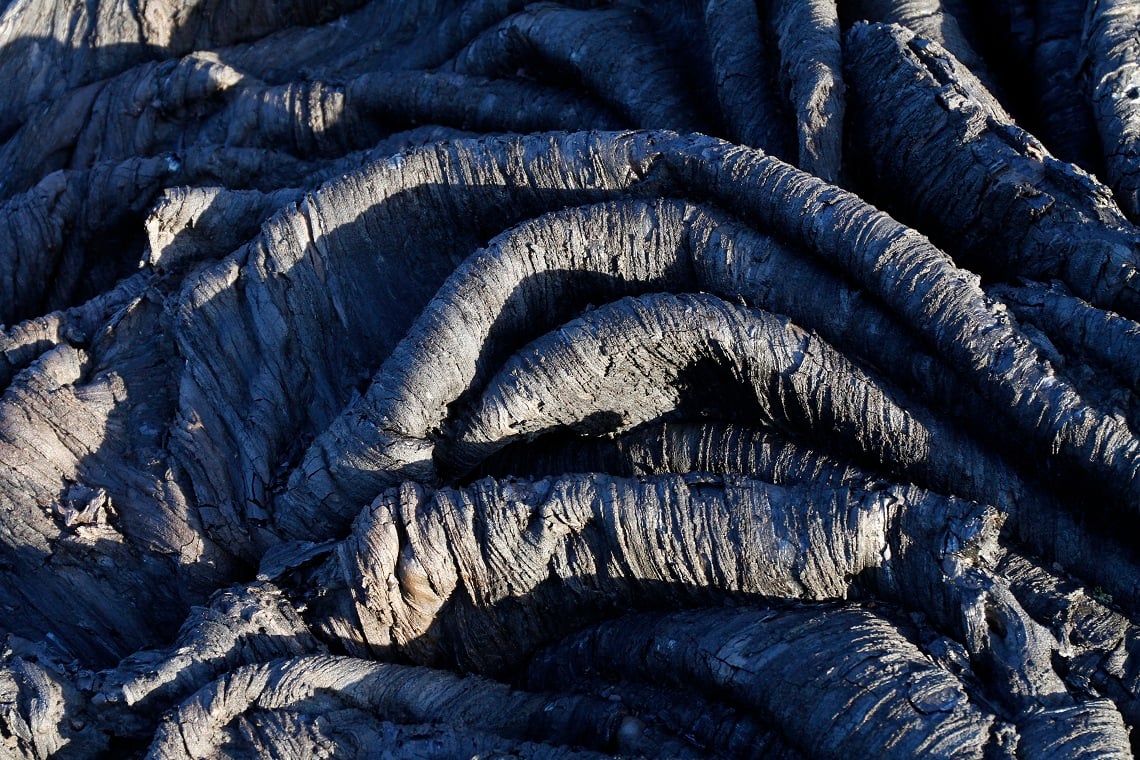 Although there'd been no mention that morning of how far we were going, I was expecting a more relaxed day before the ascent of the volcano. That day, our guides had definitely overestimated our energy reserves. Later on, some of the party struggled as we were hurried along on an exhausting trek back uphill. I felt pretty tired myself. We still hadn't reached the camp as the sunset, and our driver, Andrei, was prevailed upon to bring the bus down as far as he could to meet us. Luckily we had a relatively easy day to follow, moving camp as close to Tolbachik as possible and pitching our tents on the black grit of the barren valley.
We paid a visit to a colony of sousliks, feisty little ground squirrels with shrill voices and demanding attitudes. There didn't look to be enough vegetation to support them, but they were close to the main campsite and obviously well used to tourist handouts. The bolder ones took nuts and cabbage leaves from our hands.
ROCK OF AGES
Breakfast was at 6 o'clock on the big day. I knew it would be a big climb, but it was daunting that the volcano was so far away. The weather was perfect, however, and everyone was in high spirits with impromptu singing in German, Russian, and Polish.
Our first challenge was crossing the lava flow from the 2012 eruption. Most of Kamchatka's volcanoes are stratovolcanoes — steep-sided cones formed by viscous lava. Tolbachik is a shield volcano, characterised by thin, runny lava that flows for great distances. The flows from 2012 are more than 10 miles long and older flows stretch even further. I was fascinated by the lava; it rippled in waves, or coiled and twisted like rope. Some parts had set like molten plastic or chocolate mousse, but though it looked so fluid it was hard and sharp and brittle to the touch. Close up, the surface was a glittering metallic blue.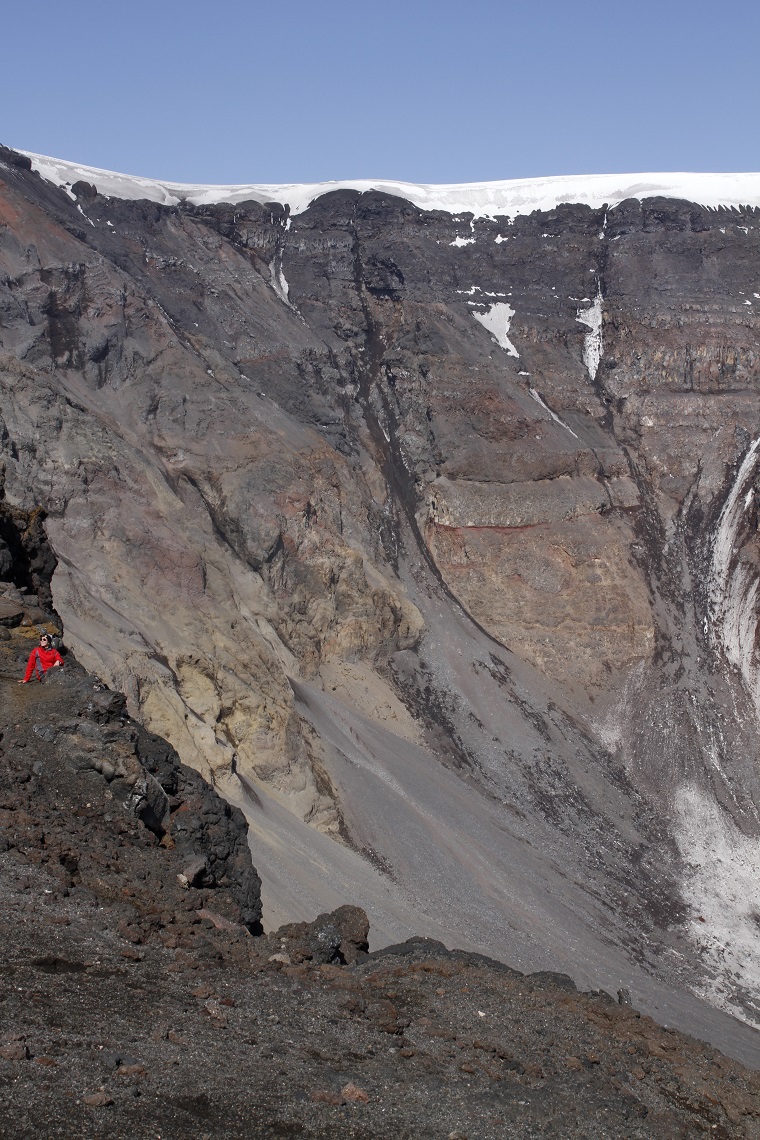 I've often marvelled at the age of rocks. It was extraordinary to pick up a lump of hardened lava and, instead of wondering how many million years ago it was formed, to know it was just seven years old. It might even contain unknown minerals. Many new minerals have been discovered here, including Tolbachite, a copper chloride. In places there was steam venting from cracks in the lava and Marina, our guide, gave strict instructions to follow her exactly.
The mountain consists of the peak Ostry Tolbachik ('Sharp Tolbachik') and the younger crater Plosky Tolbachik ('Flat Tolbachik'), which we were climbing. From a distance Ostry Tolbachik looks grey in contrast to the reddish cinder cones. But the closer we approached the more colourful it became. Crimson, ochre, pink, and greeny-grey contrasted with bluish tones in the glaciers.
We were warned not to drink from the meltwater streams, which might be contaminated with toxic chemicals from the lava and ash. There was no vegetation but millions of tiny flies, and a solitary raven flew by near the top. We soon came to the first patches of snow, but despite the altitude, it was hot and most of my warm clothes stayed in the rucksack all day. With a wave of her hand Marina indicated the round boulders, head-sized and larger, scattered across the landscape — "volcanic bombs," she said casually. 'You wouldn't stand much chance with these raining out of the sky,' I thought.
THE CRATER'S EDGE
The clouds that filled the valley in the early morning were chasing us uphill and seemed sure to overtake. As wispy cumulus drifted across the face of Ostry Tolbachik I was sure we would lose the race to the top, but a volcano is more than capable of influencing the weather, and all day the advancing clouds were repeatedly driven back from the crater.
The final section was very steep, but it didn't look too far until I noticed the figures on the crater rim – how tiny they were! Most of our group were younger and fitter so Aleko and I were pleased with ourselves that we'd kept up. Slogging up the last few metres seemed to take forever (it only occurred to me later I might have been breathless from the altitude as well as lack of fitness), but the reward was sudden and overpowering when I found myself standing on the rim of a mile-wide caldera. As we sat having lunch, there was a frequent thundering of rock falls within the crater, some of them sparking like fireworks.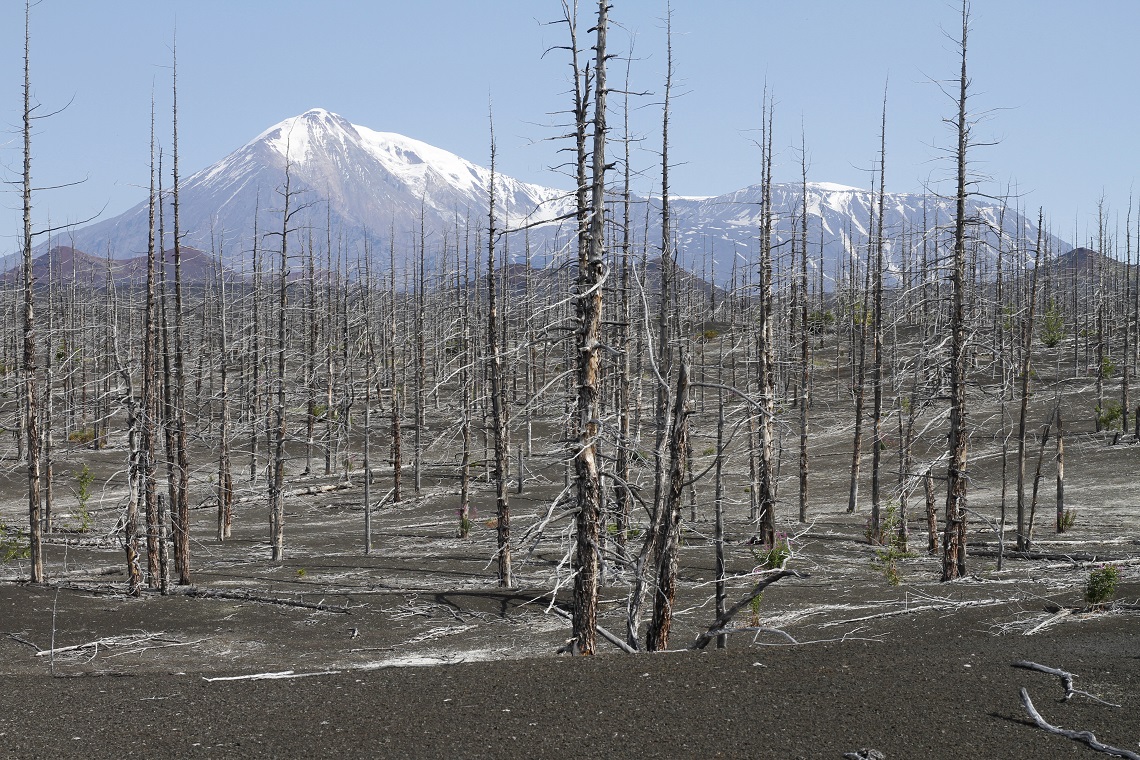 I was overjoyed to be there, what a climax to the trip! But instead of heading down as I expected, Marina lead us on up and around the crater to see Klyuchevskaya. Now I was beginning to feel really tired and found myself lagging behind. Most people were congregating a few hundred metres further along, on what I presume was the highest point (3,085m,) but Aleko and I stopped, choosing instead to have a few moments on our own to take it all in.
From Ostry Tolbachik on the opposite side of the crater we swung our gaze south where the highest conical peak rising above the cloud was probably Kronotsky, which some consider one of the most beautiful of all volcanoes, while closest to us was Udina, which might be the next to erupt. Long believed extinct, Udina has been showing signs of volcanic bellyache, politely termed 'seismic unrest', for a couple of years and was reclassified as active in June 2019. That doesn't necessarily mean an eruption soon, but if it does, it's likely to be explosive.
Round to the north was Klyuchevskaya, at 4,750m it's the highest active volcano in the northern hemisphere. It has been almost continuously active for the last 200 years, though Shiveluch and Karymsky compete for the title of most active and continuous in their eruptions. It is possible to climb Klyuchevskaya but it is undoubtedly dangerous and several climbers have been killed while attempting it. One tour company admits that not only is Klyuchevskaya their most difficult trip but 'the ascent can pose a hazard to life'.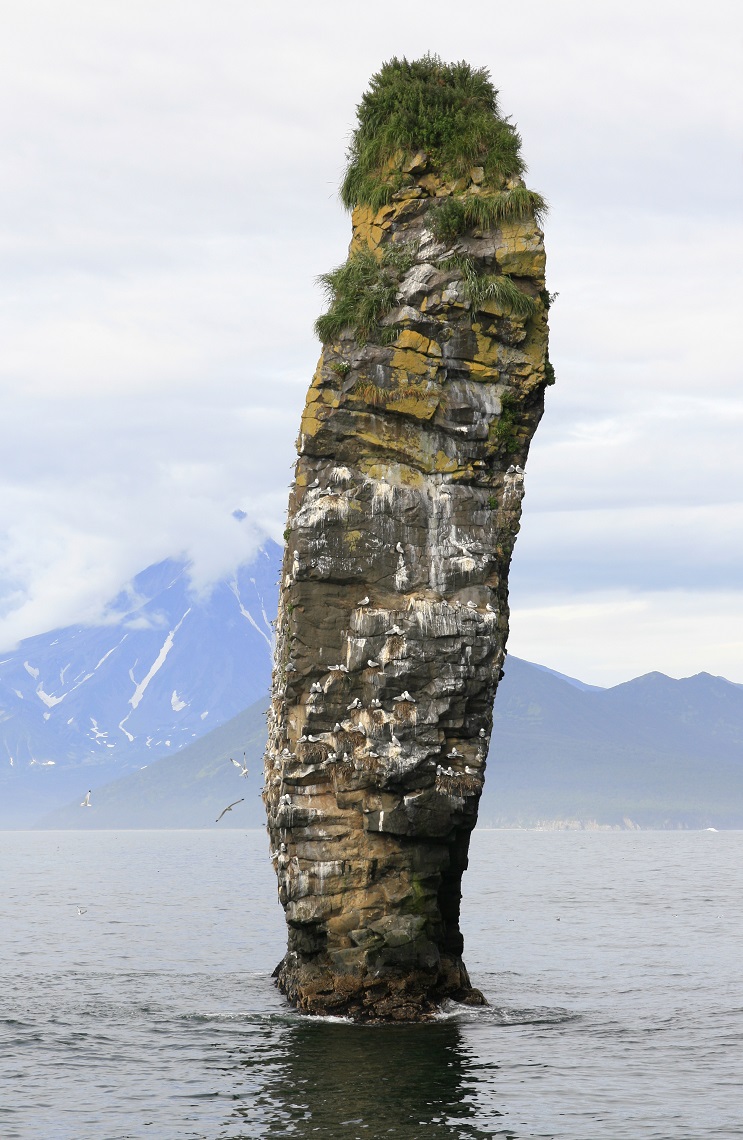 LASTING IMPRESSIONS
As we started down, the clouds thickened. We descended into the mist as soon as we left the crater edge. It was hard to recognise any landmarks from our journey up and soon I had no idea where we were. My knees felt both wobbly and stiff at the same time and I was glad of my walking poles. Finally, we came out below the cloud. Despite our aching legs, everyone was in favour of a short detour to visit a lava cave. Only a year or two previously it was too hot to enter the cave and a red glow could be seen within. It is the oxidation of minerals that keeps generating heat years after the eruption. It was still unpleasantly hot inside and felt like a truly alien environment.
Nothing had prepared me for the way a volcano assaults all the senses; the sounds, smells, and feel are very much part of the experience. I'll remember the unnerving subterranean rumbling from Mutnovsky, the sulphurous smells, the texture of the lava, and this oppressive heat as much as the spectacular scenery. While Tolbachik remained shrouded in cloud the evening sun lit the top of Udina. Looking up at it I couldn't quite believe that a few hours earlier I'd been looking down on this 2,920m peak. We stumbled into camp 13 hours after we'd left, having walked over 18 miles with 1,600m ascent. I've been higher in the Himalayas but I've never walked so far or climbed so high in one day.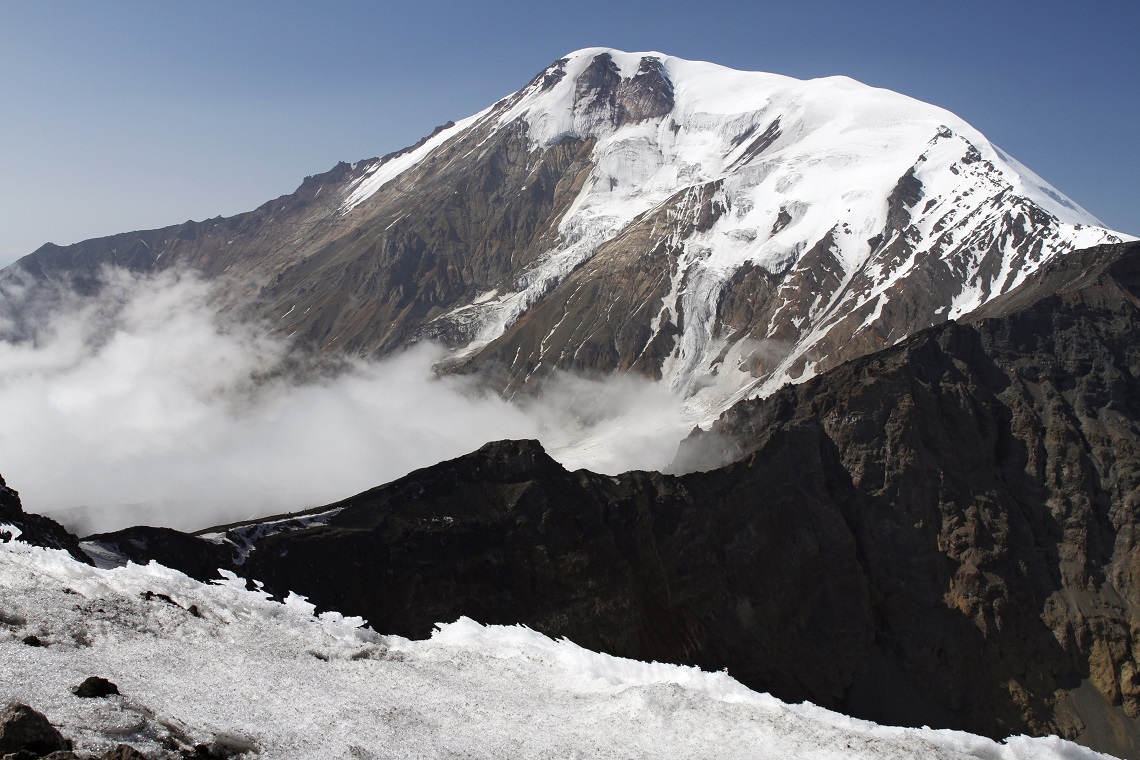 There was a lot less enthusiasm for another early start and the return journey to Petropavlovsk the following day. Tolbachik was showing itself again, magnificent in the morning light; I couldn't take my eyes off the mountain as we drove away. We hadn't booked anything for our last week in Kamchatka. There are plenty of options for day trips from climbing the local volcanoes or rafting on the Bystraya River to relaxing in the hot springs at Paratunka, but we were keen to get out to sea and went back to Red Rivers for a boat trip.
After all the hard walking and long days of uncomfortable bus travel, it was wonderful to relax on the top deck of the boat and enjoy the scenery and wildlife. I'd been sceptical about the wildlife we'd supposedly see, but it wasn't long before our first encounter: two humpback whales only a few miles out of Avacha Bay. It was late August so many of the seabirds that breed on Starichov Island had already left, but there were kittiwakes, pigeon guillemots, and hundreds of tufted puffins. These handsome birds are bigger than our puffins with fancier hairstyles. As the boat approached the sealion rookery on Cape Kekurny, our attention was diverted by a pod of killer whales.
On our last day we took a taxi out to Khalaktyrsky beach. Kamchatka had been every bit as exciting as we'd hoped but the frantic pace of the tours had left little time for reflection. It was good to just wander along the beach on our own and try to make sense of the kaleidoscope of impressions. I was already dreaming of how fantastic it would be to come back one day and see a volcano actually erupting. Here, even a picnic on the beach is accompanied by a volcano in the background and fresh bear tracks in the dunes.
---
WHO'S WRITING?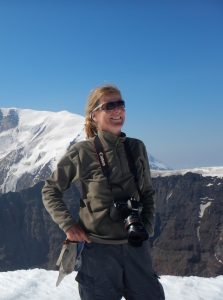 Genevieve Leaper is a freelance nature photographer, writer, and environmental consultant based in Scotland. She is a keen sailor and met her partner, Aleko, while sailing in Patagonia. Since then, she has enjoyed exploring his home country, Greece, and hopes that Kamchatka is just the first of more adventurous trips together. She loves to photograph any wildlife, from dragonflies in her own pond and orchids in Greece to penguins in the Falklands but the Kamchatka bears were really special.