LOOK ON THE BRIGHTSIDE
Here comes the sun! And what better way to get summer-ready than with a new pair of adventure shades
From Bono to the Blues Brothers; Andy Warhol to Anna Wintour, if you want to make a statement, nothing does the job quite like a pair of striking shades. Besides creating an air of mystery and cool aloofness, though, sunglasses serve a much bigger purpose, especially when you're wired for adventure and a life outdoors.
The main job of sunglasses is to protect the eyes from the sun's harmful UVA and UVB rays. Just as these ultraviolet rays can damage skin, they also damage the delicate tissues of the eyes, so investing in a decent pair of sunnies with the right protection is an absolute must if you're venturing out in bright light for extended periods of time. The College of Optometrists recommends choosing sunglasses that carry the CE mark or BS EN ISO 12312-1:2013, to ensure they offer a safe level of UV protection.
If you're planning activities where you'll experience a lot of glare — on the water or ski slopes, for example — polarising lenses can also help reduce the effects of bright light bouncing off these surfaces. Snow reflects up to 80 percent of the sun's UV rays and struggling to do anything in bright environments like the mountains is uncomfortable, annoying, and potentially dangerous. A reliable pair of sunnies will help make those halcyon adventures all the more enjoyable. After all, who wants to squint their way down the piste or over rapids when you could be taking in vistas and living in the moment?
Lenses with special tints can actually give you the edge in certain lights, helping to improve visual acuity by bringing out colours and contrasts in the terrain around you. Blue or purple lenses help your eyes pick out contours in the landscape while a red tint will help enhance your depth of field. For this reason, some sunglasses designed specifically for extreme outdoor sports come with interchangeable lenses of different colours.
Besides colour, lenses also vary in their quality and effectiveness at cutting out light. They can be categorised into five types, rated 0-4, depending on the level of UV protection they offer. Lenses classed as 0 allow 80-100 percent of visible light transmission (VLT) to pass through them and offer very little UV protection; those rated 4 allow just 3-8 percent of VLT, and are only suitable for use in very bright conditions, like the mountains. For everyday outdoor activities where there is no glare or bright light, category 2-3 lenses should suffice. Optical class ranges from 1-3 and relates to the clarity of vision lenses provide, 1 being the optimum.
Performance lenses aside, another benefit of wearing a pair of good-fitting sunglasses is the protection they provide from things like dust, debris and even bugs getting into your eyes. Mountain biking, trail running, skiing, and climbing can all result in loose particles getting flicked up or falling down into your face. A decent pair of wrap-around glasses will help keep bits out of your eyes and make sure your vision remains uncompromised, so you can get on with pushing your limits.
The stress here is on 'good-fitting', of course. Sunglasses that don't fit well, slip, slide, and generally get in the way are going to hinder your performance on the crag, trails, or piste. Thankfully there's such a huge variety of styles and fits out there, you're sure to find the right pair for you. It's worth pointing out that the main difference between buying 'men's' and 'women's' sunnies over 'unisex' or 'one-size' styles is the fit. Glasses sold as 'men's' tend to have wider frames and bridges, longer temples, and deeper lenses while 'women's' styles are generally smaller.
One-size styles are pitched somewhere in the middle, so if you have a larger or smaller than average head, you may find them a poor fit unless they come with customisable parts, like differently sized nose pads. It's also worth pointing out that regardless of whether glasses are sold as 'men's' or 'women's', if they're comfortable, secure, get the job done and look good doing it, then, of course, they're the right choice for you, no matter what the label says.
When it comes to buying, try on as many pairs of sunglasses as you can. Ideally, they should fit snugly, but not so firmly that they pull on your ears or apply pressure to your head, as this can lead to headaches. ink about the kinds of activities you're going to be using them for. Traditional wayfarers are fine for casual hiking where fit is less important; if you're climbing, however, smaller frames are better, so they'll slot comfortably under a helmet and don't get knocked about by your arms as you move. Accessories like headbands can also help prevent glasses from being knocked off or moving about too much during vigorous activity.
Lastly, if you wear everyday glasses to correct your vision, prescription sunnies are a good thing to have to hand. Contacts can be unsuitable for many adventurous outdoor activities, because of the risk of losing one or getting dust or water in your eyes while wearing them, so a good pair of performance prescription lenses in an active outdoor frame will likely serve you better in most cases.
---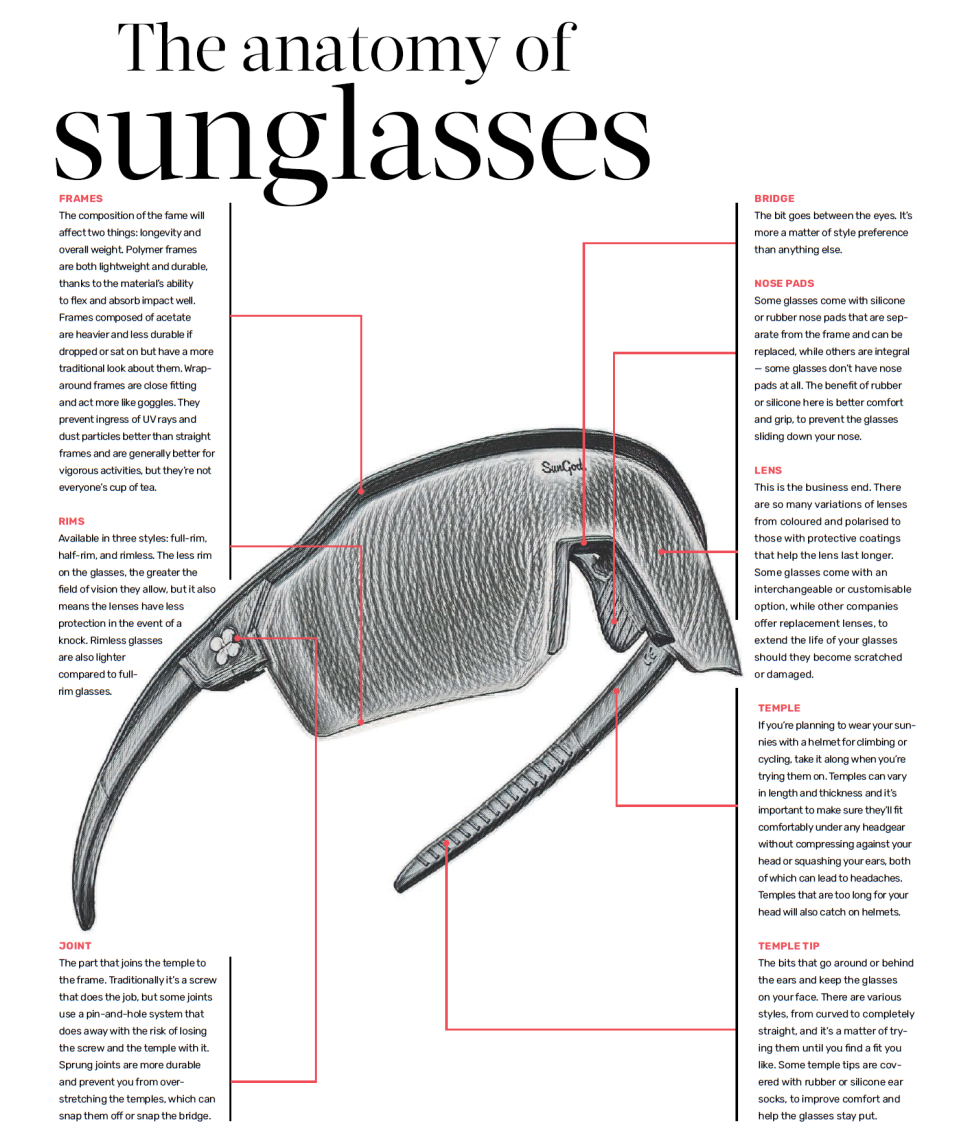 ---
SUNGLASSES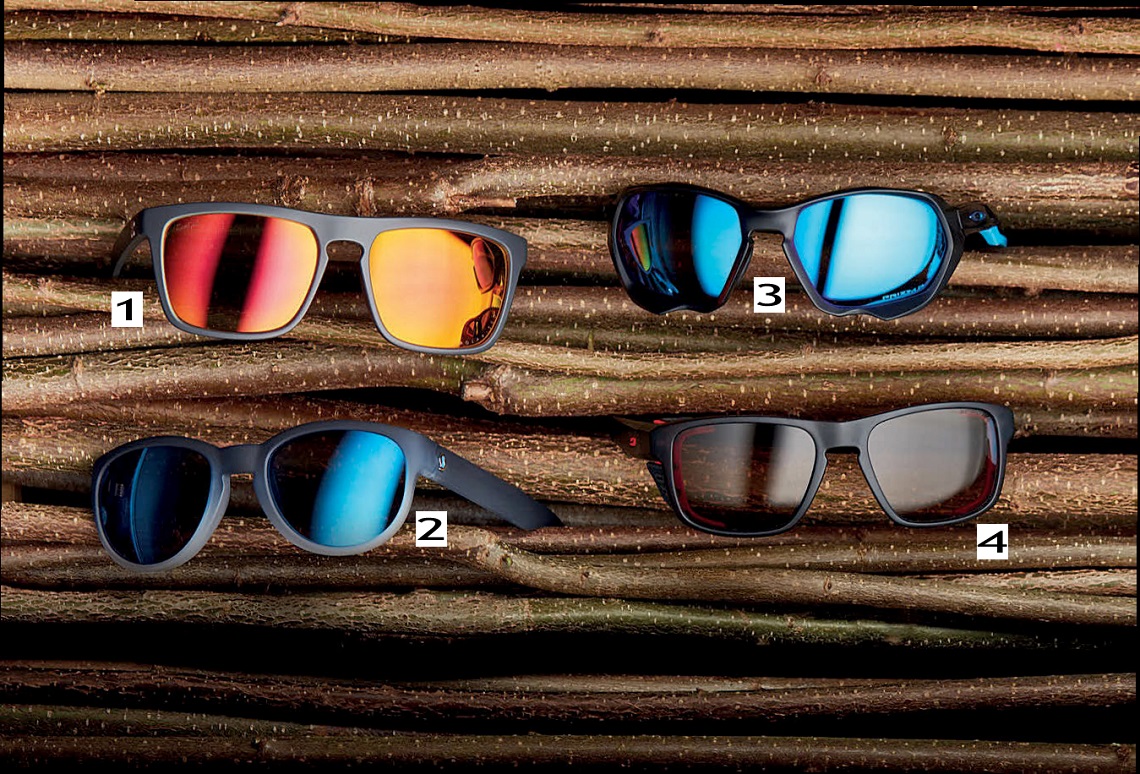 1 – BEST FOR ROUGH STUFF
One-size SunGod Renegades with polarised 4KO lenses
RRP £70 www.sungod.co
Swiss company SunGod is committed to making its products as durable and sustainable as possible. Its glasses are made from 'Adventureproof' plastic, which makes them flexible to a point while the screwless poplock joints keep the temples firmly attached. If you do manage to break them, SunGod will repair them for free, and every part of the glasses is customisable and replaceable. Even the Microfibre storage pouch is made from recycled plastic bottles.
The Renegades are SunGod's answer to the classic wayfarer style, available with a range of lens configurations that means you can tweak the view to suit your needs and budget, from the scratch-resistant 4KO lens that offers 100 percent UV protection (£55) to the polarised 8KO that SunGod claims is 'the most advanced lens technology on the planet' (£110). The Renegades' simple design and robust frame make them ideal old faithfuls for chucking in your backpack during sunny days on the trail.
2 – BEST FOR SIGHTSEEING
Women's Scott Sports Sway
RRP £59.99 www.scott-sports.com
There's a lot to be said for a pair of performance sunnies that don't cost a fortune, especially when you're likely to be taking them off and slinging them in a handbag or (like me) leaving them somewhere daft, like a café or art gallery. To that end, the Sways are the perfect compromise between practical protection and affordability, offering 100 percent UV protection in a pair of Precision Optic quality lenses and an attractive, robust frame.
These glasses are described as a small-medium fit and even managed to stay put on my tiny pinhead, which was refreshing. They do a great job of keeping out the sun and would be ideal for days spent sightseeing and exploring urban environments on foot or in the car.
Shown here in Glace Bule / Blue Chrome they're available in eight colourways with various different lens tints including brown, grey and pink. They're not customisable, unlike some of the other glasses in this round-up, but for the price, they're a great pair of everyday sunnies.
3 – BEST FOR PRESCRIPTION GLASSES
Men's Oakley Plazma
From £133 www.oakley.com
Contact lenses and regular sunglasses are a great combo if you're not going to be doing anything that involves sand, water, or mud, but as any contact wearer will tell you, a dusty, dislodged lens is up there without getting a finger in the eye. Prescription glasses are the answer, though finding a frame that'll stand up to adventure is tricky. And that's where the Plazma come in. Designed to give good coverage, a wide field of view, stability, and durability, these sturdy, sporty wrap-arounds are a revelation.
Available with or without prescription lenses, the moulded rims do a fantastic job of keeping out the light while the grippy nose pads and temples keep them from jiggling and slipping during vigorous activity. The customisable lens configurations include photochromatic, polarised, and Okaley's Prizm lenses, which enhance colour contrast; they're also strengthened for impact protection. Whether you wear prescription glasses or not, the Plazma are great all-rounders for riding, running, rafting, or climbing.
4 – BEST FOR HIGH-ALTITUDE ADVENTURE
Men's Julbo Shield with Reactiv lenses
RRP £155 www.julbo.com
Aptly named, the Shield from Julbo provide just that: enhanced protection and comfort for adventure in the mountains. These sunnies are a good compromise between goggles and glasses, with fabric side shields to keep out the glare, and a detachable rubber headband to keep them on your face. The shields snap into place on the inside of the rim just inside the joint. They're super-soft and comfortable, and thanks to the Air Flow fabric, the glasses stay fog-free with the shields fitted. They're also easy to remove when you don't need them; what you're left with is a stylish pair of performance sunnies.
Like the Spark, the Shield feature the same non-slip material on the temples, bridge, and nose pads and are customisable for frame colour and lenses. Shown here with category 2-4 Reactiv photochromic lenses, the NXT lens material was developed for the US military; lightweight, virtually unbreakable, and Optical Class 1, which is higher quality than standard polycarbonate. A great buy for sunny fun in the mountains.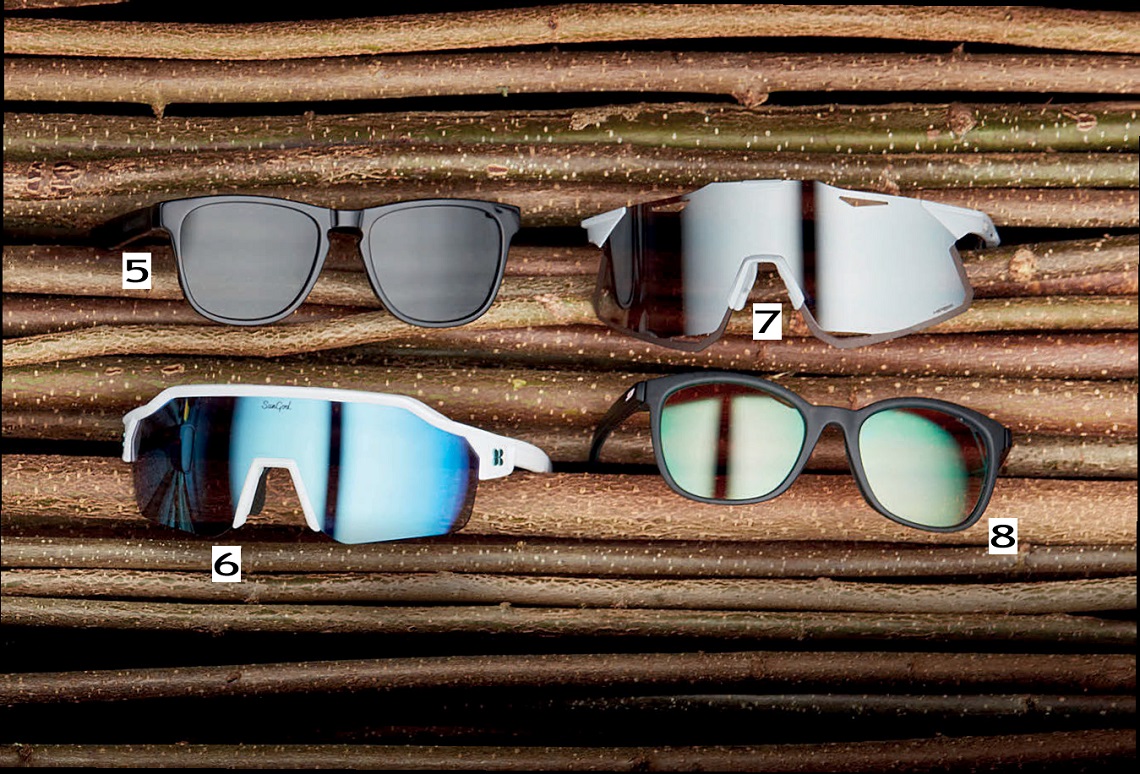 5 – BEST FOR LOOKING GOOD ON THE TRAIL
One-size Dewerstone Bantham
RRP £49.95 www.dewerstone.com
These are the best-looking glasses in this round-up as far as classic styling goes. Shown here in Brown Marble, the Banthams are available in five colourways, which incorporate a mixture of wood and acetate, which makes them both quirky and striking. Intended as 'medium' fit, these sunnies are designed to suit men and women alike, although the temples were too big for me and they slipped down my nose (which is sad, because they made me feel like Debbie Harry). The joints use traditional screws, but they are sprung, to prevent them snapping off if they're ever overstretched.
All Banthams in the range come with polarised lenses that give 100 percent UV protection and a two-year warranty on frames, and for every pair sold, Dewerson plants a tree. These aren't the most active of frames and they won't stand up to big spills, but for gentle days on the trail they offer sufficient comfort and protection in a great looking, affordable package.
6 – BEST FOR RUTHLESS RIDERS
SunGod Velans TF
RRP £115 www.sungod.co
Built-in the same vein as the Renegades, the Velens are SunGod's Cycling frames. The wrap-around style and deep, customisable lenses offer excellent UV protection and do a really good job of preventing light ingress, while the half-rim keeps them lightweight and comfortable. The Velans feature a non-slip detachable, replaceable nose pad, which is available in four sizes, so you get a custom fit across the brow, and the ear socks (the bits on the end of the temple) are also grippy and replaceable, keeping the glasses in place even when things get sweaty.
Like the Renegades, the Velans come with a host of interchangeable lens options including the 8KO, which are made from 2mm co-nylon (lighter than standard poly-carbonate) and available in eight different tints as well as two Iris photochromic options. These are Ideal for tough trails when your sunnies might take some abuse.
7 – BEST FOR CYCLE TOURING
100% Hypercraft with HiPER mirror lenses
RRP £169.99 www.freewheel.co.uk
If you're looking at 100%'s Hypercraft and thinking 'they look a lot like the SunGod Velans' then you're right. But there are a few key differences that set these sunnies apart. Although both pairs are aimed at the cycle market, they'll appeal to different kinds of rider. While the SunGods are bold, brash and bouncy, 100%'s Hypercraft are more refined, with subtler detailing and a slimmer profile. They're also super lightweight thanks to the Ultracarbon frame.
The Hypercraft's deep, wrap-around lenses are interchangeable and customisable; options include a photochromatic lens and 100%'s HiPER lenses, which sharpen your vision by filtering out certain colours and improving definition. The air scoops are also a bonus, providing ventilation on hot days, and the case comes with room to store extra lenses. The non-slip nose pads are replaceable, with two different sizes supplied, so you can customise the fit. If you're planning a long-distance cycle tour, treat yourself to a pair of these.
8 – BEST FOR MIXED CONDITIONS
Women's Julbo Spark with Reactiv lenses
RRP £165 www.julbo.com
The Julbo Spark are the perfect example of what happens when style meets with performance. The oversized frames with their sweeping curves and winged rims give a nod to glamour, while the tortoiseshell colourway shown here compliments the frame's retro feel. Don't be fooled, though, because there are plenty of functional features, too. The wraparound shape makes the Sparks comfortable and well-fitting, and the grippy material on the nose pads, bridge, and temples does a good job of keeping them in place.
The really clever part, though, are those Reactiv Performance photochromatic lenses that darken when the light intensifies and lighten when things get gloomy –  super-handy for activities where you're in and out of shade or the weather's changeable. The Reactiv Performance lenses span categories 1-3, are shatter-proof and have a hydrophobic (water-beading) anti-fog coating, to ensure clear vision no matter what you get up to.