HAUTE IN ONE
Completing the whole 80 MILES, 10 COLS, and 8,000M of elevation that makes up the iconic HAUTE ROUTE is no small feat — but can a self-proclaimed 'ORDINARY' British skier get from CHAMONIX TO ZERMATT in just one push?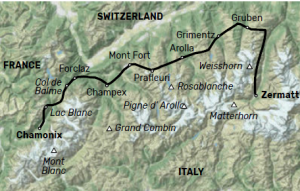 Connecting the two historic Alpine towns of Chamonix and Zermatt, the Haute Route was first pioneered by the English Alpine Club as far back as the 1860s. The 80-mile high-altitude journey was given its distinctive name in the years following, translating simply as the 'High Route' for those less au fait with French.
Crossing through into France, Switzerland, and Italy, the Haute Route has since become arguably the most prestigious and coveted multi-day ski tour anywhere in the world.
A FALSE START
I first attempted this high mountain crossing back in the spring of 2017 along with four fellow skiers. Our plan was to allow ourselves the recommended week to complete the route. Despite our modest experience ski touring, we opted to take the classic route, sans guide, and instead relied heavily on our overall adventure pedigree. Naive? Absolutely.
After a couple of leisurely transitions and some crampon compatibility issues, the weather started coming in and we were being benighted, all on the first day. We managed to maintain our composure, though, and eventually reached the Trient hut – our bed for the night — piercing through the cold, dark whiteout like a beacon in the night.
As fate would have it, we completed the remainder of the week with no more issues, keeping a much closer eye on the weather and leaving more than enough time for those potentially epic days we could all do without. We never did stray off the route, nor were we lost at any stage, but the Alps is not somewhere that tolerates fools, and fools we were. Just the following year, 10 perfectly competent skiers, including a guide, tragically froze to death only a few hundred metres from the safety of a refuge. One thing is clear: underestimate the Haute at your peril.
Fast-forward a few years and I'd like to think I've learnt a thing or two; with experience ski touring in some of the wildest mountain ranges in the world such as the Tien Shan in Kyrgyzstan and the Georgian Caucasus, it was time to return to the Alps. With the world locked down and a measure of good luck, we managed to spend the latter months of so-called 'confinement' in the Chamonix valley. No ski lifts? No problem.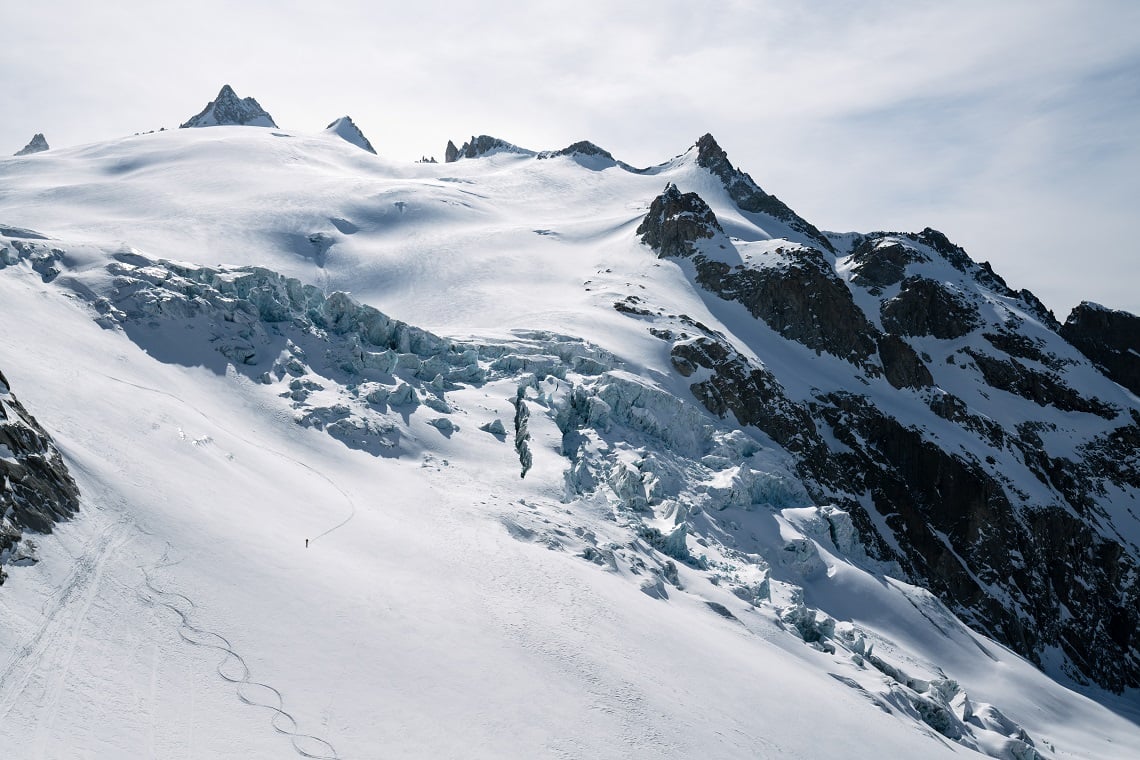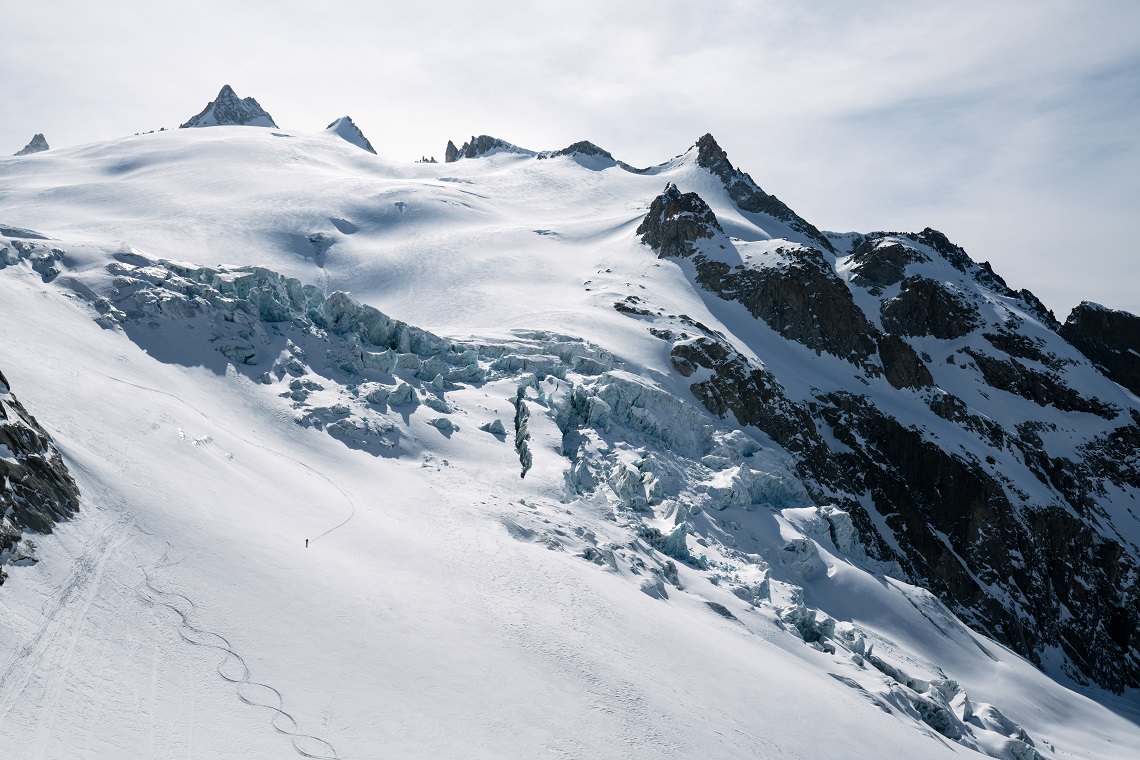 Sitting at the foot of Mont Blanc, this region has almost unlimited terrain to explore, albeit requiring some hard work. Every turn needed to be earnt, but without the temptation and convenience of ski resorts, we spent the season exploring corners of this Alpine paradise we had no idea existed. I'd heard of a select few managing to ski the renowned Haute Route in a remarkable single push, although this had only been achieved by the likes of international skimo racers and the most decorated of mountain guides. After some more digging, it appeared that the more popular Verbier variant had never been successfully completed in an oner.
As the season progressed, my body was conditioning to the bigger days, and soon this pipedream idea became a serious possibility. I was totally captivated, but could an ordinary British skier really join the Alpine elite in completing this truly iconic endurance feat? And even if I could, would skiing such a remote route over complex glaciated terrain alone through the night be just one step too far? After putting my kit through a serious diet (although I drew the line at Lycra), I parked these reservations and decided I needed to give this 8,000m ascent day my very best shot.
ONE FOR THE MONEY
Now ready to roll, I'm forced to wait weeks for the cold, unsettled weather to clear — most uncharacteristic for the time of year — but then a two-day window appears with just a sprinkling of overnight snow forecast. We're on! I hastily strap skis onto my bike outside the Church in Chamonix, where all the fun days seem to start, and cutting through the crisp morning air, I tip my cap to Mont Blanc as I pass. I'm buzzing with excitement as I set out on this first leg of the journey, knowing that whatever happens now, I'm in it for the long haul. There would be no sleep until Zermatt.
A bike isn't the way most ski challenges begin, but at this time of year, the snow line sits around 2,000m, with most Haute Route skiers using the Grand Montets lift for that all-important altitude boost. Hoping to undertake this challenge entirely self-propelled however, this isn't a luxury I can afford, not least because the lifts in France are still all closed. The plan, therefore, is to cycle from Chamonix, leaving my bike at Le Tour with friends Mark and Katie while I ski on onto Champex, then picking up the bike again to reach Verbier before skiing the final stretch to Zermatt. With all this nervous energy, I make quick work of the first kilometres up the valley to Le Tour, soon boot packing up the East face towards snowcapped mountains.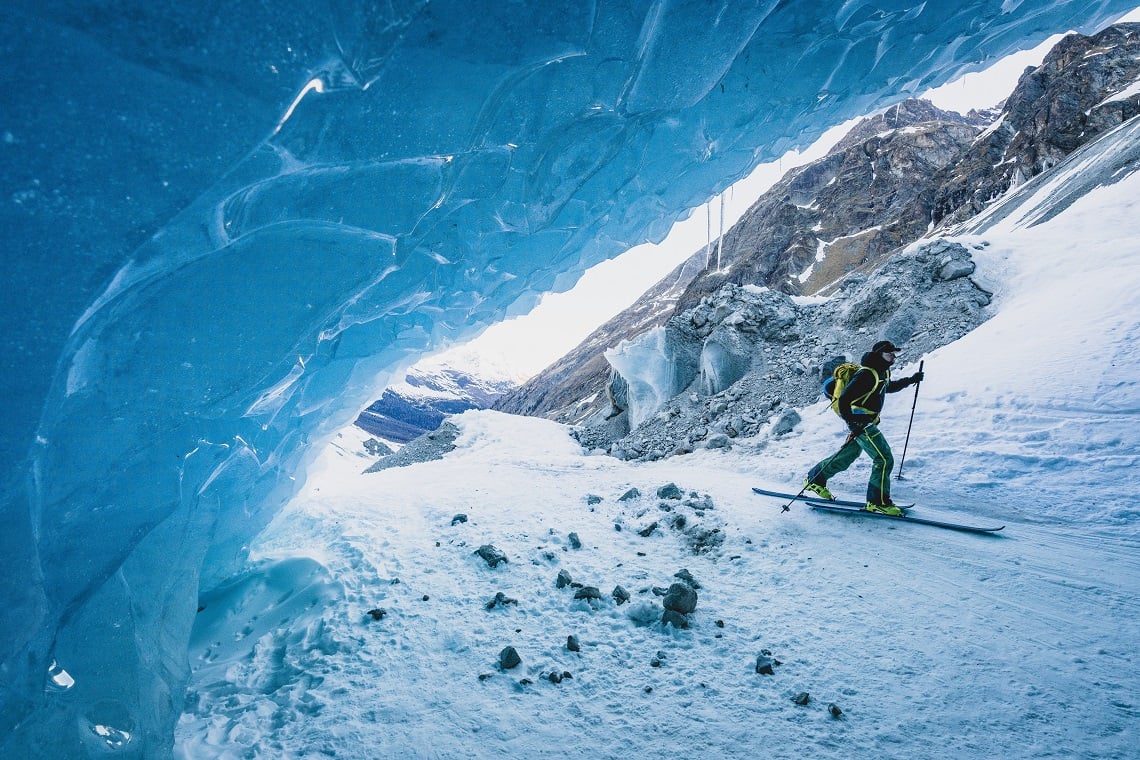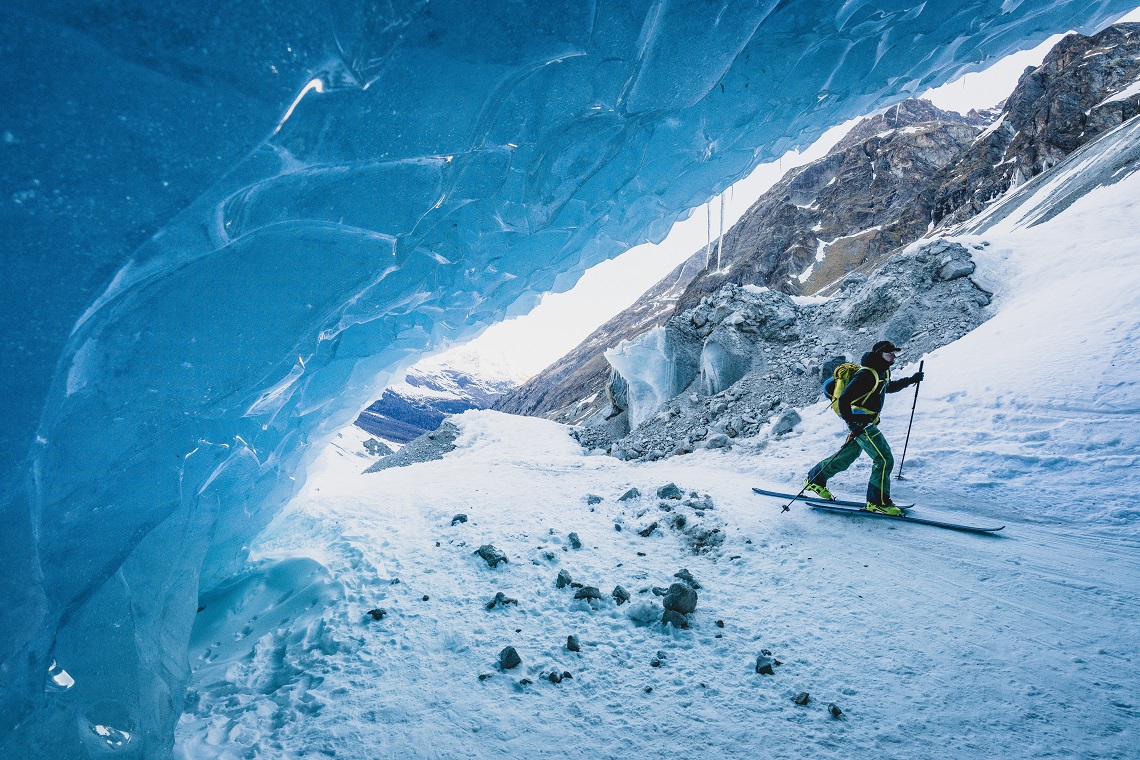 My first kick turns are tentative as I negotiate the firm and steep snow, glistening beautifully in the morning sun as the daunting crevasses of Glacier du Tour grows ever closer. As I reach a higher altitude, any attempt to find a rhythm is totally futile and I can feel my heartbeat resonating deeply through my head. I realise I'm pushing a little hard, letting the excitement of the big adventure get the better of me. Taking a moment, I temper my speed and continue following up the skin track that meanders through the fresh snow in the glaciated valley far above Chamonix.
As I approach Aiguille du Tour, I'm forced to pass the group that made the very track I'd been sliding over; I find myself trudging through a few feet of fresh powder fighting up the steep col with skis on my back. Quite taken aback by the depth of this pristine snow, I can't help but wonder how these conditions are affecting my overall objective, but all I can do is keep moving forward. Still a mighty 60 miles from Zermatt, I get my head down and set about crossing the Plateau du Trient with a makeshift telemark-running technique, which proves to be the most effective way of progressing through the deep snow.
Feeling every mile thus far, the glacier finally drops away, rewarding me with a series of amazing deep powder turns, although the crevasses and seracs remind me to take it easy. After sliding as far as gravity will take me, I reach the short climbing pitch of Col des Ecandies (2,793m) and with the support of a fixed line, I'm able to make quick work of the dry rocky scramble. As I navigate the undulating Arpette valley, the powder turns just keep coming and I'm in disbelief that an endurance challenge can be this much fun. Any memories of slow progress from this morning have now faded into nothing as I cruise into the quaint village of Champex, which is blossoming nicely in these spring conditions.
GOING SOLO
Although somewhat fatigued I've barely scratched the surface of this unapologetically ambitious goal. Hoping to uphold my purist tendencies in being entirely self-propelled, I jump back on my bike for the second and final cycle leg. I rip down the valley leaning hard into the tight hairpins. The descents never do last as long as you'd like, and in a flash, I'm slogging back up the road to Verbier.
I'm having to work hard as the hot afternoon sun beats down although taking solace in the change of transport and with it, the use of different muscle groups. The long night ahead of me is spinning around my head as fast as the cranks are revolving, but I find myself strangely excited by the prospect of heading deep into the wild mountains completely alone. Skis back on and leaving the sophisticated resort of Verbier behind (and with it my support legends Mark and Katie), the sun gradually dips below the horizon. I won't see them, or anyone for another 25 miles, all of which I'll need to cover through this long, lonely night ahead.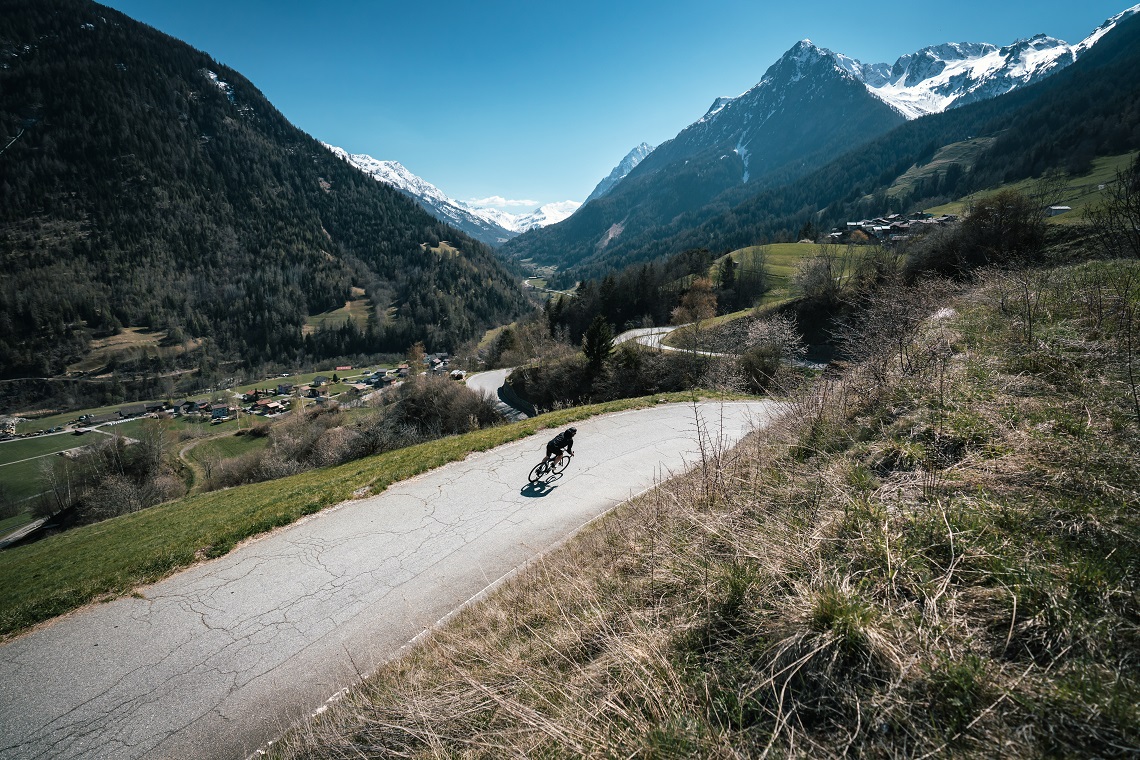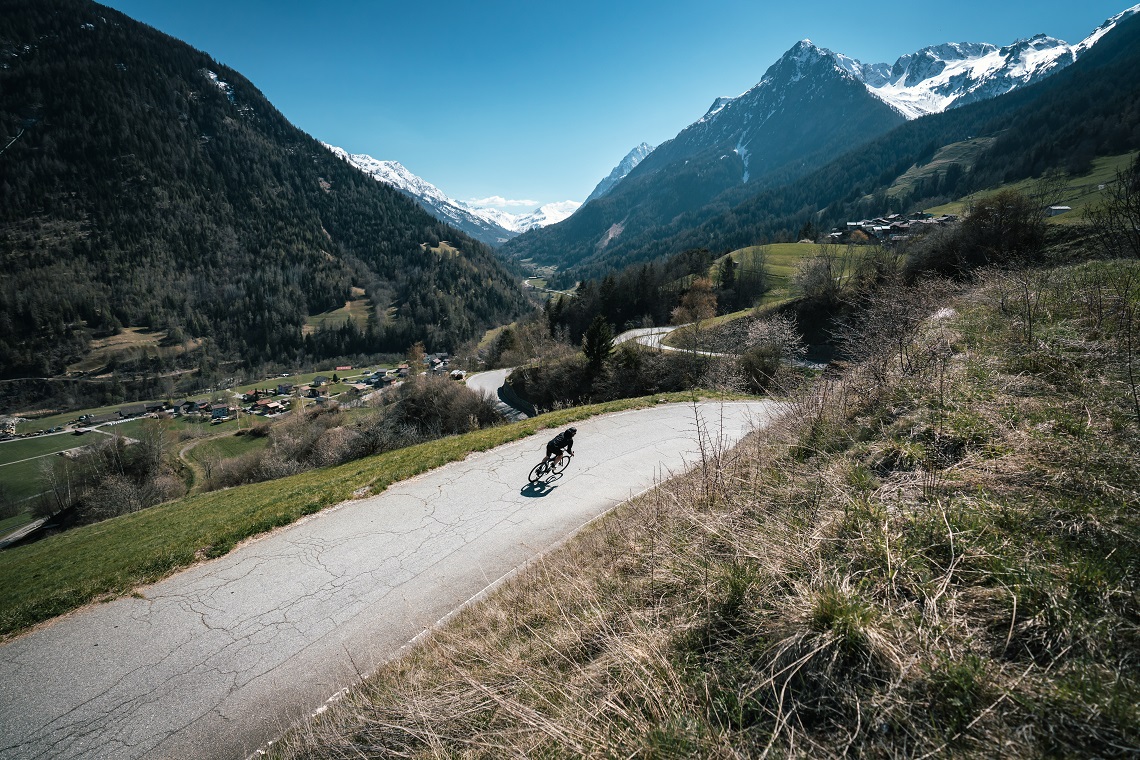 Though energised from an everlasting sunset, I make strong progress touring up the closed pistes while the vivid oranges turn to pink and eventually to darkness. As the air cools, the night sky starts to gleam with stars as I gradually make my way up the valley between surrounding giants Mont Fort and the infamous face of Bes des Rosses (famously home of the Freeride World Tour, but this evening, an intimidating peak that's been shadowing me from the shimmering moonlight). Eventually reaching Col de la Chaux, this mountain pass feels like a gateway into the high Alpine, and after clipping in I begin my first ski at night.
The snow is extremely firm and rutted, but I'm impressed by how much I can see under the beam of my head torch. I feel a palpable sense of relief that the first downhill has gone off without a hitch, which pushes me forward into the next climb up towards Rosablanche (3,335m), my high point for the night. By now, I'm starting to grapple with the loneliness of my whereabouts. It feels as though the cool temperatures have frozen the ground, and with it, time. Despite being acutely aware of the risks of what I'm doing, all I feel is total calm. The connection with the mountains has never felt so strong.
Now 18 hours in and just over halfway, I've been waiting to reach what I felt would be the crux of this journey. In the weeks prior, a friend and I had done this section of the route. For him, it was a taster of the Haute; for me, some much-needed familiarisation. In doing so we'd managed to set off a wet slab, and although the consequences were not serious, the result was extremely dramatic. The entire face slid, leaving with it huge chunks of ice, which make these 40-degree slopes extremely tricky to navigate.
I can't help but be reminded of the serious consequences of a mistake here as I carefully put down my first few turns through the icy couloir. As I approach the slope's apron, the gradient finally mellows and I'm able to open up a bit, despite the limited visibility in the darkness. I carefully hold my height while traversing the banks above Lac de Dix, which would prove an invaluable timesaver by avoiding a gruelling sidehill slog.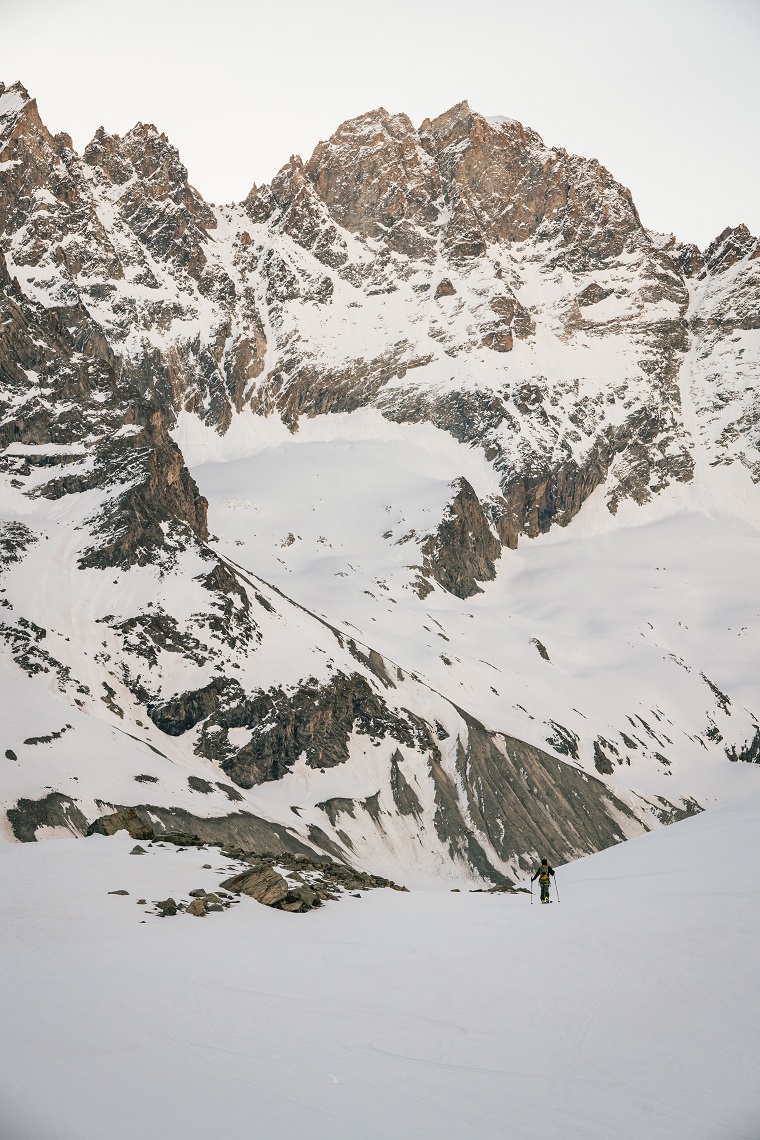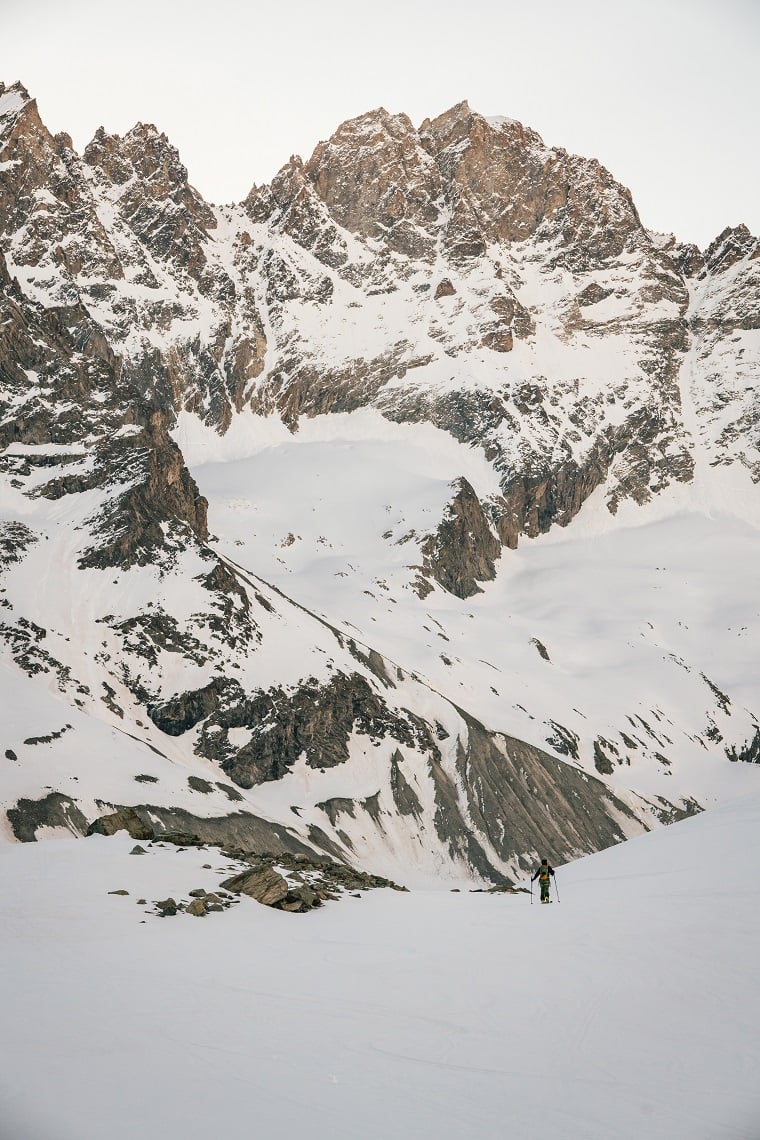 Having reached the frozen lake at its far end, I'm pretty pleased with progress. After another bite to eat, I'm deliberating whether to fit my boot crampons or keep going on skis. Knowing the gradient is steep and the track awkward, I settle for ski crampons, which proves to be a solid compromise for the slippy incline.
It's now approaching 3 am and I'm entering the graveyard shift, where every ounce of your body and mind want to shut down and go to sleep. I eat all the sugar I have left but still find progress laboriously slow. Feeling seriously deflated, I tell myself plain and simple: one foot in front of the other and so long as I'm moving forward, I will make it to Zermatt.
This climb now feels longer than all the others combined, and my stomach feels so empty that it's hurting. With gritted teeth and the promise of bacon in the approaching village of Arolla, I eventually see what appears to be dull lights far in the distance. Surely there's no one else moving through the mountains at this time of night. Is delirium causing me to see these sporadic lights? To my delight, they are in fact reflections built into the ladders on the face of the Pas de Chevre, and at around 5 am, I surmount the final ladder and ski the firm rutted snow down to Arolla.
THE LAST LEG
I'm happy to see the friendly faces of Mark and Katie despite the unsavoury time of day, and although forcing myself to eat was tough going, I make what feels like a miraculous comeback. As far as I see it, food really is the key to all endurance feats and having done my best to gorge myself, we're soon onto the final stretch as first light hits the valley. Mark's kindly agreed to join me to Zermatt, to keep me company and take photos. Although there are only 18 miles left, we still have plenty of climbing to go. My energy seems to lift with every inch the sun comes up and spirits are high, joking around as we tour in the shadows of Mont Colon's north face.
The mellow but stunning tour up the Glacier d'Arolla never fails to make you feel small, surrounded by towering Swiss peaks at every angle. We're moving slow and steady in beautiful conditions, but I can't help yearning for the next col and with it the opportunity to rest. After briefly crossing into Italy, we make our way up toward the ultimate high point at 3,500m and after a back-breaking final push through inescapable heat, I take my final few steps to reveal the iconic peaks of the Matterhorn and Dent d'Herens.
Slumping to the floor, I begin transitioning for the 18th and final time, ripping off my skins ahead of the big descent to Zermatt. We weave through crevasses you could lose entire buildings in and pass seracs that appear to defy the rules of physics, all under the watchful eye of the Matterhorn which towers above. The Stokji glacier certainly feels like a fitting end to such an epic adventure, and before too long we're joining the pisted ski area, skating back into the bustling resort.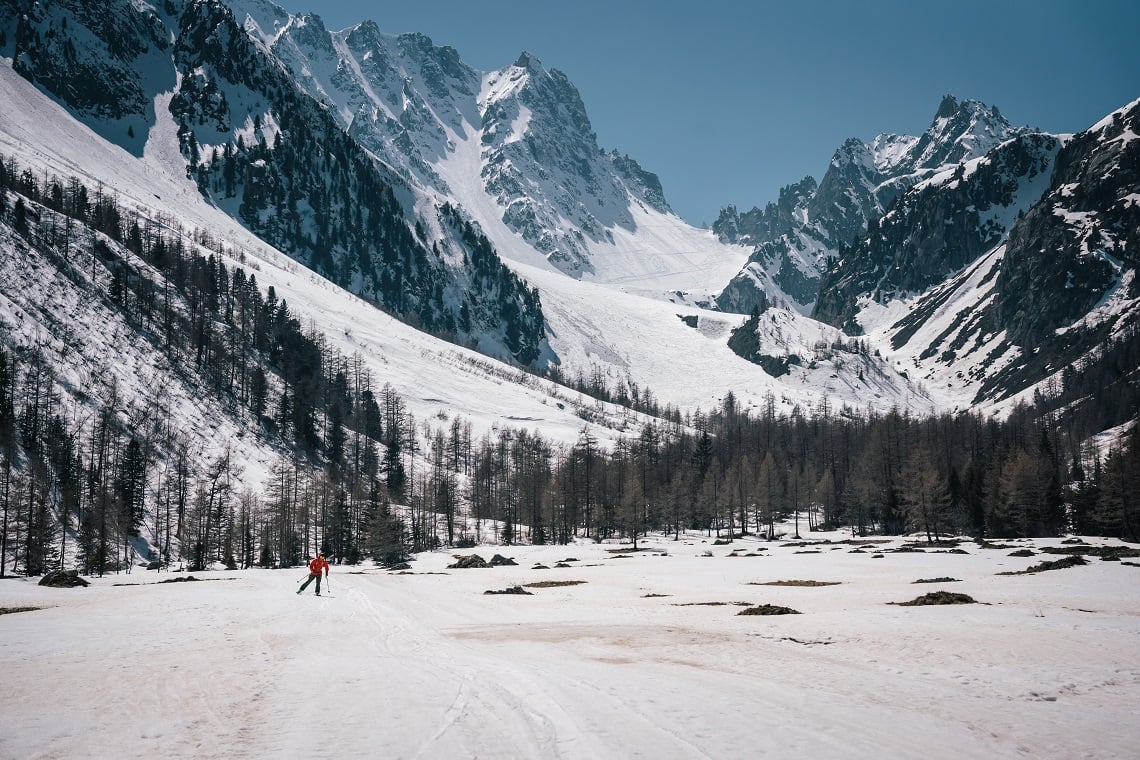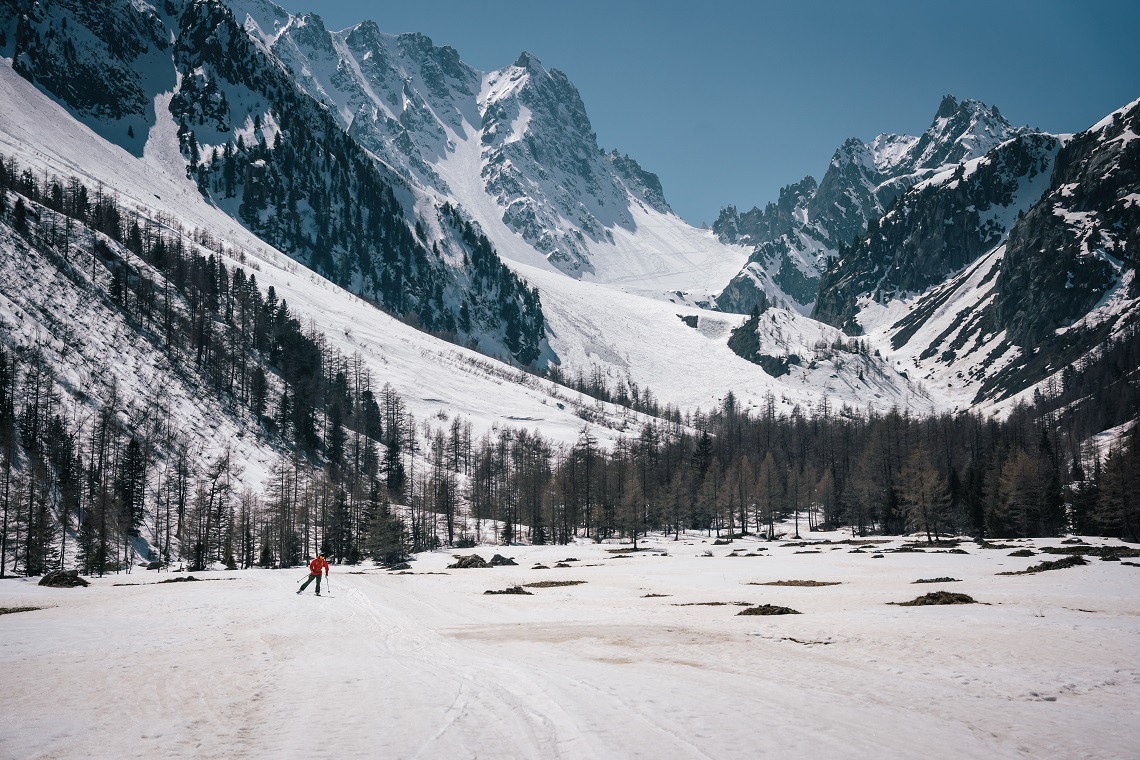 After 31 hours of skiing, 8,000m of vertical ascent, and 80 miles distance travelled, I reach the historic town of Zermatt, completing the Haute Route in a single push. Walking down the lavish high street with my skis on my back, I plant a hand on the church and sit down to celebrate. In the busy square, the true enormity of this achievement is most certainly lost on me. It's overwhelming to be plunged back into civilisation after what feels like so long in those solitary mountains. Though already drunk with exhaustion, Mark and I clink our beers to a great success, one that would not have been possible without the generous support from him and Katie.
Allowing my mind to wander for a moment, I can't help but think back to the first time I reached Zermatt by the same means those three years ago, fueled mostly by blind optimism. Diving in at the deep end, it was the beginning of something special for me, and despite the modest pace, I actually feel equally fulfilled by both adventures.
Over the years, I've pushed my boundaries, inevitably going further, faster, or trying harder, but I remain unlikely to find an endpoint to this greater journey. Success will only ever yield fleeting moments of closure before moving on to the next, but that's ok. So long as there's ambition, there's always an adventure to be had.
---
WHOS WRITING?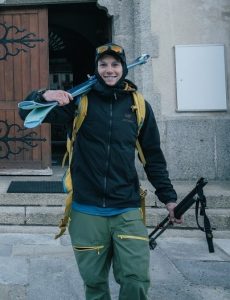 Aaron is an adventure athlete and photographer based between London and the Alps. He is passionate about championing the amazing outdoor spaces in the UK and encourages people to pursue adventures of their own. He has completed expeditions all over the world including record-breaking endurance feats. His self-propelled trips involve cycling, pack rafting, skiing, or mountaineering (or most likely a combination of these) Follow him on Insta @aaronrolph