Meet the GLOBETROTTING academics WILLIAM SACHTLEBEN and THOMAS ALLEN, who were first to CIRCUMNAVIGATE the Earth on TWO WHEELS
WHO WERE THEY?
William Sachtleben and Thomas Allen were adventurers from the United States who cycled around the world between 1890 – 1893.
ROUND THE WORLD ON A BICYCLE
William and Thomas were born in the USA in the years 1866 and 1868 respectively. They both attended Washington University in Saint Louis in the state of Missouri. Whilst there, William and Thomas became friends and carefully planned a long bicycle tour after they graduated. The cycling trip began the day after completing their university courses. After sailing to Liverpool, they purchased safety cycles with a single gear, hard tyres, and no brakes. With items strapped to the handlebars, they rode throughout the British Isles but then decided to continue cycling — around the entire world!
They journeyed through France, Italy, Greece and into Turkey. From Constantinople, the pair crossed the Bosporus and began their ride across Asia where the cycling became noticeably more challenging. In addition to experiencing difficult riding conditions, they were often confronted by locals who were wary of strangers. Rocks were sometimes thrown at them and dogs chased them.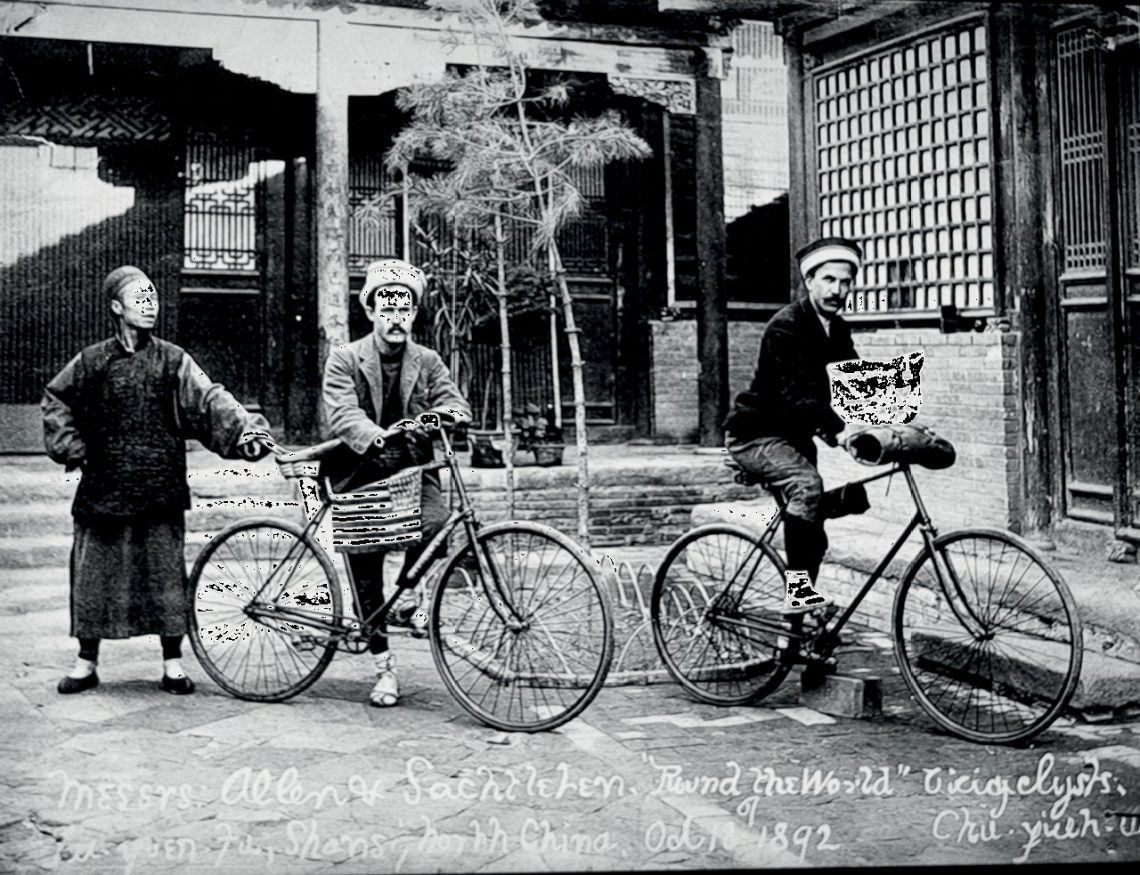 Wherever they stayed overnight, although exhausted from a day in the saddle, the adventurers felt obliged to provide a cycling demonstration for locals — most of the people they met had never seen such contraptions before! The two cyclists always tried to listen to the advice from people they met along the way. The pair learnt some of the local languages, were sensitive to customs and traditions and ate local food. Unfortunately, Thomas caught typhoid fever in Turkey, a bacterial infection of the gastrointestinal tract which can prove fatal. He recovered, however, and the pair resumed their journey.
They made their way to eastern Turkey where plans were made to ascend Mount Ararat. The pair had two alpenstocks* made by local craftspeople and large nails were driven into the soles of their shoes, like crampons.
They climbed over snow, ice, and rocks in freezing conditions and slowly gained height up precipitous slopes using their alpenstocks. They finally reached the summit of Mount Ararat's peak at 5,165m, only the seventh party in history to do so!
Entering Persia, they travelled across an arid landscape as they pedalled towards Teheran. Some sections of their route were extremely difficult to cycle. Often the only way forward was to push their bikes.
During this period, it was William's turn to come down with typhoid fever, from which he also fortunately recovered. They continued through barren hills, wasteland and desert in searing hot temperatures often reaching 50C. Eventually, they entered the regions of Turkmenistan and Uzbekistan, a vast area of steppe, wilderness, lakes, and swamps.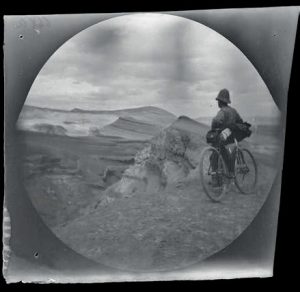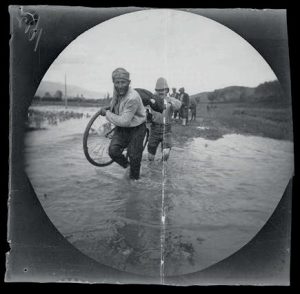 Selection of images chronicling adventures in what is now Greece, Turkey, Iran, Turkmenistan, and Uzbekistan, courtesy of the UCLA Library Special Collections
At the Chinese border, they rode their cycles to the town of Kuldja. After travelling through the Tien Shan Mountains, they arrived at the city of Ürümqi. On reaching the oasis of Hami they prepared themselves for the crossing of the Gobi Desert.
"The great Gobi stretched out before us like a vast ocean of endless space.' It was a region of red sand, wiry shrubs, and strong winds. Invariably it became too difficult to ride in the wind, so hours of pushing were required. They would stay overnight in stationhouses made of mud which were infested with an array of vermin. Having to drink brackish water resulted in the cyclists suffering greatly from upset stomachs. Eventually, they emerged into a far more fertile landscape. However, the frame of one of their cycles had become entirely bent. After makeshift repairs, it was just about rideable but with a waddling movement. Their journey continued in the direction of Peking (Beijing).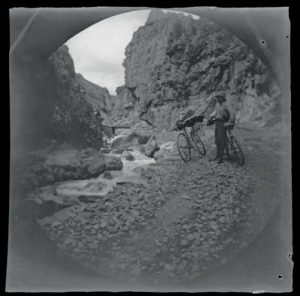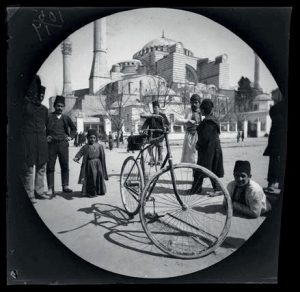 Selection of images chronicling adventures in what is now Greece, Turkey, Iran, Turkmenistan, and Uzbekistan, courtesy of the UCLA Library Special Collections
From Peking's seaport at Tientsin, a ship took them to San Francisco where they set off on the final leg of their journey. From California they cycled on new bikes through Arizona, New Mexico, Texas, and Illinois. Finally, in the spring of 1893, they arrived back in New York or as the adventurers put it: Just three years….lacking twenty days, we rolled into New York on our wheels, having put a girdle around the earth.' William and Thomas had successfully completed a unique journey circumnavigating the globe. This incredible trip totalled more than 14,912 miles across three continents.
A GLORIOUS RETURN
The adventurers found considerable acclaim after their journey. Their extraordinary achievement was celebrated across the United States, not least among fellow cyclists. After their cycle around the world, the pair went their separate ways. William opened a bicycle store in St Louis, took part in a number of cycle races, and tried a little stage acting. However, after learning of the disappearance of another global American cyclist, Frank Lenz, William went off to search for him.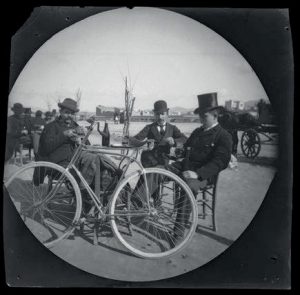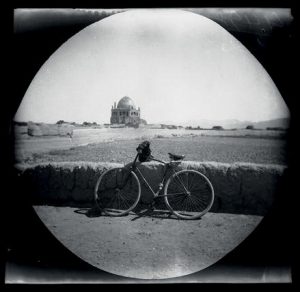 Selection of images chronicling adventures in what is now Greece, Turkey, Iran, Turkmenistan, and Uzbekistan, courtesy of the UCLA Library Special Collections
People had lost contact with Frank in Turkey. William made his way to Constantinople and then to Erzurum, the last location Frank had been seen. On several occasions William's life was in extreme danger due to the instability within Turkey. Sadly, William concluded that Frank had most probably been killed by local Kurdish bandits. In 1900 William travelled to Alaska where he prospected for gold and wrote newspaper articles. He married Mae Merriman in 1903 and moved to New York then to Houston, Texas, where he ran the Majestic Theater. He died in 1953.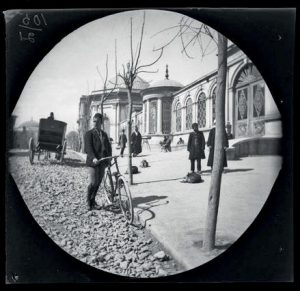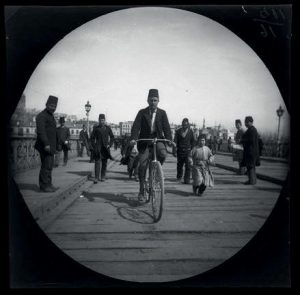 Selection of images chronicling adventures in what is now Greece, Turkey, Iran, Turkmenistan, and Uzbekistan, courtesy of the UCLA Library Special Collections
As for Thomas, he spent time writing about their bicycle adventure and presented a series of lectures across the country. He then became a journalist and travelled across Siberia reporting on the building of the Trans-Siberian Railway which was under construction at the time. After that, he married Annie Mackay, a Scottish woman, and moved to Britain. He became an engineer and eventually built a business trading all across the world. Thomas was a talented engineer and invented a water-pump, a carbide lamp, and a braking system for automobiles. He died in 1955.
William and Allan both led interesting lives through a host of varied experiences. However, they will be ever remembered for their pioneering, daring and successful trip by bicycle around the world. This ground-breaking cycle-ride was the longest continuous journey ever recorded by bicycle at the time. A truly unique trip and inspiration for many future adventurers.
---
WHO'S WRITING?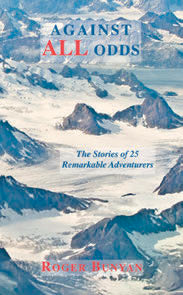 Roger Bunyan has been contributing to Adventure Travel magazine for many years. Always fascinating, insightful, and entertaining, it was only natural that the stories of these adventurers were compiled into a book. Against All Odds: The Stories of 25 Remarkable Adventurers is Roger's first Book, and in it he takes a more in-depth look at the adventurers he writes about in each issue of this mag. The amount of time, effort, and research that he has put in is astounding, and it makes for captivating reading. To get your copy, head on over to www.hayloft.eu.