What could be SIMPLER than walking in a STRAIGHT line? A great many things, according to JENNY GRAHAM and CALUM MACLEAN who hiked 49 miles across the CAIRNGORMS as the crow flies
INTERVIEW: EMILY-JANE CAVE
IMAGES: JONNY COOK
WFA: How did you guys meet?
Calum: I didn't know Jenny that well at all before this walk. We're both from Inverness in the Highlands and had chatted a bit online because we're into similar things and know similar people. We'd also been halfway up a mountain together once before…
WFA: Where did the idea come from to do a straight-line challenge?
C: I saw it on the Ordnance Survey blog in response to a question someone had posted: 'What's the longest straight line you can walk without crossing a paved road?' Then Matt and Ellie, my friends who are filmmakers, said, 'Do you want to try it?' And I said, 'yeah, why not?' And with about a week to go, I encouraged Jenny to come too.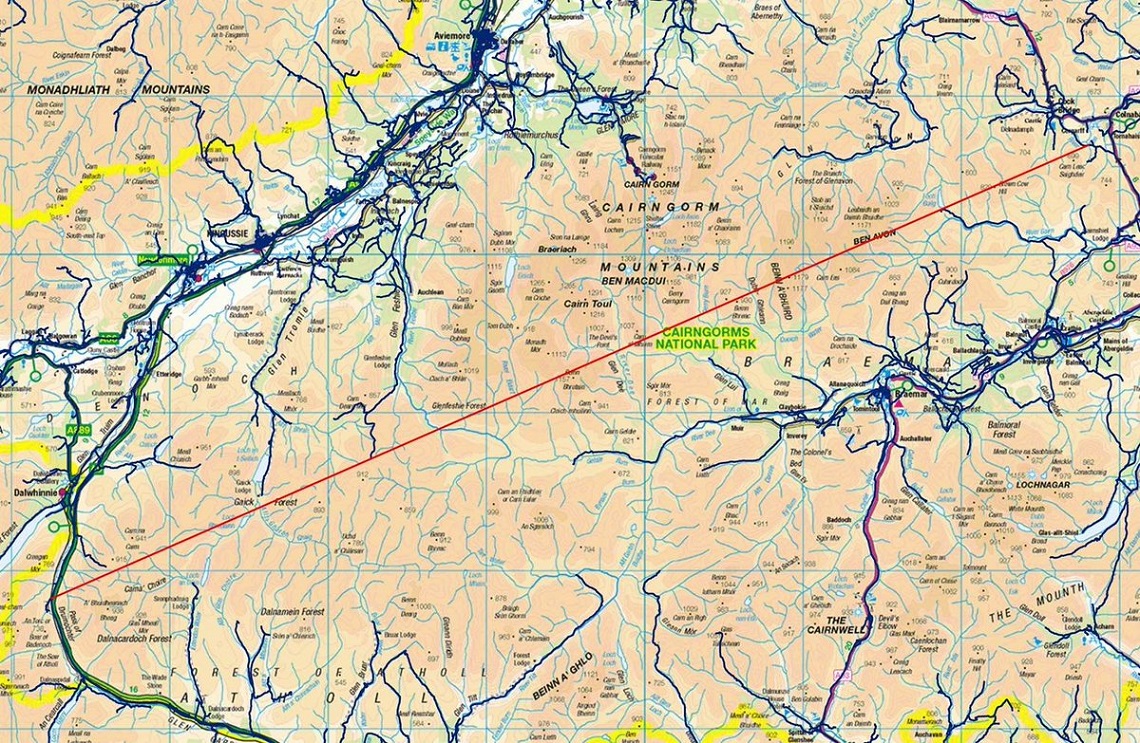 WFA: What was your initial reaction, Jenny?
Jenny: Calum told me what he had planned, and I thought it sounded really cool. We didn't get bogged down with any details. It took me until midday on day one to realise what walking in a straight line is all about. I remember on the first night going to bed thinking I might have bitten off more than I can chew here — my ankles were so sore! I definitely wasn't conditioned to be hill walking on such rough ground.
WFA: You were both familiar with the Cairngorms, though?
C: I know that area fairly well. I've done lots of walking there, but Jenny probably knows it even better than me.
J: It's one of my favourite spots to go running, skiing, biking, swimming… I've done some real epics there, and lovely weeks with friends just chilling out. It's a place I felt I knew really well, but this [challenge] was great because we were going places we wouldn't have if we'd not been forced to walk in a straight line.
WFA: Were you tempted to deviate from the route?
J: No, we had a job to do, and we both have a similar mindset. There was never any chat about taking the easy path.
WFA: So, was this a first attempt?
C: It's interesting because I was trying to research [the route] before we did it and I found out that two groups had tried it, but hadn't finished it, mainly because of the weather. So we thought no one had done it.
After we'd finished [the walk] I got a message from a guy saying that a group of them had done it in the late 70s. They'd started a mile north from where we were and they'd done it from east to west, the opposite direction that we did it. They'd worked it out by getting all the maps out and plotting it themselves, without computers or anything. And they'd taken four days, too.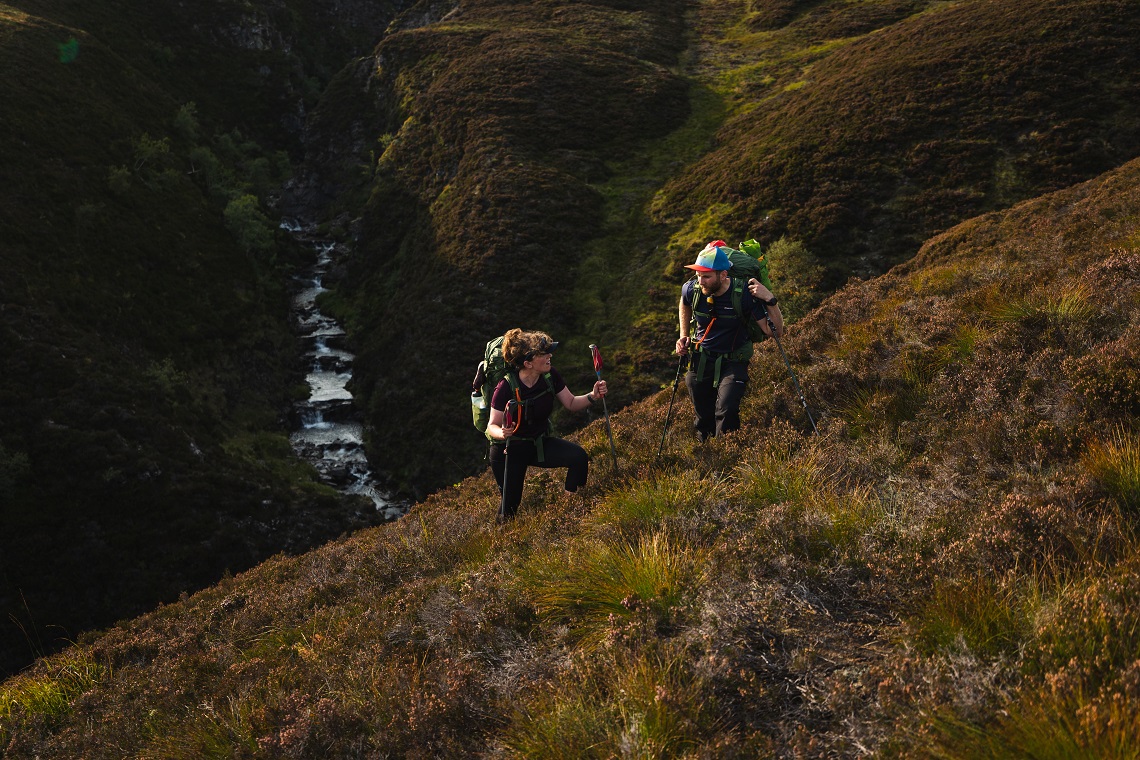 WFA: What was involved in the planning stage of your walk?
C: It was hard to judge the speed we'd be moving. It was always the plan to start on the Friday and finish on the Monday at whatever time. But we didn't do a whole lot of planning. I did one practice straight-line walk in the hills near me here, through a field and through a forest. But my approach was, 'it's four days walking, how hard can it be?'
J: Food was the biggest thing, making sure we had just the right amount.
WFA: What kit did you take?
C: I was so glad that we had lightweight gear to carry in terms of tent, sleeping bag, and sleeping mat. And walking poles. They were a total game-changer for going uphill. It was a full-body workout.
WFA: How did you make sure you stayed on track?
C: For the first hour, we had the map and compass out. But it was so slow. Jenny had a GPS watch with the route planned in, and we also had a handheld Garmin inReach. It has OS maps on the screen.
When you're following that, an arrow on the screen shows exactly where you are. Even if you step a few metres off [course], you can see it. 90 percent of the time you're like, 'I don't want to go that way, this just makes no sense at all!'. But if you want to stick on this planned line, that's where you've got to go.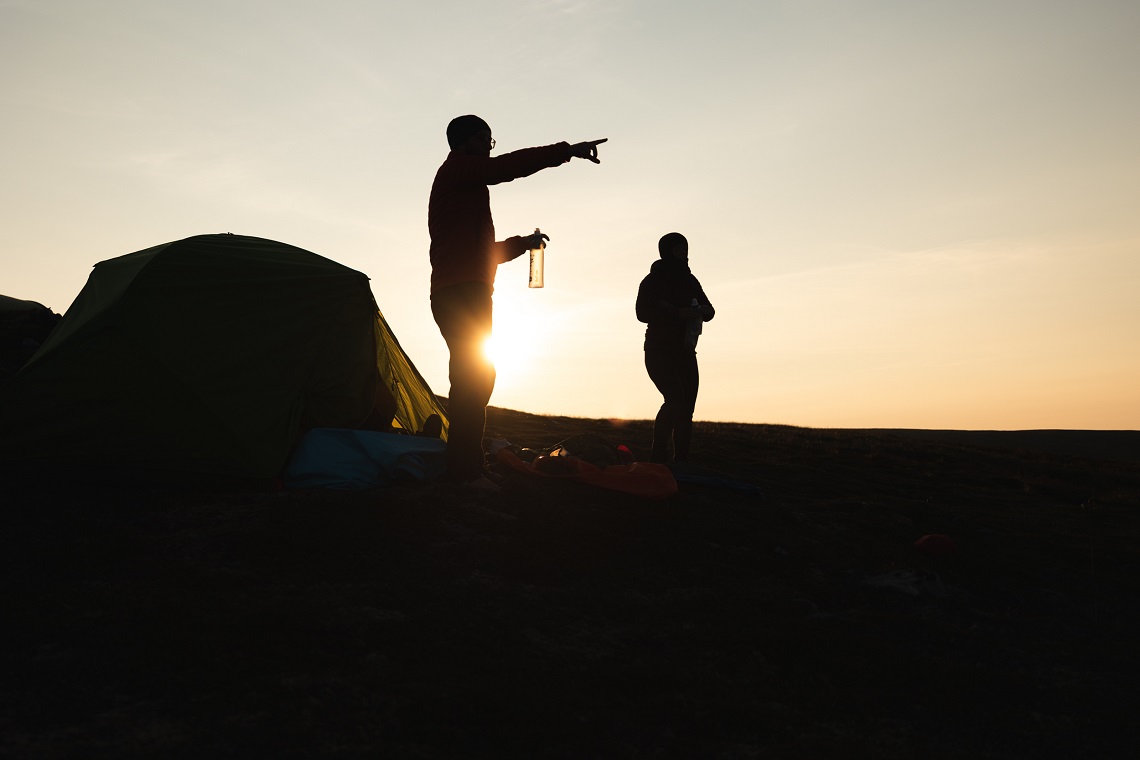 WFA: How did the experience on the ground compare to what you anticipated?
C: It was much harder work and more physically draining than I expected. When you're going uphill, you can usually follow a contour or something. I just thought it would be more like walking, but it was hard work all the time unless you were on the flat. I thought we'd get to camp and just chill out, but we usually got to camp quite late and it was getting dark by the time we were getting the tents set up.
WFA: What kind of terrain were you dealing with?
J: Oh, loads and loads of heather bashing! Contouring around steep gullies and hillsides and then through mundane, flat boggy land, which was really challenging to stay excited about. We had some rocky sections we were picking our way down, too — a bit of everything, really.
C: There were a couple of small rivers and a bit of a forest in Glen Feshie. Then, right at the end, a proper, horrible little forest where half of it was falling down. It was pitch black and we were using head torches, which was really annoying.
WFA: What distances were you covering in a day?
C: On average, 20k — so just under 13 miles?
J: But it was 11 hour days, because it was just such slow going
WFA: How was it taking on this kind of challenge with someone you didn't know well?
J: It was quite a good experiment. I think we got on really well, but it was funny going into that [situation] with somebody you sort of know, but actually, once you're with them you realise you have no idea who they are!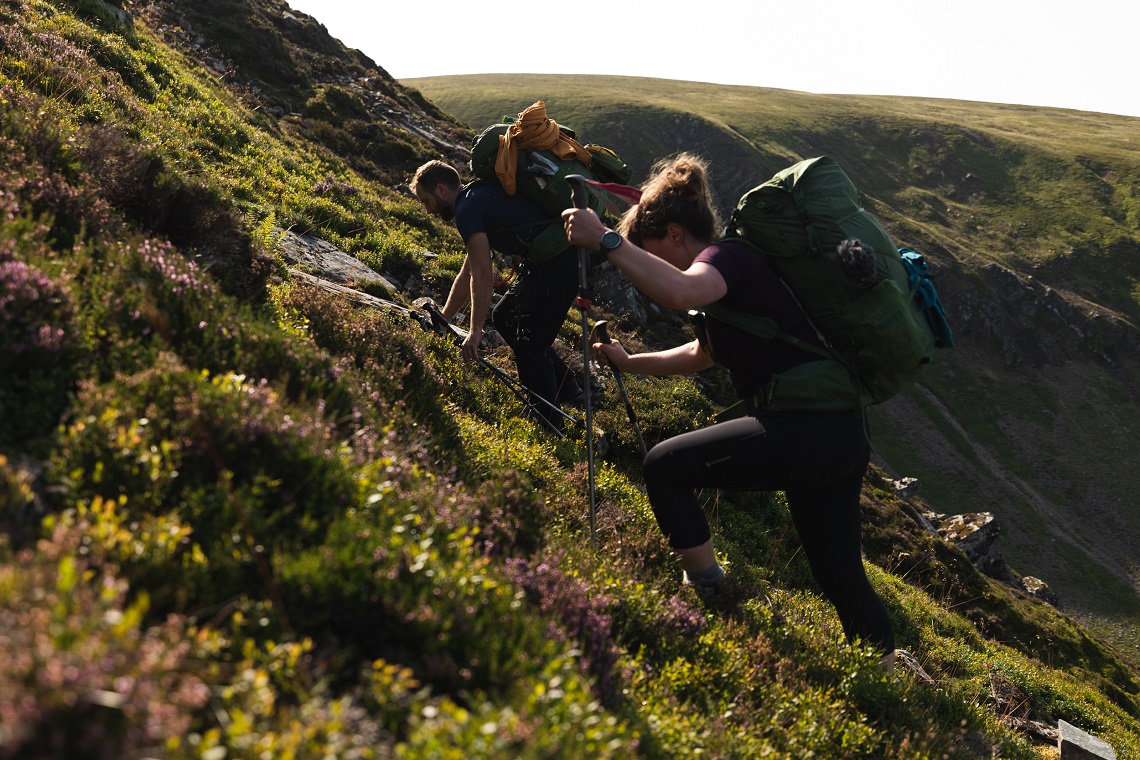 WFA: Were there any moments that made you question what you were doing?
C: There were never any moments that were so hard it made me think, 'I'm going to quit today'. But it was a totally different experience to going for a walk up a hill — or even going for a nice four-day walk — because you've got to be focused all the time on that line. It's so easy to veer off if there's nothing human-made to guide you.
WFA: What was the most difficult section you tackled?
J: Mentally, day two, because there was nothing stimulating our minds. We weren't in the mountains yet, we didn't have amazing views; it was quite mundane. And we had a long, long way to go, and were travelling quite slowly as well. For me, that was the toughest point.
WFA: What were the highlights?
C: Going into some of the gullies — there were a couple of them that you would just never go into unless you were on this line — and it turned out they were really beautiful little spots. I didn't go for a swim, but I had a wash in the water. And then, on day two or three, we came into a big gorge and looking up there was an amazing waterfall. So, the awkward bits had a silver lining to them.
J: It's that thing of exploring locally and looking at what you've got on your doorstep. We don't have to make these huge journeys. And it just felt like we'd come to our home. The mountains are so close to where we live and just made a brand new four-day trip out of them. That was cool.
WFA: Did it feel like an adventure?
J: Yeah! It's like any endurance challenge, it'd be impossible to always feel you're on an adventure and like you're buzzing from it. A lot of endurance stuff is a bit mundane. But there were definitely points, beautiful moments, where I felt so lucky to be there.
C: It was a really cool way to see places that I'd seen before, but from a different angle. That felt good, because when you're going up a mountain, you generally go up the same way that everyone goes up. Taking it in a different way felt like an adventure.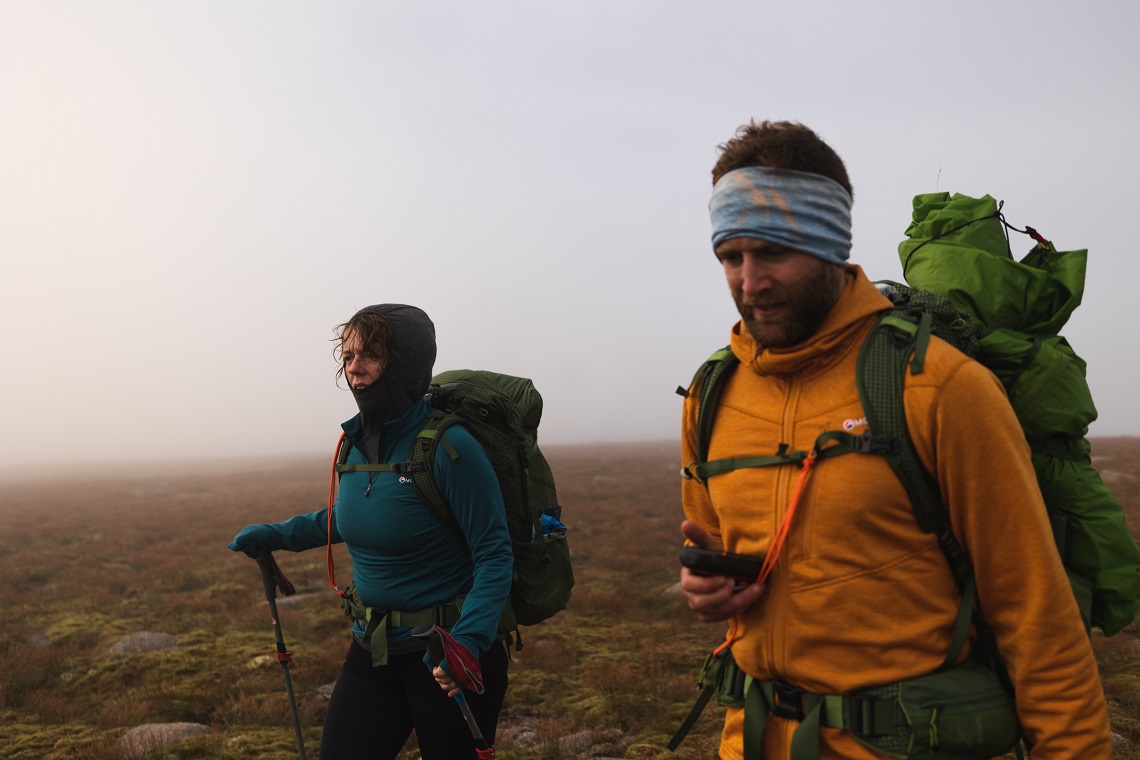 WFA: What did you learn from the experience?
J: There's this whole straight-line community that I knew nothing about — it's really cool! Proper straight-line fanatics. This is their sport, and they spend their lives doing it. When you choose to do something that's a little out-of-the-box, it opens up this whole other world to you and you realise you're only just scratching the surface and there are always people taking it further and further. I really enjoy that sort of thing.
WFA: Would you do another straight-line challenge?
C: I probably don't love it, but I'm really glad I did it. Looking back, I feel like, 'aye, I enjoyed that'. I would do a straight-line walk again. It would have to be a shorter one, though. That's for sure.
J: I'd like to do one that moves a little faster. I guess I learned that about myself: I hate going slow. Maybe a winter one or something like that? I'm not sure I'd be so keen to do an urban straight line, but I would think about crossing another mountain.
For the first month [after the walk] when I was out on the bike or walking, I'd get to a corner and my head would always think, 'you could just go on a straight line here'. Then I went to Iceland where they've got volcanoes and all this bubbling mud and steam pouring out of the hillside… a straight-line walk in Iceland would be a different ballgame. That's extreme!
To hear Jenny and Calum in conversation, head over to www.montane.com/blogs
---
The kit list: hiking the Cairngorms
Fancy having a go at your own Cairngorms straight line challenge? The following bits of kit from SCOTT SPORTS are sure to come in handy…
Bach Roc 28 | £115
For long-distance hikes like this, a comfortable, lightweight pack with supportive straps that won't shift about is key. The Bach Roc 28 is designed to give you quick access to items on the go while keeping your stuff safe and dry. A large front pocket and a side pocket allow you to stash things close to hand, and there's the option to attach poles and snowshoes should you need. The reinforced back and various strap configurations mean you can customise the fit to suit you.
Scott Trail Storm WP Men's Jacket | £207.99
Made for cold, wet conditions, the Trail Storm WP (waterproof) jacket is designed with mountain biking in mind, which lends well to stomping across the Cairngorms. Its longer line cut means any run-off from the rain isn't going to soak into your trousers and its tailored fit with extra stretch is ideal for clambering over tricky terrain. Fully taped and waterproofed, it's also breathable to keep you comfortable when the going gets tough. (Women's fit also available)
Dolomite Tofana GTX Shoe | £180
Built for long hikes over uneven terrain, the Tofana GTX Shoe has a robust oiled leather upper, to keep feet well protected from the weather and whatever you come up against underfoot. The grippy Vibram outsole is waterproof and gives great traction; it's also super lightweight so you can hike for longer. The Gore-Tex lining is both waterproof and wicking, to keep moisture away from the feet for all-day warmth, dryness, and comfort.
Scott Trail Running Pole | £85
An essential bit of kit for negotiating your way up, over, and across the various challenges the Cairngorms present — particularly when sussing out the depth of any gullies or water-logged areas. These three-part poles are easy to put together on the trail and collapse to just 37cm when not in use. Designed for trail running, they're made from lightweight aluminium and are available in three different lengths.
Scott Trail Insuloft Al Men's Jacket | £135.99
For added warmth, this lightweight insulated jacket is wind-resistant and cut to the same spec as the waterproof, so you're well covered no matter how active you are. The built-in stretch allows for loads of free movement, so scrambling, clambering, and crawling through the undergrowth is no problem. The DWR coating will see off light showers, and the breathable fabric will keep you comfortable when breaking a sweat.
Scott Merino Camo Socks | £25
Often overlooked (which is a mistake!), socks form the main barrier of protection between your foot and your boot. Get this bit right and you'll enjoy all-day comfort and dryness without a blister in sight. Merino is a naturally warm, wicking, and odour-resistant material, making it perfect for socks. The Camo socks have toe and heel cushioning to reduce rubbing and arch compression, which helps circulation and supports the feet.