WANT
SWAROVSKI OPTIK NL PURE 32 BINOCULARS
Exceptional comes as standard with Swarovski. It's a given. The name has been synonymous with excellence for decades, both because of the performance of its gear and the attention to detail with which it's made; you want the best of the best bins? You look for the ones with the little bird logo on them.
Yes, they're pricey, and yes, not everyone is going to want to fork out that kind of cash on something that could end up at the bottom of a gorge or lake. But if sweeping vistas and wildlife are your thing, nothing beats the kind of view you'll get through a pair of premium binoculars, and for those, you want Swarovski.
Experts in the field of vision, the Austrian company has been adding to and developing its Optiks line since 1949. The latest binoculars to join its NL Pure range, the NL Pure 32, are a particularly welcome addition for adventurers due to their compact size. (The 'NL' stands for 'Nature Love', by the way). Basically, with these, you get all the bells and whistles you'd expect from a pair of Swarovski bins, but in a lightweight, travel-friendly package. They're the kind of binoculars you can throw around your neck and forget you're carrying them, like a proper jungle explorer.
The NL Pure 32 feature the same optical system as their big brother, the NL Pure 42, and are available in 8×32 and 10×32. They boost a huge field of view – up to 69 degrees – and it's easy to forget your looking through binoculars when using them because the edges are virtually unnoticeable – kind of like 'Stepping into' the picture. Swarovski's innovative lens coating helps ensure a crystal-clear image and vivid colours, too. As well as being compact, the design of the housing makes them super easy and comfortable to use, and the headrest means you can hold them steady for longer, so you can take your time soaking up all those epic views from the top.
Shown here in burnt orange, they're also available in Swarovski's signature green.
From £1,980 www.swarovskioptik.com
---
NEED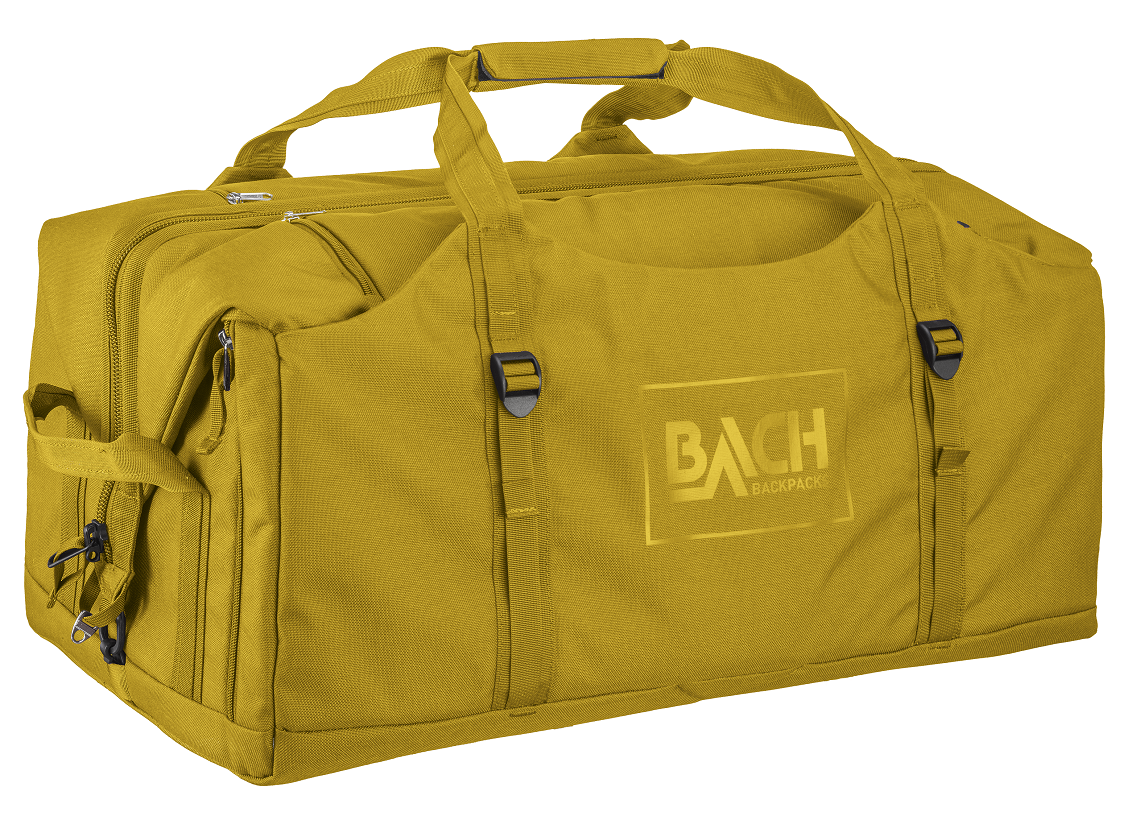 BACH DR DUFFLE BACKPACK
There's something intoxicating about buying new luggage; as if the whiff of a new bag is infused with the promise of all the places you're going to take it. Each pocket, perfectly designed to house your valuables, while the fit and feel of its sturdy straps assure you it'll be miles before you tire of carrying it. Nothing sparks a sense of wanderlust like purchasing a brand-spanking backpack.
And this one's pretty special. The latest effort from Swiss luggage company Bach, the design of the Dr Duffle is both infinitely practical (no surprises there) and effortlessly cool. So, where to start?
Well, if you're puzzling over the name (as I was) it's worth clearing that up straight away, because it's the secret behind this bag's unique efficiency. Remember the old-style doctor bags? The kind that folds open at the top and becomes rigid, so the whole thing turns into a kind of self-standing medicine box? That's exactly how the Dr Duffle works, and it's a revelation when it comes to packing, organising, and finding your stuff. The Cuboid shape also makes it a dream to stack and pack more than one size of Dr Duffle in your car boot or camper at the same time. (it comes in mini, 30L, 40L, 70L, 110L).
There are four internal compartments and a padded laptop pocket on the 70L as well as a few different ways to access them depending on where you are and what you're doing. Stop for a break and realise the snacks are buried at the bottom of the bag? Not a problem. Simply zip open the side panel on the main compartment and have a quick sideways rummage.
The Dr Duffle's versatility is a major plus point, too. Available in five sizes, it can be used as either a holdall or backpack, depending on how you configure the handles and padded shoulder straps, making it ideal for multi-stage trips. The rugged 1000D Cordura construction and lockable main section mean the 70L and 110L are suitable to be used as check-in luggage when flying, while the 40L is the perfect dimensions to use as cabin carry-on. The stow-away shoulder straps also mean there's nothing flapping about or dangling off conveyor belts or out of overheads when they're not in use.
In short, this is the Swiss Army knife of bags that makes me question why all luggage isn't made like this.
Prices range from £37.50 (Mini) – £190 (110L)