Not so long ago, Alex Hotchin and her best friend Marty decided to close down a business, pack their possessions into a storage container and head to Scotland with a one way ticket and a loose idea of a cycle route to Southeast Asia.
They set off from Scotland in August 2011 and rolled into a dusty dry Cambodia some 18 months later having covered 17,000km (10,500 miles). They completed the majority of the route on two wheels, with the odd sea faring vessel thrown in for good measure, and ended up with an incredible world of experiences.
The route saw them pass through Europe, Turkey, Iran, Kyrgyzstan, China and Vietnam to name but a few of the countries.
Instead of simply documenting their journey as most would, with a blog or a flood of Instagram posts, Alex decided to depict the sights, experiences and interactions through a series of illustrations.
These unique pieces of art were accompanied by a series of beautiful anecdotes delving into some of the most visceral moments of the journey. Below, you'll find a short selection of incredible illustrations, and their accompanying anecdotes, giving you a glimpse into one amazing adventure.
1. This is the beginning…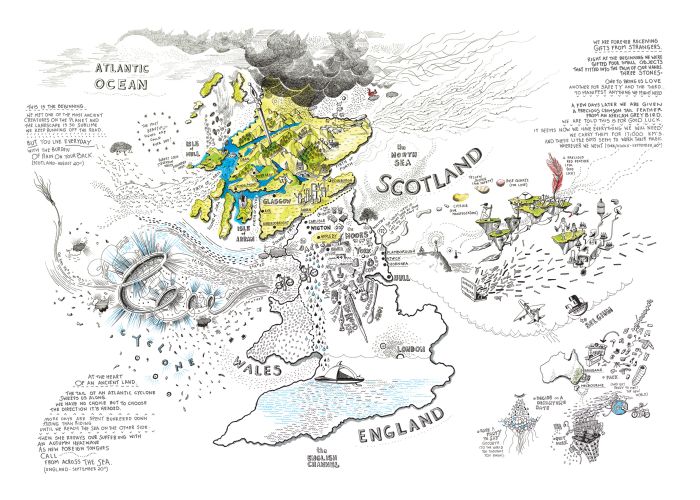 "We met one of the most ancient creatures on the planet and the landscape is so sublime we keep running off the road. But you live every day with the burden of rain on your back." Scotland – August 2011
"We are forever receiving gifts from strangers. Right at the beginning we were gifted four small objects that fitted into the palm of our hands. Three stones. One to bring us love. Another for safety and the third to manifest anything we might need.
"A few days later we are given a precious crimson tail feather from an African grey bird. We are told this is for good luck. It seems now we have everything we will need! We carry them for 17,000km and these little gifts seem to work their magic wherever we meet." York/Atwick – September 2011.
"At the heart of an ancient land. The tail of an Atlantic cyclone sweeps us along. We have no choice but to choose the direction it's headed. More days are spent bunkered down hiding than riding until we reach the sea on the other side. Then she repays our suffering with an autumn heatwave as new foreign tongues call from across the sea." England – September 2011.
2. The colours fall…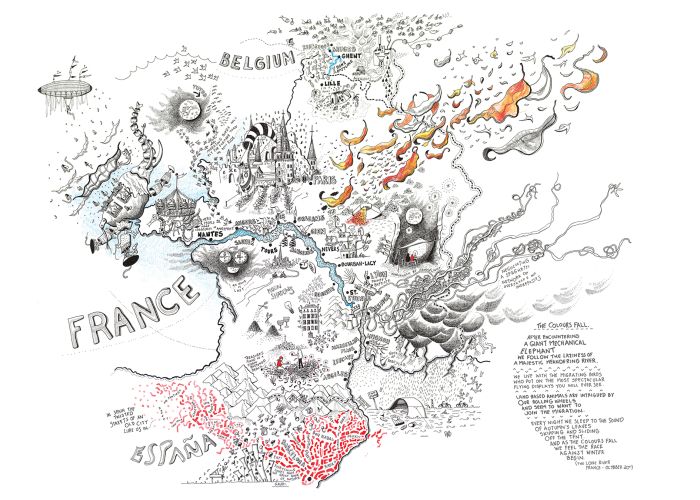 "After encountering a giant mechanical elephant we follow the laziness of a majestic meandering river. We live with the migrating birds who put on the most spectacular flying displays you will ever see.
"Land based animals are intrigued by our rolling wheels and seem to want to join the migration. Every night we sleep to the sound of autumn's leaves skipping and sliding off the tent. And as the colours fall we feel the race against winter begin." The Loire River, France – October 2011.
3. In Istanbul it snows almost every day…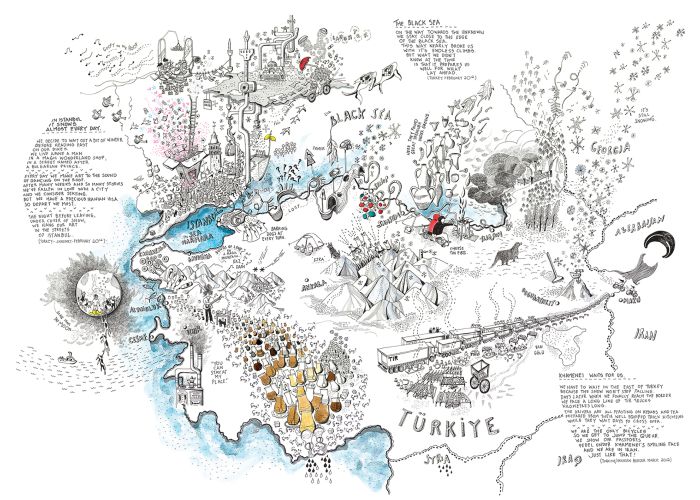 "We decide to wait out a bit of winter before heading east on our bikes. We live above a man in a magic wonderland shop, in a street named after a Bulgarian prince.
"Every day we make art to the sound of dancing on the roof. After many weeks and so many stories we've fallen in love with a city and we consider staying. But we have a precious Iranian visa so depart we must. The night before leaving, under cover of snow, we hang our art in the streets of Istanbul." Turkey – Jan/Feb 2012.
"On the way towards the unknown we stay close to the edge of the black sea. This way nearly broke us with its endless climbs. But what we didn't know at the time is that it prepares us well for what's ahead." Turkey – February 2012.
4. An Iranian prophet…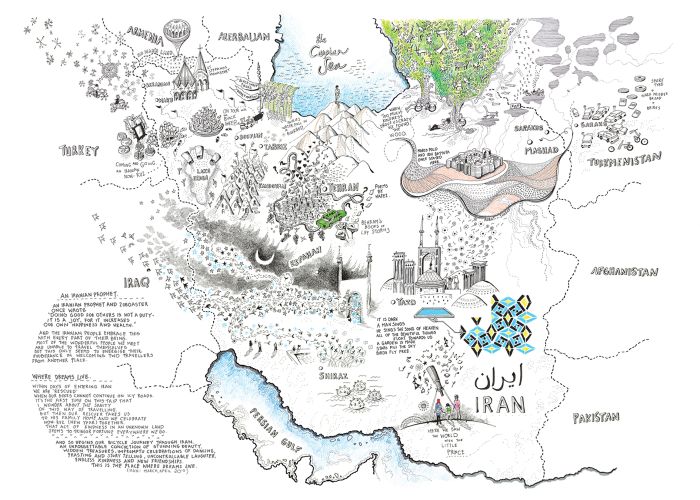 "An Iranian prophet and Zoroaster once wrote: 'Doing good for others is not a duty – it is a joy, for it increases our own happiness and health'.
"And the Iranian people embrace this with every part of their being. Most of the wonderful people we meet are unable to travel themselves, but this only seems to energise their exuberance in welcoming two travelers from another place."
"Where dreams live. Within days of entering Iran we are 'rescued' when our bikes cannot continue on icy roads. It's the first time on this trip that I wonder about the sanity of this way of travelling. But then our rescuer takes us to his family home and we celebrate Nowruz (New Year) together. That act of kindness in an unknown land seems to trigger fortune everywhere we go.
"And so begins our bicycle journey through Iran. An unforgettable concoction of stunning beauty. Hidden treasures, impromptu celebrations of dancing, feasting and storytelling, uncontrollable laughter, endless kindness and new friendships. This is the place where dreams live." Iran – March/April 2012.
5. Yurts silently puff…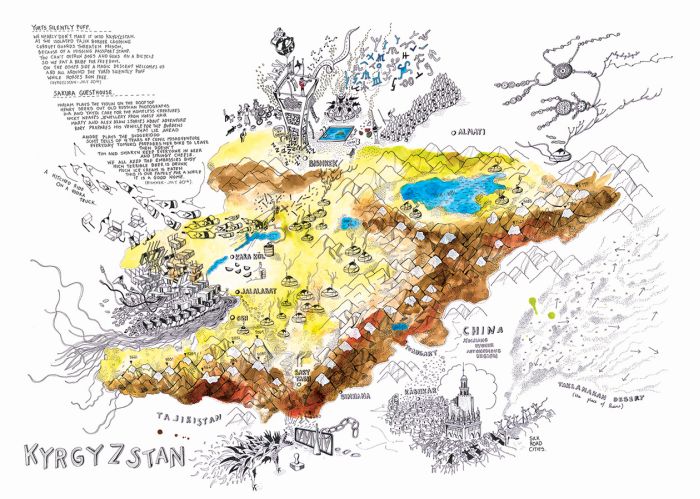 "Yurts silently puff. We nearly don't make it into Kyrgyzstan. At the isolated Tajik border crossing corrupt guards threaten prison, because of a missing passport stamp. You can't outrun dogs and guns on a bicycle so we pay a bribe for freedom.
"On the other side a magic descent welcomes us and all around the yurts silently puff while horses run free." Kyrgyzstan – July 2012.
6. Climbing into the heavens…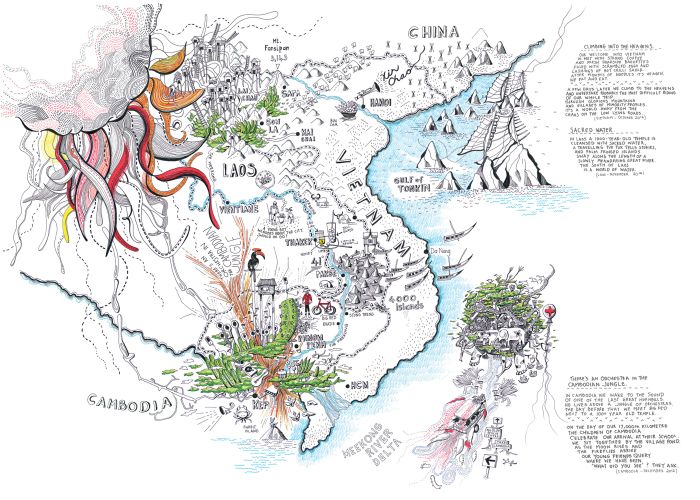 "Our welcome into Vietnam is met with strong coffee and fresh roadside baguettes filled with scrambled eggs and lashings of hot chili sauce. After months of noodles it's heaven. We eat and eat.
"A few days later we climb to the heavens and undertake probably the most difficult riding of our whole trip. Through glorious mountains and villages of minority peoples. It's a world away from the chaos on the low lying roads." Vietnam – October 2012.
"Sacred Water. In Laos a 1,000-year-old temple is cleansed with sacred water, a travelling tuk tuk tells stories, and palm fringed islands sway along the length of a slowly meandering great river. The south of Laos is a world of water." Laos – November 2012.
"There's an orchestra in the Cambodian jungle. In Cambodia we wake to the sound of one of the last great hornbills. He lives above a jungle of orchestras. The day before that we meet big red next to a 1,000-year-old temple.
"On the day of our 17,000th kilometre, the children of Cambodia celebrate our arrival at their school. We sit together by the village pond. As the moon rises and the fireflies arrive, our young friends query where we have been. 'What did you see?' they ask." Cambodia – December 2012.
Alex has compiled an illustrated series of storytelling maps which she has brought together into a self-published book titled Borderless. To see more of her illustrations, or to buy her book, head to www.alexhotchin.com.