Whether you're hiking in the hills and mountains of the English countryside, or exploring the wonders of the Italian Dolomites, you're more than likely to come across sections of trail that require you to scramble. But what is scrambling?
It's a term that is used to describe the action of using your hands when walking steep terrain. Scrambling is more technical than hillwalking and can be described as the middle ground between hiking and rock climbing. The level of difficulty is differentiated by scrambling grades.
In this beginners guide, we'll take you through the different grades of scrambling, what they mean and what level of technique they require. So, without further ado…
Five basics
First off, let's take a look at five basic principles of scrambling that you should bear in mind when setting off on your first scramble.
Research your route.
Know what grade you'll be tackling, and the rough route you're taking, particularly on your first scramble.
Pick up a good pair of boots.
Good rubber will be noticeable on steeper sections.
Test handholds and foot placements before putting your full weight through them.
Some rocks may look inviting, right up to the point that they fall away when you're stood on them…
Slow and steady wins the race.
Take it easy, enjoy the views and don't rush, as you'll be more likely to make a mistake.
Down-climbing is usually tougher.
If you're struggling on the way up, a combination of fatigue and gravity can combine to make it easier to spill on the way down, so make sure there's an easier walk down if this is the case
What is scrambling: Grade one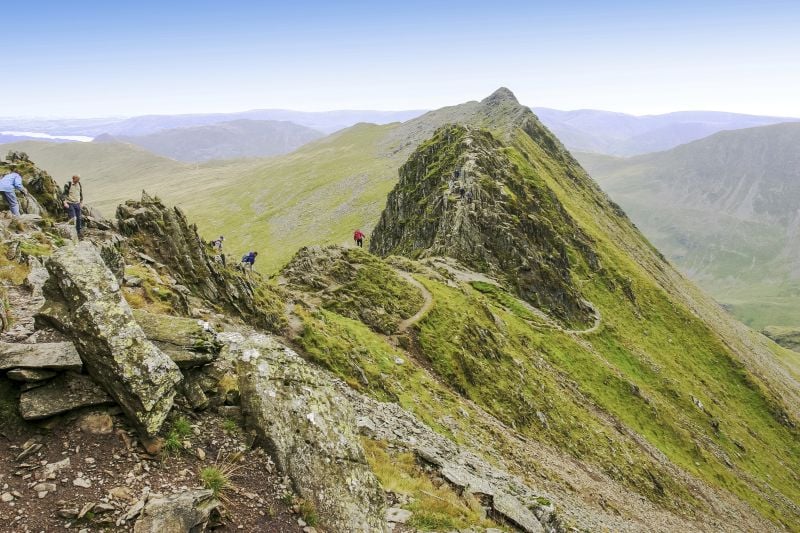 You'll be required to use both your hands and feet when faced with grade one scrambling. You can expect the exposure to be pretty thrilling, without the scramble being too technical or having the need for ropes.
Most grade one scrambles tend to be relatively easy, despite some butt-clenching high sections that'll certainly have the adrenaline pumping through your veins. When it comes to scrambling, if you can get over the exposure, you'll be generously rewarded with panoramic views that'll take your breath away.
If it's your first scramble, just take things slowly. Make sure you're wearing sturdy walking boots with a solid toe bumper and the appropriate clothing, as you may find yourself feeling a little chilly from the wind on exposed sections.
If you'd love to have a go at scrambling for the first time, then you can find some of the best grade one scrambles in the UK. The likes of Crib Goch, Tryfan and Crib Lem in Snowdonia, Helvellyn's Striding Edge and Blencathra's Sharp Edge in the Lake District, or Ben Nevis' CMD Arete in Scotland would be some good starter options.
What is scrambling: Grade two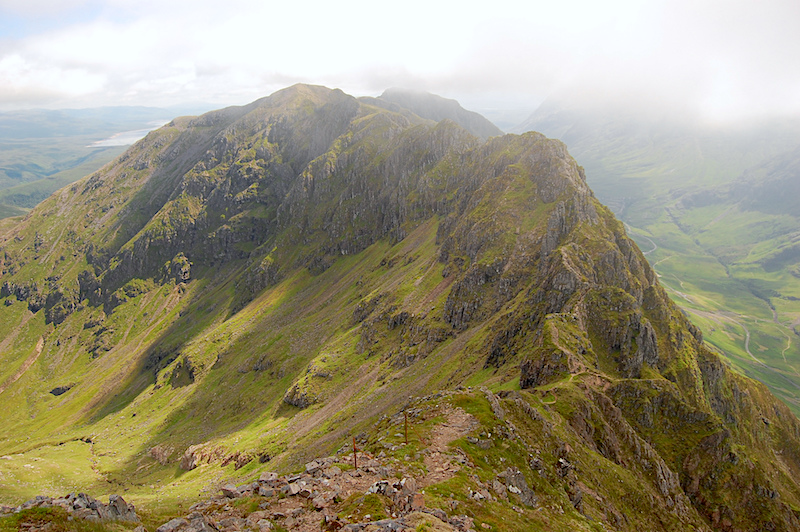 Photo: Grant-flickr
As you'd have probably guess, the higher the number, the more difficult the scrambling is. However, that doesn't mean that grade two scrambling is completely out of your reach. In fact, it's quite the opposite once you've got to grips with grade one scrambling and have a bit more experience under your belt.
Grade two scrambling can be described as the blurred line between scrambling and rock climbing, meaning you may find yourself with particularly steep rocks to climb. You can also expect the exposure to get a whole lot more daring when you move onto a grade two scramble.
Again, if it's your first grade two scramble, it's just best to take things at your own pace. Go as slow as you need at first to get yourself used to the exposure, it can feel a little hairy at times, but keeping your composure will go a long way.
It's also advisable to go with somebody who has experience with grade two scrambling and is happy to lead the way. Reliably, sturdy footwear is essential, along with the appropriate clothing – I'd suggest hiking clothing that allows you to stretch and gives you freedom of movement.
If you'd like to give grade two scrambling a go, then a few good ones to try in Scotland would be Aonach Eagach, in Glen Coe, Liathach, on Torridon, and Forcan Ridge, on The Saddle. Others would be the Climbers Traverse on Great Gable, in the Lake District, and the Idwal Staircase on Glyder Fawr, in Wales.
What is scrambling: Grade three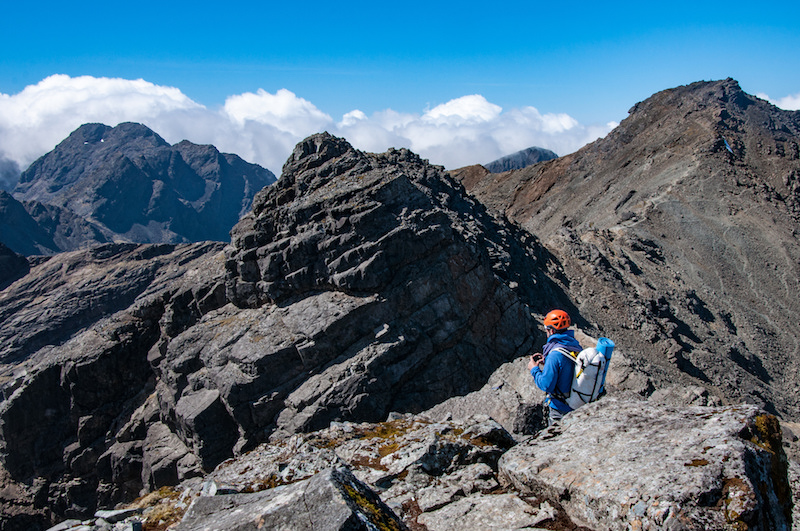 Photo: An_inspektor_calls
It's simple. Don't even attempt to tackle a grade three scramble unless you've worked your way up the scale gradually, gaining enough experience in taking on grade one and two scrambles that you feel confident in doing so.
Once you're at this point, you'll be able to head off on your first grade three scramble. Grade three scrambles are usually referred to as moderately graded climbing routes – basically, the easiest climbing grade. Therefore, you can expect to be scrambling extremely tough and steep sections of rock, some of which may require the use of a rope.
If you're feeling nervous about tackling your first grade three scramble, it may be good practice to hit up your local climbing wall or climbing company, to get some rock climbing experience before you set off.
It would also be advisable to do your first grade three scramble with somebody who has experience in doing so. There are many grade three scrambles in the UK, but some of the best try would be Pinnacle Ridge in the Lake District and Cuillin Ridge in the Isle of Skye.