The Berghaus Freeflow was first introduced to the brand's range in the 1990s, but how does the latest iteration fare? Bryn Davies found out…
www.berghaus.com | £80
The Berghaus Freeflow, which is designed to make hiking in heat more comfortable, was first introduced to Berghaus' rucksack range in the 1990s. Since then it's undergone a few upgrades and tweaks to make it both lighter and more comfortable and the result is the Freeflow V.
To make hiking in hot, sweaty conditions more comfortable the Freeflow allows a large area of clearance between the rucksack and your body to allow a flow of air to cool you down. There's also as little material as possible in contact with your back. This helps with ventilation and cooling, but with heavier loads it can make the pack more unstable than others.
The Freeflow features an incredibly sturdy frame in the form of a plastic framesheet. It's super strong and rigid so it'll support heavy weights, but its inability to bend means you'll struggle to pack this into a larger travel bag. The Freeflow backsystem is impressive. It's comfortable, thanks to some nice padding around the shoulders and hips, and it's easily adjustable to help it fit different back lengths, from extra small to extra large.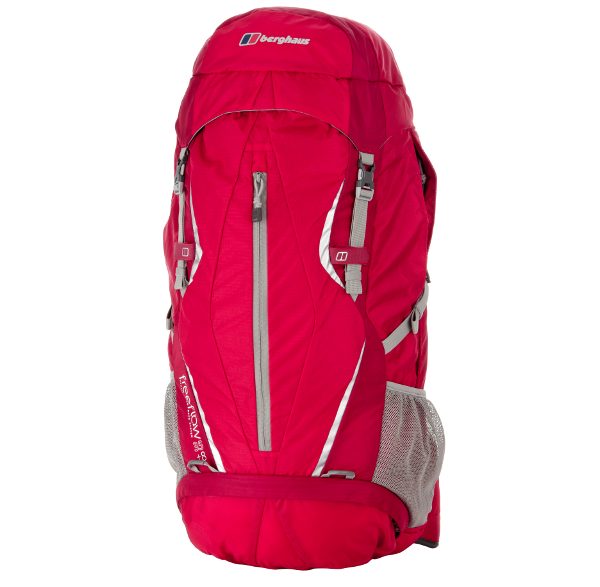 Feature-wise the Freeflow has two axe-attachment loops, two mesh wand/side pockets, a handy rain cover and a large front pocket that'll easily cater for a lightweight waterproof jacket. There are two entry points to the main compartment, which can be split in two by a zip up divider; great for separating dirty and clean or wet and dry kit. The side pockets on the Freeflow are expandable and each one adds four litres on to the overall size of the pack (hence the +8 in the name).
Berghaus Freeflow 35+5 Verdict
The Berghaus Freeflow 35 + 8 is a great daysack for activities on hot days. It's big enough to carry enough kit for hut-to-hutting or, if you like to travel light, camping weekends.