Wondering what to get your adventure buddy this year? If you can't stand another evening racing round the shops, while festive tunes blast maddeningly from department stores, then put your feet up and relax. We've done the hard yards for you this year, by putting together this handy list of products that make the perfect adventurous Christmas gifts.
From stocking-stuffers like socks, to snazzy gadgets and quality kit, we've complied the best gear available on the market that will make an ideal gift this Christmas. Fancy one of these for yourself? Simply leave your laptop open on this page for a not-so-subtle hint…
Aquaforno II Stainless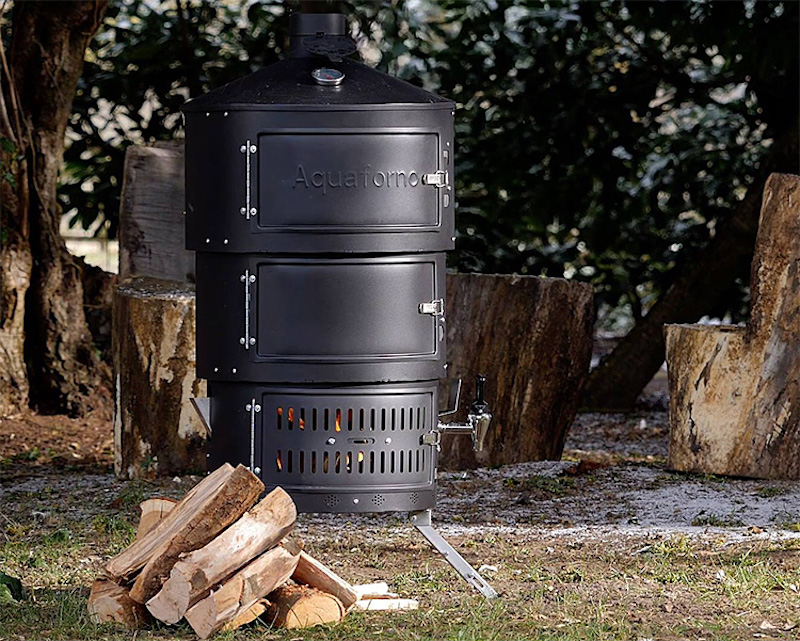 www.aquaforno.com | £395
If you're planning to buy a gift for someone who enjoys their outdoor living, this is the mother of all presents. The folks behind Aquaforno, the contraption you see in the photo above, call this the "ultimate outdoor cooking stove", and it's hard to find any reasons to disagree with them.
In essence, it can be used in many different ways for various types of cooking. One day you could make use of the pizza stone to cook up an Italian storm, while the next you could slow roast lamb, cook a casserole or grill kebabs. It even has a water tank to provide hot water when you need it via a tap, and its telescopic design means it packs down to a respectable size for transport. However you want to use it, this wood-fired piece of kit has you covered.
Zip world gift voucher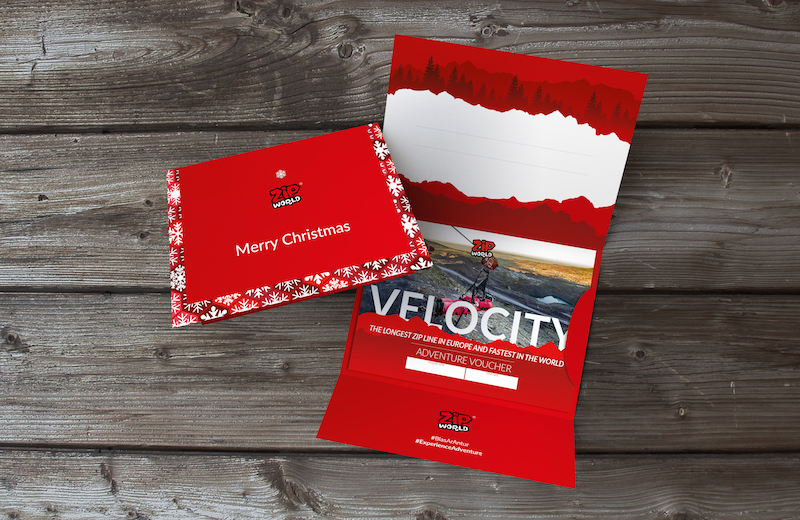 www.zipworld.co.uk | From £10
Based in North Wales, Zip World offers adventurous souls numerous activities to take on. Among them, Velocity 2 draws the most attention due to its status as the world's fastest zip line (you can hit speeds in excess of 100mph). Options also include a high ropes course and an underground setup combining via ferrata and zip lines.
Mac in a Sac Polar Jacket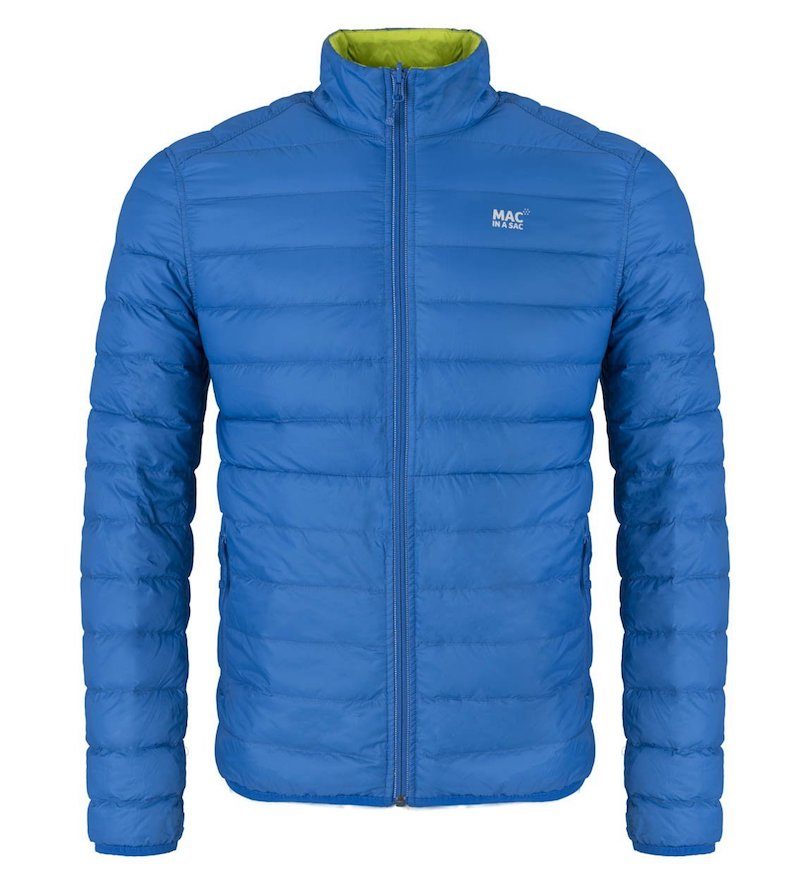 www.macinasac.com | £79.95
A down jacket filled with responsibly-sourced insulation at just under £80? You better believe it! This affordable gift is ideal for outdoor enthusiasts. It packs down into a small stuff sack, is water repellent and comes in men's and women's options. Better yet, it's reversible, so you can switch it up depending on your mood.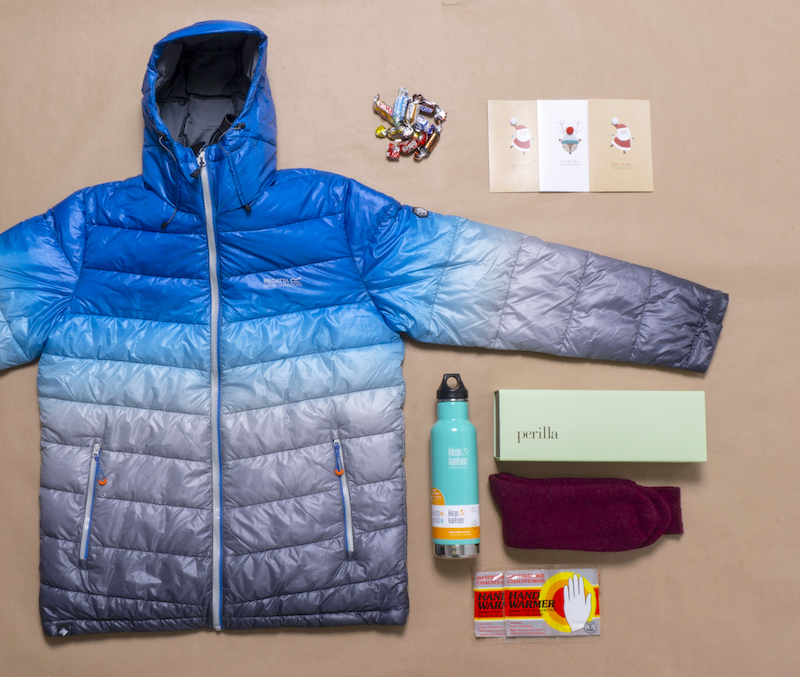 Regatta Azuma II
www.regatta.com | £100
This insulated jacket from Regatta is perfect for those who like to break away from the standard colours on offer in the outdoor industry. The heavyweight synthetic insulation ensures a cosy wearing experience, while the adjustable hood, cuffs and hem allow the wearer to achieve the perfect fit.
Klean Kanteen Insulated Classic (592ml)
www.kleankanteen.co.uk | £27.95
This trendy little bottle not only looks good, but it packs a punch, too. It keeps drinks hot for 20 hours and iced for a remarkable 50 hours! It's based on Klean Kanteen's classic stainless steel bottle and comes complete with Climate Lock double-wall insulation and a durable finish.
Perilla Alpaca walking socks
www.perilla.co.uk | £18
These luxury socks are made from 75% alpaca wool, making them some of the warmest socks around. Alpaca wool has higher insulating properties than any other fibre, is naturally odour resistant and wicks moisture away. Besides, who doesn't like socks for Christmas?
Mycoal hand warmers
www.mycoal.co.uk | £55
As the mercury drops, hand warmers are a godsend to all who suffer from cold hands during their winter adventures. Mycoal offers a box of 40 for £55, while Adventure Travel readers can save £10 by using code ATREADER. They are safe, simple to use and once you've tried them, you won't want to go without.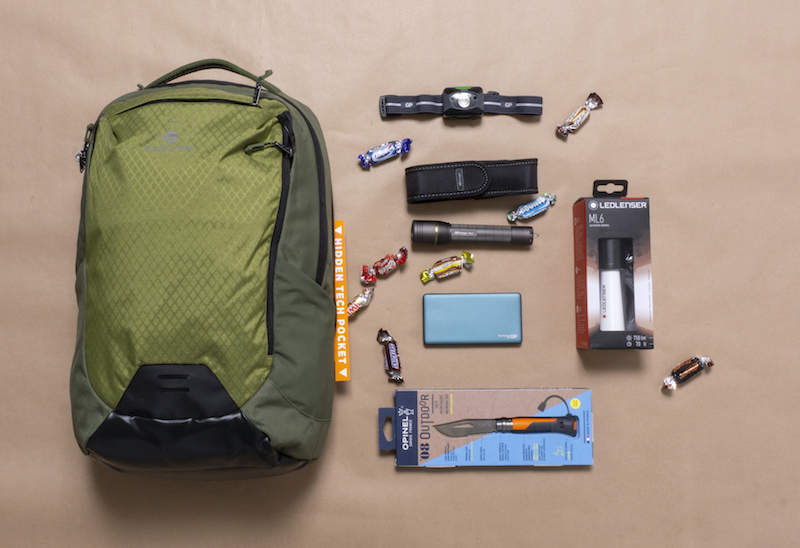 Eagle Creek Wayfinder backpack 30l
www.eaglecreek.eu | £80
The Wayfinder Backpack has been designed to deliver 365-day functionality. It's rugged, weatherproof and smart enough to seamlessly jump from trail to city. This feature-rich pack has a solution for everything and is ideal for adventurous travellers, especially as hand luggage or for day trips.
GP Batteries xplor phr15
www.gpbatteries.com | £34.99
This rechargeable head torch should be the shining light in any outdoor enthusiast's stocking. It has various lighting modes (including an impressive auto-dimming feature) and an impressive beam distance of 157m thanks to its 300 lumens. Once it's dead, you simply need to plug it in to recharge the battery.
GP Design Beam PR57
www.gpbatteries.com | £79.99
With a whopping 1,000 lumens and a beam distance of 180m, this is a serious piece of kit. It provides ample visibility, is weather resistant and, as its constructed from aircraft grade aluminium, it's bloody tough, too. Better yet, it's rechargeable, and as long as you have a power bank or electricity source, you'll never be without light.
Ledlenser Ml6 lantern
www.ledlenser.com | £79.95
The Ledlenser ML6 Lantern is said to be the camping lantern for the modern era. It has three brightness modes, a dimming function and a red-light option, while a rubber hook, integrated magnet and removable stand provide ample mounting options. Impressively, this rechargeable piece of kit also acts as a power bank.
Gp Batteries M-series power bank
www.gpbatteries.com | £29.99
The M-Series showcases a line of power banks that combine usability and durability with function. The 10,000mAh version pictured above will recharge an iPhone four times over. It's lightweight, compact and is the ideal companion on adventures. Plus, it comes in some stunning colours.
Opinel No.8 outdoor knife
www.whitbyandco.co.uk | £26.95
The Opinel No.8 Outdoor Knife is ideal for activities such as mountaineering, paragliding, trekking, or water-based pastimes. It features a strong blade that is serated over 3.5cm to cut natural or synthetic ropes and, with the inclusion of a whistle, it's an ideal friend when you need to get out of a tricky situation.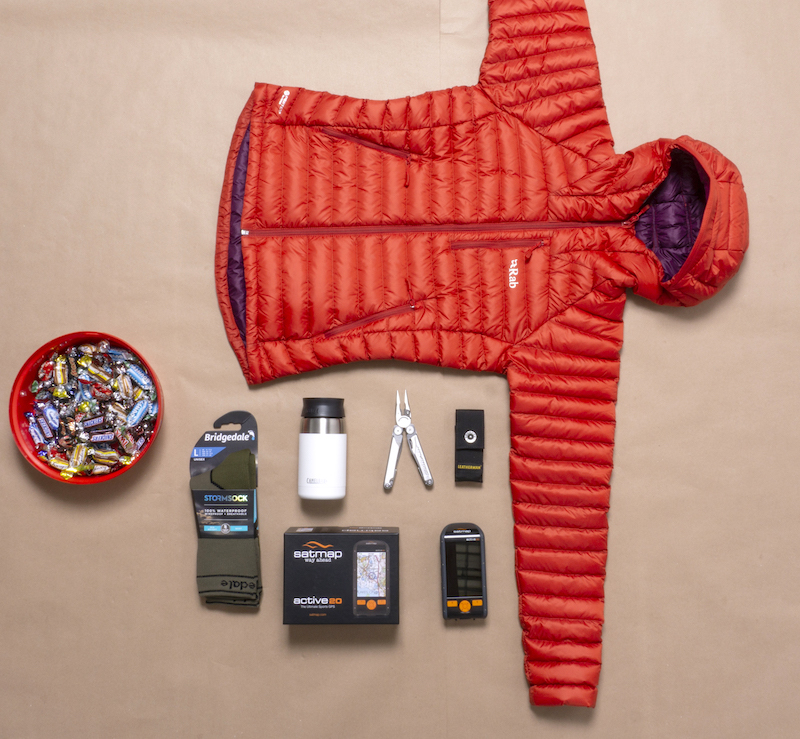 Bridgedale Stormsock midweight boot socks
www.bridgedale.com | £38
Earlier this year Bridgedale launched its first 100% waterproof sock range called Storm. These socks combine comfort and durability with a waterproof, breathable and windproof membrane to provide the perfect all-weather option for hiking, biking or running. A perfect stocking filler.
Camelbak Hot Cap bottle
www.gooutdoors.co.uk | £26.99
This awesome little piece of kit helps you give lukewarm the cold shoulder. It has a leak-proof cap that allows for drinking from any angle, without having to turn the mug. Beverages are kept warm for up to six hours and cold for up to 24. We're happy to report that it comes in a stunning range of colours too.
Rab Microlight Alpine
rab.equipment/uk | £190
Rab has been improving and refining the Microlight Alpine Jacket for 10 years now, and it's fair to say the brand is onto something. It's versatile, it's lightweight, but most importantly, it's warm. The ethically-sourced European goose down (with a fill power of 750) keeps you snug, while an included stuff sack ensures packability for longer expeditions.
The ultimate in adaptability, it's suitable for a whole host of adventurous activities, from climbing and mountaineering to high-altitude hiking. It's also water repellent, windproof, and features an adjustable hood with a laminated brim, plus three large, zipped pockets for all the essentials. It's available in a range of colours and is the sort of jacket that looks just as at home in the pub, as it does in the mountains. A no-brainer for the adventurer in your life.
Leatherman Wave Plus
www.leatherman.co.uk | £139.95
Every true outdoor enthusiast surely needs a multi-tool to complete their gear collection? Well, this is one worthy option. The Wave Plus has 18 tools that are easily opened and locked with one hand. These include wire cutters, pliers, a saw, knife, scissors, screwdriver and bit driver to name but a few. A quality piece of kit.
Satmap Active 20 GB Edition
www.satmap.com | £480
This new GPS system from Satmap offers a brighter, larger touchscreen, wireless connectivity, a huge 5,000mAh lipol battery capacity and does pretty much everything you could ask of a GPS device. It's built for life outdoors, with unrivalled waterproofing and shock-absorption. A must-have gadget for any outdoor enthusiast.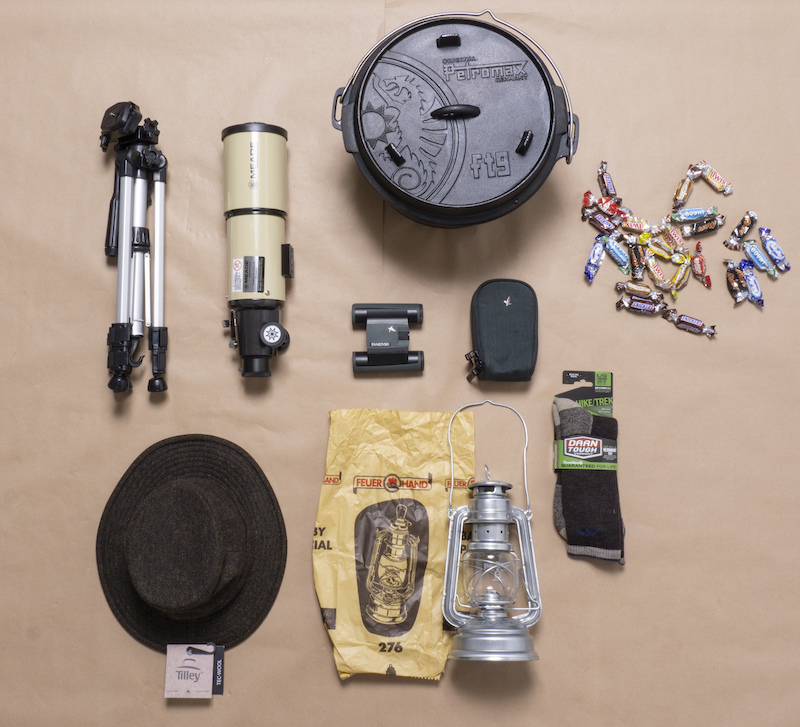 Meade Adventure Scope 80
www.currys.co.uk | £99.99
Astronomy geeks will love this adventure-proof telescope. It has an aperture of 80mm and a red dot finderscope to provide incredible views of the sky by night and wildlife by day. The whole thing, complete with tripod, packs down into a lightweight backpack for easy, on-the-go observations.
Swarovski Optik CL Pocket binoculars 8X25
www.swarovskioptik.com | £580
Pocket-sized, robust and offering crystal-clear viewing, these binoculars are the ultimate gift for wildlife seekers. They can easily be slipped into your pocket, attached to a belt, or hung around the neck with the included strap, meaning they're on hand whenever nature decides to put on a show.
Tilley TTW2 Tec-Wool hat
www.tilley.com | £80
There's something about a Tilley hat that commands respect – they're the mark of the discerning adventurer who values quality kit that looks as good as it performs. This best-selling winter hat is guaranteed for life, and features technology which adjusts according to temperature, plus a secret pocket for valuables.
Feuerhand Baby Special 276 lantern
www.feuerhand.de | €20.95
There are not many products that truly stand the test of time, but this hurricane lantern has now been produced in Germany for over 100 years, providing light to the dark for generations. Perfect for having around a on a camping trip, or simply a delightful addition to your outside space, the lantern sparks a nostalgia for times gone by and adventures past.
It's crafted to last, made from galvanised steel with heat and break-resistant glass, and is available in a range of classic colours (as well as individual embossing) to suit every taste. It runs on pure parrafin oil or kerosene and is well-equipped for the outdoors, providing natural light for up to 20 hours each time you fill it with fuel. Invest in this and the proud owner will leave a trail of envious campers in their wake.
Darn Tough boot socks
www.trekitt.co.uk  | £23
What's Christmas without socks? These cushioned boot socks are no ordinary stocking-stuffer. They feature a padded sole with a seamless construction to improve comfort, while the smooth performance fit reduces blistering. They're durable, guaranteed for life and bacteria resistant, making them a perfect gift.
Led Lenser Rechargeable MH8 headlamp
www.ledlenser.com | £79.95
Boasting up to 600 lumens, this rechargeable headtorch will suit all your hands-free lighting needs. The torch can be optimised for energy-saving or brightness, and the batteries are easily recharged. For longer, more remote adventures, conventional disposable batteries can be used.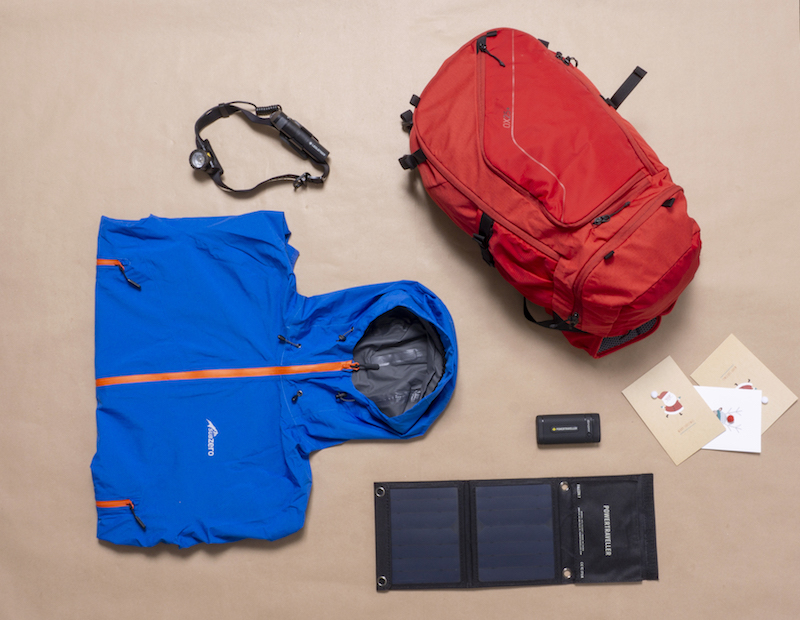 Sub Zero lightweight waterproof jacket
www.subzerostore.co.uk | £119.99
This incredibly lightweight jacket is the perfect accompaniment to any adventure thanks to its remarkably low weight and excellent packability. The unique 2.5-layer fabric provides relief from unfavourable weather and the ripstop polyester keeps cold breezes at bay, with waterproof sealed seams for extra protection.
The helmet-compatible hood comes with a reinforced peak and a fleece chin guard, making this jacket stand out from other packable waterproofs on the market, as well as elasticated cuffs and a contoured hem, which keeps wind and rain at bay. Reflective detailing helps to keep you visible in poor conditions while two generously sized handwarmer pockets provide ample storage. At this price, what's not to like?
Cube Backpack OX25+
www.cube.eu/uk | £114.99
Perfect for the cyclist in your life, this backpack offers a natural fit for comfort, plenty of compartments for easy organisation and a raincover for when the heavens open. It's compatible with hydration systems and is built for bikes, with an easily accessible tool compartment and built-in helmet storage on the front.
Powertraveller Sport 25  Solar Kit
www.powertraveller.com | £105
Keep in touch with your loved one by gifting this solar power pack, which lets you charge your device anywhere in the world. Lightweight, yet rugged, this charger is compatible with virtually any device and also features a waterproof power pack and an integrated 150 lumen torch.