Heading out on a multi-day expedition or camping adventure? One option is to pack some pasta, a jar of sauce and some sort of meat to go in it, but this can be heavy and take up a lot of space. The other option is to purchase some camping meals, either hydrated or dehydrated.
Typically, these will cost more than just getting a few things from a supermarket, but they (normally) taste better, pack down smaller and weigh less. The other aspect to it is that they will have been specifically designed with adventurers in mind, with the nutritional values tailored to those that are being active.
To help you work out whether or not pre-packaged hiking meals are for you, and to show you what's available, we've grabbed as many different brands as we can and have pit them against each other. The meals have been rated on a range of criteria including price, pack size, weight, nutritional offerings, ease of preparing, consistency and taste. Of course, the last point can be a matter of opinion, so we've not put too much weighting on that.
One thing to note is that, except for Trek'n Eat, Bla Band and to some extent Adventure Menu, most of these meals left me feeling hungry, so I would personally want to eat two of them to keep me going. Many of these meals are also available in a larger pouch, which I'd recommend, though this will cost you a little more.
BeWell Expedition Chicken Pesto Pasta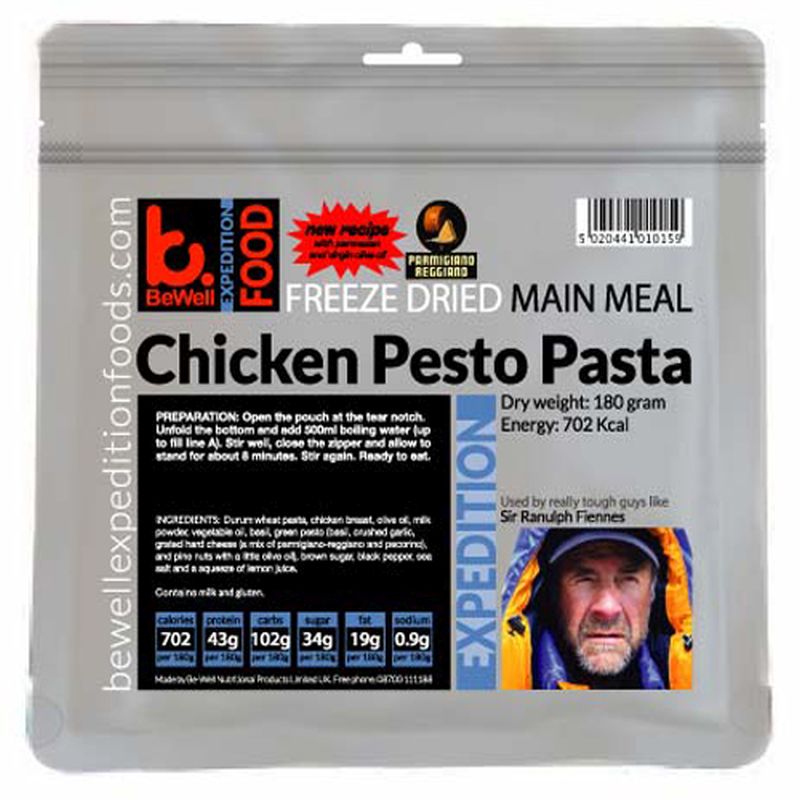 www.basecampfood.com | £5.99
The Chicken Pesto Pasta from BeWell Expedition drew my interest for two reasons. The first is that it's the cheapest of the camping meals on test, and the second is that it has a picture of Sir Ranulph Fiennes on the packaging, and if it's good enough for him, it's good enough for me. As a matter of fact, it was pretty tasty and several of us dug in at the same time. It provided 702 calories, 43g of protein and 102g of carbohydrates, so it's definitely going to keep you going for long days in the mountains. As it's dehydrated, it is lightweight and doesn't take up much space. The only negative going for it is that it had no fill lines, and after pouring in the designated amount of water it seemed to stay quite watery even after resting for a while. 9/10
Firepot Spicy Pork Noodles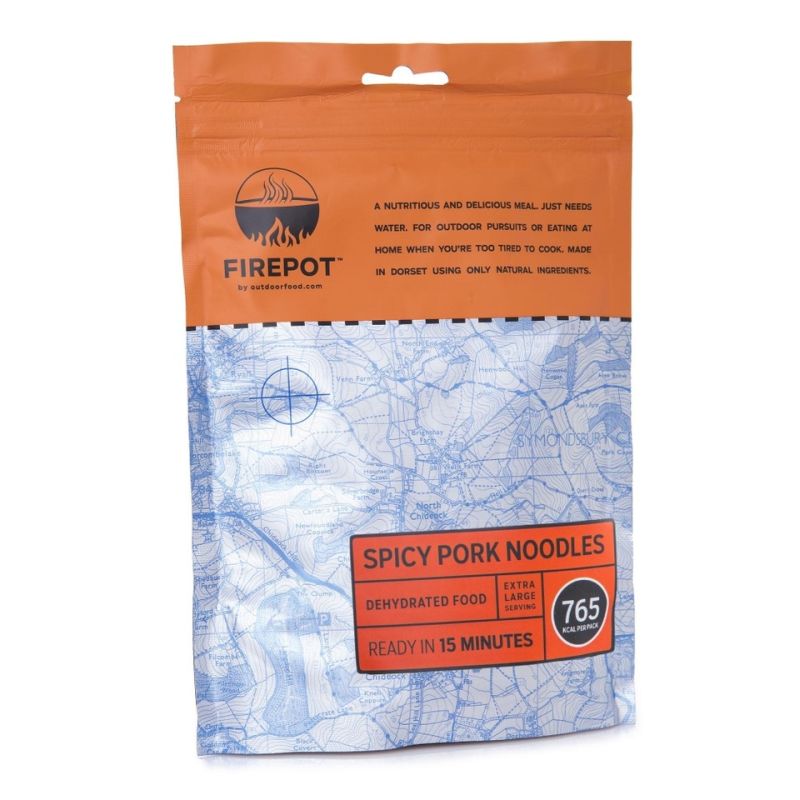 www.outdoorfood.com | £6.50
The Spicy Pork Noodles meal from Firepot is the second cheapest on test and it was also one of my favourites. Having tried a few meals from this brand, I'd give the range a big thumbs up in terms of taste. When preparing it, there is a fill line on the outside that helps you put the right amount of water in, though I still found the meal to be slightly watery after leaving it for the allotted time. The texture of the food was good and the only issue was that when it was finished, I wanted more (though a larger version is available for £8.50)! The Spicy Pork Noodles provided 510 calories, 24.3g of protein and 51.1g of carbohydrates, which is average when compared to the other camping meals on test. 9/10
Bla Band Pasta with Cheese and Broccoli Sauce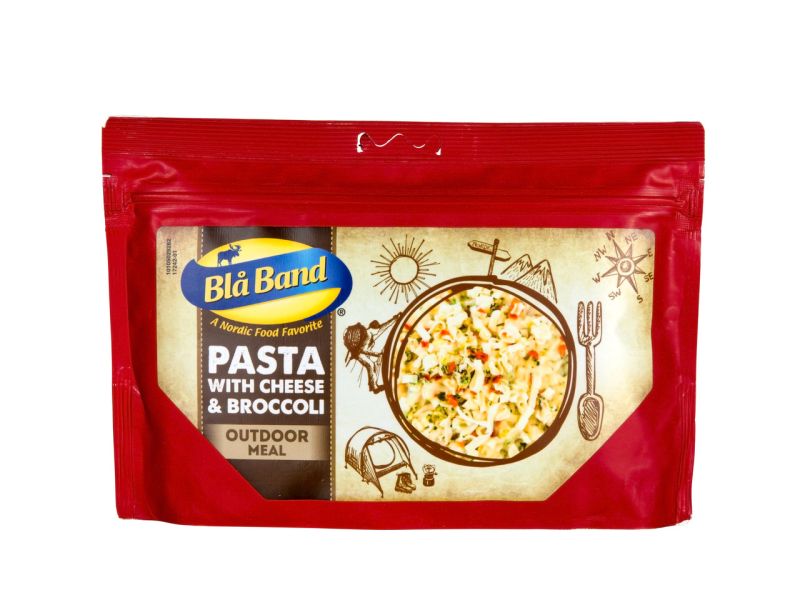 www.newheights.co.uk | £6.75
Bla Band has a huge range of outdoor camping meals including Pasta with Cheese and Broccolli Sauce, which we have tested here. It was easy to use the right amount of water thanks to measurements on the inside of the packet, and once prepared the meal looked and smelled really appetizing. It tasted great, too, and there was plenty of food going, meaning you won't be left feeling hungry afterwards. With 671 calories, 88g of carbohydrates and 20g of protein, it should provide plenty of energy to see you through on tough days and it's a meal that will certainly provide a feel-good factor on cold nights. There wasn't much bad I could say about this meal, and at £6.75, it's not too expensive either. 10/10
LYO Expedition Five Spice Chicken and Rice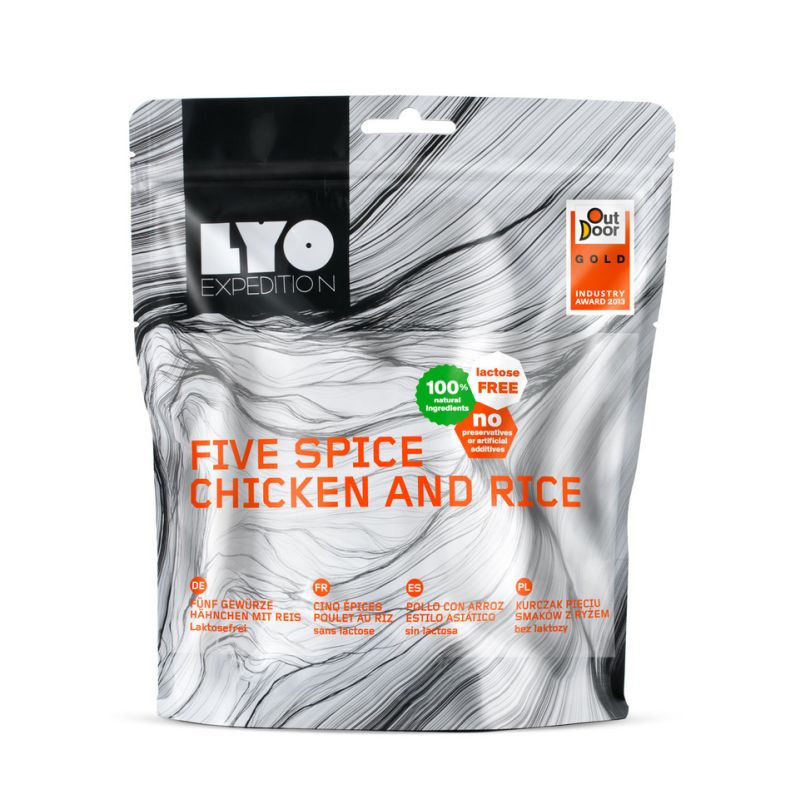 www.basecampfood.com | £6.99
Now we're talking. The Five Spice Chicken and Rice meal from LYO Expedition tasted really good. In fact, if you had put it in front of me without the packet, I wouldn't have automatically assumed it was a dehydrated meal at all. It was easy enough to get the right consistency without over filling the meal, with the correct measurement of water stated on the back of the packaging. Although it tasted great, one thing that goes against the Five Spice Chicken and Rice meal is the nutrition figures. It has only 316 calories, which is half of some of the others and the lowest amount of carbohydrates (47.89g), so it might not be ideal for people who are on a particularly challenging adventure and need huge amounts of energy. 8/10
Forestia Chicken Madras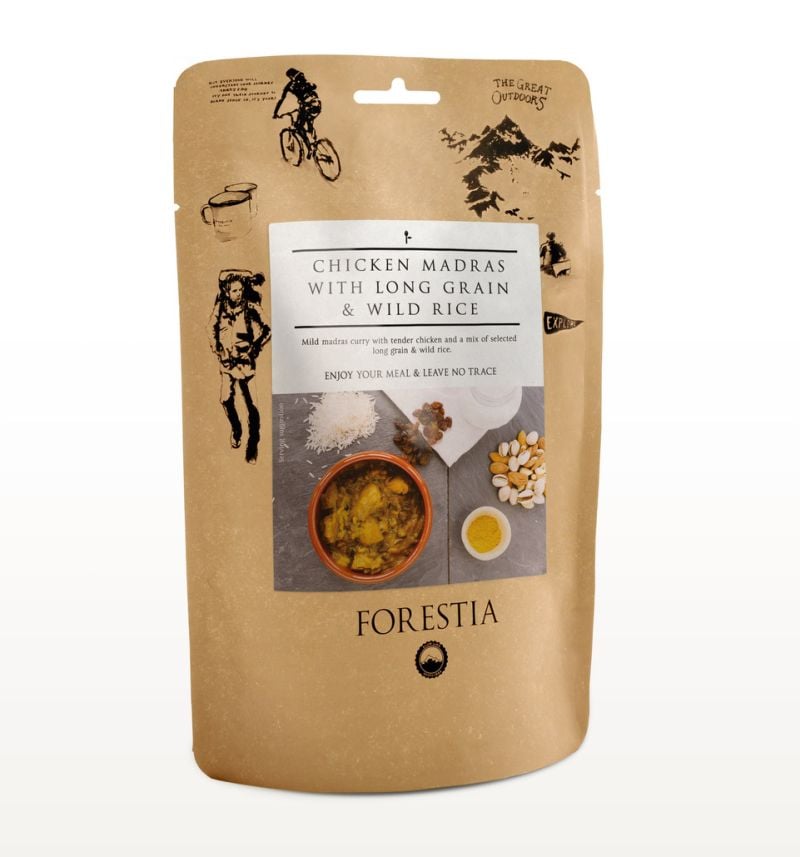 www.basecampfood.com | £6.99
When I first saw this meal, my taste buds were tingling. I'm used to seeing a korma or chicken tikka camping meal, but a chicken madras with long grain rice? Awesome. This is another meal that had to be boiled in its packet, so it isn't anywhere near as lightweight as the dehydrated options, but it tasted good, with just a slightly strange aftertaste. The meal provides 469 calories, 50.8g of carbohydrates and 28.7g of protein, which is not bad, but many of the other brands have a higher calorie count. Having said that, the range has some tasty-looking camping meals, and if any take your fancy, why not give them a go and see what works for you? 8/10
Trek'n Eat Balkan Risotto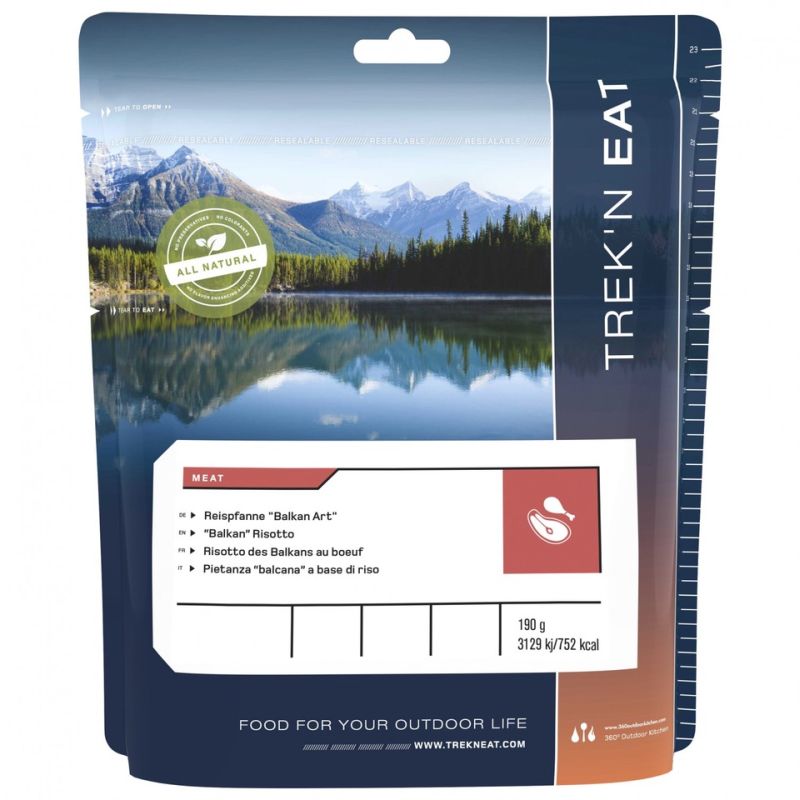 www.trekneat.com | £7
The Balkan Risotto from Trek'n Eat is probably the only meal in this test that would properly fill me up without me needing to snack on anything else. With that, it provides 798 calories, a staggering 104.5 carbohydrates and 30.4g of protein, so if you seriously need food that will keep you going strong, this is a brilliant option. Personally, I found one of the other camping meals a little tastier, but the Balkan Risotto wasn't bad – it just had a slightly, strange aftertaste. It was easy to prepare, with a measure on the outside ensuring you use the right amount of water, and the consistency was very good. As the meal is dehydrated, it doesn't weight much or take up much space, and is good value at £7. 9/10
Expedition Foods Chicken Tikka with Rice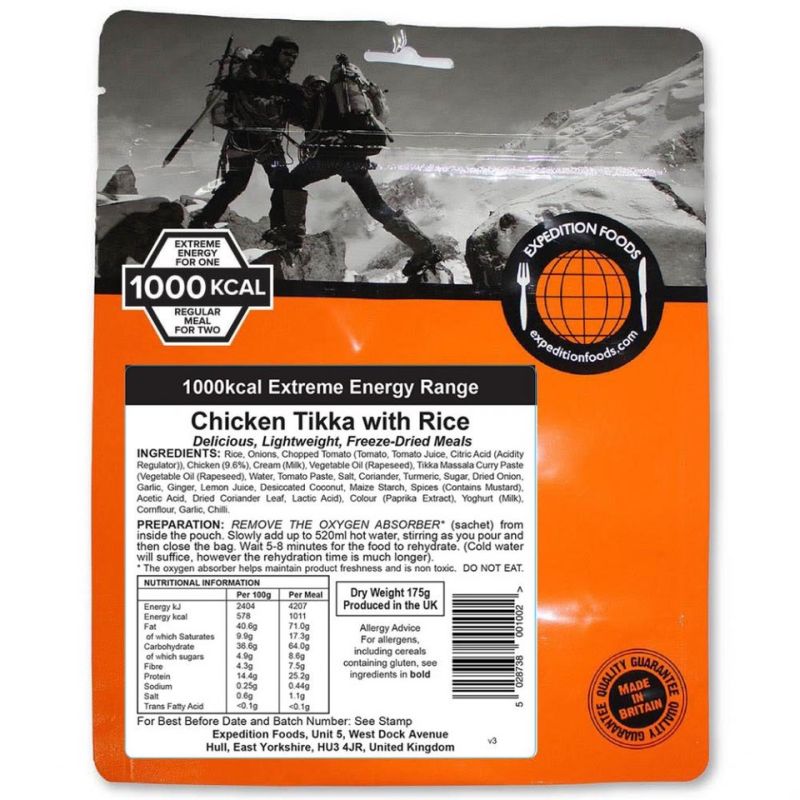 www.expeditionfoods.com | £7.99
This Chicken Tikka with Rice meal from Expedition Foods offers the highest amount of calories (809), so it's sure to offer a lot of energy, but how was it to eat? Well, after putting in the designated amount of water and leaving it to heat, the meal was pretty watery. Despite this, it tasted rather good. While it doesn't have anything on an Indian takeaway, it would be a welcome meal after a day of walking, though the chicken didn't have the greatest texture. While the calorie count is the highest on test, the amount of protein (20.2g) and carbohydrates (51g) on offer are very similar to a few of the other camping melas, which is worth bearing in mind. 8/10
Adventure Menu Venison Ragout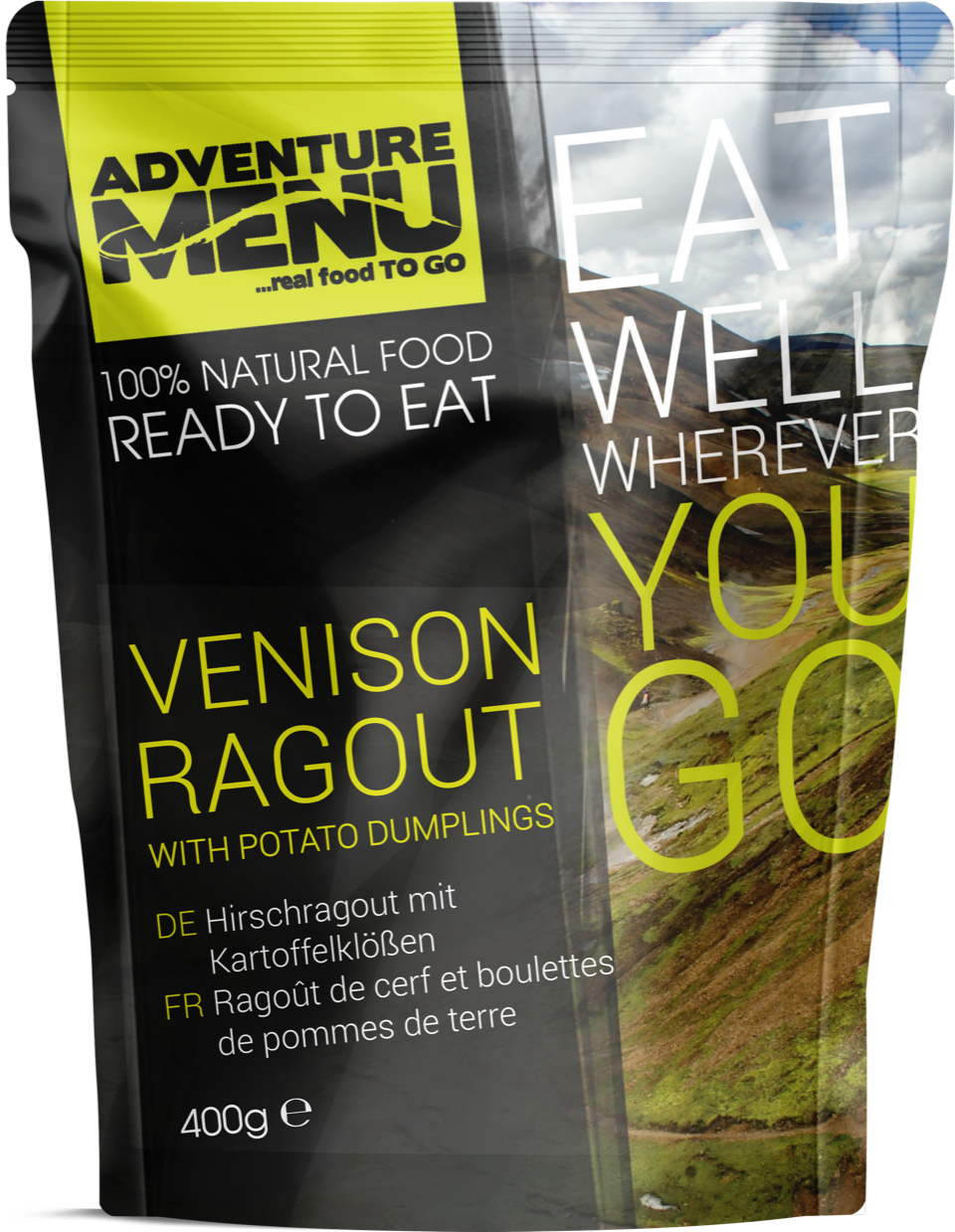 www.newheights.co.uk | £8.99
The Venison Ragout with Potato Dumplings from Adventure Menu is different to many of the other camping meals in this test as it is a hydrated meal. This means that you simply have to pop the meal in boiling water for 12 minutes or pour the meal into a pan and heat it up that way instead. In terms of taste, opinions in the office were split, with half of us enjoying it and half of us not enjoying it. The consistency of the venison and the dumplings were very good, and the nutritional values made for pretty good reading too, with 594.4 calories, 71.2g of carbohydrates and 35.2g of protein. It's a great option if you need a significant amount of refuelling, but it does weigh more than the dehydrated options. 8/10
Real Turmat  Pasta Bolognese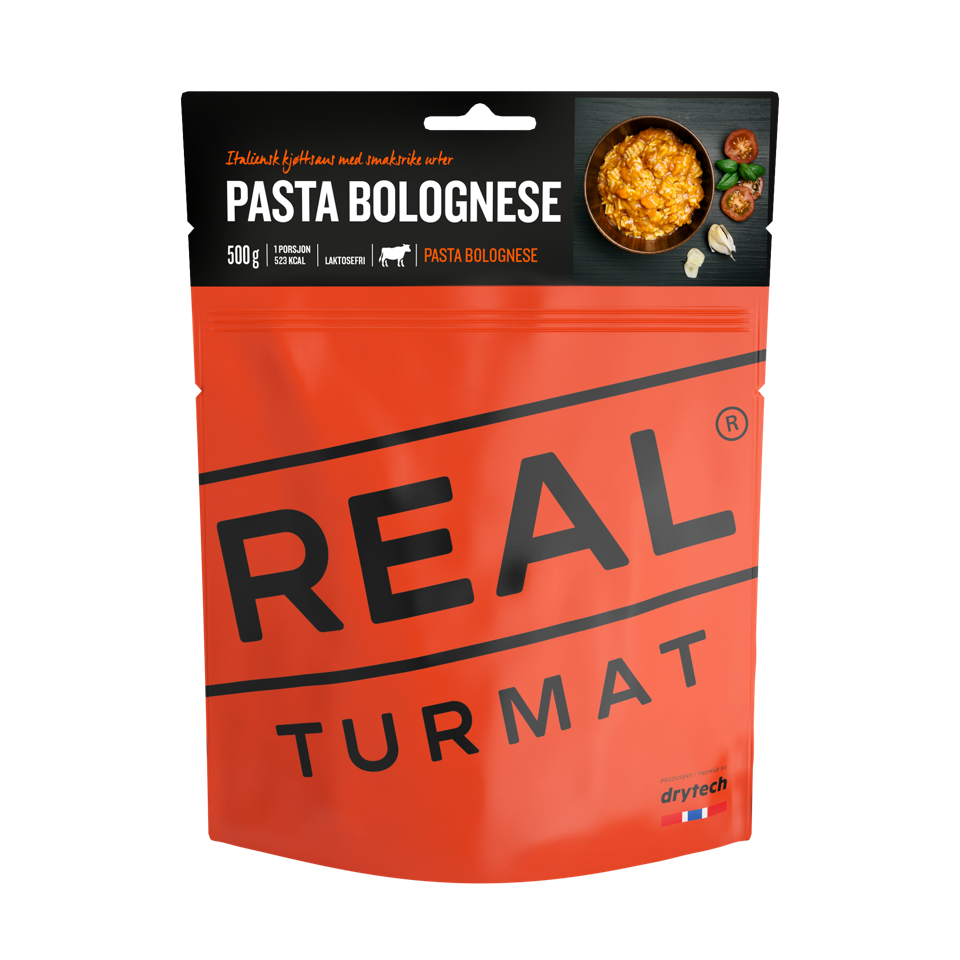 www.basecampfood.com | £9.99
At £9.99, the Real Turmat Pasta Bolognese is the most expensive meal in this test, and I'm not sure why it costs quite so much. It tastes good on the whole, but I did find it has a slight aftertaste that developed as the meal went on. One thing it does have going for it is that the consistency was very good, and it was simple enough to use the right amount of water. In terms of nutrition, it provides 525 calories, which is pretty on par with a lot of the others, a hefty 65g of carbohydrates and a not-so-good 15g of protein. The latter means that it may not be as effective at aiding your sore muscles as some others on test. It's not a bad option, but I just feel a couple of the other camping meals taste better and offer more for less money. 7/10
If you are heading out on an adventure, you might also need a gas camping stove to help prepare your camping meals. Check out the 12 best camping stoves on the market…