There's something refreshing about counting calories when the criteria is the more the better – it reminds me about the important things in life. On test here are expedition meals: ready-made food for when you've been out in the fresh air, hiking or adventuring all day, doing the same again tomorrow, and really need filling up.
Cooking these expedition meals only requires hot water that you can easily boil from a camping stove, and they're eaten from the bag, so you don't need to waste rucksack space space on ingredients or plates.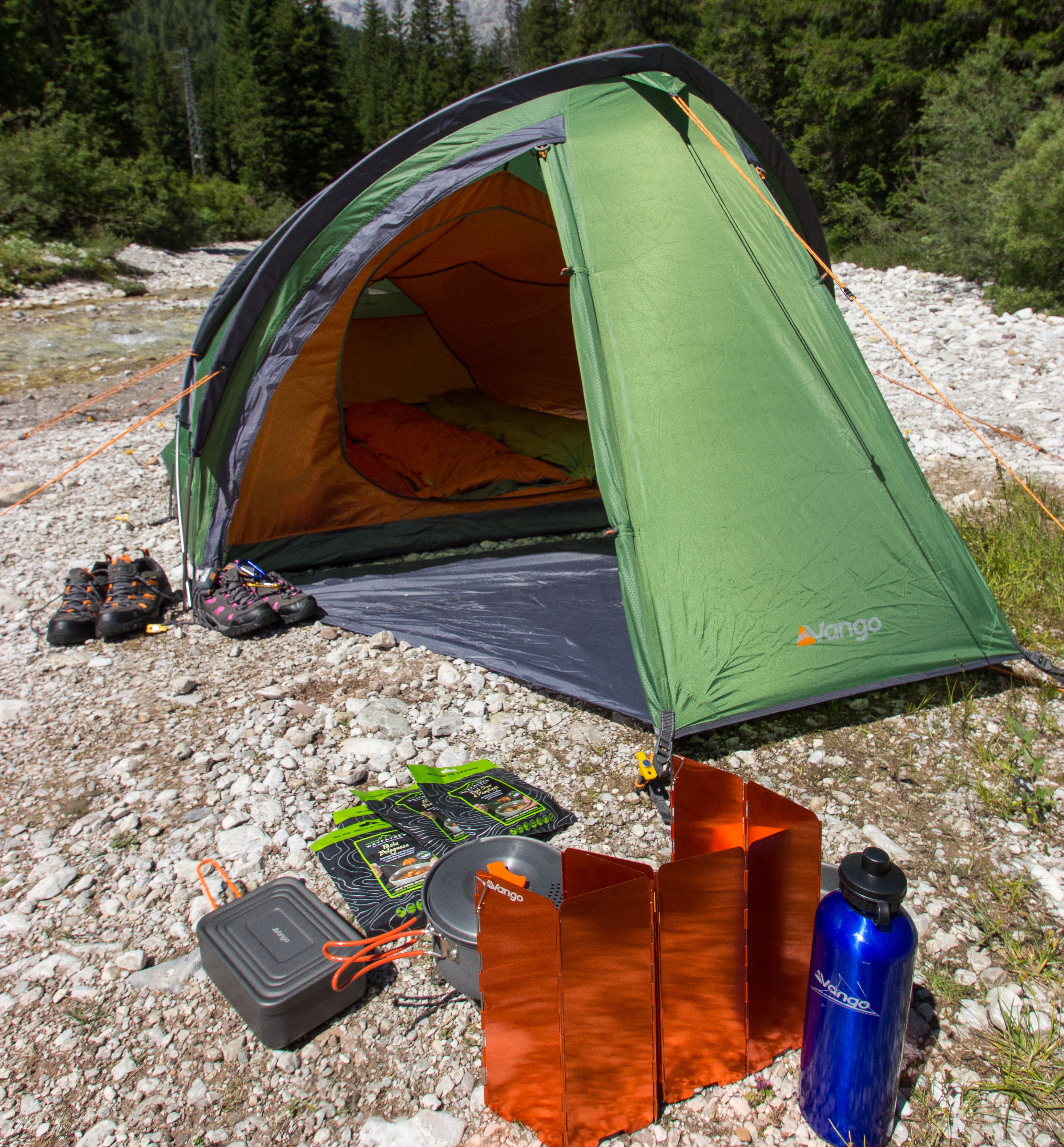 Expedition meals are split into two types, wet or dry. Wet food is real food in a pouch that gets heated up in hot water. Disadvantages of this are that the meals are heavier, and use more fuel, than the dry alternatives.
Freeze-dried food is lighter, and you just add boiling water and leave them for a few minutes before they're ready to eat. That may not sound appetising, but the freeze-dried meals we've had on test here have been pretty tasty, all the more so after a big day on the hill.
As well as being lightweight, tasty and high in energy, the meals should be as user-friendly as possible – the chances are you'll be eating them in a cramped tent with no replacement if you drop the lot. We like packets that are stable if you put them down, and that are easy to eat from. Bon appetite.
Wayfayrer Chilli Con Carne and Rice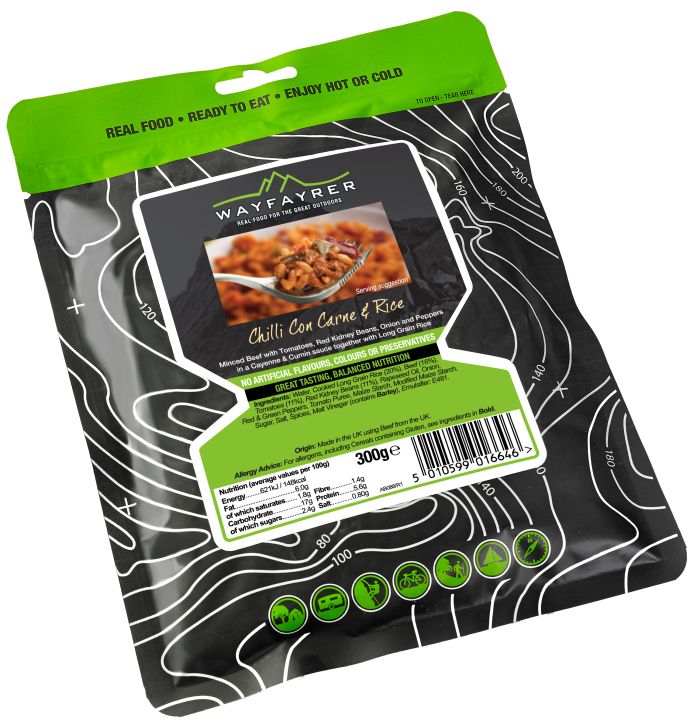 www.vango.co.uk | £4
Wayfayrer meals are the first that I think of when it comes to ready-made camping food, probably because it's a UK brand (part of the same company as Vango), and because of the friendly prices, making the meals more accessible to younger people, such as D of E groups and Scouts.
This is 'wet' food, so meals are heavier than the freeze-dried options –you probably won't want to pack lots of them for a long trip, but for a shorter expedition or campsite camping they will do the job. Shelf life is three years. The chilli con carne and rice contains a solid 435kcal – you heat it for seven or eight minutes before eating.
There are a variety of main meals (although only one veggie option), puddings and breakkies, including the classic all-day breakfast. Not gourmet but certainly tasty enough, they're great entry-level option.
Bla Band Wilderness Stew with Rice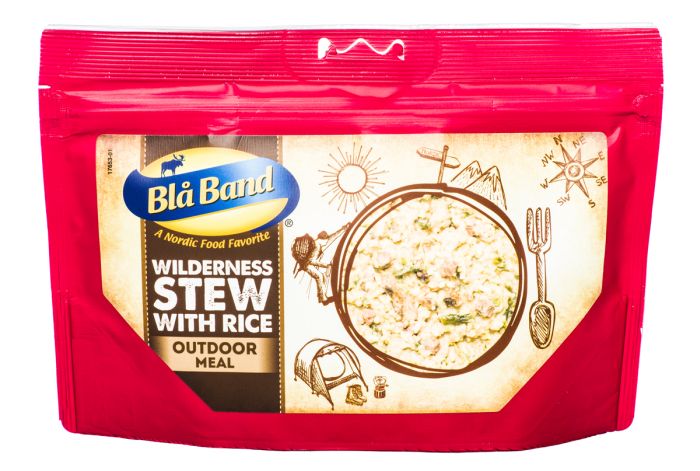 www.newheights.co.uk | £5.99
I'd never heard of Swedish company Bla Band, but on a bothying trip to the Scottish Highlands it won top marks. Freeze-dried meals where you just add hot water, the standout feature was the design of the packets.
Whereas other similar meals come in a tall, deep pouch that either requires a long spoon or sticking your hand in to reach the bottom, the Bla Band packets are wide and shallow, so eating from them is really easy. The 'fill to' lines are on the inside so it's easy to add the right amount of water, and the resealable pouches were the sturdiest on test when you put them down to let the water sink in.
The packets weigh about 144g and offer 650kcal of energy. The Wilderness Stew with Rice was seriously tasty. The small range includes vegetarian, gluten-free and lactose-free options, as well as breakfasts. In an emergency you can add cold water to the food – just leave it for longer. And they're a good price too.
Forestia Basil Pesto Pasta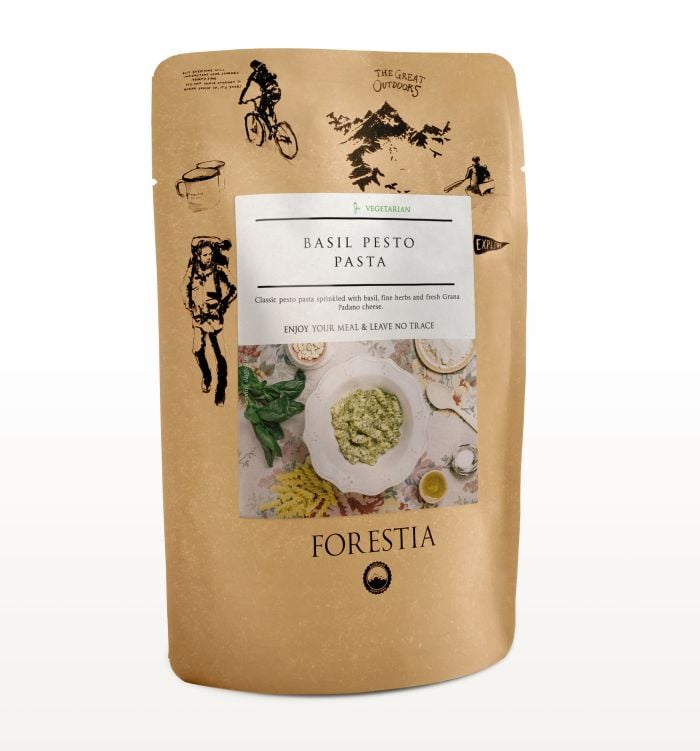 Forestia meals contain real food in a pouch that that needs heating up by placing the packet in hot water for seven or eight minutes. This means they aren't ideal for lightweight multi-day hikes as they're heavier than their freeze-dried counterparts – each pack weighs 350g – and cooking them uses more fuel than simply adding boiling water. But for a shorter trip, or for campsite camping where you don't want too much faff, they could be good.
The basil pesto pasta offers lots of energy for hungry hikers (623kcal), but it isn't representative of the whole range – if you're after lots of calories, check each meal individually before you choose.
I like that Forestia meals include lots of options for vegetarians and vegans, and they're also free from various artificial colourings and flavourings. But unfortunately the basil pesto pasta failed the most important test – not one out of six hungry hikers on a bothy trip liked it! This sounds like an anomaly, as lots of people (including AT's gear editor Bryn) have enjoyed Forestia meals but still, try them before you depend on them out on the hill.
Trek 'n Eat Chicken Tikka Masala – £6.50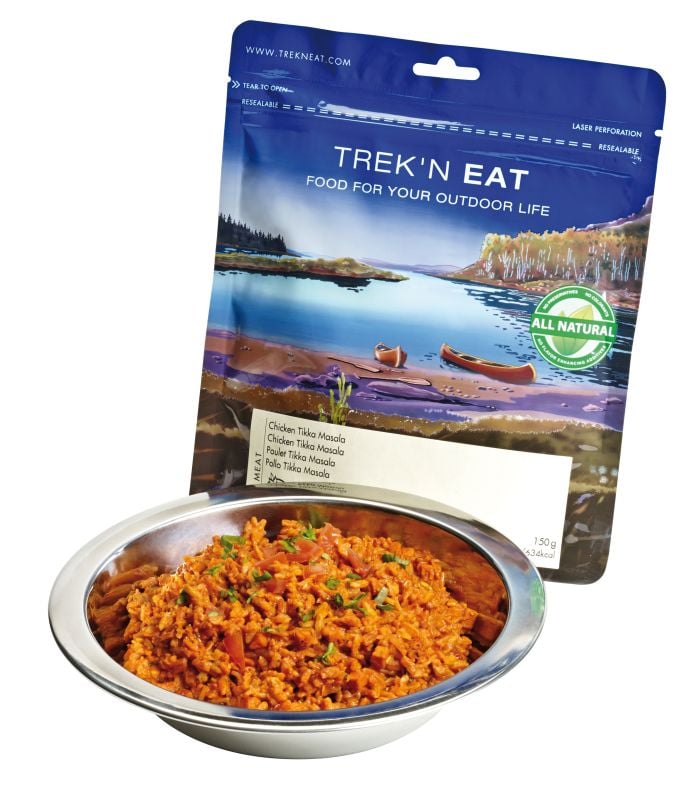 www.trekneat.com | £6.50
Trek 'n Eat says its freeze-dried meals are 'all natural,' containing no preservatives, no colourants and no flavour enhancing additives. Given the nature of the dining that made me a little suspicious, but our chicken tikka masala still tasted good, if a touch salty.
The meals come in lightweight packs, weighing about 150g each, with meals offering over 600kcal (634kcal for the chicken tikka). There are lots of options in the range, including a good selection of veggie, gluten-free and lactose-free meals.
The pouches are resealable, but not hugely stable when you leave them for the water to settle, and the 'fill to' line is on the outside, which makes it hard to work out how much water to add. But a good option for light, high-energy meals, made by people who seem to have a genuine passion for food.
Expedition Foods Chilli Con Carne with Rice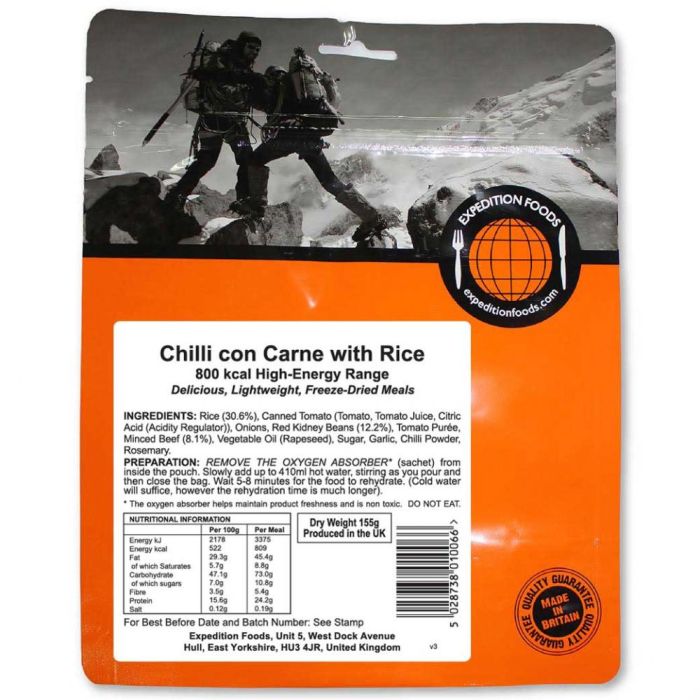 www.expeditionfoods.com | £6.99
Chilli con carne with rice is part of Expedition Foods' high energy serving range, offering a whopping 809kcal – great if you're adventuring hard and need lots of fuel. At 185g per pack they are slightly heavier than the other freeze-dried meals in this test, but they make up for it with the extra calories.
I carried meals in this range while hiking the Cumbria Way and they were lightweight, easy to cook (add hot water and leave for five to eight minutes) and tasted good. The resealable pouch is user friendly: the 'fill to' line is on the inside, making it easy to find, and it stands up fairly securely. The outside of the packet gets exceedingly hot – but you'll probably have a pair of gloves with you…
The range includes breakfasts, and vegetarian and gluten free options. If you're really stuck they'll work with cold water too, you just have to leave it for longer. And if you know you'll need still more calories, check out the company's extreme energy range, with meals giving 1,000kcal (£7.99 each).
Real Turmat Chicken Tikka Masala – £9.25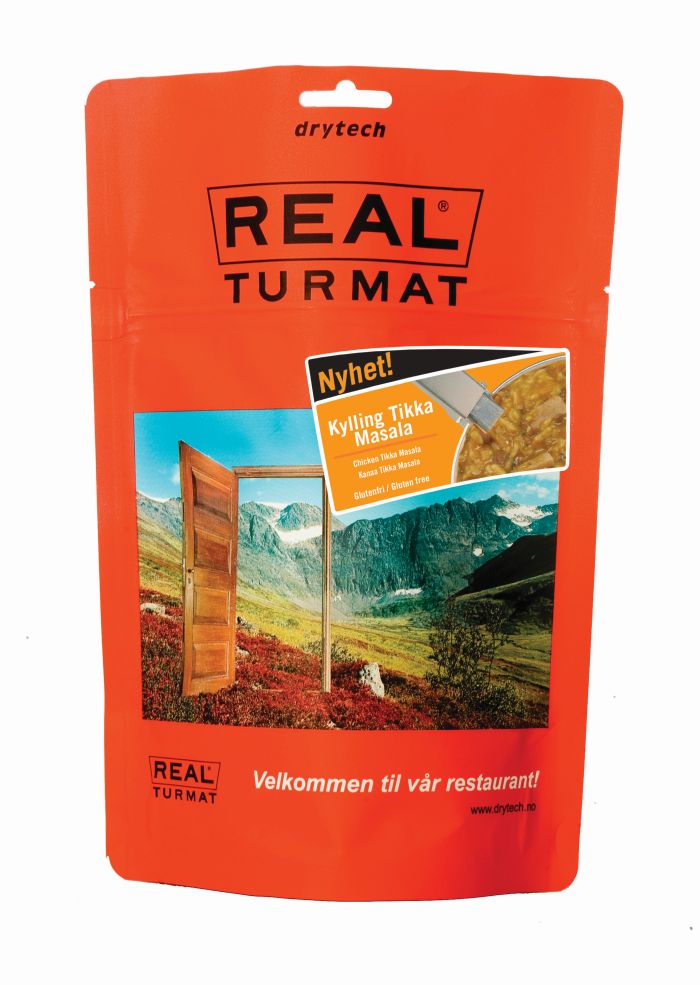 www.drytech.no | £9.25
Real Turmat meals are light and small pouches of freeze-dried food: we tested chicken tikka masala, which weighs 151g per pack, and couscous with lentils and spinach (131g). As these expedition meals are also vacuum packed, packet size from the Norwegian brand was the smallest on test too – great if you're really low on space.
The meals are fairly user friendly: the resealable packs are reasonably stable when leaving the water to soak in, but it's a shame that the 'fill to' line is on the outside of the pack – this makes it tricky to add the right amount of water. They come in a range of flavours (not many vegetarian but loads of great options for meat lovers) and there are breakfasts too. Shelf life is five years.
At 579kcal for the chicken tikka and 508kcal for the couscous they're not quite as calorific as similar products, but not far off. Both dishes tasted absolutely delicious, but they're getting pretty pricey.