Lugging a big rucksack on a trek is very hot work, even in cold temperatures, and most people will overheat wearing anything heavier than a lightweight fleece. However, there comes a point when cool conditions and wind chill make life a little too uncomfortable and extra insulation and wind protection is needed, while an insulated jacket would be too much. Enter these windproof jackets. 
Lightweight and packable in nature, the main purpose of windproof jackets is to help keep the chill of the wind off you while also preventing you from overheating when working hard on the trail. Waterproof shells, no matter how breathable they claim to be, will be too warm and stuffy in all but the coldest environments, whereas windproof jackets allow for more breathability. They're also great for throwing on when you stop for a sarnie to help prevent you from cooling down too much.
The first five windproof jackers we have reviewed here are men's windproof jackers while the final five are aimed at women, with a variety of price points to suit every budget.
Men's Windproof Jackets
Sprayway Duin Jacket
www.sprayway.com | £70
Sprayway is an iconic British hillwalking brand whose kit is typically designed with UK terrain and weather conditions in mind. To that end, Sprayway's gear is manufactured with a specific purpose, which is clear throughout the company's range. On test here is the Duin Jacket, an extremely lightweight (174g in size medium) windbreaker that feels and looks very similar to the offerings from Vaude and Black Diamond.
One area that did let it down was fit. I know this is a subjective thing, but I found the sleeves to be particularly short, riding up whenever I was at full stretch. In a similar vein, the garment felt restrictive across the shoulders and chest on occasion, hindering range of movement and comfort.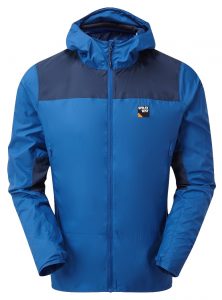 Aside from this, it performs very well. The fabric itself effectively repels wind, while the DWR coating does a great job of shedding light rain. There's a strong feature set, too. You'll find elastic on the hem and cuffs, a stuff sack, two mesh-lined, zipped hand-warmer pockets (great for ventilation) and glove-friendly zip pulls. The hood is also very good, with a wired peak and adjustments on the collar (though these are inside, making them hard to reach with the zip fully done up). At just £70, this is a strong offering from Sprayway.
In a line: If you have no issues with fit, you'll get a lot of bang for your buck.
Weight and Pack Size: 8
Wind Protection: 9
Features: 8
Value: 8
Overall Score: 8.25
Rab Borealis Jacket
rab/equipment/uk | £75
Despite being some way off the most expensive options here, the Rab Borealis Jacket has to be one of my favourite windproof jackets. It is well built and has a fantastic feature set to boot. These include elasticated cuffs, two toggle adjustments on the hem and two zipped, mesh-lined chest pockets. I found the ventilation these offered to be of great use, especially as I'm someone who can easily turn into a hot, sweaty mess on arduous ascents. As you would expect from Rab, the finishing is good too, with big zip pulls that can easily be grabbed with gloved-up hands.
The fabric of the Borealis Jacket has a DWR coating and a UPF factor of 50+, meaning both light rain and potentially harmful sunshine can be kept at bay. But how did it cope with wind? It wasn't quite as windproof as the Black Diamond, Fjallraven or Sprayway garments, but it still kept the worst of the chill out. Plus, it's one of the most breathable options in this test.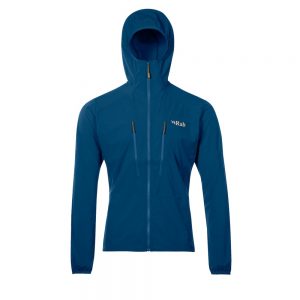 The jacket is slim fitting, but it has a two-way stretch that allows for unhindered movement. Speaking of fit, I found the cut of the jacket was plenty long enough to offer good coverage, while the sleeves were a good length, so my wrists weren't exposed. It is one of the heavier (289g in size medium) and least packable men's entries on test, but it only takes up as much space as a mango and, at £75, it represents fantastic value.
In a line: Great value, a fantastic feature set and impressive breathability.
Weight and Pack Size: 7
Wind Protection: 8
Features: 9
Value: 9
Overall Score: 8.25
Black Diamond Distance Wind Shell
www.blackdiamondequipment.com | £115
The Black Diamond Distance Wind Shell sees the budget creeping up, but is it worth the extra cash when compared with some of the other windproof jackets on the market? Well, the fit is as I would hope, with long sleeves that don't ride up when stretching and the cut of the torso offers a good amount of coverage. I was also able to fit in a thin mid layer underneath without feeling too restricted.
Feature-wise, there is a hem toggle to cinch the jacket in at the waist, elasticated cuffs (though they are a little loose) and a small zip pocket, which offers very limited storage space. The hood fits well thanks to the volume adjuster at the back, allowing an unhindered field of vision, but its cut does leave your face quite exposed.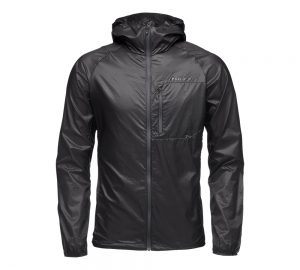 Despite the thin feel of its material, the Distance Wind Shell does a very good job of keeping the wind out, while a DWR coating sheds light rain showers. This garment is extremely lightweight (100g in a medium) and packs down to around the size of a tennis ball, so it really would go unnoticed in your pack. As the fabric is thin, it does feel like it would be easy to scuff or tear, but this is the sacrifice you have to make for something so light.
In a line: If you want a truly lightweight wind shell, this isn't a bad choice.
Weight and Pack Size: 10
Wind Protection: 9
Features: 8
Value: 8
Overall Score: 8.75
Haglöfs L.I.M. Proof Multi Jacket
www.haglofs.com | £160
At £160, the Haglöfs L.I.M Proof Multi Jacket is the second most expensive jacket of the men's windproof jackets in this test. For your money, you get a well-specced, lightweight and packable windproof jacket that's got an unrestrictive fit. The jacket has also been produced with sustainability in mind, providing a fluorocarbon-free DWR to help shed the wet stuff.
At this point, it is worth me noting that this jacket also has a waterproof membrane in it and taped seams, which puts it at odds with the others in this test. With the context of this windproof group test in mind, I won't be basing any of the L.I.M Proof Multi Jacket's ratings on this.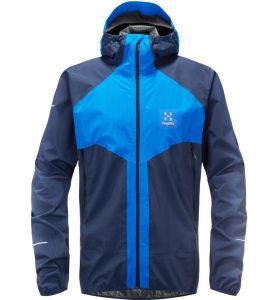 So, what do you get for your money? The L.I.M Proof packs down exceptionally small, though at 290g, it's towards the heavier end of our scales (but we're only talking a few grams here). It has a large zippable chest pocket and the hood is elasticated to help it fit tight around your head. The hem and the cuffs, too, are elasticated, offering a nice, close fit when worn normally, with enough give to allow you to roll the arms up when the going gets warm.
The DWR sheds water effectively, and the windproof nature of the fabric will keep biting gusts at bay. I would have preferred some handwarmer pockets, and while the hood is elasticated, I would have still preferred volume adjusters as it was too big for my head.
In a line: Well made, offers a great fit and packs small.
Weight and Pack Size: 7
Wind Protection: 10
Features: 7
Value: 8
Overall Score: 8
Fjällräven
High Coast Wind Jacket
www.fjallraven.co.uk | £175
Fjällräven gear always commands a hefty price tag, and that's no different here. The High Coast Wind Jacket comes in at an eye-watering £175, which is more than double some of the other (very capable) windproof jackets here. Aside from price, fit is one of the main aspects that makes this jacket stand out from the others. It has a boxy cut, allowing more room underneath for layers if you want them. If not, you may find the fit a little loose.
There's a great range of features on the High Coast Wind Jacket, including two hem adjustments, a chest pocket and two zipped hand-warmer pockets. The latter are lined with mesh, aiding ventilation. This is then enhanced further with the inclusion of a two-way zip – a nice touch.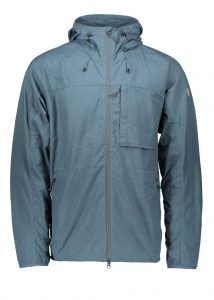 The hood offers good coverage, but the lack of volume adjuster meant that my view was obstructed when looking around. Meanwhile, handy zip pulls help with usability despite the presence of gloves or cold hands.
Another thing worth noting is that the fabric feels more durable compared to some of the lighter materials used by its competitors, while the wind resistance was also impressive. The jacket has also been impregnated with wax, so it'll keep off light rain. Due to the strong feature set and heavier fabric, this garment is the heaviest (356g in size medium) and least packable men's entry into this test, taking up roughly the space of a butternut squash.
In a line: Expensive and not very packable, but high-quality finish and performance.
Weight and Pack Size: 6
Wind Protection: 9
Features: 8
Value: 7
Overall Score: 8
Women's Windproof Jackets
Alpkit Arro Windshell Jacket
www.alpkit.com | £39.99
At just under £40, the Arro Windshell Jacket from Alpkit is significantly cheaper than the other windproof jackets we have on test here, so I was interested to see what had been sacrificed in order to keep costs down. As with other Alpkit gear I've tested, I found the jacket ran a little small, so I'd probably order up a size, especially if you're planning to get a few layers underneath or need a good range of movement.
The Arro Windshell is also noticeably lightweight; at just 102g in a size eight it was the lightest windproof jacket we had on test and packed down nicely into its pocket.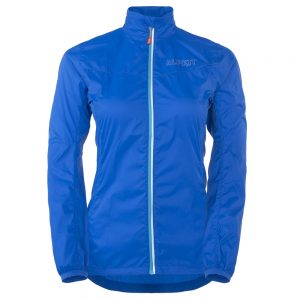 Of course, the low cost and low weight both come at a price. Unlike the other windproof jackets, the Arro Windshell was lacking a hood, so offers no protection for your face and ears when the wind really does begin to howl. Having said this, there are elasticated cuffs, a storm flap on the zip (which also has reflective detailing) and a drawstring at the hem to keep draughts at bay. There's only one pocket, which is located, strangely, on the back, meaning it's awkward to get at when you're all trussed up in the cold, and the zip pull is fiddly, rendering the pocket pretty much inaccessible if you're wearing gloves.
In terms of actually keeping the wind out, I found it did so to an extent, but didn't offer quite the level of protection that some of the other jackets we had on test did. While there is a DWR coating, the fabric began to wet out pretty quickly, so I wouldn't recommend this jacket for days when wet weather is a possibility.
Overall, I'd say this is a good option for those on a budget or those looking for a low-weight option with excellent packability to throw on in emergencies. That said, in more extreme environments, you may find it lacking in the protection it offers and its durability.
In a line: A low-cost highly packable option that's lacking features and solid protection
Weight and Pack Size: 10
Wind Protection: 6
Features: 6
Value: 7
Overall Score: 7.25
Adidas Terrex Agravic Windweave Jacket
www.adidas.co.uk | £109.95
I'm always interested to see what Adidas Terrex has to offer and whether it will stand up to the other long-standing big-name brands we usually have here on test. I was struck again by the similarities between this jacket and both the Alpkit and Helly Hansen windproof jackets, they all appear to have made sacrifices in terms of features to maintain a low weight and/or cost. However, this jacket is constructed using ripstop fabric with body mapping heat and sweat zones – meaning it offers protection from the wind while still allowing body heat and moisture to escape. When put to the test out on the trails, it held up against some gale force winds, while the DWR coating was enough to repel a light shower.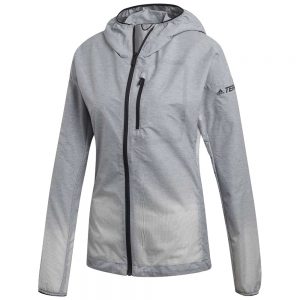 The fit was spot on for me, just large enough to get a couple of layers underneath but still a snug fit when used independently. The designers have elongated the sleeves to prevent the material riding up when reaching or scrambling, while the fabric has a little stretch in it too.
At 120g in a size small, it's not going to put much strain on your pack, especially when you make use of the tiny stuff-sack pocket. Just like the previous two jackets, this is also the only pocket you'll find, and is located on the chest, with a sturdy zip toggle that isn't an issue for gloved hands. I was impressed with the hood on this jacket, which features a tightly elasticated rim and a volume adjuster. This means you can get a really snug fit around the face to keep the cold air out and prevent the hood from blowing down every time you turn around. You'll also find elasticated cuffs and a drawstring on the hem to the same effect. Due to the snazzy body heat technology incorporated into this jacket, it would make a great option for winter trail running on dry, crisp days, or as an emergency windproof layer for blustery hikes in the hills.
In a line: One of the most versatile and highly windproof jackets with a well-though out design.
Weight and Pack Size: 9
Wind Protection: 9
Features: 8
Value: 7
Overall Score: 8.25
Regatta Desoto IV Wind Resistant Jacket
www.regatta.com | £110
The Desoto IV jacket from much-loved British brand Regatta immediately stood out from the other windproof jackets as more of a do-it-all softshell with a wind-resistant outer, rather than a windproof shell that you can layer over your other kit. At 575g (size eight) it's the heaviest jacket we had on test and certainly the largest too, with no stuff-sack to reduce the size of it in your pack. In turn, the jacket is jam-packed with features that account for the high weight, with a cosy fleece-lined membrane which replaces the need for a mid-layer.
A high collar and detachable hood with three volume adjusters ensures you can get a snug fit around your face when the wind really does begin to whistle, while two mesh-lined hand warmer pockets provide ample room to stash valuable belongings. Both these and the main zip have easy-to-grab toggles, helpful for numb fingers or gloved hands. You'll also find two interior stuff pockets to stash your gloves or hat, and adjustable cuffs and hem to really seal out the wind. I thought the reflective detailing was a nice touch too.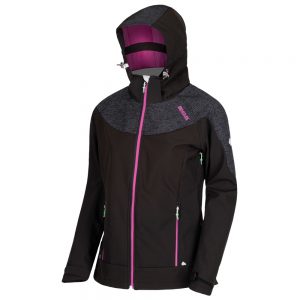 I found the wind proofing on this jacket more than adequate when hiking, with the addition of the fleece-lining creating an extra cosy feel. Any activities which require a little more high-energy such as trail running or climbing might leave you a little hot and bothered, although you will find the ventilation zips on the underarms useful in such instances. Unfortunately, the DWR coating did not hold up against the rain which was a shame. It's worth noting that we've seen this jacket online for £43.95, which is less than half the RRP and pretty good value for a versatile jacket with this many features. For less extreme sports and environments, it would make a snug wind-proof layer, especially on casual winter coastal hikes or windy but dry days.
In a line: A cosy choice for casual hiking on dry, crisp and windy days.
Weight and Pack Size: 5
Wind Protection: 8
Features: 9
Value: 7
Overall Score: 7.25
Mountain Hardwear Kor Preshell Hoody
www.blacks.co.uk | £115
Just like the majority of other windproof jackets we had on test, I found Mountain Hardwear's Kor Preshell to be incredibly lightweight, at just 104g in a size XS, and packing down into its interior pocket to a size comparable a jacket potato. Despite the lightweight feel, the fabric felt durable and had enough stretch to allow a good range of movement, with longer sleeves which stopped the arms from riding up when reaching or scrambling.
Once again, features have been sacrificed here to ensure a low weight, with just two zipped handwarmer pockets and one interior stuff pocket. While the main zip has a longer toggle to help you grab a hold of it when wearing gloves, the pockets did not, making them fiddly to use in cold environments.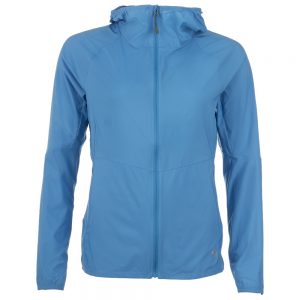 There's a storm flap on the main zip and the hood, cuffs and hem are all elasticated, although there are no drawcord adjustors, so the chill can easily creep in through these gaps. I found the fit to be about right, with just enough room for a couple of layers underneath, and when pitted against the elements, this jacket fared very well. The wind proofing was excellent and the DWR coating shed water with ease, which was great to see. As Mountain Hardwear is an American brand, the price varies quite a bit depending on which retailer you choose, but we have seen this jacket online for around £80 which puts it more in line with the spec of the jacket pricewise.
If you are able to find it for a lower price, this jacket offers a good value option with excellent wind and water resistance, perfect for keeping in your pack and throwing on when you need it most. The stretchy, lightweight fabric also means it would work for a range of activities, from trail running to cycling.
In a line: Solid weather protection in a lightweight package that's versatile for a range of activities.
Weight and Pack Size: 9
Wind Protection: 9
Features: 7
Value: 7
Overall Score: 8
Berghaus Taboche Windproof Softshell Jacket
www.berghaus.com | £190
As the most expensive of the windproof jackets we tested here, I was expecting big things from dependable British brand Berghaus. The Taboche Windproof softshell certainly feels like a quality piece of kit, sporting a windproof and water repellent Gore-Tex Infinium fabric along with a water-repellent finish to really keep the elements at bay. I definitely felt protected from the wind and rain in this jacket, more so than in some of the others on test which were unable to hold their own against the odd shower.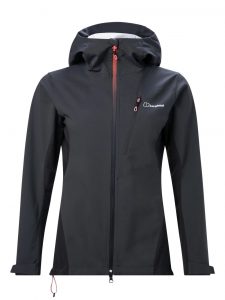 The cuffs are adjusted by Velcro, meaning you can get a snug fit when wearing gloves or not, and the hem has a drawstring adjuster to keep any cold air from getting in at the bottom. There's also a high, fleece-lined collar and a volume adjuster and stiffened peak on the helmet-compatible hood to keep your face and ears protected when it's really blowing a hooley. Berghaus has used a strategic body mapping construction to improve insulation and stretch on the areas where you need it most, while not compromising on breathability, and it definitely seems to make a difference.
There's just the one chest pocket, which is mesh-lined to aid breathability. If you are getting a little hot you can also unzip this jacket from the bottom to improve airflow, which is handy for more athletic pursuits. Both the pocket and the main zip have easy-to-grab toggles whether you're wearing gloves or not, which is always a good thing. The fit was quite snug, so you might want to order up a size if you hope to put a lot of layers underneath, but the weather resistance is good enough that you probably won't need to here in the UK. It's a great all-round versatile jacket that could be worn all day, rather than the sort of thing you'd throw in your pack for emergencies.
In a line: Versatile enough to wear all day with excellent weather protection but limited packability.
Weight and Pack Size: 7
Wind Protection: 10
Features: 9
Value: 7
Overall Score: 8
HOT OFF THE PRESS…
The latest volume of Wired For Adventure magazine is available now (order here). Inside, you'll explore destinations unknown, enjoy awesome photography, and read stories from the world's most inspirational adventurers.