If you've ever been on top of a mountain without gloves when the wind is howling, the rain is pouring and the mercury is dropping, you'll know just how unpleasant it can be. And while you might have your bombproof waterproofs and rugged boots, you're still likely to be miserable unless you invest in a decent pair of winter hiking gloves (a good winter base layer wouldn't go amiss either!).
They need to be warm, keep Mother Nature out and be comfortable to wear for a start, but they should also be easy to pull on when your hands are cold or damp from the hammering rain. Ideally, they'll also allow you to carry out typical tasks like using zips and walking poles or grabbing food and drink. Of course, they need to fit well, we'd like them to look good and if you could purchase a pair without wiping out your wallet that would be a bonus. To help you out, we've reviewed seven pairs of winter hiking gloves ranging from £25 to £85.
Rab Storm Glove
www.rab.equipment | £47
Compared to the full range of winter hiking gloves we have on test, the Storm gloves from Rab are actually very good value. They were comfortable to wear and the level of warmth they provided was more than adequate. As they are one of the most bulky options on test, the ease with which you can carry out tasks is reduced, but not to an unacceptable level.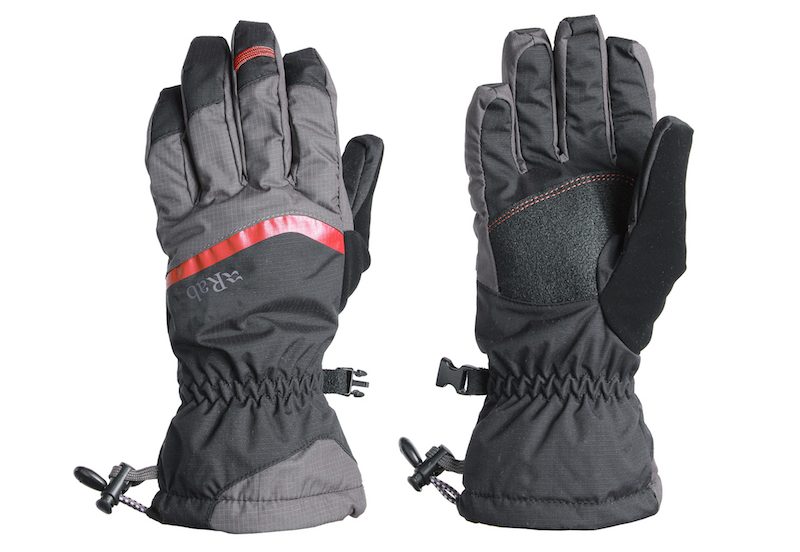 They kept our hands dry during heavy downpours and dried quickly afterward. With cold and rain-soaked hands we had no trouble pulling the gloves back on and the large cuff offers a good level of coverage, with a user-friendly pull-cord doing its job perfectly. As long as you're not going to be using your hands to fiddle about a lot you'll find the Storm glove a reliable companion throughout the year.
Verdict: 8/10
Extremities Torres Peak Glove
www.terra-nova.co.uk | £50
Slide your hands into the Torres Peak gloves from Extremities and you'll never want to take them out. This is thanks to a hi-loft fleece lining which makes them ridiculously comfortable. With this and the PrimaLoft insulation, these gloves are very warm – one of the warmest on test. As a result, you'll find the Torres Peak gloves reasonably bulky, but dexterity is on par with, if not better than the Rab gloves. They also kept the elements out with ease.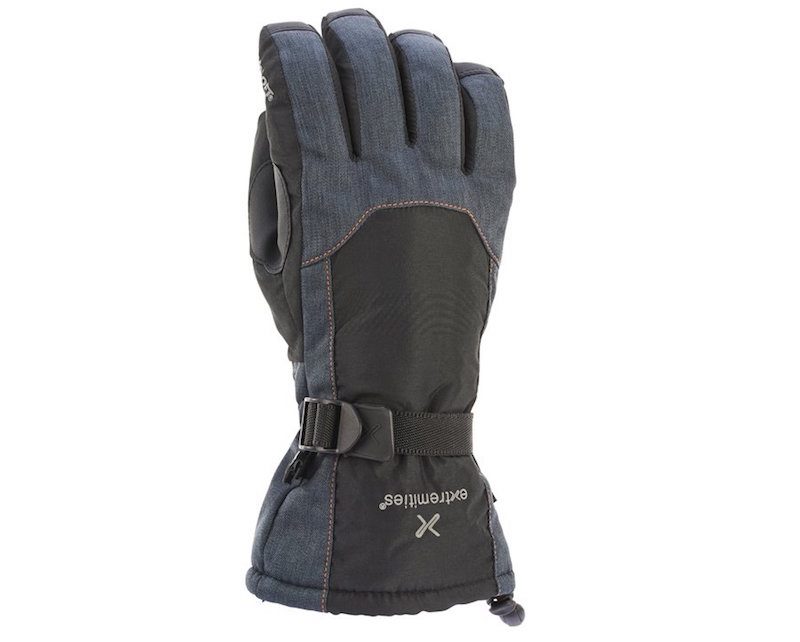 The large cuff with toggle offers great coverage, while a compression strap helps you achieve a good fit. While the high loft fleece interior makes the glove a dream to wear, it does make the gloves a bit of a pain to pull on when your hands are cold and damp. Apart from this, the Torres Peak gloves are a worthy investment.
Verdict: 9/10
Sealskinz Sub Zero Glove
www.sealskinz.com | £60
The Sub Zero gloves are impressively warm, comfortable and are insulated with Downtek water repellent down. Impressively, the gloves stood up to wet weather without any issues and the down continued to do its job. I was also pleased that gloves were really easy to pull on no matter how cold or damp my hands were.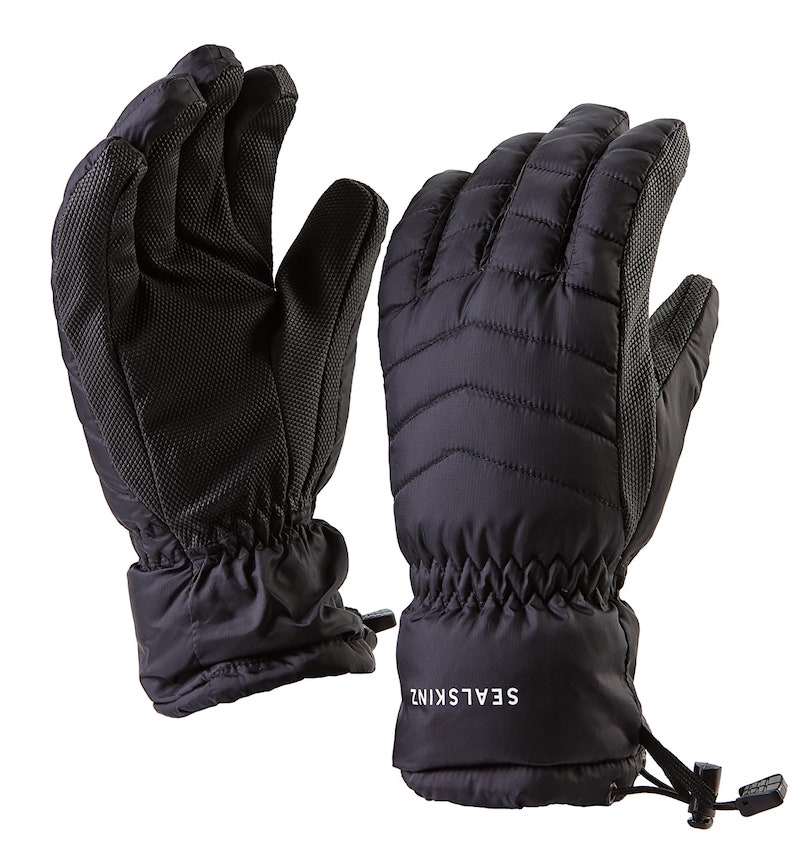 Despite being quite bulky, the dexterity is very good and they aren't too fumbly. The front of the fingers are narrow in profile and have a soft AX Suede diamond embossed material that offers good grip while elastic around the wrist ensures a good fit. There's a large cuff with pull cord, while an internal fleece cuff adds extra warmth and eliminates drafts. My only worry is just how durable the gloves would be on the back of the hand over time.
Verdict: 9/10
Mountain Equipment Guide Glove
www.mountain-equipment.co.uk | £60
The Guide gloves aren't that bulky, yet they are still incredibly warm. There's a great amount of dexterity, so carrying out tasks is no trouble at all, and they stood up to the elements perfectly, keeping our hands warm and dry in periods of bad weather. We also found the gloves quite easy to pull on with cold and rain-soaked hands, with a loop at the opening helping.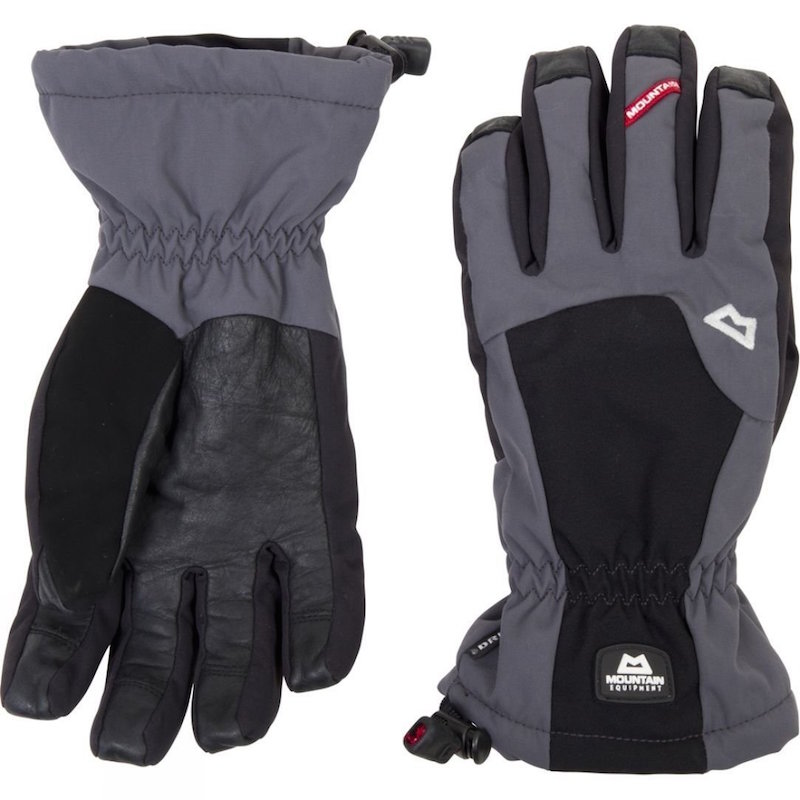 As you'd expect from Mountain Equipment, the Guide gloves are made with high quality materials (cowhide leather on the palm) that offer good levels of durability. There's no back of hand adjustment, but it is part elasticated around the wrist ensuring a good fit. The cuff is a good length and the toggle works well at keeping the elements out. These winter hiking gloves will see you through the winter and beyond…
Verdict: 9/10
Montane Tornado Glove
www.montane.co.uk | £70
I like the style and low profile of Montane's Tornado gloves. They felt nice on and I was able to carry out whatever tasks I needed to while wearing them. The cuffs were a bit shorter than I would have liked and my wrists did feel a bit exposed as a result, but I understand that this was done on purpose to offer a closer and more comfortable fit. I'd say this would just be a case of personal preference, but what isn't up for debate is that these are quality gloves that will do a solid job.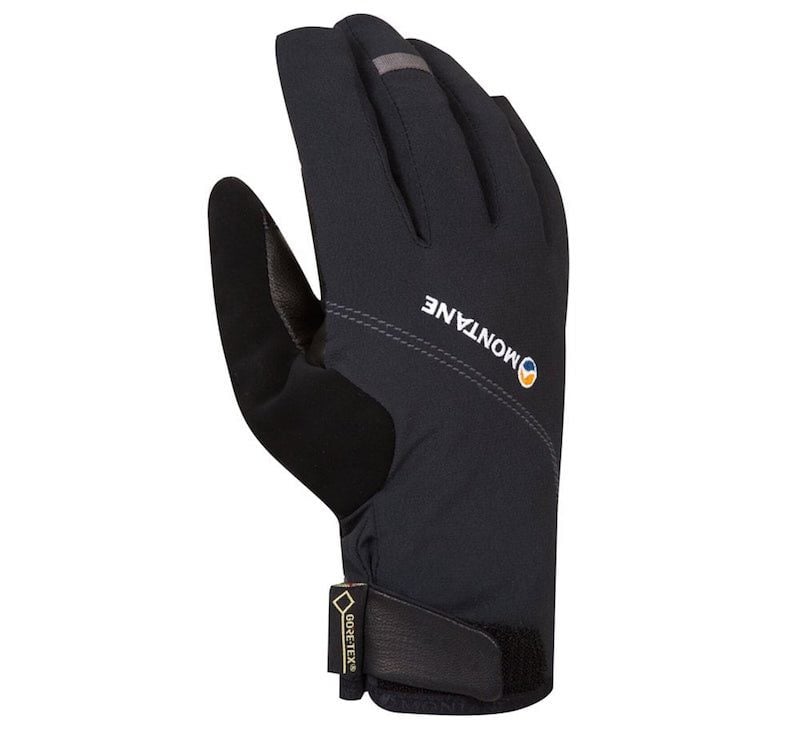 In traditional Scottish weather (so much rain) they stood up to whatever Mother Nature could throw at them and kept my hands warm throughout. Others felt more luxurious, but I wouldn't say these are uncomfortable. They're easy to pull on with wet hands and offer a great fit with a small Velcro fastening.
Verdict: 8/10
Mammut Stoney Advanced Glove
www.mammut.com | £85
The Stoney Advanced Glove is one serious piece of kit. Partly constructed out of goatskin, they are durable, warm and, thanks to a DRYtechnology membrane, don't let a drop of water touch you. As they're a bit on the bulky side, they're not the easiest to perform simple tasks in, but they're by no means the worse either, it just might take a little longer.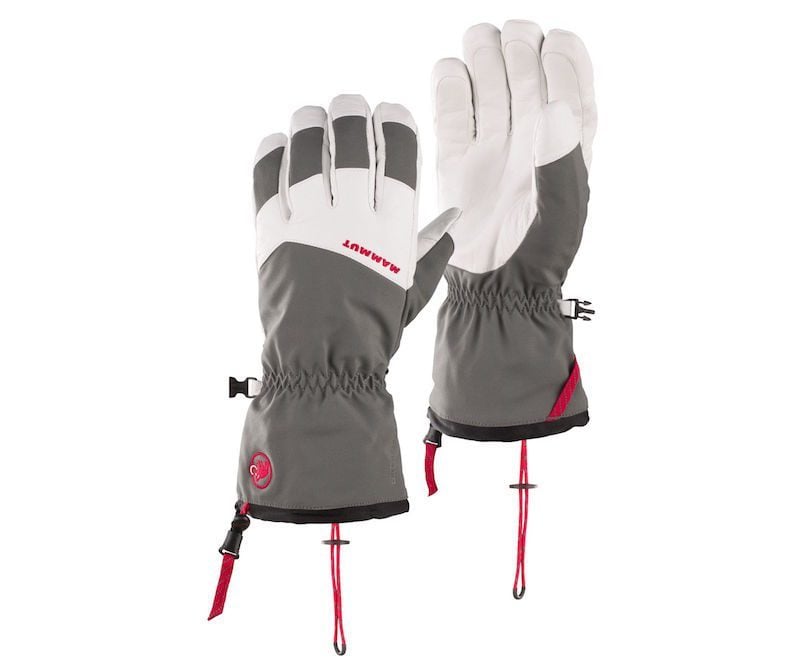 There's elastic around the wrist and a decent toggle on the cuff, but I think a Velcro fastening across the back of the hand would have also been useful to help secure the glove better. There's also an extendable loop which means you can attach these winter hiking gloves to your wrists, which is handy when removing them. When putting the gloves on with cold and damp hands we did find it slightly challenging on occasion due to the looser lining, but it wasn't excessively frustrating.
Verdict: 8/10
Outdoor Research Illuminator Sensor Glove
www.outdoorresearch.com | £85
The Illuminator Sensor gloves are one of the few on test that have a low profile, and as such it's pretty easy to do things when you're wearing them. Despite that low profile, they still offer a good level of warmth, but perhaps not quite as much as the Sealskinz and Extremities gloves. They're durable, thanks to the tough materials that are used in the construction (including goat leather) and a Velcro strap means you can get a good fit.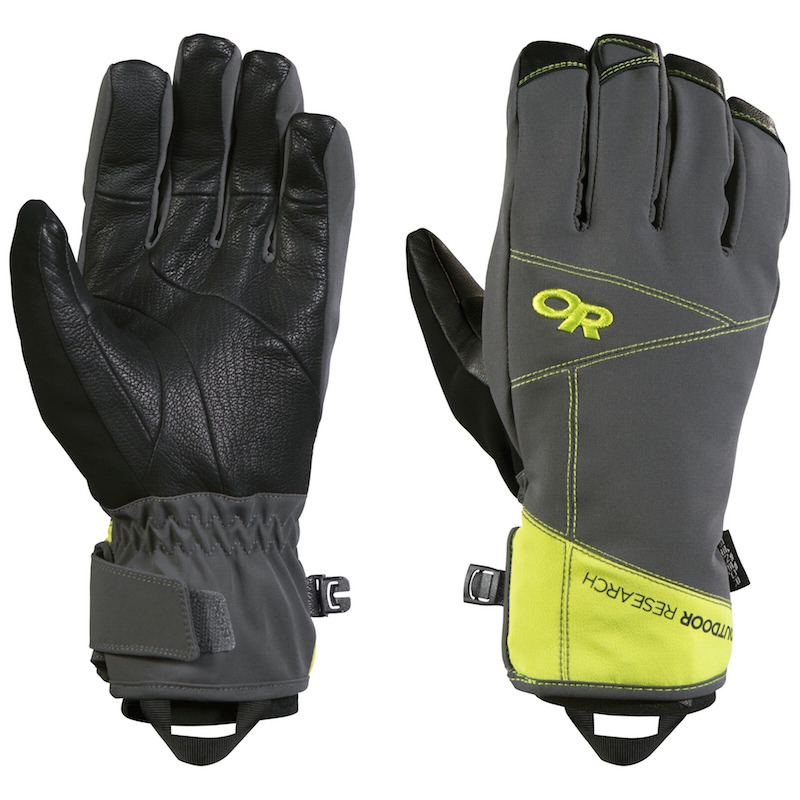 The cuff isn't as long as many other winter hiking gloves on test so the coverage isn't quite as comprehensive, but it's more than adequate. We felt that a few of the others on test offered a more comfortable experience, but we had no issues with wind and water protection. It's not too hard to squeeze them on when you have cold hands either. Plus, they work with smartphone screens…
Verdict: 8/10