A decent pair of footwear can make the difference between a miserable day on the trail, or a triumphant and unforgettable adventure, so it's important to make sure you get it right. While boots are the first port of call for most trips that require you to stay on your feet for long periods, it's also worth considering hiking shoes.
So, with the above in mind, we've tried and tested five of the best women's hiking shoes on the market to see which will keep your feet happy on the trails.
Scarpa Moraine Plus Shoe
www.scarpa.co.uk | £130
For me, these were the most comfortable shoes on test. The padded arch support cups the foot nicely and the padding around the ankle cuff makes for a snug and comfy fit. These features are coupled with a substantial midsole that cushions and maintains stability and balance on your feet. Plus, a Vibram Dynatech outsole does a good job of keeping you on your feet.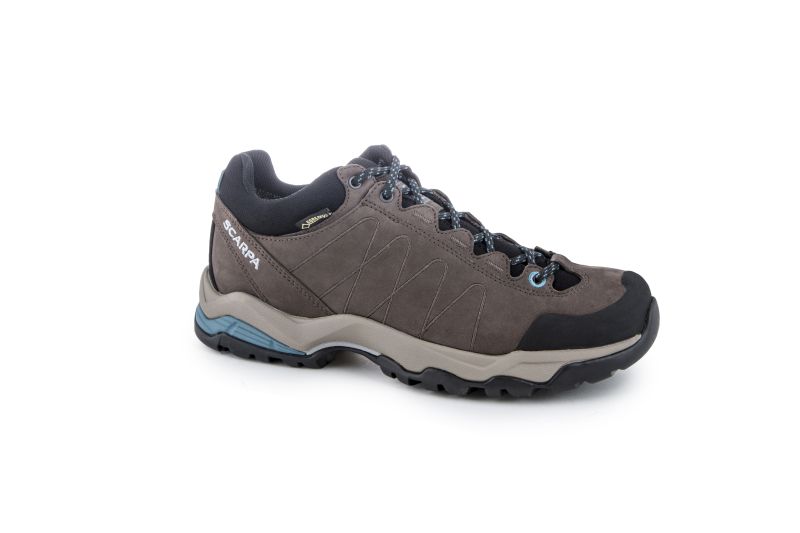 Despite the support underfoot, the shoes are still quite malleable and they'd be suitable for both low level walks and those on defined trails further up the mountain. It makes for a comfortable walk, without unneeded stiffness. But, all the same, the rubber toe rand still offers your foot good protection if you were to hit a rock.
There's also a Gore-Tex lining to keep moisture out and a heel tension system has been applied to the heel area to help ease stress derived from steep routes.
In a line: Excellent quality, very functional and super stylish.
Protection: 8/10
Style: 9/10
Comfort: 9/10
Value for money: 8/10
Overall: 9/10
Hanwag Belorado Low Lady GTX
www.hanwag.com | £135
On paper, the Belorado Low Lady GTX is the heaviest shoe we have on test, but you wouldn't guess it wearing them. The shoe feels lightweight, is easy to slip on and is comfortable enough for hiking and everyday use. Though it appears rather slender thanks to the pointy toe-box, the shoe is actually very roomy, even for someone with broader, more splayed feet.
Other features include a Gore-Tex lining and a Vibram sole that has a good chunky tread and a squared-off heel. It's made with PU-laminated split leather which offers a good level of protection and there's an additional shock absorber in the heel. We liked the flexible instep lacing, which can be adjusted depending on if you've got a high, normal or low arched foot. This is a fantastic shoe which will cope with a wide range of terrain and, of course, it's very stylish.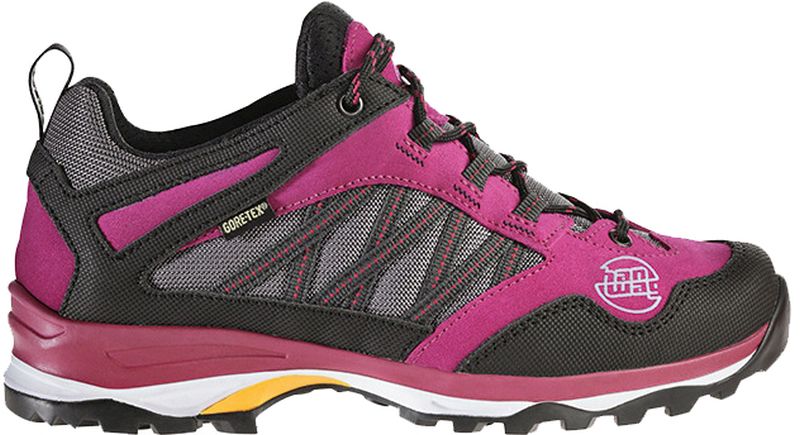 These are beautiful leather boots. I didn't just stroke them when I opened the box, I even gave them a small kiss (awkward). Zamberlan has been around since 1929 and its boots are still made in Italy – lovingly, you feel. Other than the gorgeous leather, the first thing you notice about the Vioz GTX boots is their weight – at 723g per boot (size 40) they're easily the heaviest in this test. They are also very rigid, offering lots of support. The plus side of this is that they will keep your feet protected on the trickiest terrain, particularly if you're multi-day hiking with a heavy rucksack. A downside is that at first they feel a bit stiff and clompy, but I got used to it – they were comfortable within about half an hour of wearing them.
As the name suggests they have a Gore-Tex membrane, to make completely sure they're waterproof. The sole is Vibram 3D, offering good grip with deep lugs to fend off mud – it's extended up the toe and heel for more protection here, and there's a tough rand between the sole and the upper too. If you're after boots for predominantly day hikes, or summer hiking, these will probably be overkill, but for backpacking with heavy loads they're super supportive. They're expensive, but for that you get Zamberlan quality that will last for years.
In a line: Seriously comfy with good protection.
Protection: 8/10
Style: 8/10
Comfort: 9/10
Value for money: 8/10
Overall: 8/10
Meindl Women's Respond GTX
www.meidnl.co.uk | £125
Out of all the shoes on test, the Meindl Respond GTX shoe positions itself somewhere in the middle for its level of support and comfort. The cupped heel stabiliser and rubber toe protector offer the kind of protection you'll need on rugged paths and trails, and the chunky sole with Meindl Contagrip provides good traction and gives stable support. The stiffness of the sole is good and there is moderate cushioning to protect your foot from the pounding of walking on hard terrain.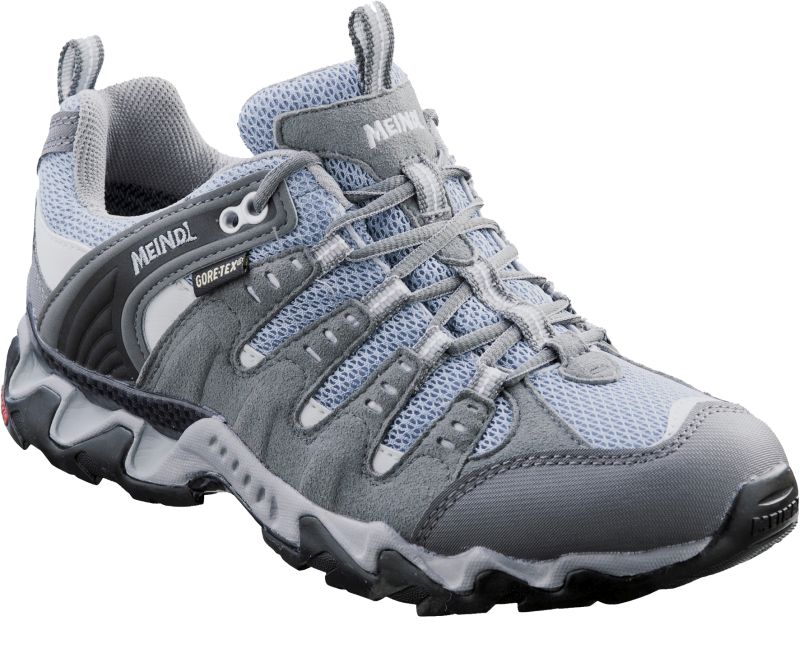 It has Gore-Tex lining for waterproof protection and a durable velour leather and mesh upper helps with breathability. They don't quite perform as well as some of the other shoes on test when it comes to slippery conditions underfoot, such as damp mud and wet grass , but for any other hiking, they'll be great. Looks-wise the shoe is nicely styled, but not overly exciting. Overall, this is a very good all-round outdoor shoe for not a bad price, either.
In a line: A good, solid hiking shoe.
Protection: 8/10
Style: 7/10
Comfort: 8/10
Value for money: 7/10
Overall: 8/10
Salomon Ellipse 2 GTX Shoe
www.salomon.com | £100
With a background in trail running, Salomon is pretty clued up when it comes to creating a decent and lightweight piece of kit. The shoe's varied, semi-aggressive tread maintains traction and support on a range of different terrain. The lining of the shoe is Gore-Tex and the upper is made of a mix of mesh and suede which offers great abrasion resistance and allows for good breathability. The shoe also features Salomon's Sensifit system, which cradles the foot and creates a more precise fit.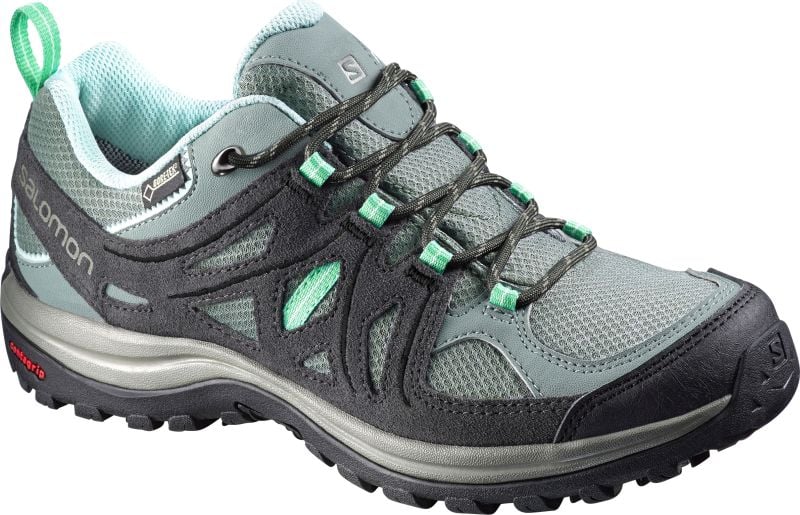 The only gripe I have is that the low-cut ankle cuff rubbed beneath my ankle bone because of the excess padding, though this may be less prevalent after prolonged use. That aside, this shoe will perform well, whether you're heading out for an hour walk or for a couple of days on moderate terrain.
In a line: A multi-purpose and trendy-looking shoe.
Protection: 8/10
Style: 8/10
Comfort: 7/10
Value for money: 8/10
Overall: 8/10
Berghaus Women's Explorer Active GTX
www.berghuas.com | £115
This is a great shoe for a good price. The combination of a lightweight feel (around 680g per pair in size six) and average torsional stiffness makes it feel just like slipping into a comfortable pair of slippers. Adding to the comfort is the Ortholite foam insole, which, combined with the anti-microbial treatment added to the footbed, is designed to keep your feet happy and smelling fresh throughout the day.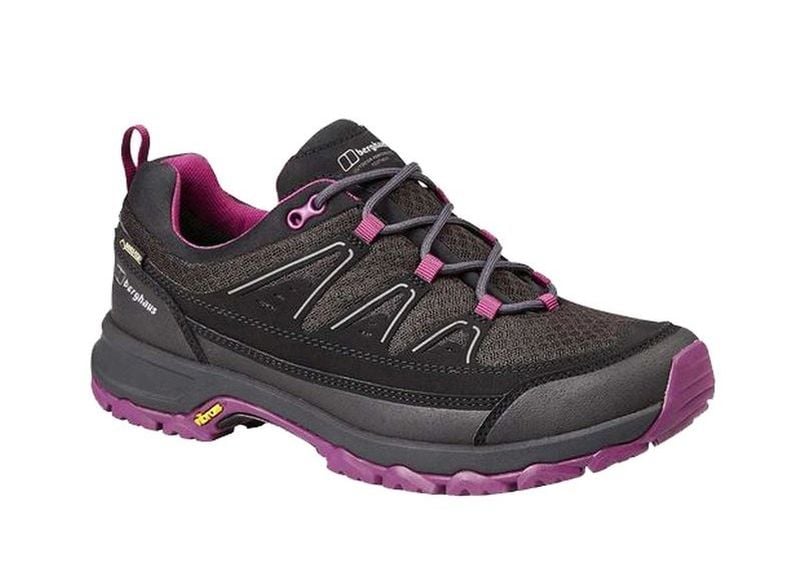 The Vibram Opti-Stud rubber sole has a well-designed tread that offers excellent grip, particularly on loose, stony ground and slippery surfaces. The Gore-Tex membrane keeps all the unwelcome water from wet grass and puddles well out, too. The upper is made of durable PU synthetic nubuck and textile mesh for a great balance of ventilation and longevity. Lightweight and comfy, this is a decent shoe for the demands of light walking, where a trainer wouldn't cut it and a walking boot would be overkill.
In a line: Lightweight, with a good level of comfort and support.
Protection: 7/10
Style: 8/10
Comfort: 8/10
Value for money: 7/10
Overall: 8/10