www.casio.co.uk | £450
Casio is a brand that has been making rugged watches for a long time, and one of the company's latest offerings is the Casio Pro Trek Smart. Running on Android Wear, it has the biggest screen out of all of the watches and is just as much a smart watch as it is an outdoors watch. It has a full-colour touch screen, links with your phone and allows you to download various apps to use as well.
It looks suitably rugged with a robust strap and we're told it has been made to military standards, so no dramas there. The colour screen is impressive with a clear and vibrant display, but it does suffer in bright conditions. The touchscreen and three buttons on the side are used to find your way around the watch's features and these are fairly slick to use.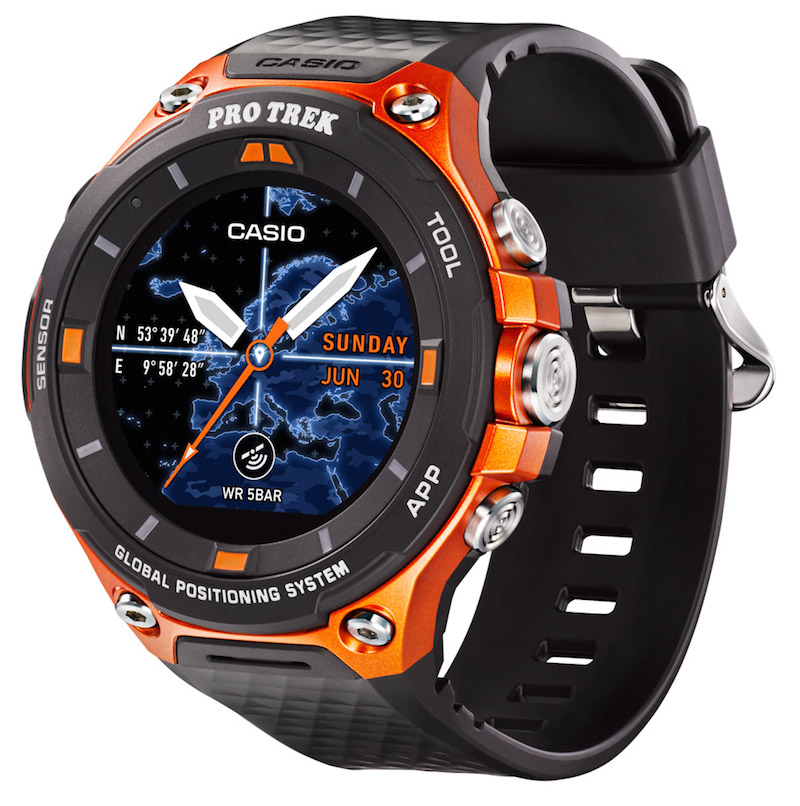 Navigation is a big talking point with the Pro Trek Smart. Users who have an Android phone will get the best out of this watch as they have more features open to them. One of these is the ViewRanger app, which gives you access to full-colour (downloadable) topographic maps, plus the ability to follow existing routes or create new ones. While using, you'll also have live trip stats and real-time compass directions which works really well.
For iPhone users, things get a bit more complicated, as the ViewRanger app isn't available. This means you have to rely on Casio's in-built features and unfortunately these aren't quite as good as ViewRanger. The map is trickier to use and it took a while to find out where all of the functions were.
A dedicated back-to-start feature isn't present, but you can use Location Memory in order to find your way back to the start, and you can of course retrace the recorded route on the map. You'll need to download Mapbox in order to get offline maps (only one at a time), and you have to do a lot of fiddling to get everything working as you would like. We do miss the ability to import GPX routes too.
The watch also has an in-built activity tracker on it (but no heart rate monitoring) which you can use during a small number of activities. Throughout the activity you can view metrics such as distance, altitude, pace and ascent/descent totals, but unfortunately you can't actually save your activities to review later and once they are gone they are gone.
This is a pain, but the saving grace is that you can download apps such as Strava for basic activity data recording. Finally, a word on battery life. We found the Casio performed comparably to the Suunto Traverse Black and TomTom Adventurer watch on battery life, but if you are making use of its smart features throughout the day, you will lose juice rather quickly.
This review first appeared in Adventure Travel magazine issue 130 as part of a group test of outdoor watches.