With a promising September forecast, a good friend and I decided to head north for a weekend of playing in the mountains and scaling Scafell Pike. The purpose of this trip was twofold: to ease my friend Jack back into the outdoors after a layoff with Glandular Fever, and to try out the Trekker socks from leading manufacturer Bridgedale. So we duly piled into the car and made our way up the M6 eager to reach the mountains.
Eventually we made it to Wasdale Head, where we parked up, pulled on our Trekker socks and set off for our target – Scafell Pike. We were tackling the mountain via Brackenclose and Brown Tongue, which is pretty straightforward, but offers achingly beautiful views back to Wast Water. You quickly end up on steep ground and it becomes pretty relentless.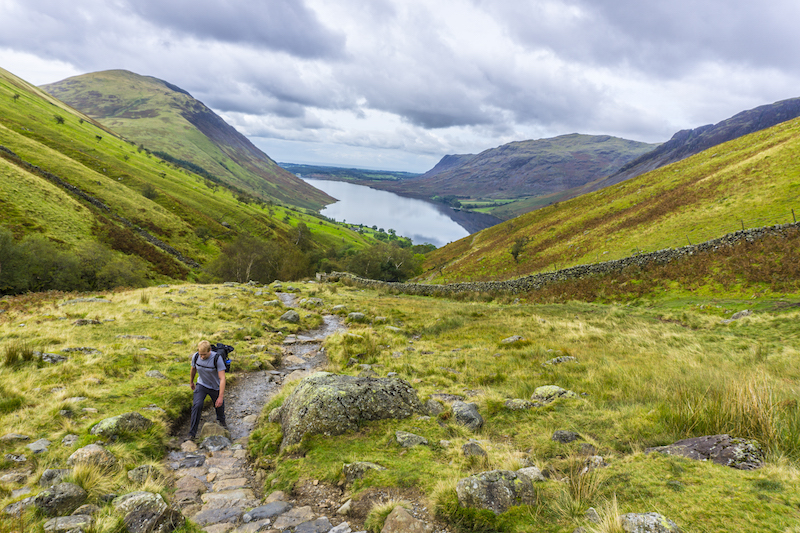 As you make your way upwards the foreboding land formations of Black Crag and Sca Fell ensure you're never short of epic views. Once you reach Hollow Stones the path splits and you can either venture off toward Mickledore (the right fork) or carry on to Lingmell Col. If the weather is good we'd thoroughly recommend heading up to Mickledore for an exciting scramble over Broad Stand to Sca Fell. If the weather is poor (like it was for us), the rock can be slippery and the left hand fork may be best.
Taking the left fork, we headed for Lingmell Col and continued our ascent to Scafell Pike. Despite contending with low cloud, there were incredible moments where a view would suddenly open up like a window and we'd stare in amazement at the surrounding fells. The views on this mountain are incredible, and although the cloud can play havoc with visibility, it makes for a dramatic experience.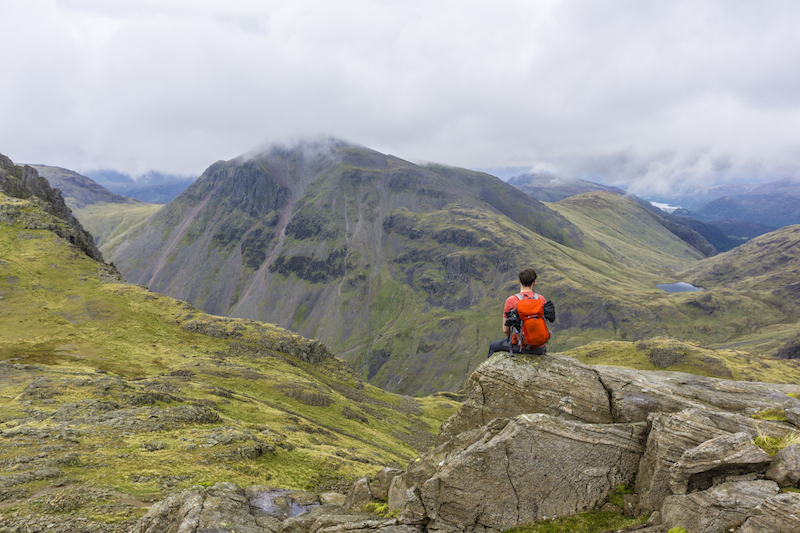 Unfortunately, as we made it to the summit we were once again shrouded in the grey stuff. Hunkered down behind the summit cairns we had a quick bite to eat and compared notes on the Trekker socks. We were impressed. My feet often overheat in these scenarios, but the thermal regulation of the WoolFusion technology ensured this wasn't the case. I also found that the sock's cushioning made for a much more comfortable ride in my hard leather boots. It seemed that the blend of enduro wool and synthetic materials offered a grand balance of durability, comfort, warmth and performance.
After a short break we started heading back down, out of the cloud and across to Lingmell. The short and steep ascent of Lingmell is certainly worth the effort, as it offers truly remarkable views across to Sty Tarn, Great Gable and the surrounding fells, especially when you're in and out of cloud. It's almost as if nature is framing the best views in the area and giving you your own private show. From here, you can head down the other side of Lingmell to Wasdale Head, where you can have a well-earned pint and bite to eat.
The socks
During our trip to the Lakes we tried out Bridgedale's WoolFusion Trekker socks and MerinoFusion Summit socks. The former blends synthetic and natural materials together to offer the benefits of both, and they're ideal for year round use. You'll also find a blend of merino wool and synthetic material in the MerinoFusion Summit socks and these offer an exceptional amount of warmth and comfort in cold environments.