In 2014 Johan du Plessis and Will Frazer cycled 15,000 miles in 234 days around the world from London to Miami to help bring an end to the illegal rhino horn trade. Here, Will shares his low points, high points and what he learned along the way.
What I learned
1. A bicycle opens doors. People immediately want to know who you are and where you are going. It brings otherwise impossible exchanges with incredible people.
2. The world isn't as dangerous a place as people would have you think. 99% of people we met on the road meant us no harm and largely wanted to help or find out more about us.
3. 40 days and 40 nights. After a certain period on the road you enter this meditative state where everything slows down and you genuinely forget the trials and tribulations of everyday life. It's an amazing feeling, but it takes blood, sweat and tears to get it.
4. Hating connectivity. Being able to find out what all your friends and family are up to back home while you're pushing your limits is a terrible thing. I grew to resent Wi-Fi connections and started trying to resist interaction with the outside world.
5. There is no time. If you think you're going escape being busy by riding off into the sunset leaving your old life behind you, you will be disappointed. Living in the elements without the comfort blanket of a roof over your head, friends and family is a full time job. Nature demanded our full attention on the road. We ignored her at our peril.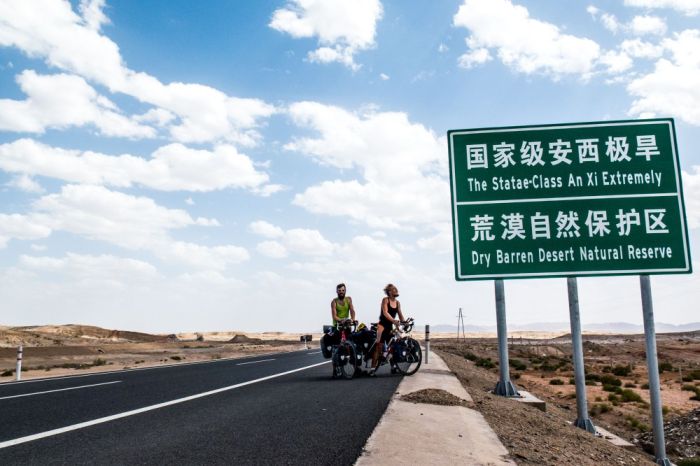 Worst moments of the trip
1. Nearly being struck by lightning in the middle of a hail storm high up in the Caucasus on a very exposed section of the old Russian military highway. The only thing we could do was pray we didn't die.
2. Running out of water in the Turpan depression in western China ‒ one of the hottest places on the planet.
3. Being chased by dogs in Romania and northern Turkey. One dog with a particularly nasty, spikey collar snapped a steel chain and chased us for three miles.
4. Terrible food in Uzbekistan made us both very ill with a three week spell of the scours sapping the life and humour out of us.
5. Being chased by a polar vortex all the way across Texas. An increasingly common phenomenon in the U.S and not pleasant to cycle in. We were doing 180km (112-mile) days for two weeks without stopping because if we stopped cycling we froze.
High point
The highpoint of the trip was probably when we made it to Qingdao on the coast of China. We hadn't seen the sea in over three months, we'd cycled over 3,000km (1,864 miles) on one road through the Turpan Depression in western China (2nd lowest place in the world and one of the hottest, driest places on Earth), survived almost exclusively off a diet of pot noodle and we hadn't spoken to anyone in English in over 40 days. It felt like the hardest bit of the trip was behind us.
Low point
After three weeks in Uzbekistan, both of us were questioning why we were out here. We'd both been very ill for a while, the roads were appalling if there was any road at all and the food was becoming inedible – think lumps of mutton fat swimming in an oily broth. It was when I had to relieve myself, after yet another bout of stomach cramps, half-way up a 3,000m pass clinging onto a cliff edge like a mountain goat that I seriously thought about getting the next flight home.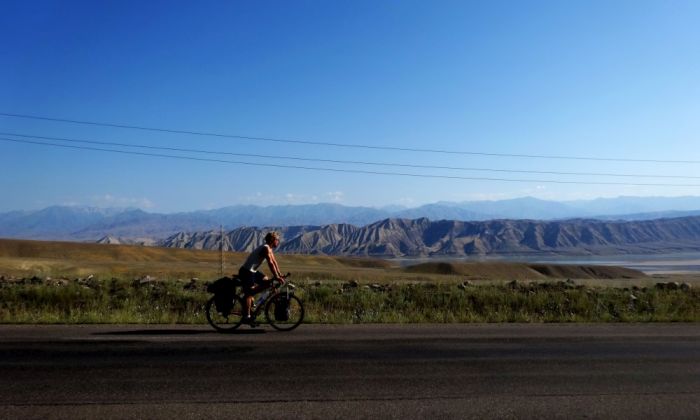 Hardest aspect of the trip
The schedule. Life was pretty relentless on the road. The hardest part of the trip wasn't the actual cycling, it was the living when we were off the bike. Waking up in an often wet tent, preparing breakfast, packing everything away into panniers, getting it out again to dry when the sun was up, packing it all away again, unpacking it all at night for camp, cooking dinner and then doing it all again day after day.
I'm sure we spent the best part of 4-5 hours every day doing some sort of packing or unpacking. As the trip went on and the days started to getting shorter, the schedule got more intense as we had live quicker and cycle faster in order to do the distances required in daylight. Throughout the whole trip there was actually very little time for reflecting on where we had been or what we had done.
To find out more about the duo's journey or to donate some money to Save the Rhino, head to www.ridingforrhinos.org.