Climbing isn't the first thing that comes to mind when you think of Lebanon, but  perhaps that's about to change following Austrian climber David Lama's epic first ascent of the Baatara Gorge sinkhole.
Lying just 46 miles north of Beirut, the Baatara Gorge sinkhole proved to be a surreal backdrop to the climb with spectacular waterfalls, natural arches and a mixture of blue and orange rock.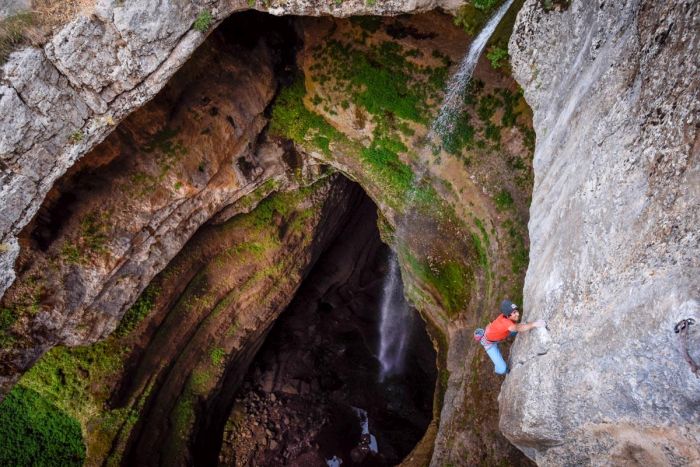 © Red Bull Media House
In fact, due to the location's likeness to that of the scenery in the film Avatar, the cascade route was named 'Avaatara' (9a) by Lama and the local climber helping him, Jad Khoury. It encompasses both Avatar and Baatara, the name of the gorge, in an attempt to retain the Arabic feel to it.
"When I walked in for the very first time I almost thought this can't be real. The sinkhole is a magical place: Waterfalls dropping in there almost a hundred metres, three beautiful, natural arches, the blue and orange rock, a perfect contrast – simply beautiful.
"In combination with the lush green plants, it immediately made me think of the surreal landscape in the movie 'Avatar'," Lama said.
During the climb, Lama faced challenging overhangs and had to deal with setbacks as certain lines proved to be too wet, dirty, loose or simply unclimbable.
Both effort and endurance was key to climbing through the steep, complex roof section with only small and limited holds, but eventually after giving it everything Lama managed to complete the route.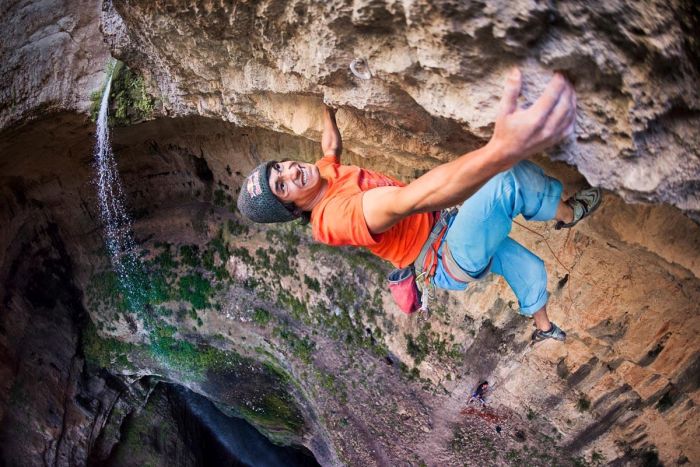 © Red Bull Media House
"Going to something unknown, or doing a first ascent, you never know if it's possible. When you pull over the lip it's the first time you realise how much beauty there is around you.
"I guess when it comes to climbs that are just this hard or close to your limits, climbing is almost more an art than it is a sport," he added.
After helping Lama with the ascent, Khoury will now look to further establish climbing in Lebanon while the former will turn his attention to an unclimbed peak in Nepal.