Just an hour up the road from Innsbruck you'll find the picture-perfect region of Alpbachtal. Nestled between the foothills of the Kitzbühel Alps and the eastern slopes of the Rofan Mountains, this is a region that offers adventurous travellers rugged peaks, lush rolling hills and untouched nature in abundance.
Like much of Tirol, there are hundreds of miles of hiking trails and cycling paths to explore in the area, and there are plenty of lakes and rivers that make the perfect spot for water sports or wild swimming.
Culture and heritage are also at the heart of the region, with Austria's smallest town of Rattenberg (it has just 400 inhabitants) being a popular highlight. Rattenberg is renowned for its glass craft and if you explore the town's medieval pedestrian zone you'll discover this unique art.
Another place you simply can't miss on a visit to the area is Alpbach, a settlement that resides 1,000m above sea level that has been dubbed Austria's most beautiful village. There's ample hiking and cycling nearby, too, so you really can explore the best of rural Austria with a visit here.
Alpbachtal's three gorges
No trip to Alpbachtal would be complete without a visit to at least one of the region's three amazing gorges. Kaiser Gorge, Tiefenbach Gorge and Kundl Gorge are each spectacular in their own right, so we'd recommend visiting all three.
Kaiser Gorge is just under a mile long and there is a narrow path that follows it along, giving you a glimpse into the power and beauty of such a place. There are parts of the river where it's possible to take a dip, or if you're looking for something adrenaline fuelled you can even take on some canyoning (find out more here).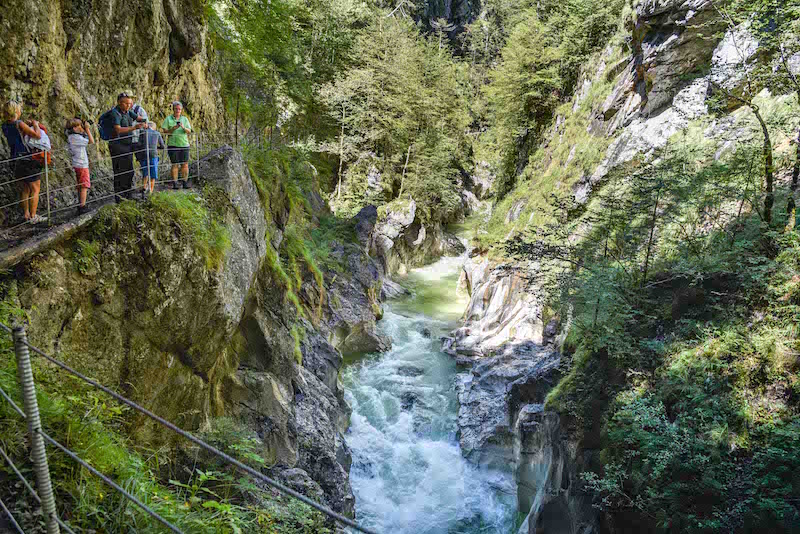 Photo: Alpbachtal Seenland Tourismus
Tiefenbach Gorge has a longer walking route, so it's easy to spend a few hours here. The walk first takes you along the river, through pristine woodland, before narrowing further up the valley. You'll cross the gushing waters of the Brandenberg River several times as you make your way along the gorge and it's a very real and visceral reminder of just how powerful nature can be. A viewing platform a mile into the gorge is great for photo opportunities. Kundl Gorge is also very impressive, and it's wide paths and shorter distance makes it a great option for all abilities.
Hiking Alpbachtal
There really are endless hiking routes to choose from in Alpbachtal, but a couple deserve a special mention. First up is a circular route that takes hikers to Zireiner See, a lake that is widely considered to be one of the most beautiful in Tirol. This 10-mile hike starts and finishes in Kramsach and takes roughly eight hours to complete.
With 1,500m of ascent, it's no easy feat, but with breathtaking views of the majestic Rofan Mountains and the Inn Valley, the effort is more than worth it. The route starts in Brandenberg/Aschau and follows a series of well-marked trails up to the Berghaus Sonnwendjoch hut and past Rosskogel mountain. Eventually, you'll come to Zireiner See, a beautiful lake that photos just can't do justice.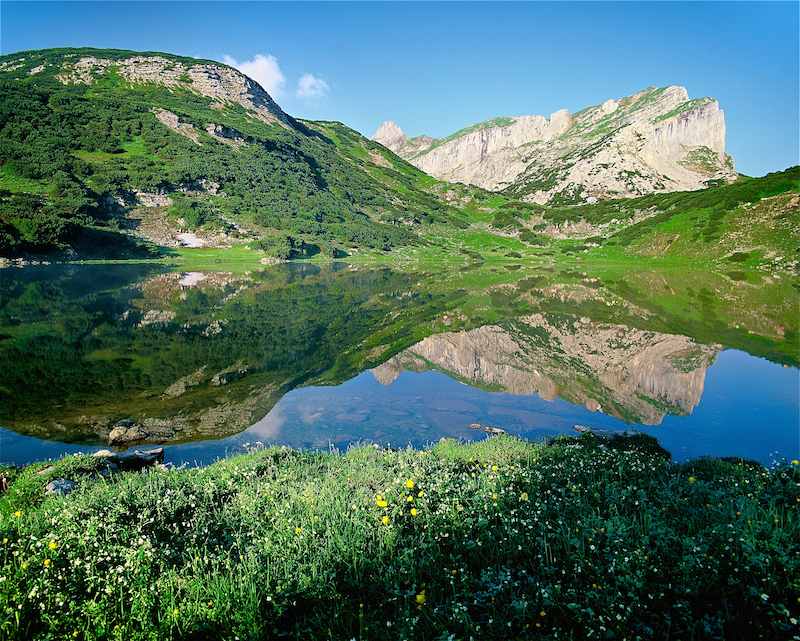 Photo: Alpbachtal Seenland Tourismus
Another highly-rated route is the hike from Sagtaler Spitze to Standkopf (2,239m) and back. This six-mile hike takes in two mountain peaks and takes roughly five hours, with 600m of ascent. It starts just south of Alpbach at the top of the Wiedersbergerhornbahn mountain lift.
The target is Standkopf and as you stand on the summit you'll be able to view the Austrian Alps and the surrounding valleys in all of their splendour. The return leg tales along the same track, but on the way back you can also take in the 2,128m-high Wiedersbergerhorn. For further information on routes, head to www.alpbachtal.at/en/summer/hiking.
Try something different
Aside from hiking, there are plenty of activities to keep you busy on a visit to Alpbachtal. One such option is the via ferrata (Italian for 'iron road') at Lake Reintal, which is ideal for experienced climbers or those that have a lot of previous experience on via ferrata routes. There are two routes to choose from with varying grades of difficulty, but both are only suitable for those with experience or those who have employed the services of a local mountain guide.
If you can pull the gaze of your eyes away while you traverse the steel cables, pegs and ladders of the via ferrata, you'll be able to enjoy views down to the crystal clear waters of Lake Reintal and across the patchwork of green unfolding below you.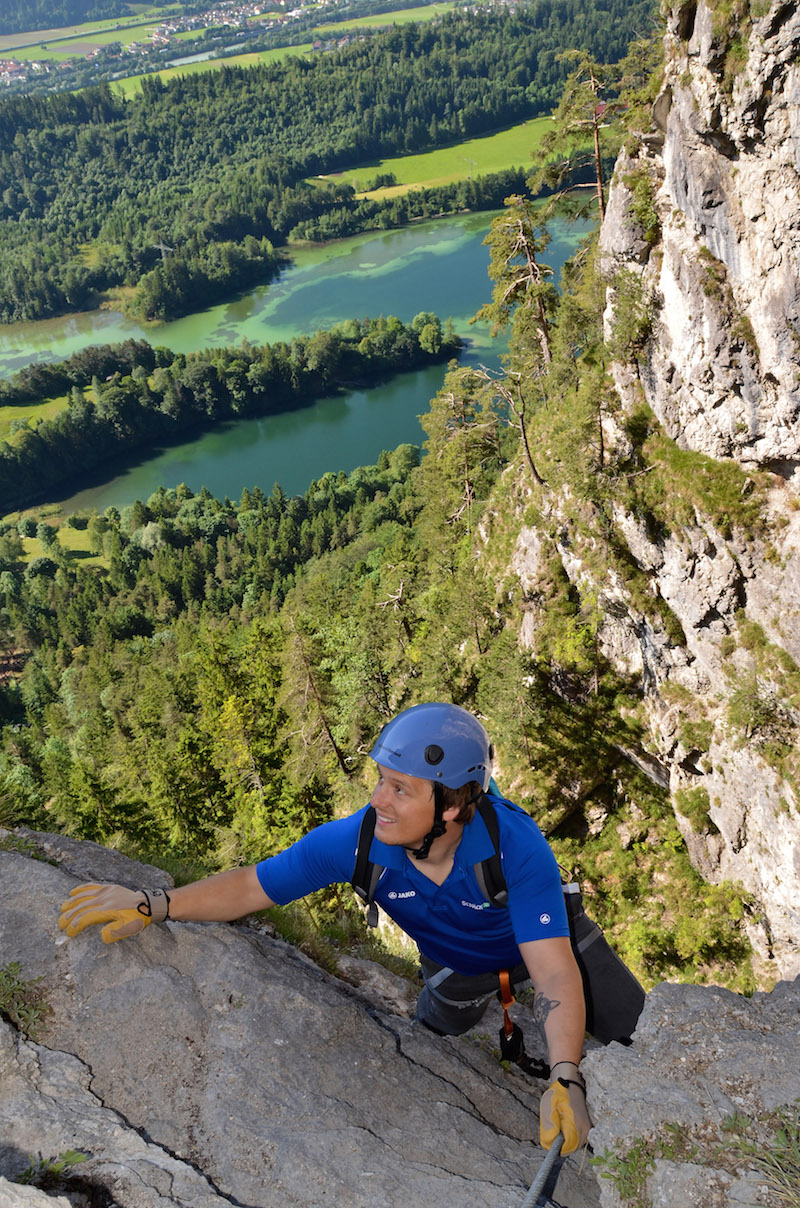 Photo: Alpbachtal Seenland Tourismus/Grießenbock Gabriele
If sheer drops and heady heights aren't necessarily your thing, there's plenty of opportunity to explore from the water. Kayaking, rafting and white water swimming are all nearby and are sure to get your adrenaline pumping. The Brandenberg River and Ötztal River offer great white water potential, while Lake Krumm in Kramsach represents a gentler option for those who'd like to get to grips with their paddle in calmer circumstances. No matter which body of water you choose to explore, one thing is for sure – the mountain views and pristine nature are going to form an incredible backdrop.
From the locals: Christine Margreiter | Guesthouse Owner
"When the European Forum Alpbach takes place, our village is suddenly full of famous faces from the world of politics, science and the arts. It's amazing. You might leave the house and bump into Ban Ki-Moon or one of our Austrian politicians. There aren't hoards of security men, but instead everyone just sits down, relaxes and chats in the local inns and guesthouses… I think that's what makes Alpbach so special." To discover more fascinating insights from locals, visit www.love.tirol.
For more ideas on what to do in the Austrian region of Tirol head to www.visittirol.co.uk or follow @visittirol on Facebook, Instagram and Twitter.
For Covid-19 information check out www.tyrol.com/information-coronavirus and for top travel tips to get around Tirol head here, where you can also pick up a weekly Tirol ticket for €45.