Sitting pretty at an altitude of 1,300m and just an hour's drive west from Innsbruck, St. Anton am Arlberg is a cosy little town with a charming atmosphere and a genuine ambiance. Around every corner you'll be greeted with fantastic Tirolean hospitality, while the cafes and restaurants give you the opportunity to taste delicious local cheeses and hams. There are so many amazing things to do in St. Anton, especially in summer!
Move away from the town centre and you'll find adventure and pristine nature in abundance. The area was in fact awarded the Entente Florale in 2017 for the best quality of living. Roughly 200 miles of clearly signposted hiking tracks lead through the regions most impressive mountains, so you can be sure the views are more than going to live up to the hype. A network of cable cars ensures you can go from town centre to the mountains in no time at all, so embarking on beautiful mountain hikes is incredibly straightforward. The area delivers more than just hiking, too, with water sports and a year-round via ferrata all in the vicinity…
The Arlberg via ferrata
Austria has its fair share of via ferratas, and the one in St. Anton am Arlberg is both stunning and challenging in equal measure. The route is roughly two miles long and sees you rise to just under 2,500m in altitude, so you can bet that exposure, big drops and fine views are going to be on the cards. If you've got the nerve for it, there aren't many better ways to explore the mountains.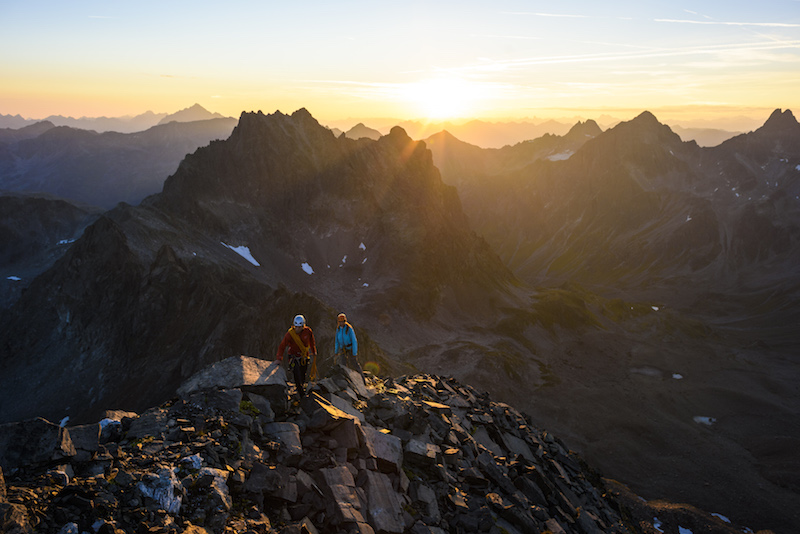 Photo: Wolfgang Ehn
The route sees you scramble and climb along steep rock faces, over narrow ledges and across rugged, craggy ridges with the help of steel cables (which you'll be clipped into), metal rungs, ladders and pegs. As you go, you'll cross the mountains of the Knoppenjochspitze (2,680m), Lisunspitze (2,667m) and the Weißschrofenspitze (2,753m) with breathtaking panoramic views across to the Allgäu Alps in the north and over the rugged but beautiful Stubai and Ötztal Alps. The start of the via ferrata is accessible from the Vallugagrat cable car station or from the mountain station of the Kapall chairlift and the entire experience should take you roughly four to six hours, depending on experience, fitness and weather conditions.
If you're not experienced on via ferratas and this type of alpine terrain, you should hire a local mountain guide, as this isn't the place to learn new skills without expert guidance! What I would say, is that if you've never tried a via ferrata before, do it. It's an incredible experience, as the safety of a harness and the steel cables you're clipped into mean you can access some truly remarkable terrain and viewpoints without needing to be an expert climber. At the end of the day, your arms and legs may be aching, but you'll be grinning from ear to ear.
Hiking
One of the most famous hikes in Tirol is the 174-mile Eagle Walk. It stretches right across the region from St. Johann in Tirol to St. Anton am Arlberg, and while you might not have time for the entire route itself, ticking off a couple of stages over a few days is a great option. Stages 21-24 take you high into St Anton am Arlberg's surrounding peaks and pastures, and there are fantastic huts that provide the ideal spot for a bit of respite. Along the way, there are opportunities to bag a few mountain peaks and if you're lucky, you may even catch a glimpse of beautiful wildlife such as golden eagles, ibex and chamois.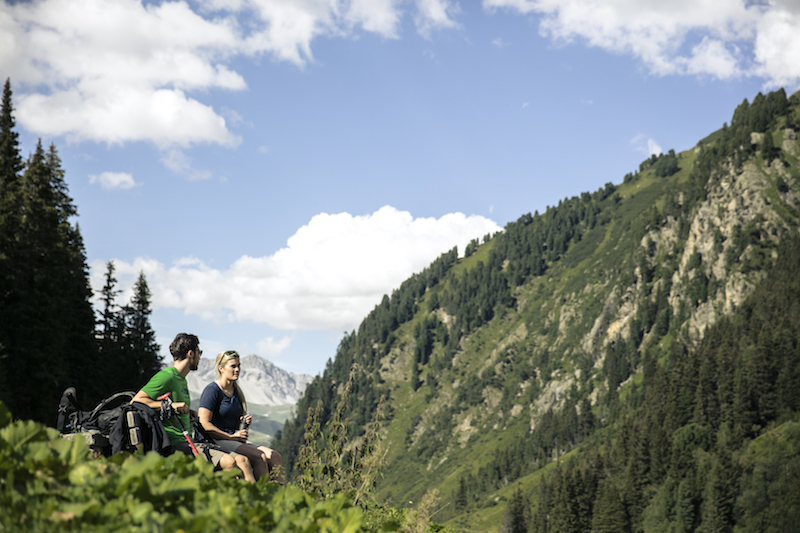 Photo: Christoph Schach
One of the best things to do in St. Anton am Arlberg during June or July, is hiking the incredible Alpine Rose Trail. Over these months, the southern slopes of the valley turn into a sea of red with the alpine roses in full bloom, resulting in an incredible vista of beauty and colour. The trail starts behind the top terminal of the Rendbahn cable car (you can either take the cable car, or you can reach the top terminal by foot) and heads to Rendlalm hut, which delivers fine views of the Lechtal and Verwall Alps. Those looking for an extra challenge can extend the route by scaling Zwölferkopf Peak (2,558m). The route takes between four and six hours.
Take to the water
With lakes, rivers and canyons interspersed around St. Anton am Arlberg, the possibilities of activities on the water are many. H20 Adventure runs local tours, ranging from white water rafting to descending rivers with nothing but an inflatable tube and a paddle. The former is sure to get the adrenaline pumping, as you work with your team to navigate the rapids and obstacles of the river in unison.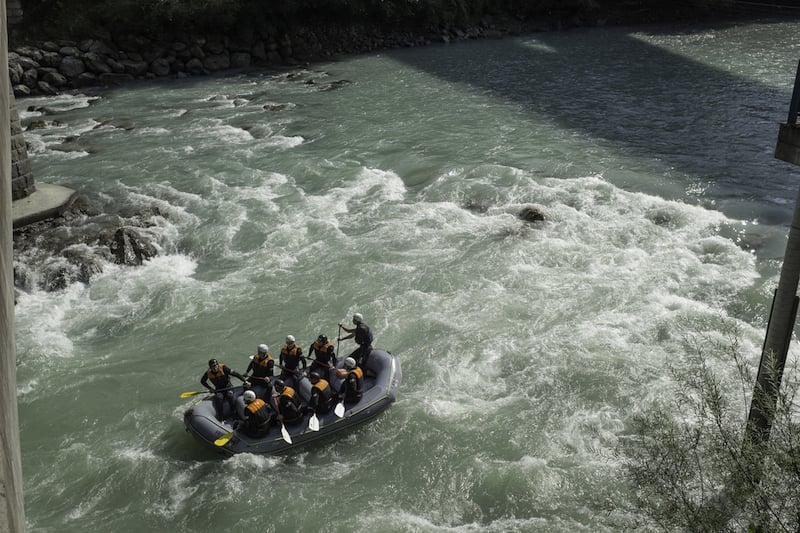 Photo: Tirol Werbung/Koopmann Jörg
The company also runs canyoning trips, which see you navigate gorges using a range of techniques including cliff jumps, abseils and making use of naturally formed slides – certainly one of the most unusual things to do in St. Anton. Thrills are guaranteed, but what you might not have appreciated is just how enthralling it can be to discover a location from the water, giving you a whole different appreciation for the place you are exploring. See www.stantonamarlberg.com for more ideas and inspiration.
From the locals: Kurt Tschiderer | Local Historian
"I think we can only give guests an authentic experience if the locals also appreciate what we do. In the long term that is the only way. It wouldn't have made sense to create a Heidi Hut, a kind of Disneyland in the mountains. That's not sustainable. It might have been nice for a bit, but the novelty would have soon worn off." Discover more fascinating insights from locals at www.love.tirol.
More adventurous things to do in St. Anton am Arlberg
For more ideas on things to do in St. Anton am Arlberg and the Austrian region of Tirol head to www.visittirol.co.uk or follow @visittirol on Facebook, Instagram and Twitter.