Adventure travel specialist World Expeditions this year celebrates the fifth anniversary of its private eco camps in Nepal. Trekkers now have the opportunity to stay at 16 camps scattered around the Everest and Annapurna regions of Nepal. Private eco camps ensure that you enjoy greater comforts whilst supporting the most sustainable trekking programme in the market.
The other camping option in Nepal
The option of staying in private eco camps during your trekking trip in Nepal brings several luxuries that were not possible five years before. Features of the camps in the Annapurna and Everest regions include standing height tents with mattresses and pillows, heated and atmospheric dining rooms where you can enjoy freshly prepared meals, western-style toilets, and on top of that, most of the campsites are fitted with hot showers. Away from villages and on beautiful secluded plots, the eco camps combine an atmosphere of privacy and exclusivity with stunning views of the mountains.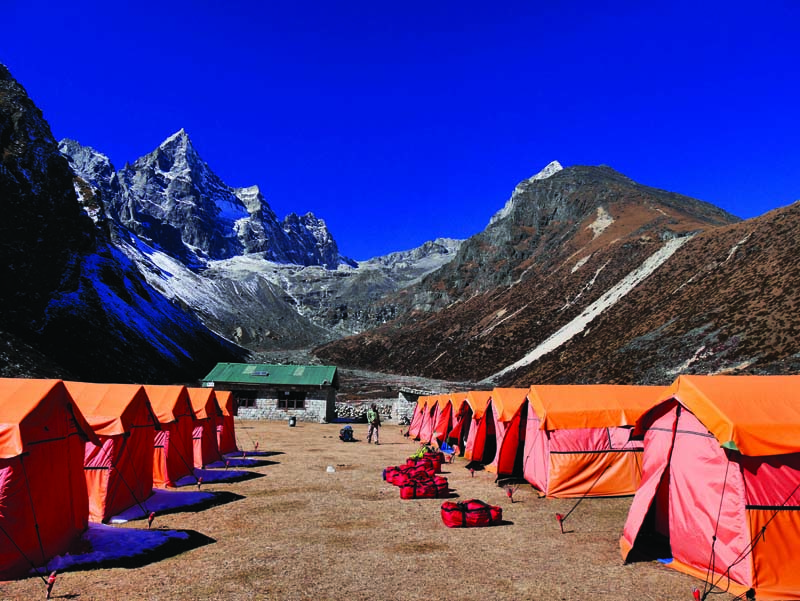 "When World Expeditions launched in 1975 offering some of the very first trekking holidays in Nepal, no-one would have imagined that one day, treks like the Everest Base Camp would become such a popular, almost mainstream holiday. As one of the very first operators in what is now a very popular area in travel, we feel that we have a very real responsibility to set the right example and protect the environment – and our private eco-campsites demonstrates this best" – Gordon Steer, UK Manager at World Expeditions.
The benefits of the eco camps in Nepal
World Expeditions has always believed that camping trekking is the most sustainable way to have a back-to-nature experience. However, often, travellers to Nepal are put in teahouses and lodges, which commonly burn wood for cooking and heating, contributing to the serious local issue of de-forestation. Camping trekking is a way to provide more employment opportunities for local people, a workforce of up to 25% more compared to lodges.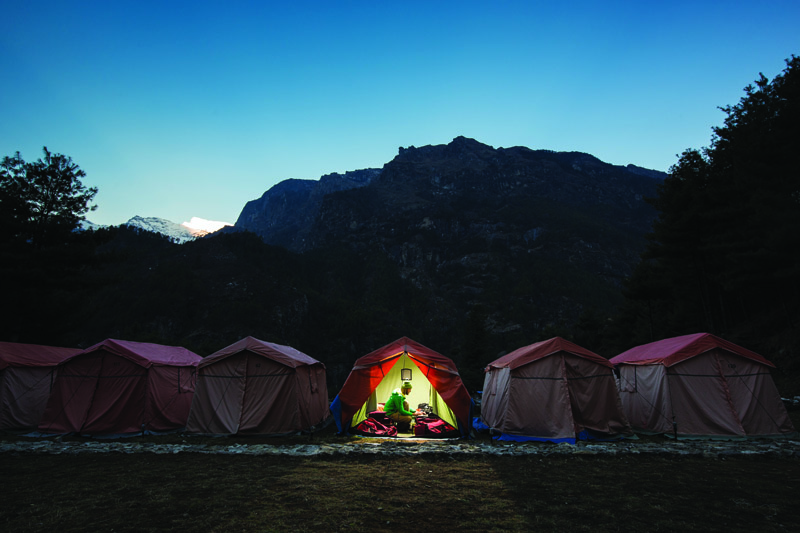 Where to find the camps
Secluded spots along scenic trails in the Annapurna and Everest regions have been handpicked for the camps by the World Expeditions team. Locations of the eco camps in Nepal include Namche Bazaar, Dingboche and Gat around Mount Everest and Pokhara and Ghandruk in the Annapurna regions.
Popular trips such as the Gokyo & the Renjo La, Everest Base Camp & Kala Pattar and Ultimate Annapurna Dhaulagiri spend the majority of trekking nights in one of the World Expeditions camps where travellers wake up to sweet 'bed tea' served by their tent in the mornings.