www.edelrid.de | £45 
Boil time 3.5 minutes
Highly Recommended
Edelrid is better known to Adventure Travel staff for its superb climbing equipment, which we've used on adventures all around the world. Its entry to this review, and the most expensive out of the six stoves on test, is the Kiro TI, a lightweight (73g) on-canister stove that has a titanium body and a stuff sack for tidy storage.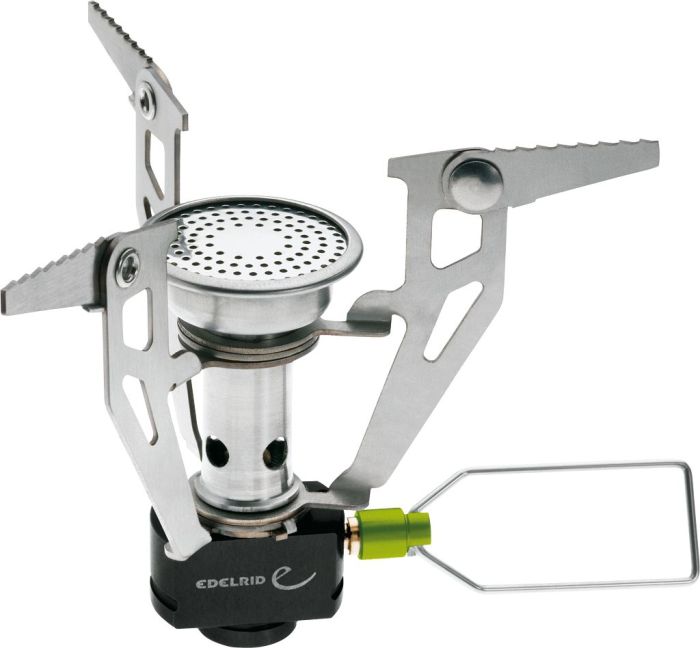 First impressions of the Kiro TI are good. Everything about it feels solid, well made and a cut above the other stoves in this review. For such a light stove it has surprisingly wide pot supports that offer a stable platform for pots and pans to sit on (they also fold away for smaller storage), and it's about as stable as you can get for an on-canister stove.
Performance is good with the boil time for half a litre of water being up there with the best in this review at 3.5 minutes. Temperature control is precise with the oversized control offering easy adjustment. With the pot supports folded away and the wire controller neatly bent back on the stove, the Kiro TI offers a very small packsize that should satisfy even the most weight and space conscious hikers among us.
While the pot supports feel sturdy enough to take quite a bit of abuse, we found that they became a bit stiff to unfold after a few uses. This, however, can be remedied by applying lube to the joints every now and then.
The Kiro TI is a very good, lightweight stove. It offers great quality for a sub-£50 product and at 73g it's light enough to shove in your pack and forget about. Boiling times and gas efficiency are great and it offers a stable base for your pots and pans.
Edelrid Kiro Stove Verdict
Great quality and light weight so excellent for multi-day expeditions.
Boil time: 9/10
Weight: 9/10
Stability: 9/10
Value for money: 8/10
Overall: 9/10