American footwear brand KEEN is often at the forefront of outdoor footwear, with a focus on quality and integrity when designing and manufacturing boots and shoes for a range of outdoor activities. We've been thoroughly impressed in the past by KEEN's offerings and were excited to get our hands on a pair of the women's KEEN Karraig hiking boots, which have been designed with European trekking in mind.
The boots themselves are manufactured in Europe in a bid to reduce the environmental impact and provide quality assurance, so you can rest peacefully knowing your boots have been assembled in the exact location of their intended use.
The Karraig boot boasts some new features aimed at multi-day trekking and backpacking, and the first thing we spotted was the the high-abrasion rubber tip on the toe section of the boot, which enhances overall durability and protection when hiking for longer periods. There's also an extremely large rand running over the toe area for extra protection, which is great to see. KEEN was founded after the creation of the toe-protecting sandal back in 2003, so it's fair to say the brand knows a thing or two in this area.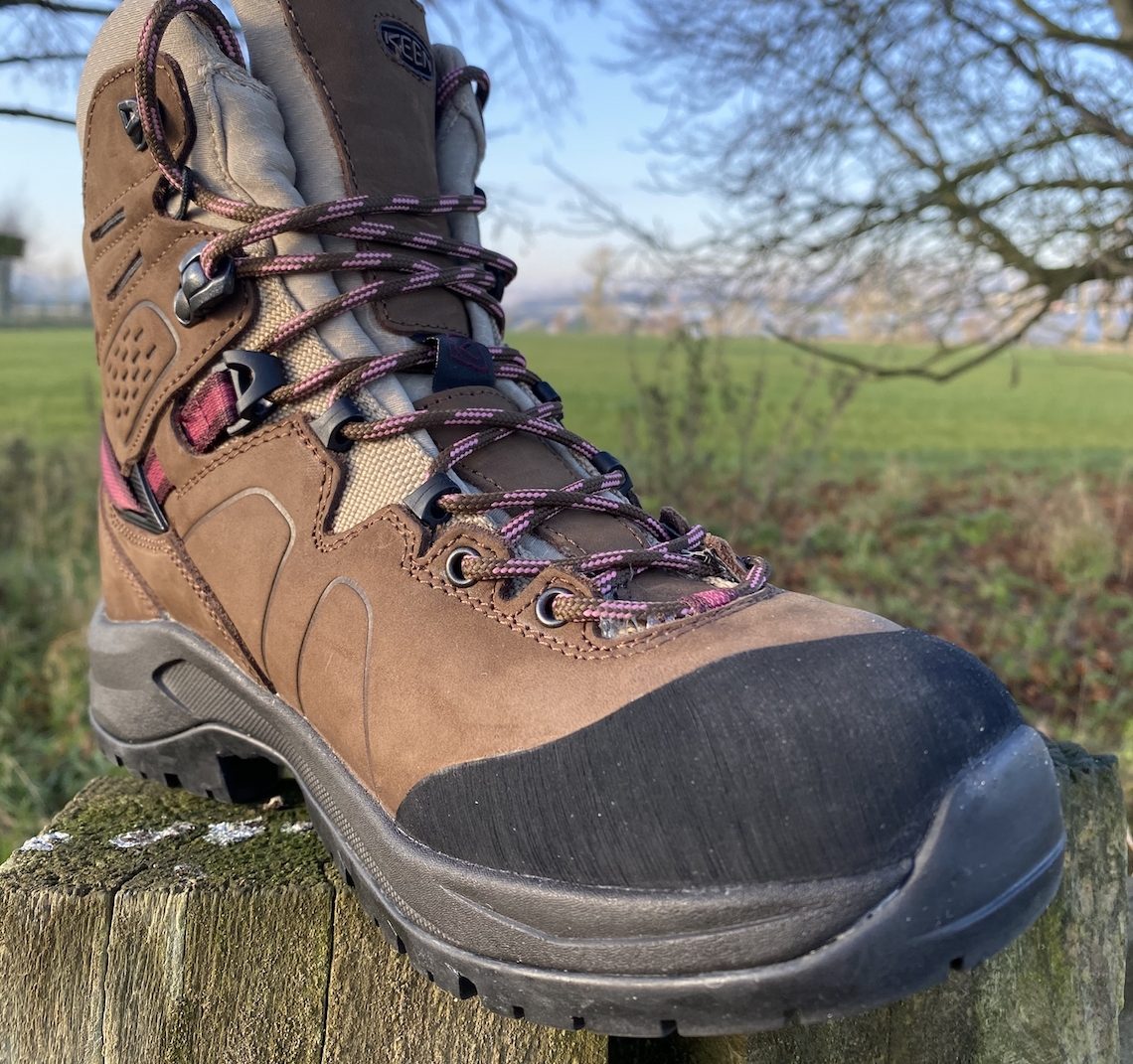 The next thing we spotted was a removable footbed in the sole of the boot, which has arch support to ensure maximum comfort on the trails. The PU midsole and contoured heel lock certainly offered a fairly secure fit with plenty of cushioning underneath. I've got to admit, I was surprised by the initial comfort of these boots when I first laced them up. They fit like a glove and were comfortable from the word go, which is quite surprising for a backpacking boot that might usually need a good few days of wearing in.
If you are heading out on a multi-day adventure, then it's so important that you make sure your ankles are supported to avoid strain injuries when carrying a heavy pack. Like many solid backpacking boots, the Karraig has a full-length upper with integrated support to help stabilise the ankle. I really felt this added support and helped to avoid any twisting over rocky or boggy ground, especially with the added weight of a heavy pack. While the lacing system can at first seem a little fiddly, it actually works well to achieve a really snug fit around the ankle.
Durability is a key component when it comes to boots designed for multi-day hiking, so it's good to seen KEEN has reinforced the boot with an extra thick rubber outsole that offers excellent grip, with 4mm multi-directional lugs providing plenty of traction in a range of environments, from wet, muddy grass to loose rock. One of the beauties of a long-distance trek is the varieties in terrain and landscapes you are likely to encounter, so this extra level of grip really comes in handy whether you're scrambling up some scree or fording a trickling stream.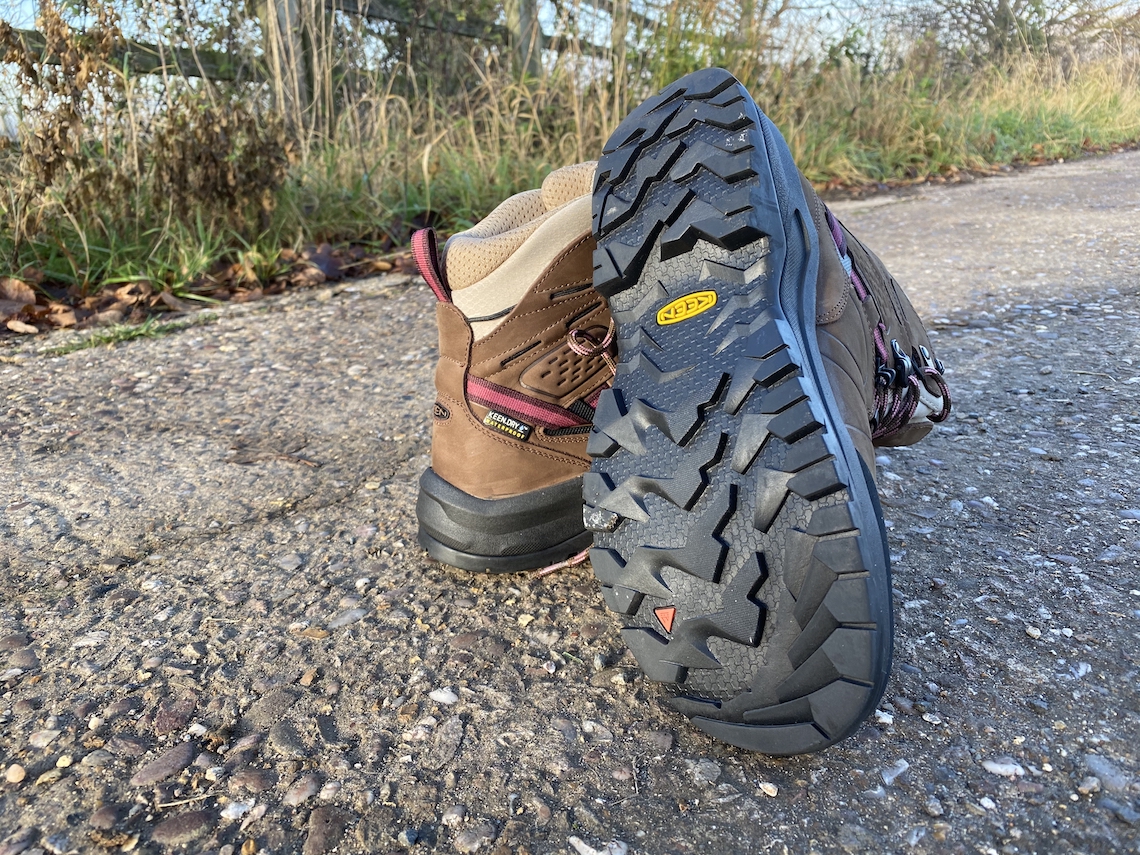 As European weather varies greatly and can certainly be unpredictable, KEEN has also added the brand's signature KEEN Dry waterproof and breathable membrane, plus a waterproof leather outer and performance mesh upper. This combination fared extremely well in some torrential downpours, shedding off water and splashing through puddles without letting any of the wet stuff in.
It's got to be said that these aren't the lightest boots, weighing in at 1,203g for the pair in a size five, but they weren't really designed for moving light and fast. The robust and heavy-duty sole offers an excellent level of lateral stiffness for long days of trekking, with a surprising amount of flex in the forefoot. This offers a nice combination of support and comfort you don't usually get with trekking boots.
The KEEN Karraig hiking boots are available in two colours: a muted grey/green and a russet-coloured earthy brown, both of which are perfect for the trails and everything the outdoors has to throw at them. We tested the brown colourway which was a great option for muddy winter walks and multi-day hikes alike.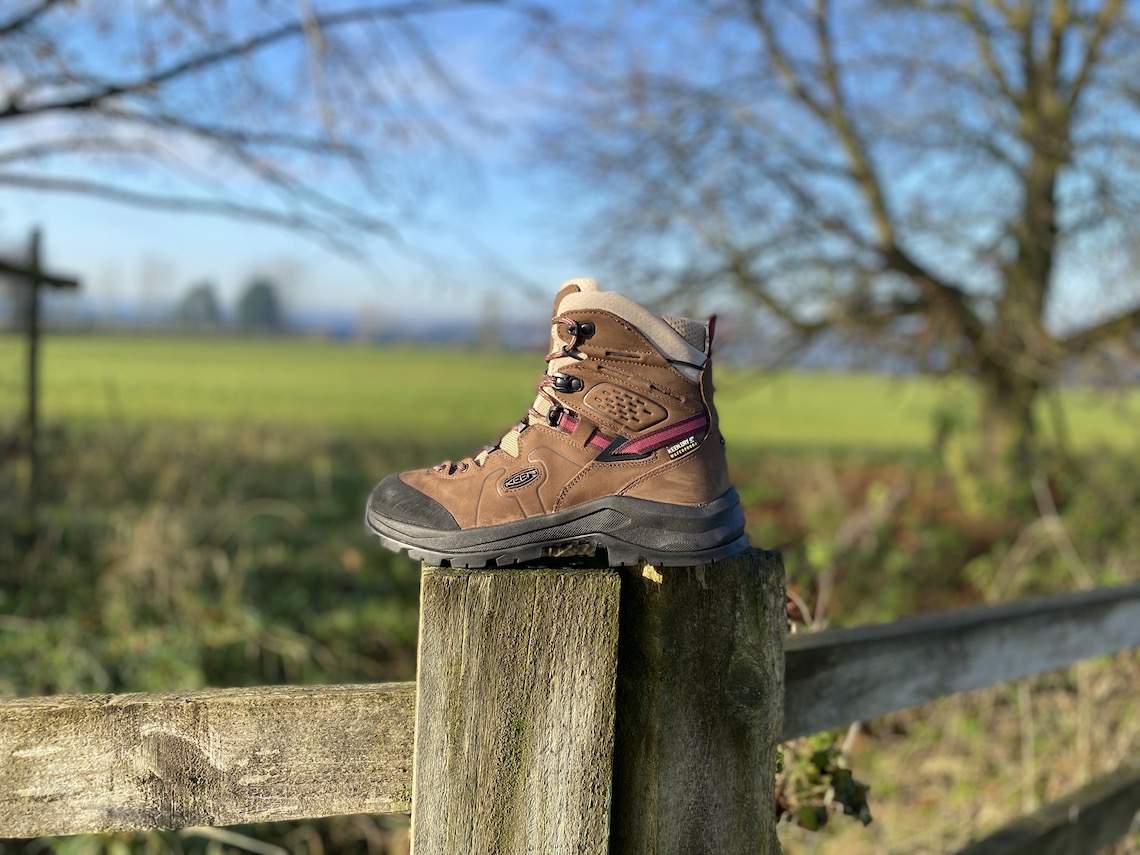 The KEEN Karraig hiking boots are available on the KEEN and Costwold Outdoor websites.
KEEN Karraig Hiking Boots Verdict
Overall I was thoroughly impressed with the KEEN Karraig Hiking Boots. They handled a range of ground conditions and offered a really great level of support for those travelling long distances with heavier luggage on their back. If you're heading to the Alps, or taking on one of Britain's long-distance paths, you won't go far wrong with a pair of these.