With a tick epidemic sweeping across the UK and Europe, growing global concern about the Zika virus being spread by Andes mosquitoes, as well as the other more typical summertime 'beasties', there's never been a better time to consider some special measures to ward off these biting insects. Ticks can cause health complications such as Lyme disease, and are endemic several areas in the UK, so if you like to explore our great outdoors then make sure you are prepared.
You'll find some useful information and advice at www.stopthetick.co.uk, but in the meantime, here are some ways for you to keep yourself protected.
Impregnated socks
Feet and legs are often the most prone to insect bites and ticks as they brush against grass and bushes on the trailside. So as well as using repellents (see below) it's also worth considering some dedicated clothing like the truly unique Care Plus BugSox.
There are two versions of these innovative socks, impregnated with Healthguard TM, to protect you from ticks and biting insects on your travels. The Bugsox Adventure – made from quick-drying Coolmax and highly breathable, anti-bacterial bamboo – is perfect for hiking and cycling.
The lighter weight Bugsox City also offers a seamless design that's ideal for easier walks and more general travel. There's even kids' models. Find out more here.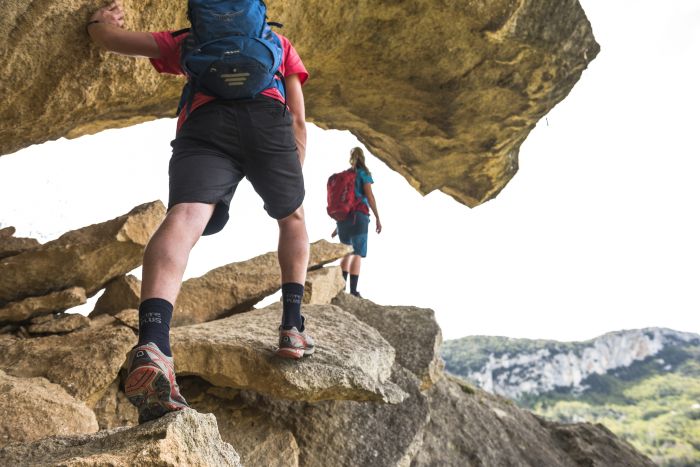 Preventing ticks with the anti-tick kit
You've probably read about the tick epidemic that's particularly affecting the upland and wooded areas of the UK, from the Scottish Highlands to the New Forest, as well as the Alps and mountains of Europe.
The risk of a tick bite is highest between March and October and can lead to Lyme disease or Tick-Borne Encephalitis (TBE). So not only do you need to be prepared, but you also need to check yourself thoroughly after every trip into a potential risk area. Care Plus offers a totally unique three-part 'Anti-Tick Kit' to protect, remove and test against these little blood suckers:
1. Protect: Use Care Plus Tick Spray on all exposed skin (legs, arms, neck), paying particular attention to less obvious areas like the back of knees and arms, hairline and behind ears. There are also special tick repellents for children.
2. Remove: Don't try to yank a tick out, douse it in alcohol or burn it with a match, you'll only shock the tick into releasing pathogens via its saliva. To minimise the risk of infection, remove the entire tick using a Care Plus Tick Remover (within eight hours) and then disinfect the bite area with alcohol.
3. Test: The Care Plus Tick Test lets you determine immediately after the bite whether the tick carries the Borrelia bacteria that causes Lyme disease. It works like a pregnancy test and produces a result within 20 minutes. If the result is positive, your doctor can start treatment immediately.
For more information about how to minimise the risk carried by ticks,check out www.stopthetick.co.uk.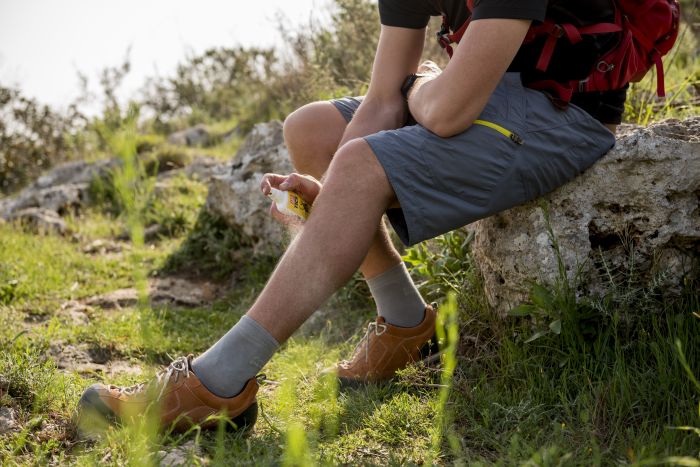 Water filter
Clean, safe, drinkable water is of vital importance when you're away from reliable sources, whether that's in the high mountains or an unfamiliar city. And you don't always want to keep buying plastic bottles of water either.
With the Care Plus Water Filter you can drink safely from any water source, wherever you are. It has advanced technology to capture harmful bacteria and protozoa; it drinks like a glass of water and it will save you lots of money.
You can use it with the squeeze pouch for easy drinking, or with the straw directly from a stream, or on a bottle/hydration system you already have, as demonstrated in this video. What's more, compared to other filters, it's tiny and fits in the palm of your hand.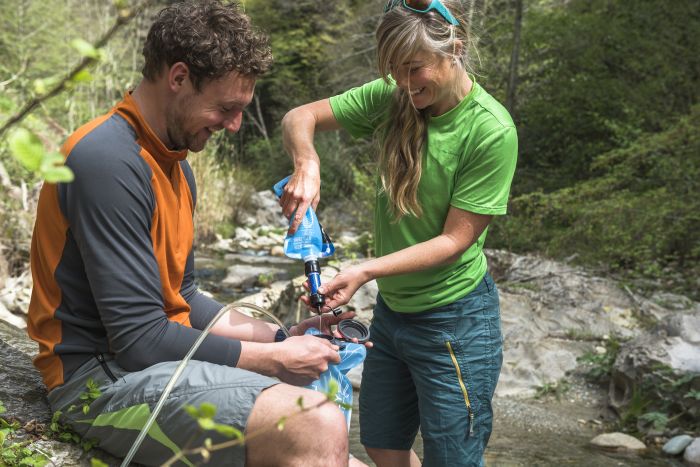 First aid kit
No matter the season or location, every time you head into the great outdoors, there's always a chance that you or a member of your group might trip or slip on the trail. But by being prepared and carrying a decent first aid kit, you'll be able to take care of blisters, cuts and all manner of small injuries yourself.
Care Plus has been compiling professional first aid kits for more than 20 years and offers something to suit every type of adventurer – and every budget.
The Basic First Aid Kit (30 pieces, 150g) can be permanently stashed in a rucksack, while the Walker First Aid Kit (40 pieces) is specifically designed to prevent and treat foot injuries. The Waterproof First Aid Kit (72 pieces) is aimed at kayakers, watersports enthusiasts and outdoor lovers generally; it's buoyant and will float when it hits the water.
The Mountaineer First Aid Kit, suitable for two or more people, contains an emergency blanket and flexible splint. And for destinations with poor hygiene conditions, or where medical assistance is scarce, the Sterile First Aid Kit (57 pieces, 240g) includes sterile supplies and a doctor's certificate. See the full range of first aid kits here.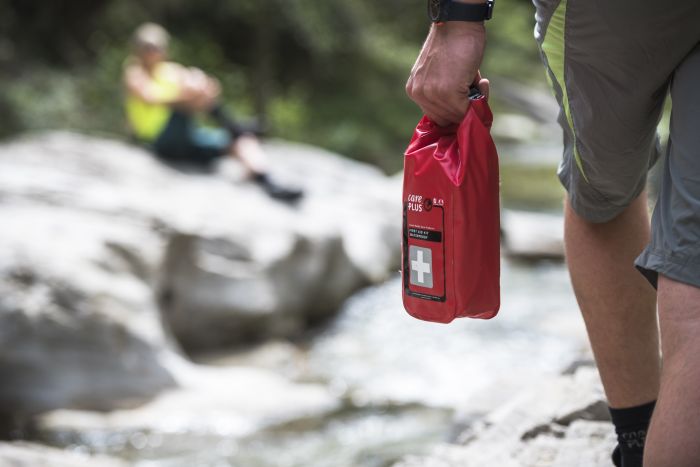 Impregnated mosquito net
Wild camping or bivvying out under the stars must rank as one of the very best outdoor experiences. Depending on where you're heading, an impregnated mosquito net provides optimum protection against biting insects which can transmit diseases such as malaria, yellow fever and dengue fever.
Care Plus impregnated mosquito nets are manufactured in accordance with World Health Organisation guidelines. The Pop-Up Dome Mosquito Net is designed for solo outdoor camping – it unfolds automatically, requires no attachment points and thanks to long-lasting Durallin impregnation remains effective against mosquitoes for three years.
The Mosquito Net Wedge can be hung above beds, from trees or other attachment points and has extra-long sides which can be tucked under a mattress or sleeping mat. Find out more here.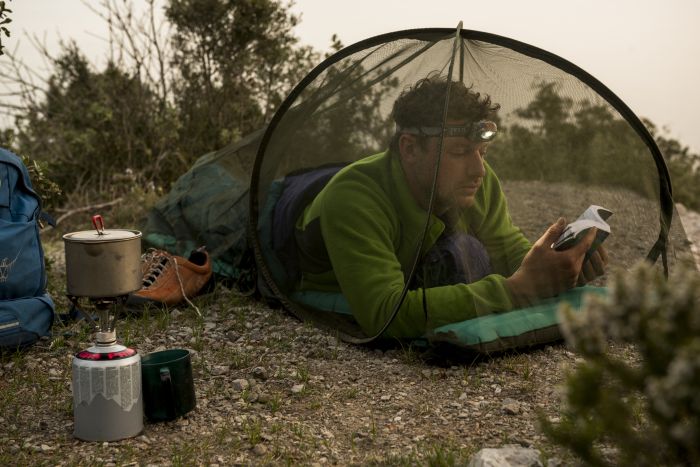 Care Plus has an extensive collection of products aimed specifically at adventurous travellers. Find out more at www.careplus.eu/en and stop by www.stopthetick.co.uk for the very important advice on ticks.