It goes without saying that with travel to adventurous places you will also be putting yourself more at risk than say, staying at home or going to the Costa Del Sol. But who wants to do that?
Whether you're trekking your way across the wilds of South America or cycling through Vietnam, it pays to take your safety seriously so with that in mind, here's what we recommend.
Get adequate insurance
Before you consider anything else, booking comprehensive insurance should be your first port of call. While trip-ending injuries or thefts may seem like the end of the world at the time, you'll be thankful you had the structure in place to cover them financially.
When booking insurance, be very sure that it is adequate for the activities you will be doing on your trip. If you are going to be diving the Great Barrier Reef in Australia or climbing in the Alps then make sure you are insured to do so. Most companies will do special 'backpacking' and 'sports' insurance policies for these sort of trips.
Are money belts still the safest way to carry your cash?
Many people swear by them, and sure enough, money belts will have been useful to people over the years. But thieves have become much wiser to them now and will often target money belts specifically.
One of your best bets is to split up any money and cards you may be carrying. Moving a wallet to a front pocket makes it much tougher for people to steal and with a spare stash concealed in a bag, you should be covered in emergencies.
If you do decide to stick to a money belt, it's imperative you only delve into it when you are in private. It defeats the whole object if you allow people around you to know you are wearing it.
A good alternative are the webbed money belts that are actually worn as belts with a zip on the inside. While they won't store documents and cards, they will prove a great place to stash some emergency funds.
To padlock or not to padlock, that is the question
It is up to each and every traveller to decide what security measures will be best for them, but when deciding, keep the following in mind. While it may act as a deterrent, using a padlock on the zips will not stop someone getting into your bags. Someone only needs to take a knife to a bag's material to gain access to it. If someone really wants to get into your bags, they will.
Even the metal mesh bag protectors offered by Pacsafe have their negatives. They are likely to stop the casual thief from getting into your bag, but at the same time they make it look like your baggage is extremely valuable. The issue? This can result in more serious crimes such as aggravated robbery.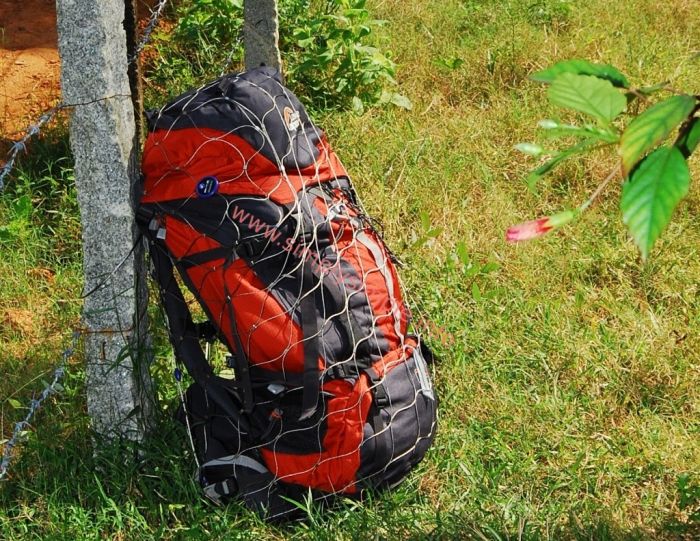 The best way to keep your valuables safe is to keep them on you and if you can't, then you are carrying too many. This means that if somebody routes through your bag all they are likely to find is your dirty clothes and you can be sure they won't want to steal those!
Beware of scams
Before you travel to a country, make sure you do a bit of research online to find out about any common scams. These can be particularly prevalent at borders where fake officials will charge you extra for visas and entry.
Another common scam is attempted by taxi drivers who insist your accommodation is full up or closed and then proceed to take you to a more expensive one where they will get paid commission.
Use reputable guides and instructors
If you're planning to take part in particularly adventurous excursions that require guides or instructors, be sure to do your research beforehand. While booking in the UK is likely to be much more expensive, it's not worth just going for the cheapest operator that you can find but instead shop around and do a bit of research.
Give first aid a thought
On active holidays where you may be hiking or cycling, make sure you or someone in your group has a basic understanding of first aid. The last thing you want is for someone to hurt themselves while you are in a remote area and no one has any idea how to deal with it.
At the very least, make sure you are aware of the emergency contact details for the country you find yourself in. It's something you'll be thankful of when you need it.