Mountaineering instructor Simon Lake explains the basic ice axe and crampons skills you need to head into the mountains this winter…
Venturing out into the mountains when they are in winter conditions can feel like a daunting experience. However, if you learn some basic winter skills, a whole new set of adventures are opened up to you.
To begin with, winter mountains tend to be more physically challenging, with longer days and heavier packs, not to mention more arduous conditions under foot. Ensuring you have a good level of fitness will make the days more enjoyable.
Your navigations skills should be well practised, as these will serve you well if the visibility deteriorates. With snow on the ground and low cloud, this "white room" effect can be quite disorientating. Knowing techniques such as walking on a bearing and pacing distance are vital skills to keep you safe. The winter environment throws up lots of additional hazards not found in summer, such as avalanche prone slopes and corniced edges. Knowing where you are is vital to ensure you can avoid these dangers.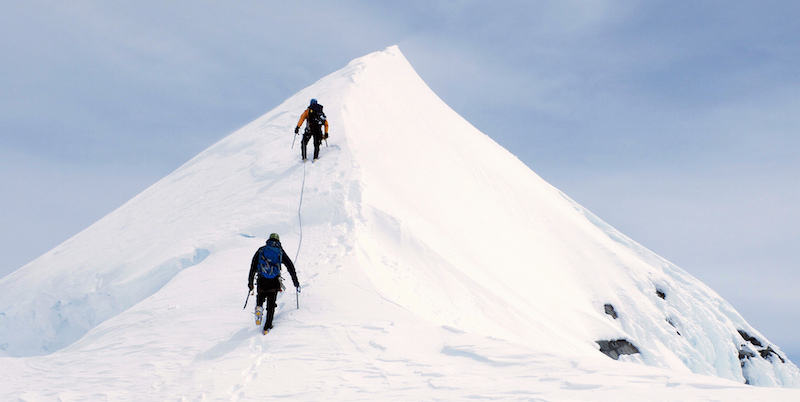 Photo: Vern
How to use an ice axe
There are some crucial items of equipment that should always be carried in winter. These include a walking axe and crampons. A walking axe can be used when on snow slopes to add balance and security. It is held in the uphill hand with the shaft of the axe plunged vertically into the snow.
Axes come in a range of lengths so you can select one to best suit your height and the nature of terrain you are likely to use it most on. A longer axe may be found to be more useful on easier angled ground whereas a shorter axe will be less use on this type of slope, but much better on steeper slopes.
Not only will an axe add a huge amount of support when on a snow slope, but it also acts as the only effective way of stopping yourself should you take a trip and slide. Therefore, as a general rule, I would always have one in my hand when on a snow slope.
How to use crampons
Crampons attach to your boots and have spikes that allow you to grip the snow or ice as you walk over it. They are rated from C1 to C3 depending on the type of attachment, how rigid they are and the type of boot they are to be used on. If you are unsure, it is best to have your boot matched to a crampon in a shop before you buy.
On firm snow or ice these are the best way to ensure you do not slip. Putting them on before you are committed to a slope of this nature is important, as is being able to fit them with gloves on and bulky clothing.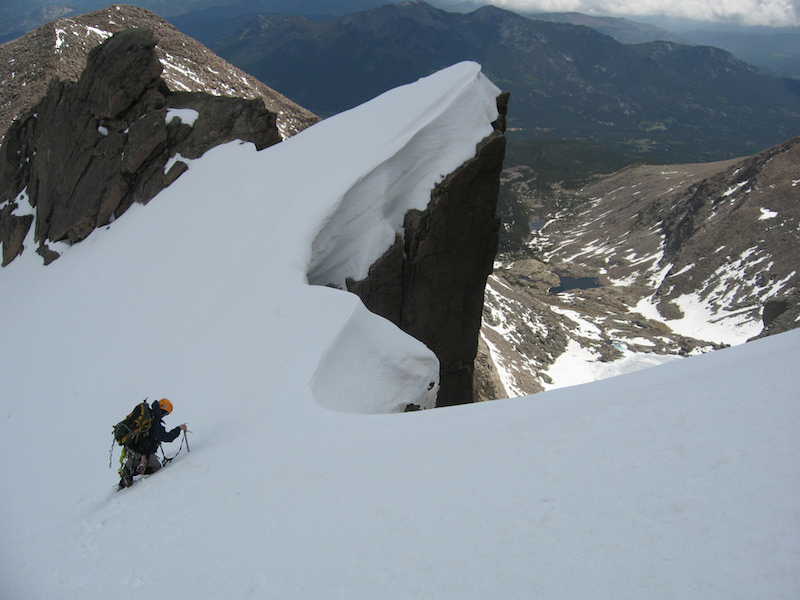 Photo: Chris Bartle
For normal walking on moderate angled snow or ice you use a "flat footed" technique so that all the downward facing spikes are in contact with the ground to gain the best traction. This technique can be adapted as the angle of the slope increases to "front pointing" which is when only the front point spikes are in the snow or ice. This is the technique used to climb more vertical sections of snow or ice.
It is useful to get used to walking with crampons over a variety of types of snow, ice and rock, as it is often the transition from one type to the next that can trip you up. It also takes some time for your ankles to get used to the strain that walking in crampons can put them under.
This is an idea of some basic considerations to bear in mind before you head out into the mountains in winter. Experience and knowledge are key to staying safe, so it is well worth considering a winter skills course to learn and practise some basic skills to prepare you for independent days out.
Expand your skills in winter
Plas y Brenin offer a range of skills courses designed to give you confidence in winter mountain conditions, with dates running from December 2018. Training is available from their base in Snowdonia, or from Glencoe in the Scottish Highlands.
Featured image: Karl Midlane