The Cavalier is a 100% cotton t-shirt created by a relatively new brand called Threadsmiths. While it is not a garment that is going to offer performance in an active, fast-paced scenario, it does represent an option for travellers who aren't doing anything too strenuous.
The t-shirt has been crafted with a patented hydrophobic nanotechnology that is designed to repel water and dirt. This is done by minimising the surface area for water and dirt to adhere to, causing it to bead up and roll off the fabric, thus creating a natural self-cleaning effect.
While enhancing the material's resistance to water and stains, the t-shirt is still said to retain the natural breathability of cotton. With all of the above sounding pretty interesting, we thought we had better test one out.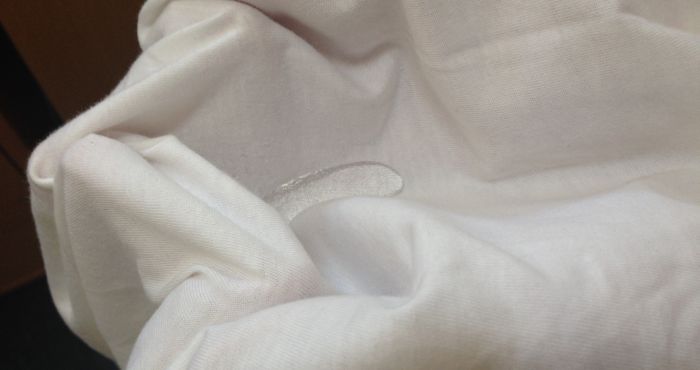 We started out by testing the water-repellent properties of the t-shirt and were rather impressed. Water did indeed bead up and run off of the material leaving no damp patches whatsoever. Even when water was cupped on the t-shirt it still retained its water repellent properties. However, after sustained exposure to water, the t-shirt does become damp.
Next up was the job of testing the stain-resistant claims. We rummaged through the Adventure Travel offices for testing products and initially emerged with Nando's sauce and blackberry vodka. Both compounds ran off of the t-shirt and any remaining residue disappeared with a bit of water. Having said that, the Nando's sauce did leave a slight mark if you looked closely enough.
The t-shirt also proved resistant to wet dirt leaving no visible marks after a dash of water. Unfortunately, heated chorizo proved to be the garment's downfall. After being splattered with chorizo and the juices that came with it, the top appeared significantly stained.
This time, not even a splash of water could help. Even after being washed in a machine, there were still faint marks that were visible, though they have faded slightly over a few days.
So what does that mean? Well, the Cavalier may not be the ideal top for anything that active, but it does represent a great option for travel. The stain-resistant element would certainly be a useful feature for those on the road for an extended period of time. It may just be best to avoid Nando's and chorizo.
Another sticking point may be the price. At just under $50 (approx £32) it doesn't exactly come cheap. The t-shirt is available in white, grey and black and has a slim profile, so it's worth purchasing a size larger than usual.
Rather more exciting are the possibilities for future uses of the technology. Combined with odour-resistant technologies such as Polygiene, you would have an even better travel garment. The technology would also be great in softshells and waterproof jackets in an attempt to make them less susceptible to mud and dirt.
Threadsmiths Cavalier T-shirt Verdict
Exciting technology in an expensive t-shirt, but a great travel top if you have the money.
For more information head to www.thethreadsmiths.com.