Adventure Travel magazine's editor Rob Slade heads to the Lake District to take on one of the national park's best grade one scrambles, the addictive Jack's Rake.
There are some scrambles in the UK that draw hikers from all over due to their reputation. Crib Goch on the Snowdon Horseshoe is one, Helvellyn in the Lake District another. Despite the crowds, more often than that they deliver a fantastic, but challenging, day out on rock. In search of our own, a friend and I headed to the Lake District to tackle Jack's Rake, a grade one scramble up Pavey Ark (700m).
In a turn of events that shocked me to the core, we actually had mighty fine weather on this trip. When on assignment for the magazine, I'm typically followed by my own personal weather system, complete with cloud, rain and low visibility, so I was delighted to be setting off from Great Langdale with blue skies, the sun beating down on me and a gentle breeze making sure I didn't bake too much.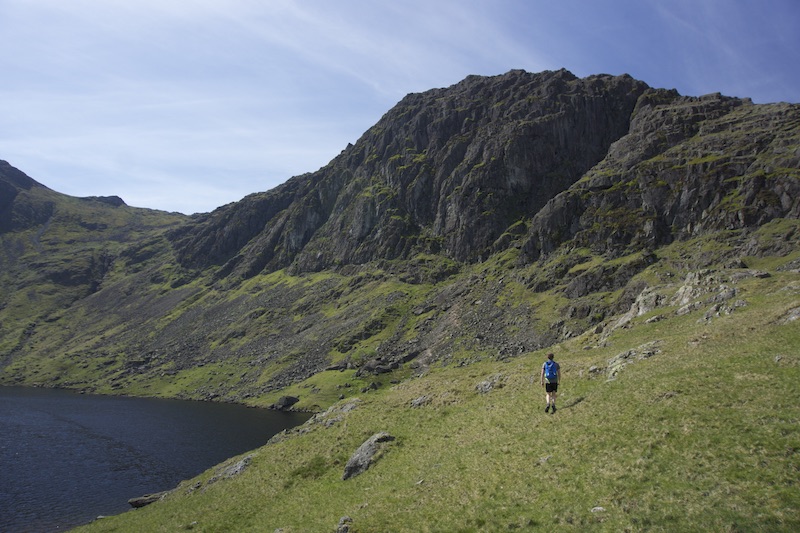 On this occasion, we had also been kitted out with a selection of gear from Outdoor Research to find out how it fared. This included the Ascendant Hoody (a mid layer that makes use of Polartec Alpha Direct Insulation) and the Interstellar Jacket (a lightweight, breathable and versatile waterproof shell), both of which hardly made an appearance due to the weather. The high collar and long sleeves of the Echo L/S Zip Tee and the lightweight nature of the Ferrosi Trousers were very welcome under the heat of the sun, however.
Slowly but surely, we made our way up alongside the river with the views back down to the valley becoming ever more impressive. Of course, they were eclipsed by the view that greeted us once we scrambled over the lip of the hill to where Stick Tarn resides. Rising up sharply across the water was the south-eastern face of Pavey Ark, one of the fells that makes up Langdale Pikes. Looking from east to west, we could see the unmistakeable groove that makes up Jack's Rake. Filled with anticipation, we eagerly rounded Stickle Tarn and made for the scree slope that marked the start of the route.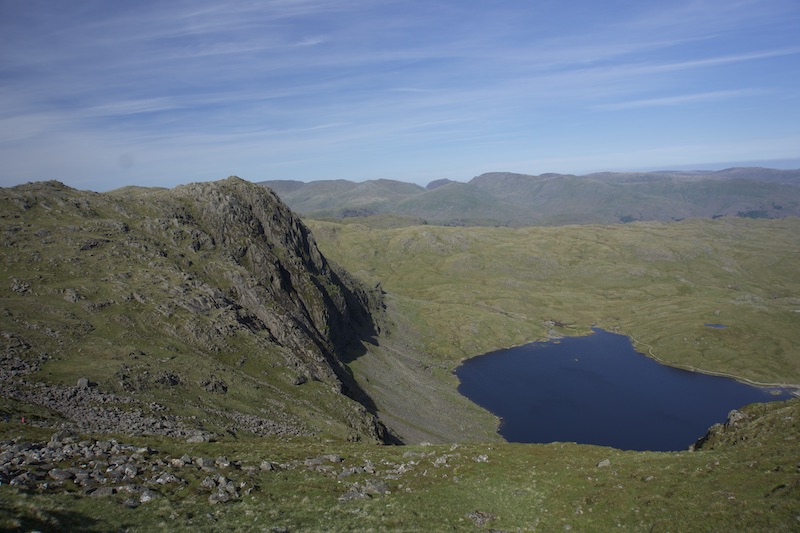 I don't find scree particularly fun to ascend (who does?), but fortunately it was over pretty swiftly and we had the full scale of Jack's Rake unfolding in front of us. With such fantastic weather, it was an absolutely brilliant climb, and the shadow cast by Pavey Ark was very welcome. Much of the scrambling was straightforward enough, with large holds and a parapet of rock offering a sense of security from the drop down below. Despite the fine weather, the route was pretty quiet and we made swift progress but for a few photo stops.
As a fairly tall guy, I didn't find anything too much trouble, but I could see why some people might struggle with some of the moves that required a bit more stretch. Halfway up the route the exposure becomes more apparent and the comfort of the parapet of rock disappears. This is when the views really open up, with Stickle Tarn and the Langdale Valley lying invitingly below.
From here on in, the scrambling got a little tougher. The extra exposure was a constant reminder of what was waiting if things went wrong, while the moves required more thought and surefootedness. It was brilliant. There's nothing like an airy scramble to get the adrenaline going, and there was a wide grin plastered across both of our faces.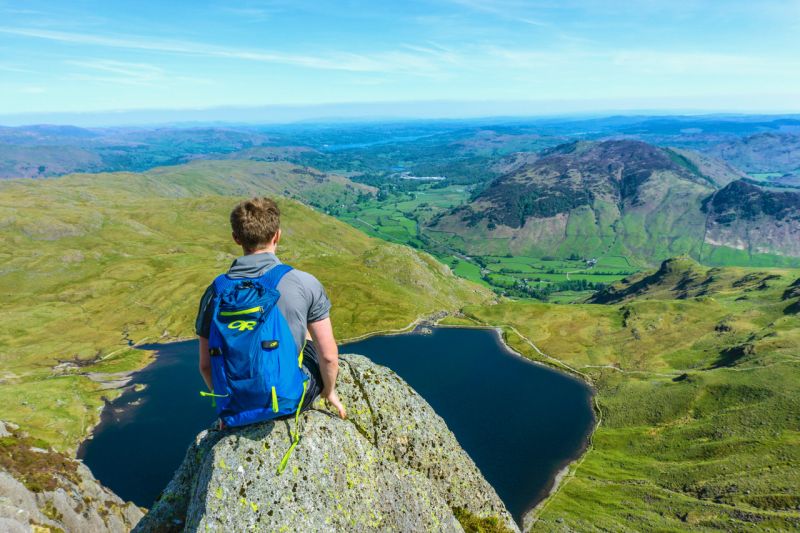 Suddenly, it was over. We made it to the top. Buzzing with energy, we found a spot out of the now bustling wind and digested the route over lunch. Eager for more and with plenty of light left in the day, we decided to take on the rest of the Langdale Pikes. One by one, we ticked off Pike of Stickle, Loft Crag and Harrison Stickle, taking whichever route looked to offer any hint of a scramble. We were hooked. Of these, Pike of Stickle was a personal favourite, with its distinctive, rocky top making for a truly incredible view. With the lot of them in the bag, we headed back down to Stickle Ghyll for a well-earned pint and bite to eat.
Our Jack's Rake Kit
Outdoor Research Echo L/S Zip Tee
Outdoor Research has done a great job with this base layer. A high collar, long sleeves and deep zip make it a fantastic option in warmer weather. Raglan sleeves and flat-seam construction made for a very comfortable experience and the Polygiene treatment helped keep bad odours at bay.
Outdoor Research Ferrosi Trousers 
Breathable, yet wind resistant, the Ferrosi Pants held their own on the warm approach to the scramble, yet also performed well on the summits and exposed sections thanks to their ability to block out wind. The fully articulated knees and stretch of the garment was also much appreciated.
Outdoor Research Dry Summit Pack LT
The Dry Summit Pack LT had our back throughout a weekend of hiking in the Lakes. The 25-litre main compartment almost felt cavernous, and it swallowed up our gear for the day with ease. The main selling point, though? With its roll-top closure and PU coated nylon, this pack will keep the showers at bay when you get caught out.
Outdoor Research Ascendant Hoody
Constructed using Polartec Alpha and Pertex Microlight fabrics, the Ascendant Hoody offers stretch, warmth and breathability on impressive levels. It's an ideal layering piece on cold days or a fantastic outer on breezy summits.
Outdoor Research Interstellar Jacket
Lightweight, breathable and fully-featured, the Interstellar Jacket is an award-winning piece of kit that has been earning rave reviews. You'll hardly notice it in your pack, and when the rain comes, it does its work admirably.