www.lowealpine.com | £80
Founded in the 1960s by American climber Greg Lowe, Lowe Alpine is one of the big names in pack manufacturing. The company made the first internally framed backpack in 1967 and continues to introduce new packs with great features for a range of activities today.
Lowe Alpine updated its popular AirZone range of backpacks last year, and a key difference in the new packs is the softer mesh in the back system where it comes into contact with the body. The AirZone is the space between the minimalist back frame and the pack, which allows air to pass between the bag and the wearer for ventilation and to help moisture evaporate. The mesh-lined frame here not only enhances the comfort and fit of the bag, but it helps with moisture evaporation too.
The AirZone Quest 27's outer fabric is 210-denier ripstop nylon, which is strong, durable and resistant to light rain because it has a PU (polyurethane) backing. For increased weather protection there is a rain cover that is stored in a pocket in the base of the bag.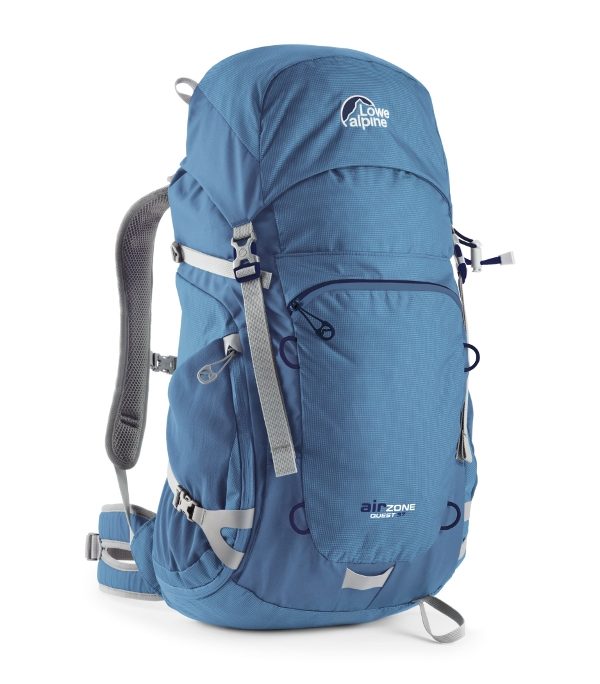 The back system is quite long so for me the fit was spot on, and to fine-tune the fit there are what Lowe Alpine calls Adaptive Fit shoulder straps that ensure the harness can adapt to most body shapes. The waist and sternum straps too help get the fit just right.
The lid has inner and outer pockets for small bits and pieces that you need to keep safe or close to hand. You can enter the main compartment in two ways: via a drawstring opening at the top, or through a side entrance behind the right wand pocket if you need to get to something you know is near the bottom of the pack.
There's a front pouch that's ideal for stashing a waterproof jacket and this has a small pocket on it for extra storage. The waist belt has a handy zip-up pocket and there's even a small phone-sized pocket on the shoulder harness (although it isn't waterproof). Then there are a couple of stretchy side pockets and loops for trekking poles or an ice axe. That's what I call a lot of pockets.
Lowe Alpine AirZone Quest 27 Verdict
There is little I can fault the Lowe Alpine Airzone Quest 27 on. The fit and comfort are just right and there are enough features to satisfy anyone. Another top pack from Lowe Alpine.