Adventure Travel's Amabel Buck escapes the gloomy British weather to discover exactly what Malta has to offer adventurous travellers…
The cold was nipping at my heels as I boarded the plane at Luton Airport on a frost-dusted Monday morning. The last dregs of a grey and dreary UK winter were creeping under my light denim jacket, a last-ditch attempt to keep me in their clutches. I don't know about you, but after what feels like an eternity of long, dark nights and miserable drizzle, my skin starts to ache, longing for the blissful stroke of warmth on a sunny day.
Enough was enough. I wanted out, and with 300 sunny days a year, Malta proved an incredibly attractive option. Just over three hours later and I had landed at Luqa International Airport to a sky the colour of cornflowers and an outside air temperature of 20 degrees Celsius. Absolute bliss.
Sun worshipping aside, I was keen to find out what kind of adventures were on offer in this rocky, Mediterranean gem, having seen a multitude of idyllic lagoons and gorgeous stone archways littered throughout my research.
When people refer to Malta, they generally mean the archipelago of Malta, which includes three main inhabited islands: Malta, Gozo, and the much smaller Comino. I only had a short four days to explore this Mediterranean hideaway, so I split my time equally between the larger two, Malta and Gozo.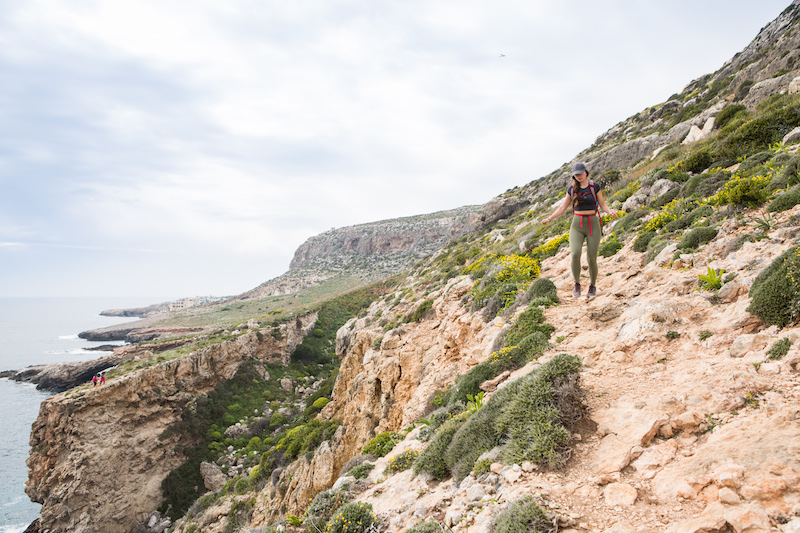 The aesthetic on the islands is effortlessly straightforward. Dramatic, limestone cliffs in varying shades of warm sand, juxtaposed against the bright, brilliant blue of the sea. On a calm day, the two sit harmoniously alongside each other, the rocks deepening in their warmth as the day wears on. It was just like that on my first day in Malta.
Stripping off all my Luton-essential layers, I took an hour to enjoy my first lunch, basking in those glorious rays and sending inevitable and unsolicited 'Monday blues' snaps to envious friends and family. With a full day of climbing, cycling and hiking booked for the following 24 hours, I eased into the trip by spending the afternoon out on the water, kayaking and stand-up paddle boarding (SUP) around the picturesque bay where I'd had my lunch.
Some Instagram-based research had led me to Coral Lagoon as a great spot for SUP so, with the help of a local tour company, I donned a lifejacket and took to the turquoise seas. A dreamy afternoon of floating and paddling over crystal clear waters without another soul in sight was the perfect antidote to my UK winter woes. If you're looking for a paddling spot, I'd definitely recommended Coral Lagoon. It's impossibly picturesque and lesser known than some of the other lagoons around the island. In fact, we were the only people there.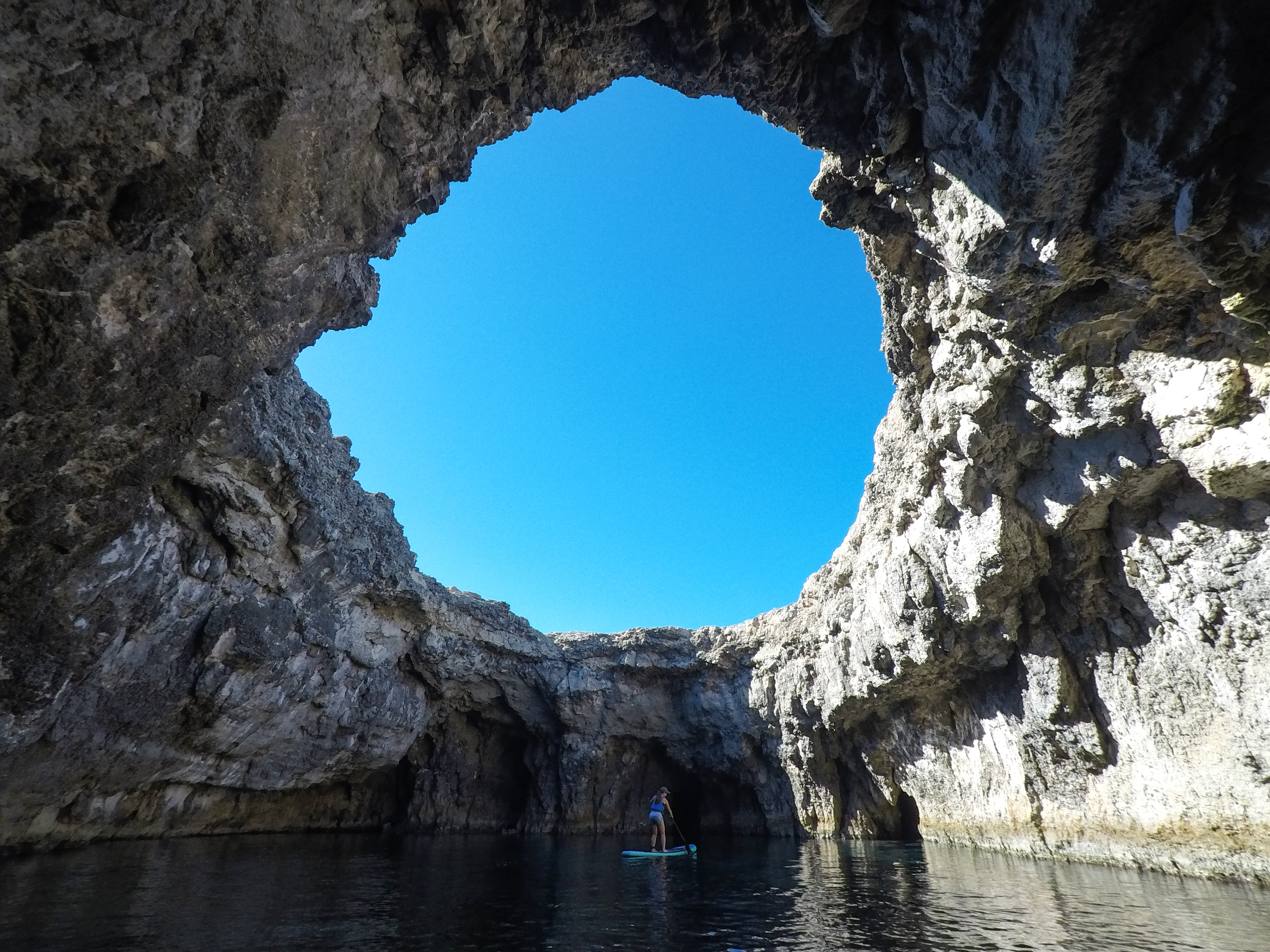 Tuesday dawned in a haze of milky blue and lemon yellow, the kind of sunrise that brings the promise of a glorious day ahead. Meanwhile, a gigantic array of breakfast items at the hotel buffet had their usual effect and I was brainwashed into eating five times the normal amount. "I'm going to be burning lots of calories," I argued to myself, heaping my plate with a second helping of breakfast potatoes (as if that's a thing).
Stuffed to the brim, I set off for Malta's old capital, where I met Mark, my guide for the day from a tour company called MC Adventure. First up was a whistle stop tour of Mdina's walled old town, where Malta's chequered past is laid bare in the peculiar blend of architectural styles, complete with the odd red phone box, a remarkable lone survivor of Britain's rule.
Keen to see more of the island, we hopped on some mountain bikes and headed for the countryside. Now, when your guide tells you he also works as a film location scout, you know he's going to take you to some pretty spectacular places. We rode past the catacombs of Rabat and stopped to take in one of the island's most spectacular churches before heading off-piste to some prehistoric caves.
These gloomy little dwellings have a touch of Lara Croft about them; I half expected to see bats flapping up a frenzy as we disturbed the dust. The surrounding landscape, known as Clapham Junction, is scarred with Bronze Age cart ruts, which carve through the limestone in every direction, hence the nickname. After a good nosey, we were back in the saddle and on our way.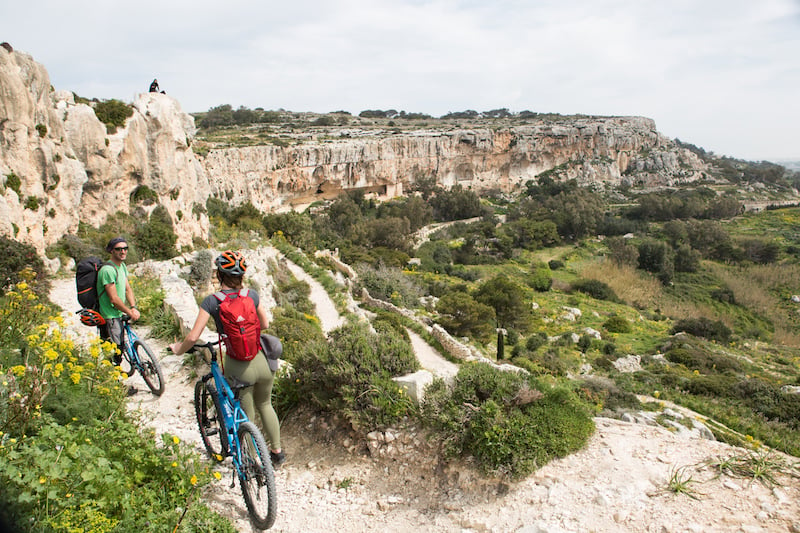 We continued through Malta's only forest (more of a small copse of trees if we're being honest) to arrive at the showpiece of the ride: the spectacular Dingli Cliffs. These cliffs are a mecca for hikers, bikers and climbers, and you could easily spend a few days here exploring. With only the afternoon left ahead of us, we headed south along the clifftops to Xaqqa, where we hopped off the bikes and into harnesses.
This place was something special. A razor-sharp arete of rock rose from the sapphire-coloured sea, parallel to the cliff-edge, creating a gully perfectly in line with a rippling stream of light from the sun. Pure, rugged perfection. After climbing up and abseiling down the cliff several times, we were ready for another seaside lunch, and a sample of some Maltese cuisine. Spoiler alert: it's Mediterranean-style fare with a good helping of goat's cheese, cured meats, fish and olive oil.
Having enjoyed such stunning views from the bikes, I was looking forward to taking them in properly during our afternoon hike. Mark took us down to the Ghar Lapsi dive site, a pretty swimming spot popular with locals and also the trailhead of our hike. We set off along the coast, now bathed in a golden-hued afternoon sun, and Mark pointed out groups of climbers, scrambling over the far-off rocks like ants.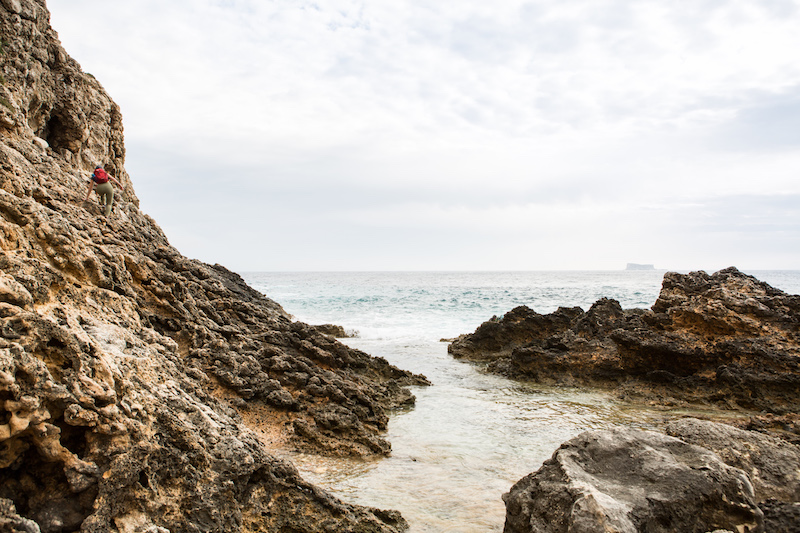 The path was rocky and undulating, but the real challenge was taking your eyes off the view to focus on it. Beautiful stone structures littered the coast, sculpted by the surf over hundreds of years, while the inland terrain was awash with a carpet of green, yellow and pink wildflowers just coming into bloom.
With a twinkle in his eye, Mark told us of a detour to the route to check out a cave down at sea level and, interest suitably peaked, we followed him down to the water's edge. What followed was a spot of devil-may-care scrambling (with a moment or two of perilous bouldering and a well-timed dash across the rocks) to reach an incredible sea cave complete with crashing waves and a stunning stone arch. Isolated by the pummelling tide and decorated with dappled sunlight, this little spot was a real highlight.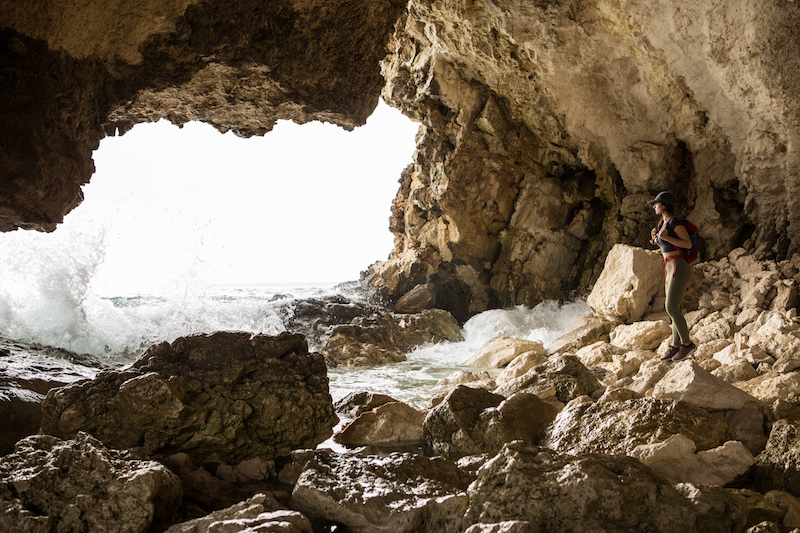 To make the most of the trip, it was an early start on Wednesday in time to catch the ferry to Gozo, a short 30-minute hop from Malta. I'd heard incredible things about the scuba diving around the islands and had been itching to get underneath that beautiful blue sea, so I headed straight for Xlendi Bay to check it out.
The great thing about diving in Malta is that it's accessible right from the bay, with incredible dives even for beginners. We didn't have to go far to find a sensational swim-through cave playing host to a wealth of marine life, including an inquisitive eel who poked his head out to greet us as we entered the cave. An energising start to the day.
Next, it was time to check out whether the climbing in Gozo could ever match up to what we'd experienced the day before at Xaqqa. We hooked up with our guide Didi, a German who had moved to Malta in his earlier years and spent a good portion of time hacking away at the overgrowth underneath his favourite cliffs to make them accessible for climbers. He took us to Mgarr ix-Xini, a huge limestone crag dotted with climbing routes, and we whiled away the hours trying a few out and ogling at some of the locals, who scurried up the cliffs like monkeys.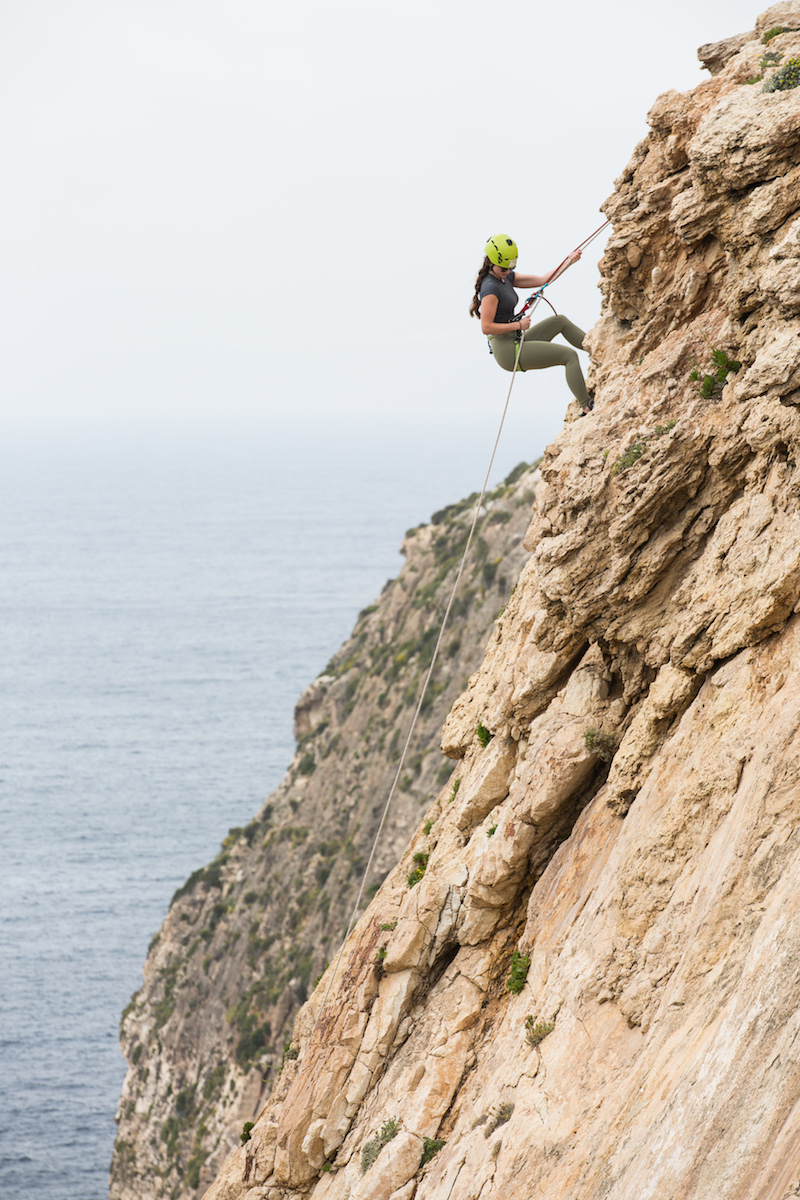 Once again, the setting was to die for. The huge limestone gorge offers a multitude of climbing routes, and from the top you could see all the way down the winding valley to the sea. Inland was the hazy outline of an ornate church, high up on the hilltop.
In fact, the scenery was so good that we decided to take on an impromptu hike along the cliffs and all the way down to the secluded little beach right at the end of the valley. This beach is hopelessly quaint, with just a few shacks serving refreshments (the café is actually a relic from Brad Pitt and Angelina's last movie By The Sea), and would make the perfect place to quench your thirst after a day's hike.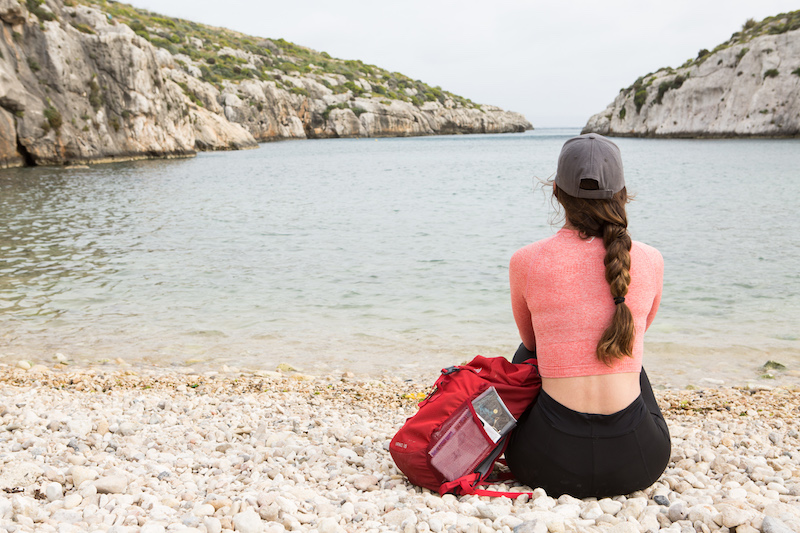 As my last full day rolled around, the glorious weather unfortunately took a turn and I woke up to lashings of rain and wind. Determined not to waste what precious time I had left, I met my guide and headed out to the village of Gharb for a hike along to Wied il Mielah, where yet another gigantic natural arch was lying in wait. Continuing along the cliffs to Gozo's famous salt pans, I was struck by the sudden and tempestuous change in the weather, as we battled winds so strong they could knock you over, while deafening claps of thunder rang out overhead.
It revealed a wild and unpredictable side to the island that you'll never see in the brochures, but one that deserves recognition, and most of all, respect. With the wind reaching increasingly dangerous speeds, we left the cliffs behind us and swapped them for the rolling green hillsides of Marsalforn. Despite the increasingly darkening skies above, a dazzling display of wildflowers lit the scene, topped by the incredible Tas-Salvator monument.
The statue itself is reminiscent of Rio de Janiero's Christ the Redeemer, and a poignant marker of the island's religious connections. We were told that the statue has been destroyed by weather and then re-built three times in the last decade, which reminded me of Malta's history, of being perennially attacked and conquered, and subsequently re-born anew, with a little flavour of each previous conquest helping to build it what it is today. A beautiful amalgamation of influences, with a good dose of adventurous spirit.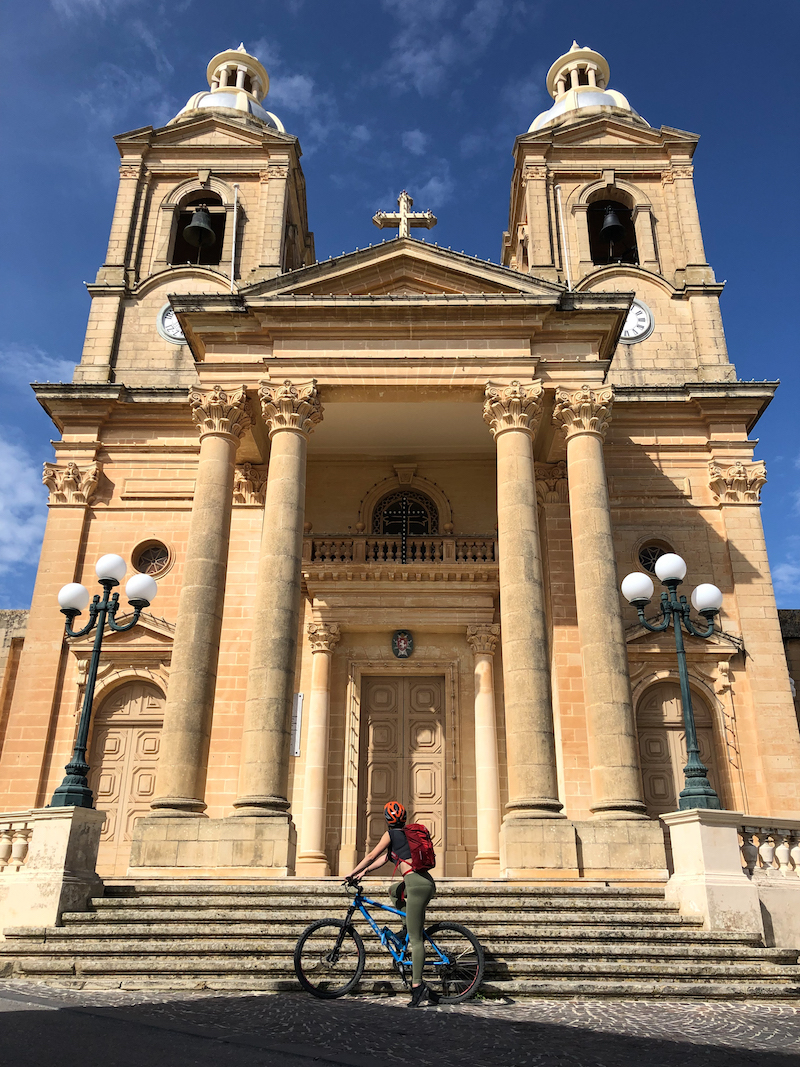 Malta: Let's Go
How to get there
I flew with Ryanair from London Luton to Luqa (which is the only international airport on the islands). Return fares can be had for as low as £45 with Ryanair from London airports (not including baggage), while flights from regional airports tend to be a little higher. Flight prices also rise during peak summer months (June, July, August).
When to go
I went to Malta in mid-March and can thoroughly recommended this time of year if you hope to take part in activities such as climbing and hiking. The weather is warm and pleasant, and it's the only time of year you'll see the island lush with wildflowers and greenery. For sure-fire sunshine, the summer months are your best bet, while autumn brings slightly cooler weather with warm sea temperatures, great for swimming and diving. Good deals on accommodation and flights can be found from autumn to spring.
How to do it
For activities on Malta, MC Adventure should have you covered, offering everything from hiking, climbing, biking and even zip-lining. On the island of Gozo, we explored with the loveliest, most enthusiastic guides from tour company Gozo Adventures. 
What to take
You'll want to take plenty of warm weather kit including t-shirts and shorts, as well as some sturdy walking shoes or boots. Don't forget a hat, some sun cream and insect repellent during the warmer months, and a few lightweight layers for the rest of the year. Taking waterproofs is always a good idea, just in case. Mine certainly came in handy!
How to get around
Both islands are pretty small, and you can easily get by using taxis (they even have a Maltese version of Uber called Ecabs). There are plenty of buses running at regular times across the islands, or you can hire a car if you think you'll be travelling around a lot. There are ferries to get you over to Gozo or Comino and again, these are regular and very cheap.
What to eat
A great way to re-fuel after all that adrenaline is by sampling the local Maltese street food. There's pastizzi, a delightfully cheesy morsel wrapped up in flaky pastry, and for sweet-tooths, there's imqaret, a blend of dates, citrus and spices, deep-fried with a pastry case. Also keep an eye out for local vendors selling pomegranate jam; it's to die for.
What to drink
If you like Aperol and bitter orange, make sure you try the local Maltese soft drink called Kinnie. It's fizzy, aromatic and just the sugar hit you need after a morning on the trails. There's also plenty of local Maltese wine worth sampling with dinner!
Find out more
For more information about the adventures you can enjoy in Malta, click here.